Rainbow Yogurt Bites is such a fun and colorful treat. Kids don't have to know that parents love to give them this healthy snack!
Easily make these frozen yogurt bears and dots for snacks, treats, or lunches! Kiddos will love the fun colors and how they swirl together. Parents love how easy this healthy snack is!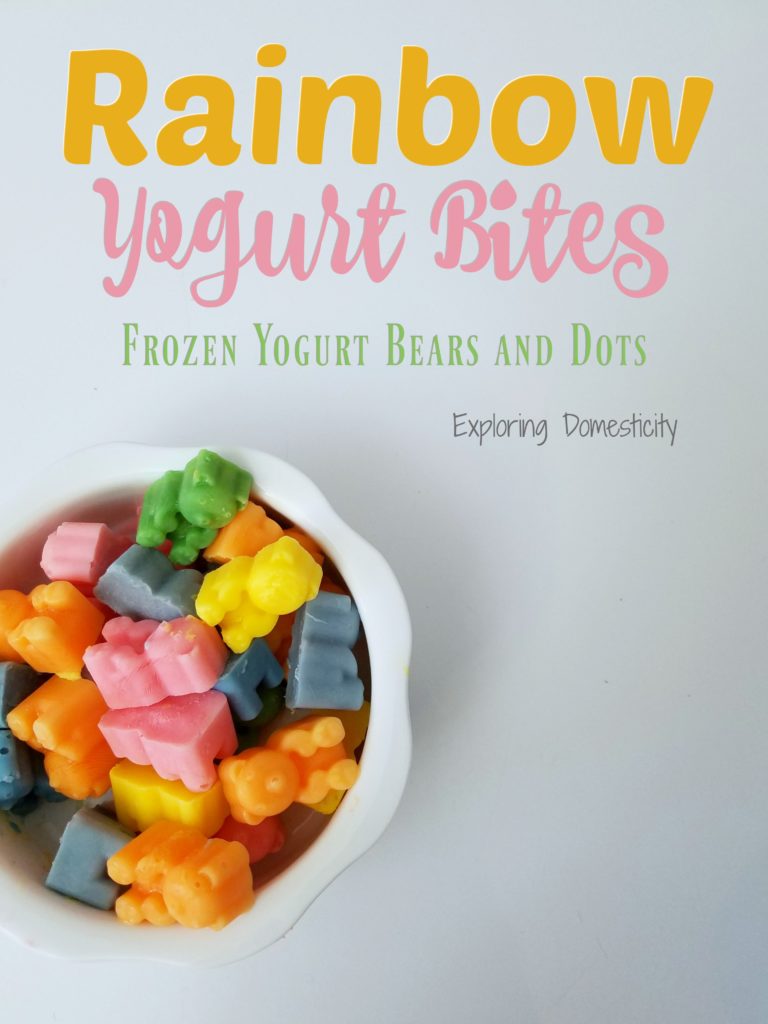 This is a sponsored post and product was provided for review. However, all opinions are always our own and we only share affiliate links to products we hope you will find helpful!
We've done frozen yogurt bites and pops before, but not this colorful! This is my version of a healthier option similar to Dippin' Dots. My favorite part about Dippin' Dots are the combination of colors and how fun and different they are.
Colorful food is just plain fun!
Tiny little rainbow yogurt bites are really cute and fun to eat….
Large bear yogurt bites are even more fun!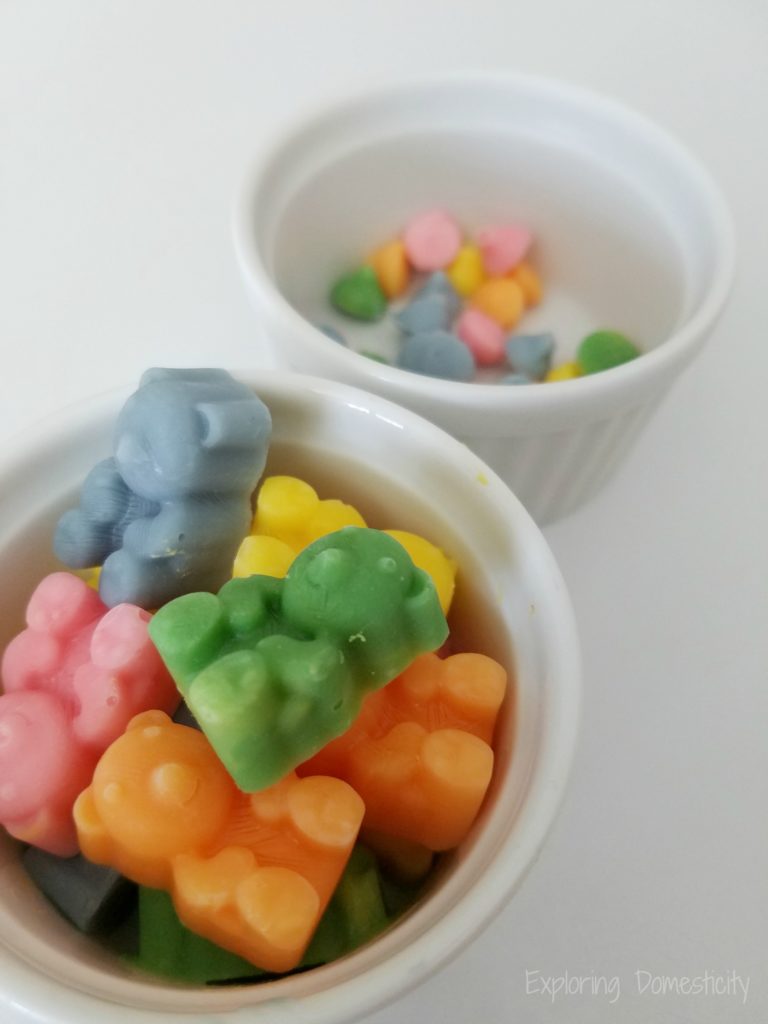 What Makes Rainbow Yogurt So Fun
First, what kid – or adult – can resist playing around with their food and fun colors?
You can have a lot of fun with this. A full rainbow or smaller combinations of colors. Red and green for Christmas, orange and black for Halloween, pink and red for Valentine's Day, etc.
As the rainbow yogurt bites melt, they combine to make new colors or swirls of colors.
I used to pack plain yogurt in school lunches with two different colored sprinkles to mix for a whole new colors. This is an even better way to do that!
Send frozen yogurt bites and end up with cool and colorful yogurt by lunch.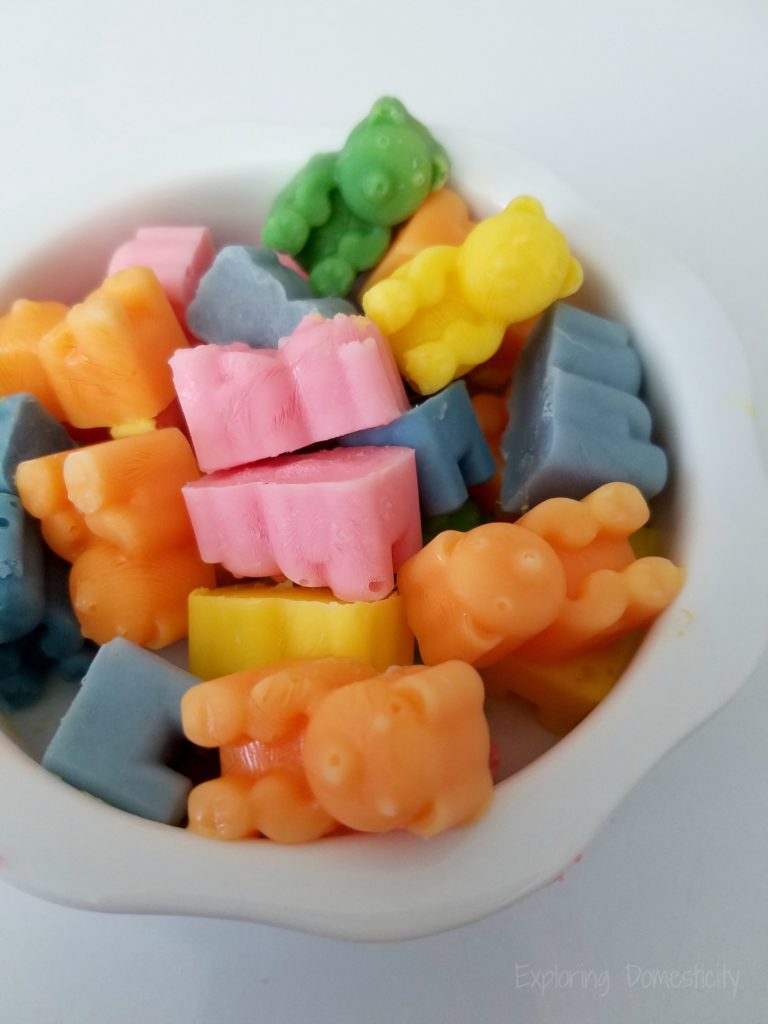 Options for Making Your Rainbow Yogurt Bites
Add fresh or frozen fruit or fruit juice to plain or greek yogurt.
Add a bit of food coloring for vibrant colors.
Use yogurt pouches or individual yogurt cups.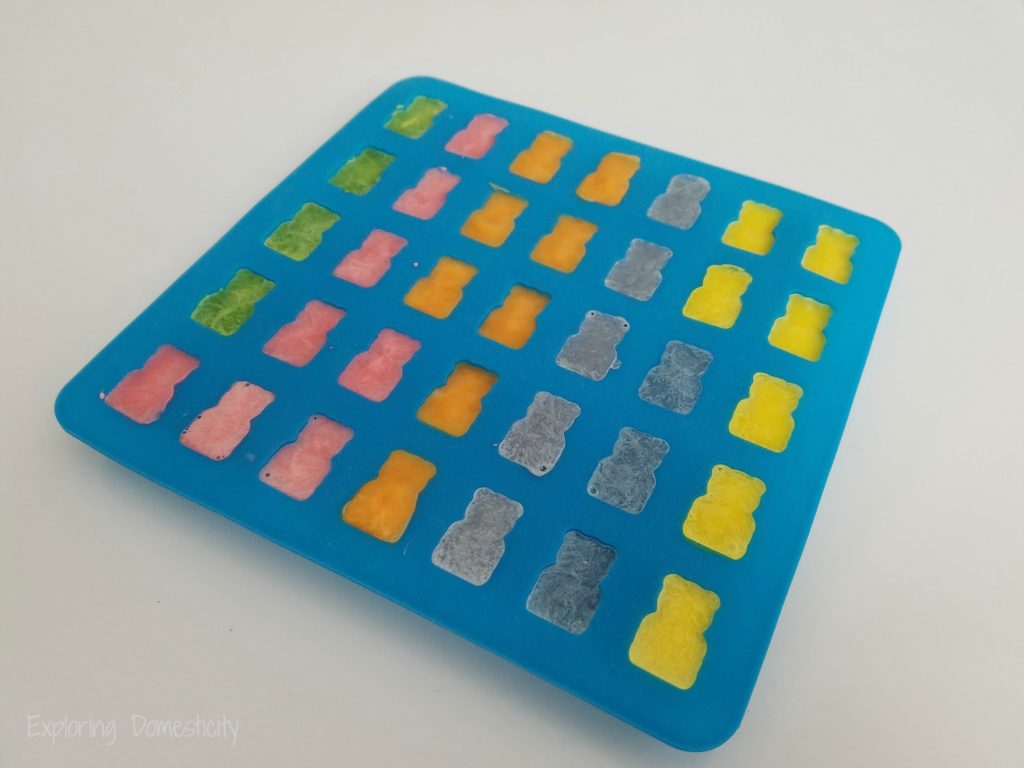 Our Rainbow Yogurt Bites
Our Rainbow Yogurt Bites are made up of a combination of all the suggestions above. We added a drop of food coloring to all of them to make the colors a bit brighter.
Orange One drop of red with two drops of yellow food coloring, make our orange juice and plain yogurt a really fun shade of orange.
Blue Stonyfield Blueberry yogurt pouches, with a drop of blue coloring made up our blue Yogurt Bites.
Pink Individual Stonyfield strawberry yogurt cups and a drop of red food coloring makes the bubblegum pink yogurt bites.
Yellow Another Stonyfield yogurt pouch. Lemonade flavored yogurt and a drop of yellow food coloring makes up these adorable little bites.
Green Using the same lemonade yogurt with a drop of blue added creates the green yogurt bites.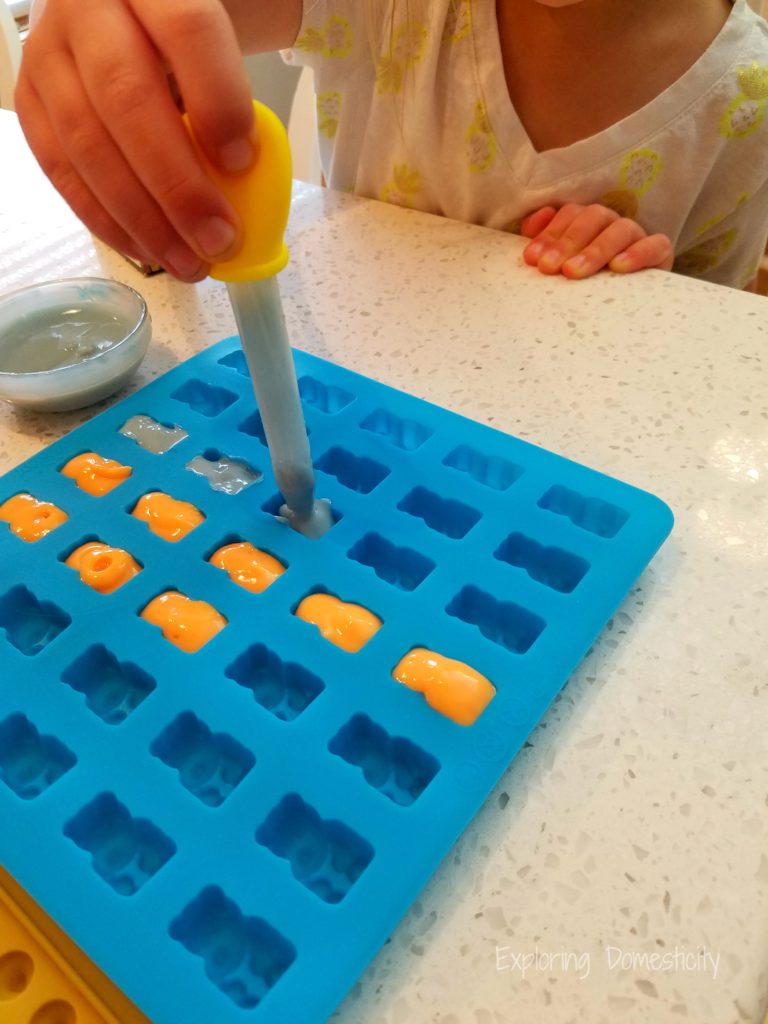 Rainbow Yogurt Bites Silicone Molds
We have used these silicone molds for so many things in the month that we've had them! You've seen them in our post with the Fall Pumpkin Muffins and with our vitamin C bites we talked about Easy Tips to Help Your Family Stay Healthy as the Weather Changes.
If you're going for a Dippin Dots effect, the chocolate chip silicone mold is the way to go. Little Rainbow Yogurt Bites have that very colorful mix and fun look. They melt much quicker because of the small size. I almost didn't even have them all out of the mold before they started to soften.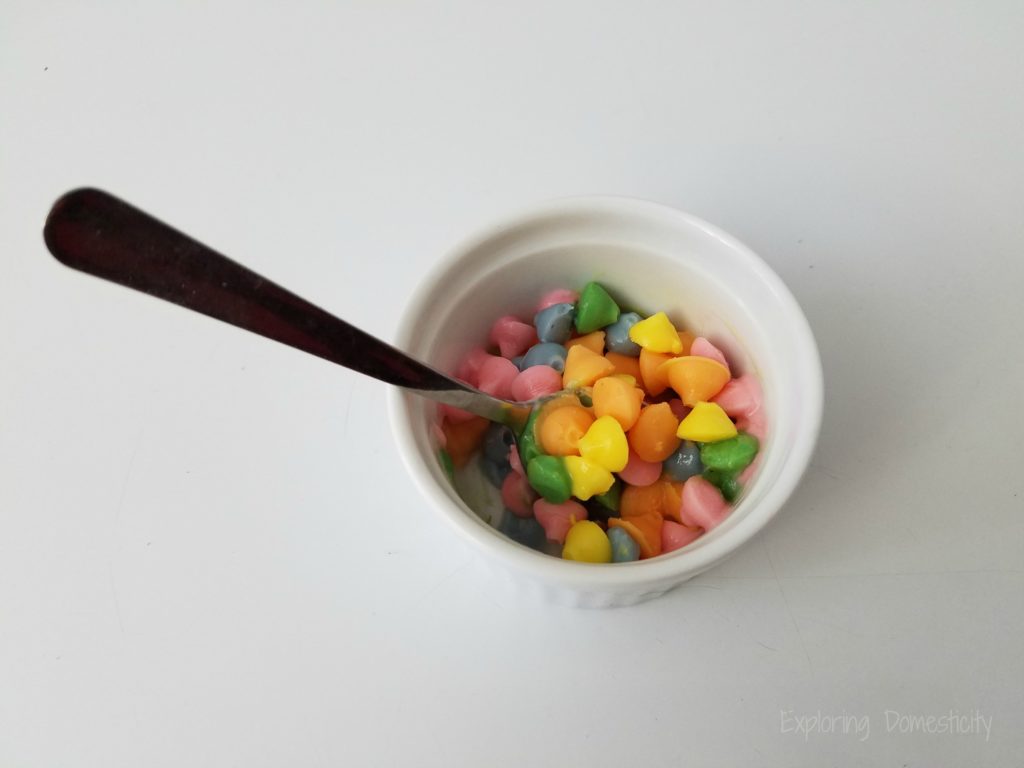 The large gummy bear silicone mold gives you the gummy bear shape that kiddos love.
For lunches or a snack, you can throw a handful of these in a bowl. They can easily be eaten frozen, or you can allow them to thaw and the kiddos can have fun giving their bears a stir. They stay frozen a bit longer, so they are easier to handle.
The thing I love about the gummy bear molds is that they come with three droppers. The droppers were the perfect size for us. The amount of yogurt they sucked up was perfect for each bear. They were also very easy to clean by sucking up hot, soapy water and squeezing it out over and over.
The molds have been really easy to clean as well. I've used silicone molds before and have had them turn white or constantly look dirty. So far so good with these! We have used them for almond bark, orange juice ice cubes, and these yogurt bites.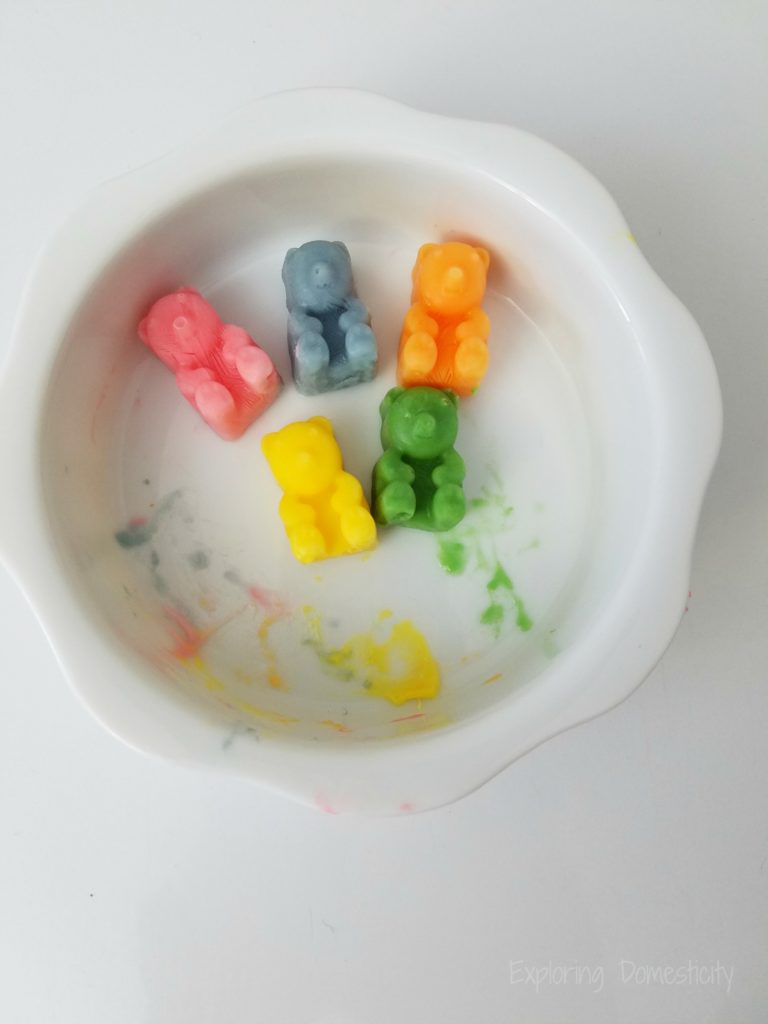 Homemade Gummies
I have to be honest, my original plan with this mold was to make homemade, healthier gummies. Homemade gummies are a bit intimidating, and I just got overwhelmed with that idea.
I did get some amazing recipes from friends…
Eryn even gives you all the reasons each ingredient in her Immune Boosting Yummy Gummy Bears is better for your kiddos. Eryka's recipe is completely different and she made three different flavors of her Vegan and Gluten Free Gummies.
Both recipes – along with all the others I've pinned to Healthier Snacks and Treats – look so good! I was just a bit intimidated by making a gummy and have wanted to do these yogurt bites for a while now.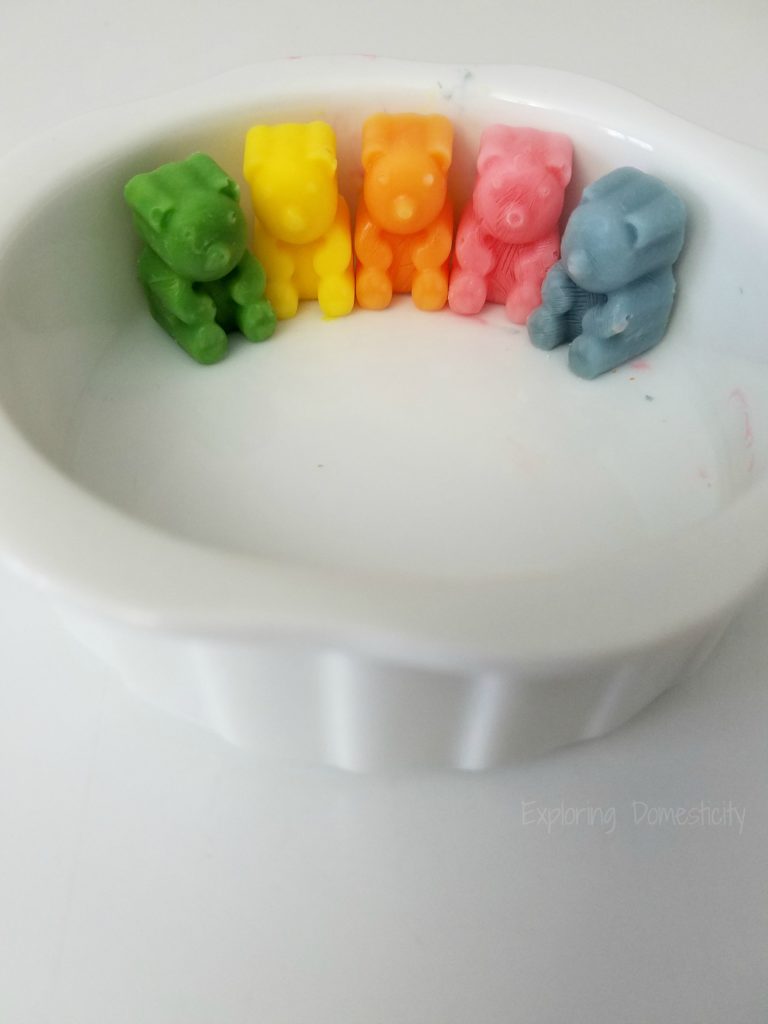 The kiddos love these! They are so easy to make, so it's something even the little ones can help with. The Rainbow Yogurt Bites look cute and the kids will love the fun colors.
Best of all, it's a snack that feels like a treat. Only the parents have to know it's a treat we're happy to give them!
Have you ever tried frozen yogurt bites? What colors and flavors would you use?
More Like This


Make Your Own Rainbow Yogurt Bites