Super sweet onions and garlicky pesto make this Balsamic Onion Pesto Pizza a winner! Add chicken, tomatoes and cheese for a meal your family will love!
Not only will you love this flavorful pizza, but you will also love the GIVEAWAY at the end of this post! Be sure to stick around to the end and enter!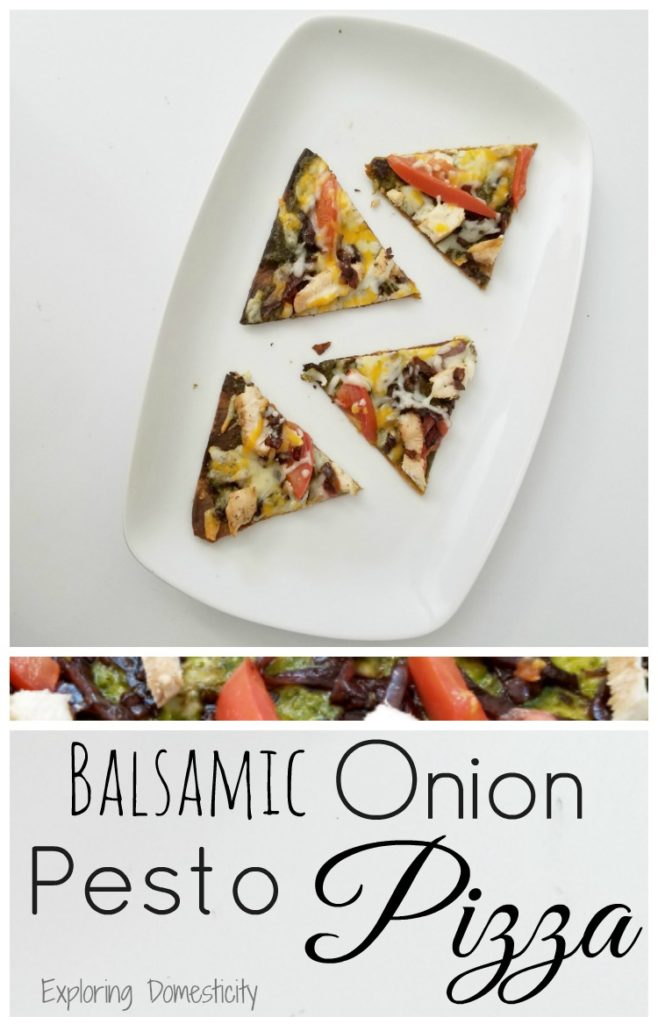 I can't get enough of balsamic and pesto these days. Just give me everything with a bit of garlic, basil, and balsamic please!
There is something about these sweet and delicious onions!
Add those sweet balsamic caramelized onions to a garlicky and delicious pesto and it's a combination that can't be beat! The only thing to finish it off is a crispy crust, some chicken, and tomatoes.
Yum!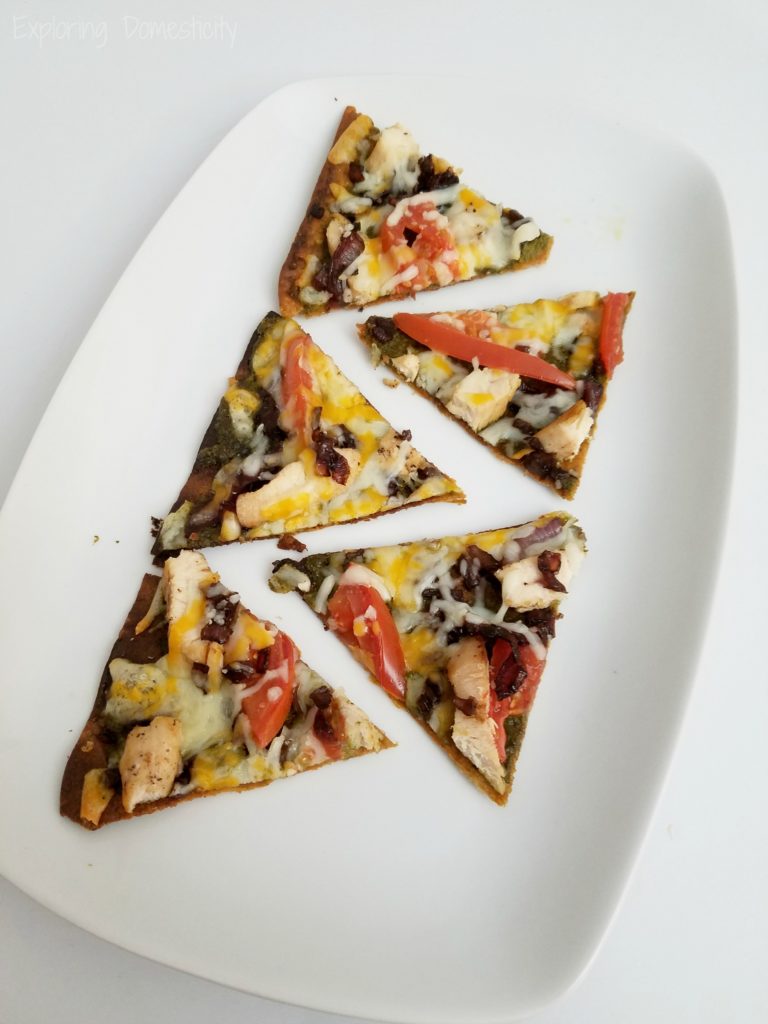 So, this recipe takes a little more time than most I share, but it is in no way hard. You could definitely use leftovers from a great dinner to make this pizza.
If you've been reading for a while, you'll have seen me do onions similar to this before. Instead of Balsamic Onion Pesto Pizza, we made them with wild blueberries and topped our chopped pepper steak. Yum!!
We also do balsamic caramelized onions on pork chops, chicken, and burgers. I was thinking of the Monterey Jack Burgers we made when we tried Hello Fresh while I was making this recipe.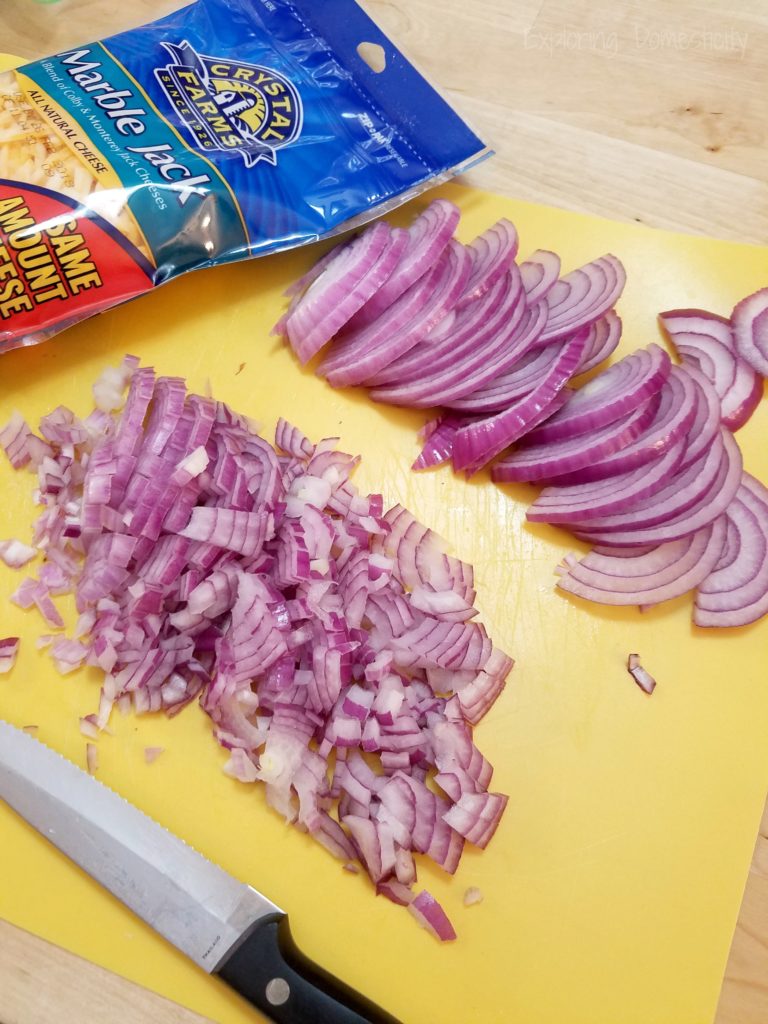 We made a big batch of pesto with all the basil from our basil plant before the weather got too cold. It's an easy thing to keep in your fridge and have ready to go for a pizza like this.
As I said, the onions could be used on so many other meals and chicken could be cooked ahead of time. If you have all these things on hand and don't have to do them all at once, this pizza is very easy to pull together.
Even if you do have to cook the chicken, caramelize the onions, and even make the pesto… it's totally worth it!
While on our trip last week, we ate at a restaurant in Door County and they had the BEST homemade sun dried tomatoes on my Cesar salad. If I knew how they did it, I would have definitely done that with the tomatoes on this pizza. That's my new mission!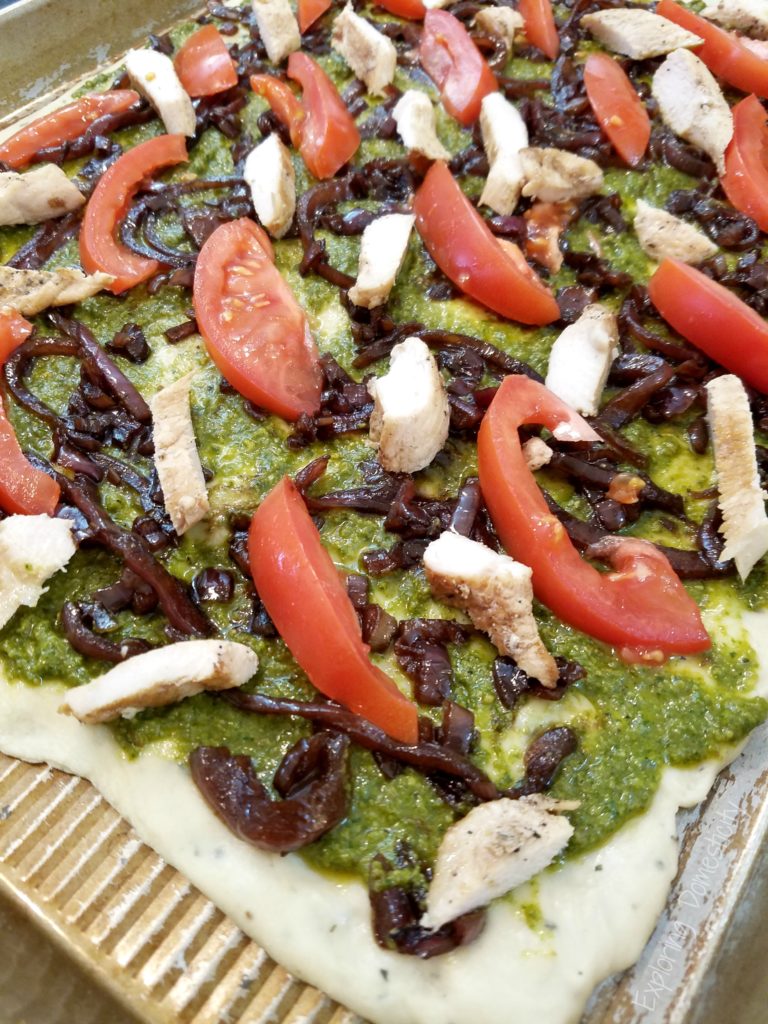 Remember, I'm only "exploring domesticity." I can't take on too much all at once here! As it was, I had a bit of trouble with the crust…
You'll almost never see me bake. I will gladly use a mix, but even then I'm always a little nervous.
With this pizza, I used prepared dough from Trader Joe's. Even then, I was feeling the nerves because I don't even own a rolling pin!
It worked out and the dough from Trader Joe's make a very tasty crust. However, I would totally make this again with the flat wrap we usually use for making our own pizzas.
So easy! Just toast it in the oven first, add the toppings, and let the cheese melt! That's my kind of pizza!
So, I should probably tell you how to make this bad boy…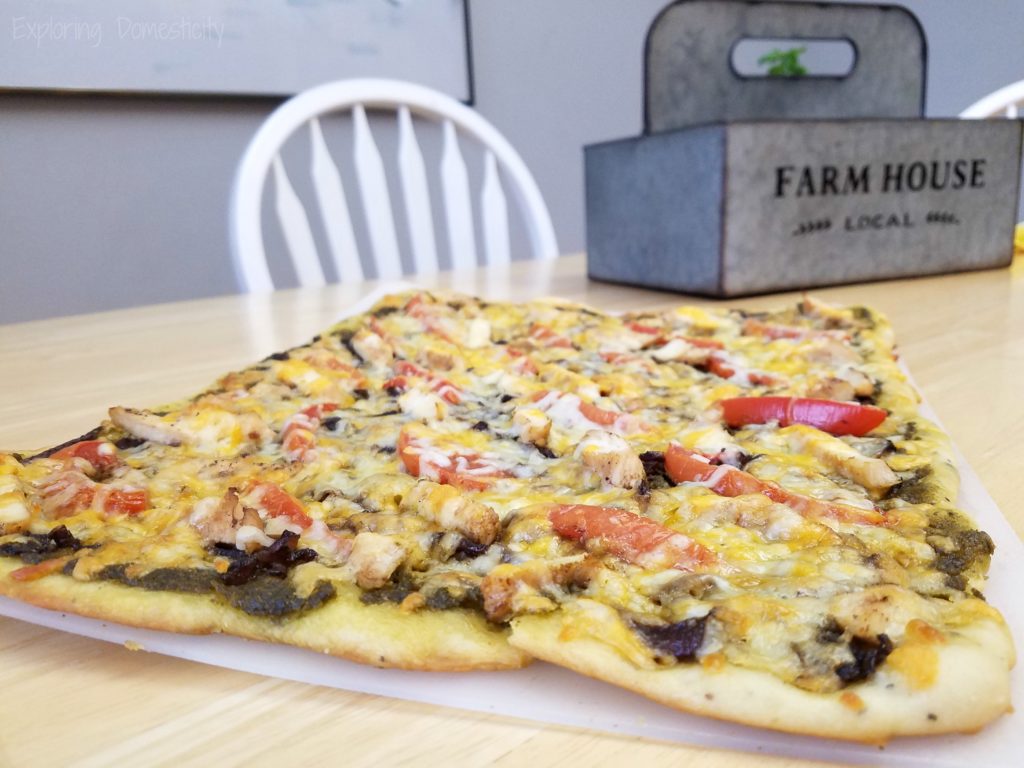 Balsamic Onion Pesto Pizza
Ingredients
Crust. Homemade, Prepared crust, prepared dough, or flat wrap
Pesto. You can use prepared or make your own.
1 Chicken Breast
2 Roma tomatoes
2 Red Onions. Sliced thin or diced – whatever your preference.
2 tbsp olive oil
2 tsp sugar. Optional
4 tbsp balsamic vinegar
1 cup Crystal Farms® Shredded Mozzarella Cheese
1 cup Crystal Farms® Shredded Marble Jack Cheese (or some of the varieties listed below)
Making the Balsamic Caramelized Onion Pizza
Balsamic Caramelized Onions
Slice or chop 2 red onions. I chopped one and sliced the other into very thin slices. I liked the slices the best for looks on the pizza. However, I thought the kids would eat it easier with chopped onions. The chopped onions also make it easier to eat and spread on the pizza.
Heat 1 tablespoon of olive oil in a pan over medium-high heat
Add the onions to the pan and cook about 8 minutes with a bit of salt and pepper, stirring occasionally.
 Add the balsamic vinegar and sugar (optional) and cook an additional 5 minutes or until it thickens.
Remove from the pan and save for later
Chicken
Cut chicken breast into strips for quicker cooking. Or, you could use a couple chicken tenders.
In the same pan the onions were cooked in, on medium-high heat, add 1 tablespoon of olive oil.
Add chicken strips and sprinkle with salt and pepper
Brown chicken on each side and remove from the pan just before completely cooked.
Assemble Balsamic Onion Pesto Pizza
Preheat the oven to 350 degrees.
Place the crust on a sheet pan if you are not using a prepared crust. This is our favorite pan for EVERYTHING!
Spread a generous amount of Pesto on the pizza crust, covering to the edges.
Add chicken, tomatoes, and onions evenly.
Cover with Crystal Farms® Shredded Mozzarella and Crystal Farms® Marble Jack Cheese.
Bake for 10-15 minutes or until cheese bubbles and crust browns.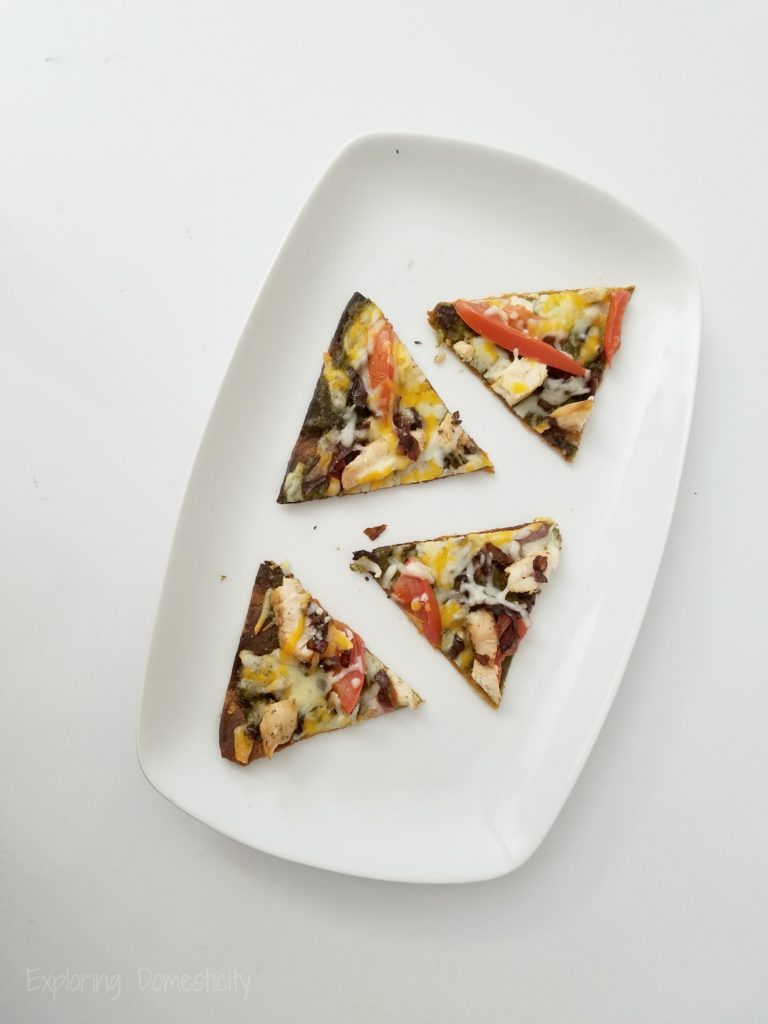 Crystal Farms Cheese
I've always seen Crystal Farms cheese in the stores. Until recently, I didn't know that it is made in our neighboring state of Wisconsin.
With their variety of shredded cheeses, I went back and forth about what to combine with these delicious balsamic caramelized onions.
I know they are a fantastic combination with Monterey Jack cheese on burgers. I did consider doing another burger, but stuffing the onions and cheese. Someone do that and tell me how amazing it is!
Our store had the Mozzarella and Marble Jack when I was shopping, but be on the lookout for their other products, because I think they'd be amazing in this!
3 Pepper Cheese
Pepper Jack
Shredded Pizza and Pizzeria cheese
Garlic Jack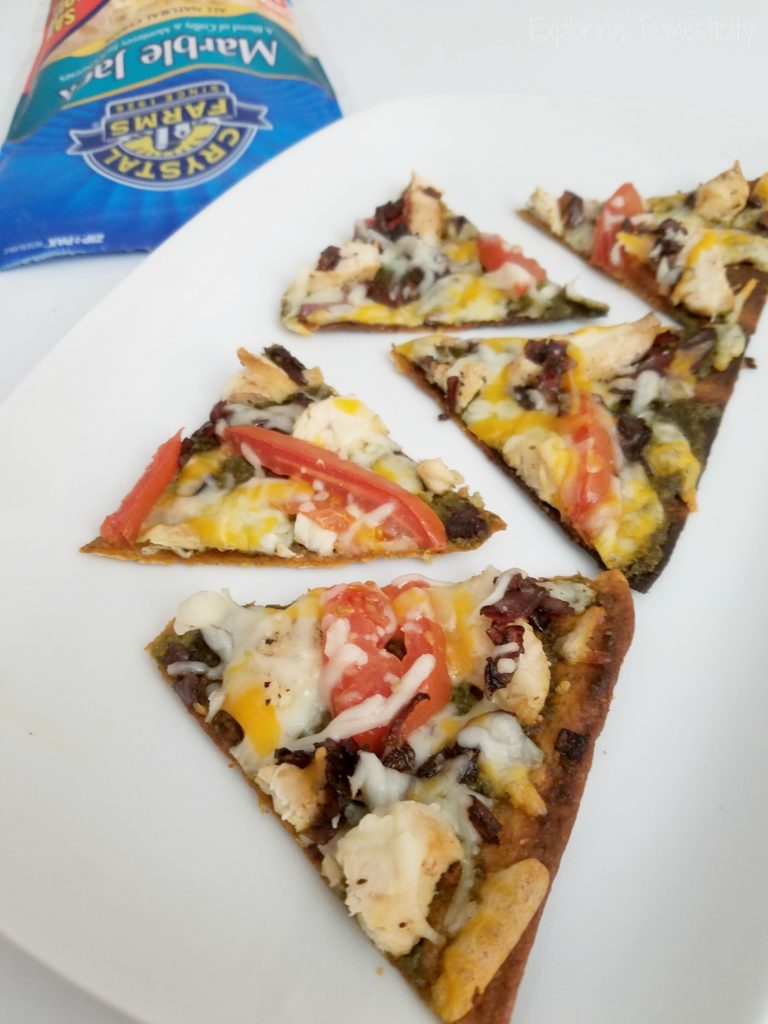 ~~ GIVEAWAY TIME!! ~~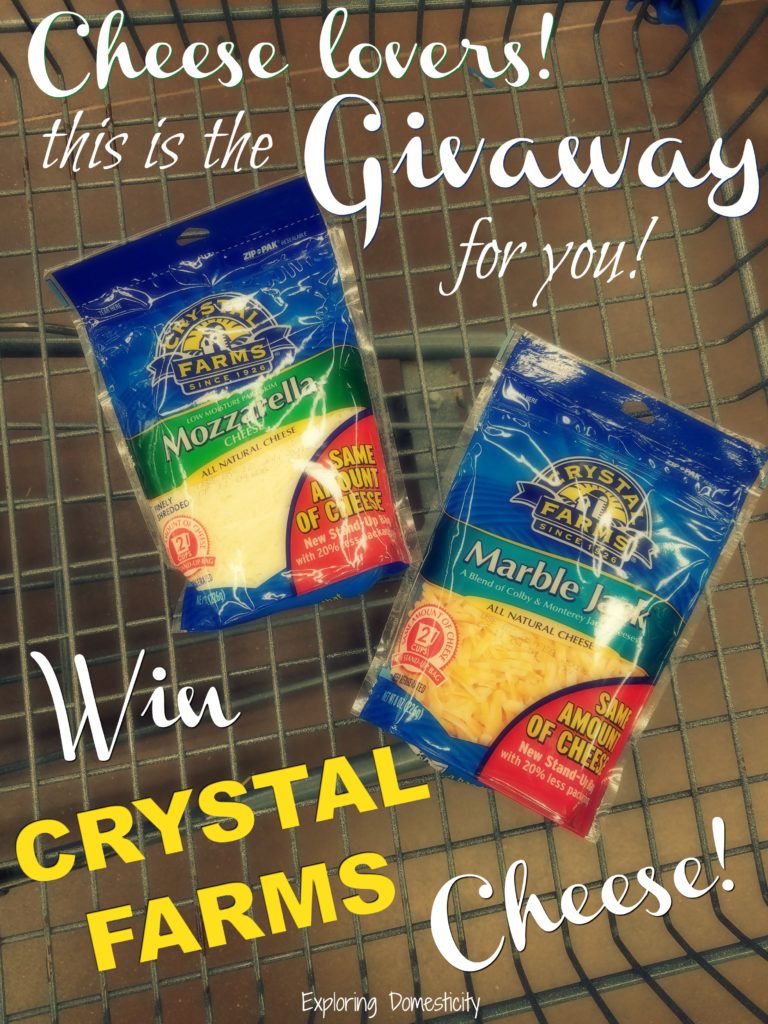 Win Crystal Farms Cheese!
Now's your chance Cheese Lovers! We are giving away 3 free product coupons for Crystal Farms Cheese.
You can make your own Balsamic Onion Pesto Pizza, or any cheesy recipe you choose! The winner will be chosen November 26th, 2017 and the prize will be fulfilled by Crystal Farms.
To Enter:
Visit Crystal Farms and comment below with which cheese you will choose and which recipe you will use it in.
There are a lot of Crystal Farms Products and Recipe Inspiration here.
Super Easy! Good luck!