Thinking of trying Hello Fresh? Read what we LOVED about Hello Fresh as well as what was difficult for us.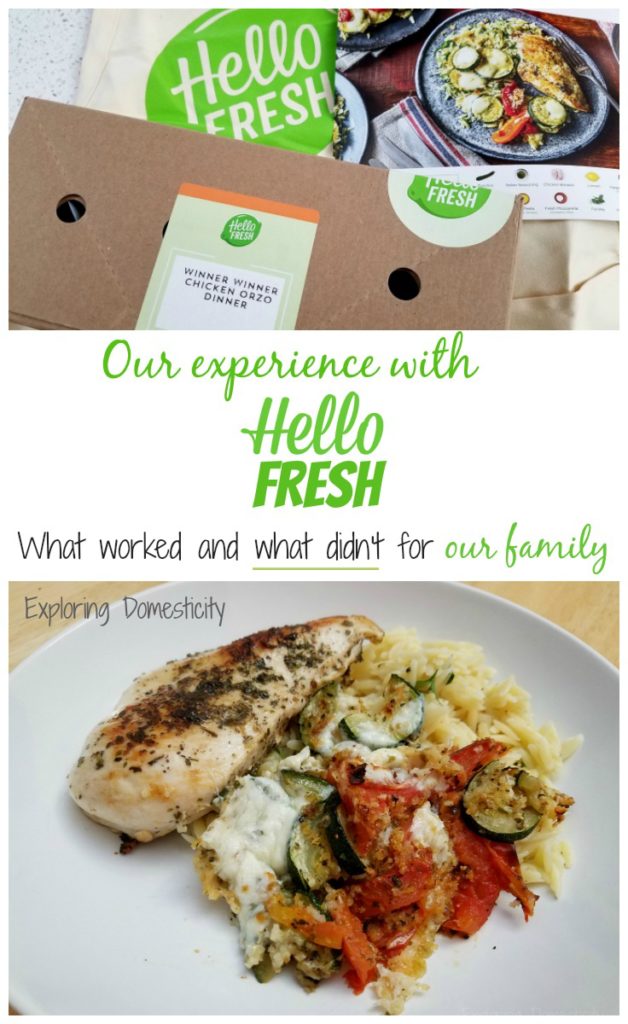 This post is sponsored by Hello Fresh, and may contain affiliate links. You will see we kept our review completely honest – sharing the good and bad – regardless.
I have a lot to say about our experience with Hello Fresh! There is so much information in this post that I'm going to give you a little breakdown right now!
How Did it Go?
Packaging and Ingredients

|

 Our Hello Fresh Meals and Favorites

|
Enough to Eat and Leftovers?
What We Didn't Love About Hello Fresh
A lot of dishes

|

 It can feel overwhelming

|

 
Less flexibility
What We Loved About Hello Fresh
Delicious meals!

|

 Fun for the whole family

|

 No shopping involved

|

 No more, "what should we have for dinner?"

|

 Excellent customer service

|

 
Would We Order Hello Fresh Again?
If you're thinking of giving Hello Fresh a try use code EXPLORING30 for $30 off your first box here!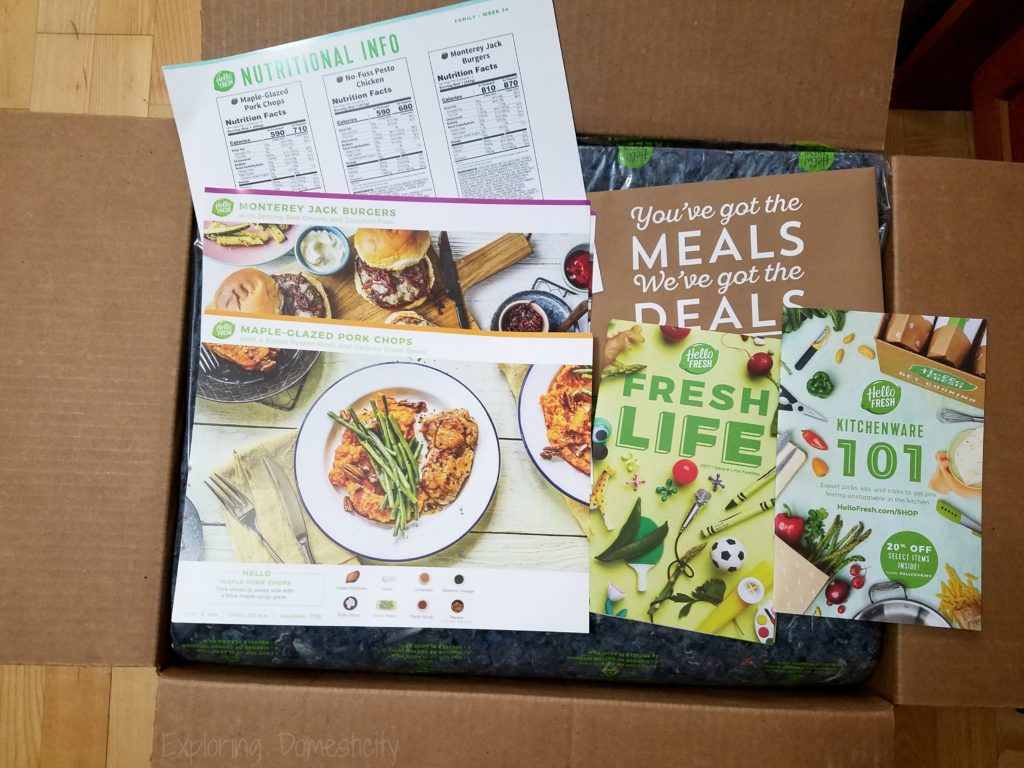 Trying Hello Fresh for the first time
How Did it Go?
I was so excited to get that first Hello Fresh box! Unfortunately, we tried to fit in one last week at the cabin before school started just at the time our Hello Fresh box arrived.
Luckily, my husband was home to take in the box and put everything in the fridge. We arrived home in 5 days and the only things that went to waste was our zucchini and spring greens. If my husband would have opened the boxes and done something to keep the veggies fresh it probably would have made it. However, the spring greens were still wet and wilted when I got them the in the second box.
Because of the timing on the first box, we ended up making our meals for lunch, dinner, and lunch the following day.
It was a bit much!
I slowed down a little bit on the second box, but it was still a bit stressful to cook such big meals each night. I was exhausted when it was all over!
That being said, having the beautiful fresh items delivered with an amazing recipe was so nice!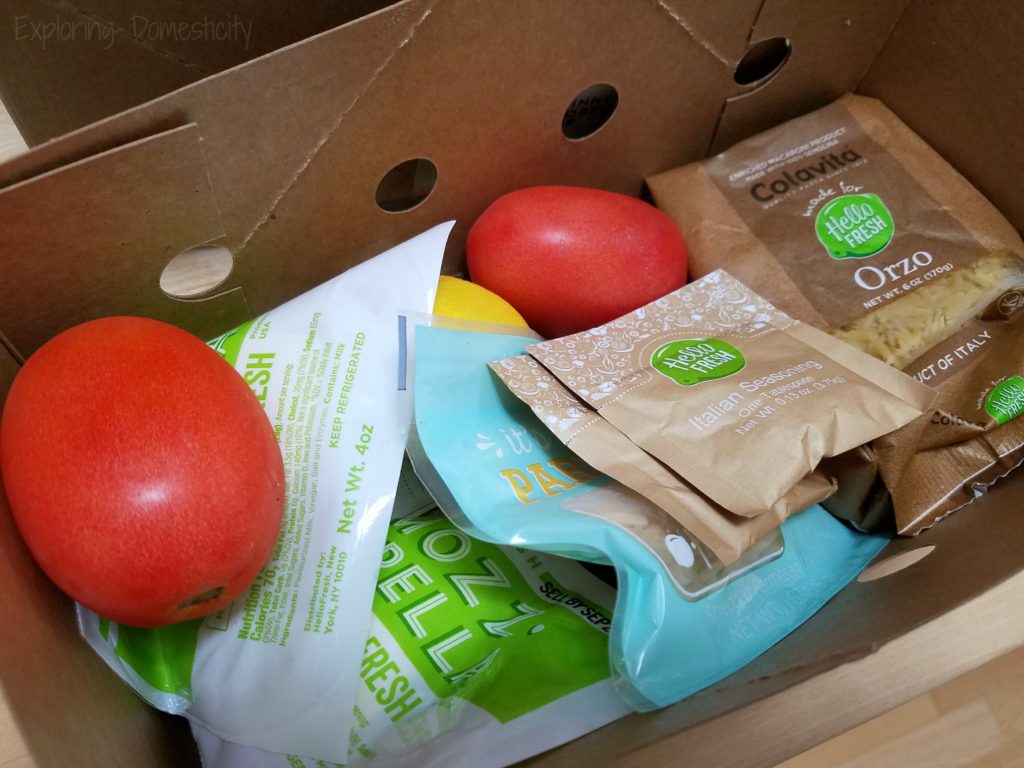 Packaging and Ingredients
I was home to receive the second box. Everything was packed very well with three boxes – one for each meal – on the top and the meat on the bottom under some ice packs.
The recipe cards are included and printed on strong card stock. I was missing one recipe from the second box because there was a duplicate of another recipe. I was able to quickly get a response from an email to Hello Fresh support. They pointed me in the right direction and the recipes are easy to get on your computer.
Ingredients
Overall, the ingredients were beautiful and fresh. The only ingredient I had difficulty with twice is the Spring Greens. I would suggest, if you get a recipe that includes spring greens, make that recipe first.
I love the adorable packaging for the Hello Fresh ingredients. The mayo, ketchup, hoisin, etc. come in adorable tiny jars. The maple syrup also came in another shaped adorable jar. Things like parmesean, panko, etc. comes in little pouches with adorable graphics.
I have tried one other meal delivery service before. One difference I noticed is that Hello Fresh will sometimes give you a little extra ingredients. So, unlike the other delivery service that gives you exactly what you need for a recipe, you do have to pay attention to the measurements on the Hello Fresh recipe.
I found that often I had a bit more than needed with certain ingredients. Sometimes the recipe mentioned that they sent extra. Other times, I found that the amount of panko crumbs or parmesan, for example, were just a bit much.
What I gathered from our experience is that it seems Hello Fresh packages some ingredients in particular amounts. It appears, recipes can be easily doubled for a family as opposed to a couple. However, I think the amounts don't necessarily need to double. If that makes sense... Maybe it will make more sense when I talk about our meals.
Our Hello Fresh Meals and Favorites
We tried 6 meals over 2 weeks with Hello Fresh. Let me tell you, they were delicious!
The whole family enjoyed these meals! They all would be very happy to do it all over again each week. We also had fun cooking some of the meals together, and everyone in the family lent a hand at some point.
Juicy Apple Pork Burgers
This meal was a great way to start off our Hello Fresh experience. Since we were backed up, this made for a perfect lunch during the weekend. My husband grilled the burgers after I had put them together and I worked on the salad and potatoes.
The reason this was so great is because it's something I wouldn't have made on my own. I don't add a lot of fruit to our meals. This was delicious and I would happily make it again.
Winner Winner Chicken Orzo Dinner
I'd say the Winner Winner Chicken Orzo Dinner was my second favorite of all the meals. Everyone gobbled everything down. The kids didn't pick a thing out and devoured their entire plate. My husband and I loved it too.
I definitely loved the way the orzo was made. It was simply cooked with a bit of lemon and parsley and I've been dying to make it again the exact same way. It can go with so many other meals. The chicken and the veggies were also delicious and flavorful.
The only thing I noticed about this recipe was that we had more ingredients than needed. I cut the amount of cheese and panko in half and we still had plenty!
Hoisin Glazed Meatballs

*FAVORITE*
The hands-down best dish of the whole experience! These meatballs are so flavorful and completely delicious. The jasmine rice is also amazing and I couldn't stop smelling it. I loved it all with the pea pods and sauce. YUM!
Monterey Jack Burgers
Both of the burgers we had were completely delicious. I've always been pretty boring with burgers, but this has given me some excellent ideas for our next burger night.
The best part about this meal is that the burger was served to our pickiest eater and the next time I looked it was completely gone! She at all the onion – everything! I've never seen her not find every onion in a dish and pick it out. I had to tell her what she ate was onions. They are so caramelized and sweet, I'm not surprised the kids liked them.
You also can't beat zucchini fries. Everyone had seconds on those.
Maple Glazed Pork Chops
The maple glazed pork chops was our least favorite meal. It was a little crazy that day with company and projects, so maybe this one was just at a bad time.
The pork was good and so were the sweet potatoes, but it wasn't a favorite. Our kids will eat roasted sweet potatoes and the sweet potato cake I make, but they didn't want to finish it. My husband and I didn't eat the leftovers on this either, but I'm sure others will love it even if we didn't. The kids did love the green beans and have seconds on that.
No-Fuss Pesto Chicken
You can't really go wrong with pesto, chicken, and cheese. We liked the No-Fuss Pesto Chicken with roasted potatoes and salad. However, it wasn't our favorite meal of the bunch. We had to eat this one quickly because the spring greens were already pretty wet when we opened the box.
I have one salad eater kiddo and one not so much, but none of us found this salad very exciting.
Enough to Eat and Leftovers?
For our family of four, we always had leftovers. Or, in the case of burger nights, my husband was able to have 2 or 1 1/2 burgers.
A family with young children will have no problem filling up on Hello Fresh meals! There is plenty of food and our little ones often split a serving. This allowed us to have leftovers for lunch or my husband to have a second helping.
One of my favorite things was getting to eat the leftovers for lunch. The hoisin meatballs made for such a delicious lunch! I also combined the pesto chicken with the leftover greens for an amazing salad.
What We Didn't Love About Hello Fresh
A lot of dishes!
One of the most difficult things to stay on top of with these meals were the amount of dishes.
I'm a huge fan of one pot meals or easy meals, so this was a big change for me. Pretty standard for each recipe would be to go through two bowls, two pans, and at least one pot – sometimes two. Luckily, I have about 4 of my favorite pan, because they were always dirty!
That's a lot for people who hate to hand wash! We ended up with a sink full of dishes and definitely more than with our usual meals.
It can feel a bit overwhelming.
Part of the problem we had was that we tried to fit a lot of meals into just a few days. However, it got to be a bit overwhelming!
Preparing these amazing meals each night took some time, it was some pressure to get it just right, and did I mention the dishes?
I think if we wouldn't have had that blip with timing of our vacation, preparing three of these meals a week would be no problem.
The next time I order Hello Fresh, I will likely stick to every other week.
Less flexibility.
For those of you who are successful meal planners – as I would like to be someday – this is probably not the case. In fact, it's one of the reasons I would like to get better at meal planning…
However, I found having these three big, delicious meals to make to almost be a little stressful at times. I was constantly thinking about when we should have them. How long they take. What our other plans would be. Which product needed to be used asap.
I think this was really only difficult because we were cooking our meals during the last couple weeks of summer. We were constantly trying to fit in a couple more experiences, a trip to the cabin, and prepping for the new school year.
What We Loved About Hello Fresh
Delicious meals!
Our favorite part about Hello Fresh was how good the recipes were. It gave us variety, the recipes are delicious!
Even with kids 4 and 6 years old, everyone loved these meals. Even if we had one kiddo who didn't like the salad and neither of them were huge fans of the sweet potatoes, there was still enough for them to eat and it always felt very well-rounded.
My husband and I loved every last bite. I definitely am keeping the recipes right with my cookbooks and will cook them again in the future.
Fun and exciting for the whole family
One of the best things about Hello Fresh was how fun it was. We were all excited when the box came. The kids wanted to help open everything up and see what was inside. I also loved getting all the boxes and checking out the recipes.
When it came time to cook the meals, it was almost like entertainment. The kids wanted to see the recipe and check out the ingredients I was pulling out of the meal box.
I even got help with dinner from each family member at least once. My husband actually helped more with these meals than any normal dinner time.
It was great! It definitely made dinner more fun.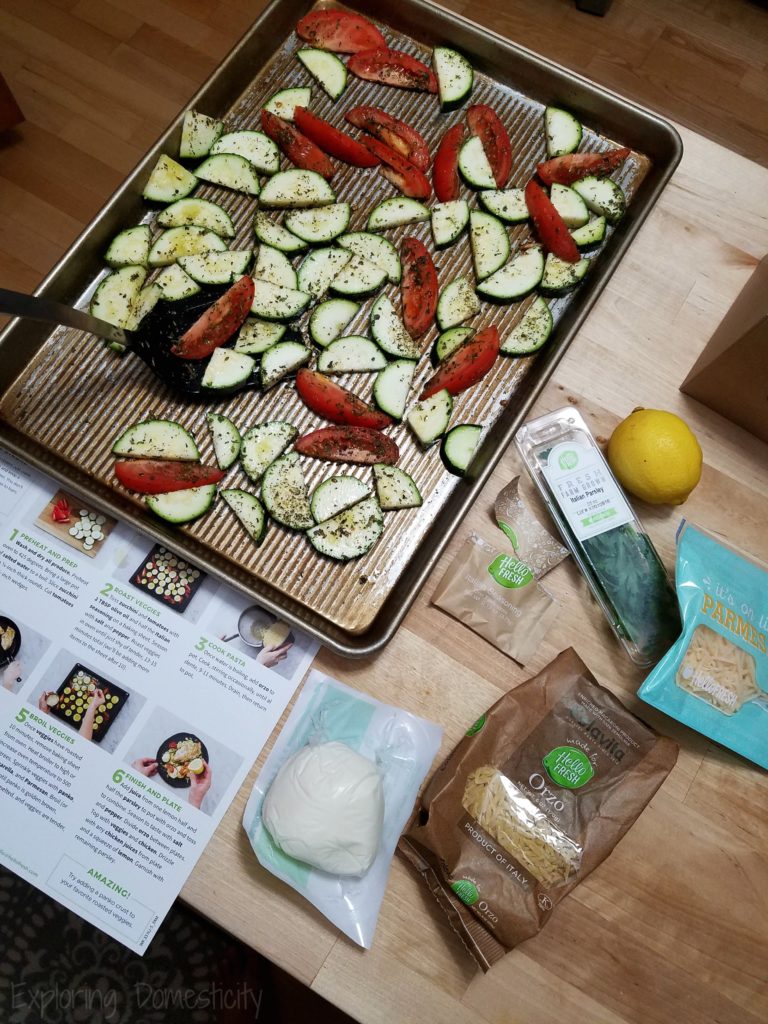 No shopping involved
I didn't have to make a list. No trip to the grocery store. No second trip to the grocery store after I forgot something for the recipe.
Nothing!
All I had to do was open the box, put all the ingredients in the fridge, and check out the recipe to see what we were having.
Then, when dinner time came… I would take out the recipe, unpack the specific, labeled box, and start following the directions.
No more, "What should we have for dinner?"
It was so relaxing not to have to meal plan or make a grocery list. I didn't feel any pressure to please everyone in the family, because I knew what we were having – take it or leave it!
Best part? They all loved it! There was something for everyone in each meal. The kids ate everything so well, and no one complained.
It was so nice!
I never had to feel guilty about not having something planned and feeding the kids something less-than-healthy.
Excellent customer service
I mentioned that we were missing one of the recipes from our second box. I hopped right on the computer to email customer service.
They were very quick to respond and the pointed me in the right direction. Not only are the recipes on the website, but he also attached the recipe to the email.
Easy fix!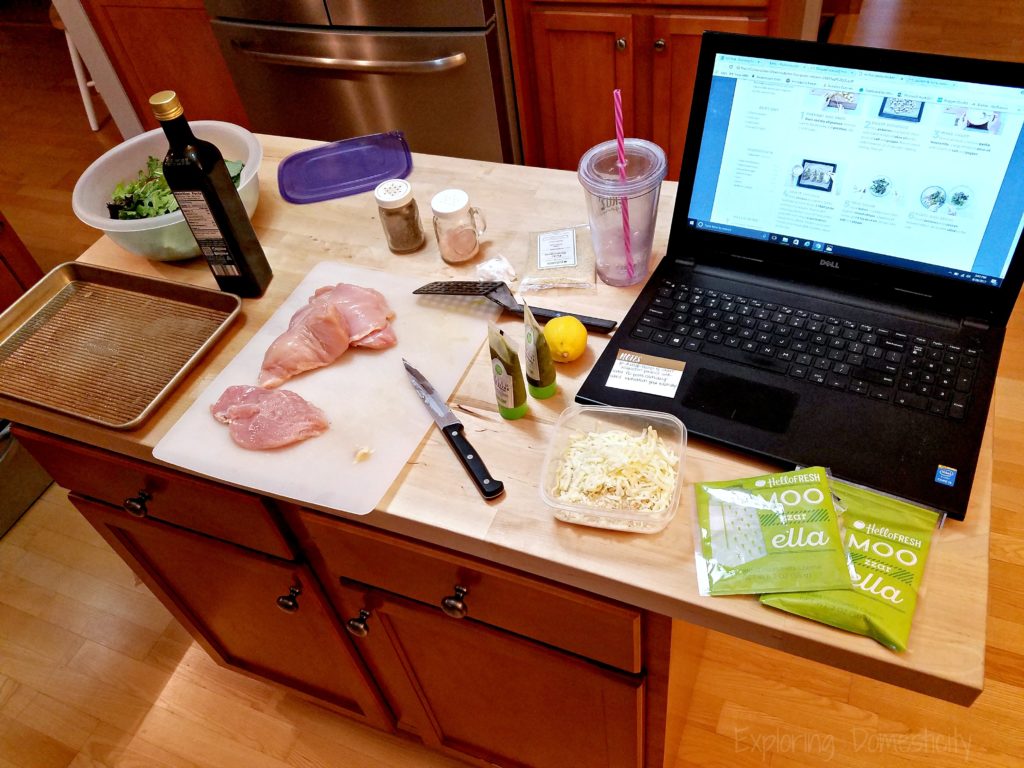 Would we order Hello Fresh again?
So, after all that, would we do it again?
If you are extremely frugal as I am, you will appreciate this… I don't know if I'd ever place another order again…
It is not that we didn't have a wonderful experience. The food was amazing, it was so easy and convenient, and I loved the whole experience. In fact, I could see myself buying this for someone else for a gift.
However, I see it as a luxury that I can't always justify for us and I don't know if I can honestly say I'd do it. I would want to! I think about how good those meals were all the time and how easy it was to have all the ingredients ready for me.
I do know that if I did make a Hello Fresh order, I would go for two meals a week. That would fit into our lifestyle a bit easier.
I definitely recommend it! I do think it is worth the money and encourage others to give it a try.
If you're thinking of giving Hello Fresh a try
use code EXPLORING30 for $30 off your first box here!
What do you think? Have you tried Hello Fresh or something similar?