Rustic decor, special touches, and a fun Johnny Cash Relay make a Johnny and June Couples Shower an event to remember.
Johnny Cash and June Carter Cash are the perfect inspiration for a fun couples shower! Rustic decor paired with a bit of elegance and the chance to break out your cowboy hats.
Johnny Cash quotes and love letters elevate the romance, while rustic decor and a lot of fun make this the perfect couples shower. If that wasn't enough, instead of your run-of-the-mill wedding shower, how about a Johnny Cash Relay!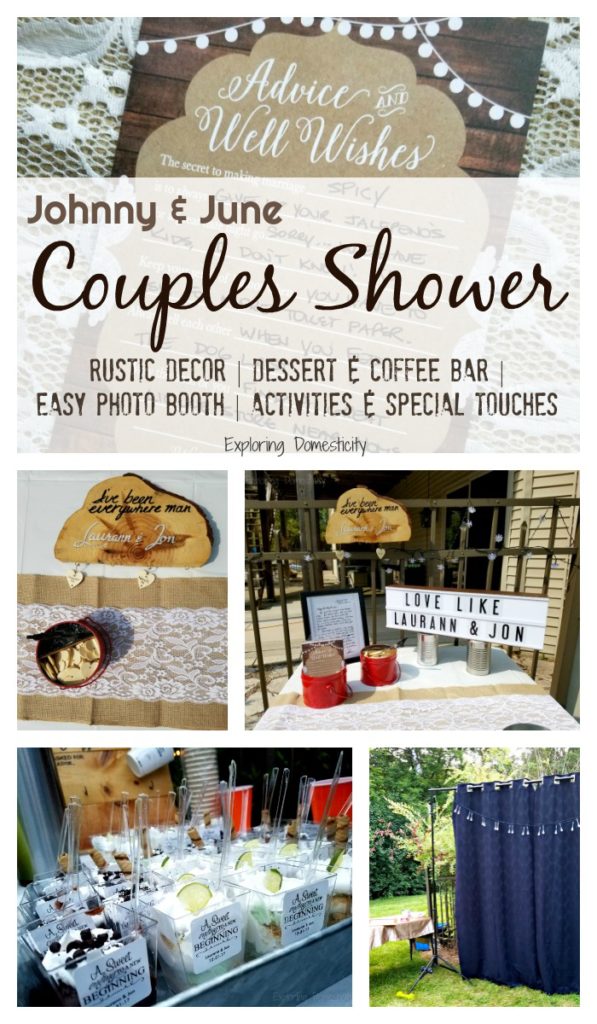 This post contains affiliate links to products we hope you will find helpful for hosting your own Johnny and June Couples Shower.
After our I Do BBQ a couple years ago, it was our mission to top that with this next wedding shower.
The couple we are celebrating met and studied in Nashville, so we took that an ran with it.
Now, a country theme or a rustic, western theme would be great. We took it one step further by going rustic, glam with a Johnny and June Couples Shower.
Johnny Cash and June Carter Cash have such a famous love, so it's perfect for a wedding shower. Also, you can use some of the sweet love letters they wrote, lyrics from his song, and the chance to keep it easy with a rustic, country look but also glam it up as a nod to the famous couple.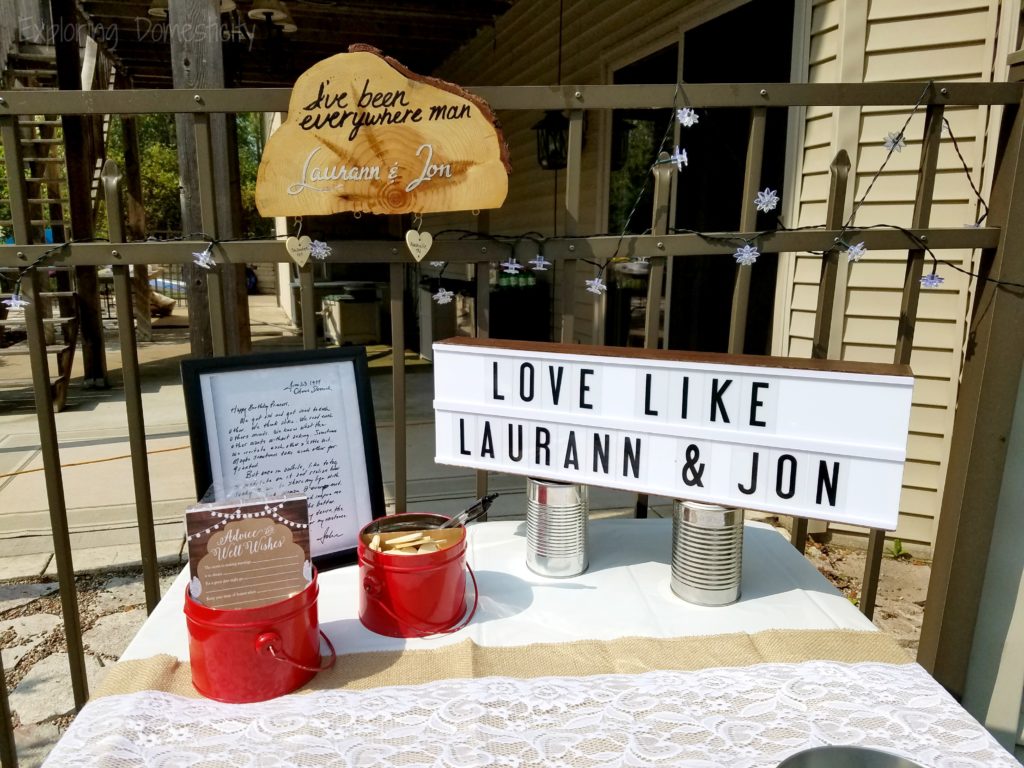 Johnny and June Couples Shower
Rustic Country Decor
Rustic, country decor is something that I'm so happy is in style right now. You can use some very inexpensive supplies and make it look great!
Tins and Cans
Going with rustic decor is amazing because you can use very inexpensive things and make them look great as decor.
Inexpensive tins are prefect for holding little odds and ends, silverware, pens for signing a guest book or filling out games, or special parts of your decor or activities. We used some old red tins we had for some of the decor I'll talk about below.
Even better than inexpensive tins is using something that would normally be trash and making it look amazing! We saved various shapes and sizes of tin cans instead of recycling. Some were intended for holding flowers and others were used to prop up other pieces of decor and add dimension and height.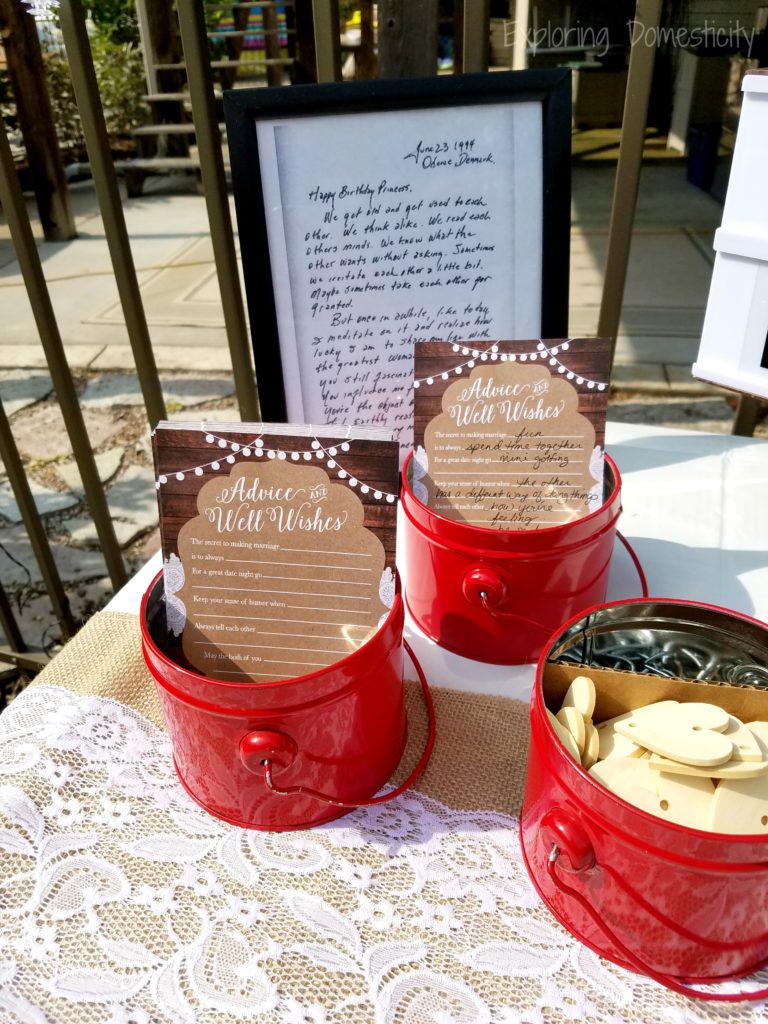 Burlap
Accents with in burlap and twine help tie everything together. You can add burlap to tables or to the tins we mentioned above.
We had a roll of twine and a roll of burlap ready just in case we had to add it at the last minute to tie things together.
Twine looks great wrapped a few times around a tin can. Burlap looks fantastic running down a table over a plain table cloth. We would have used our roll of burlap if we didn't have this adorable table runner with burlap and lace. It was perfect and made everything look amazing!
Advice and Well Wishes Cards
Traditional wedding shower games may not be everyone's thing, but there are still ways to have a few activities without being corny or pressuring the guests.
One of my favorite touches at our couples shower were the advice cards. You can find them in many different designs and with different advice prompts. These were my favorite. The prompts were light and fun and everyone had a good time with it.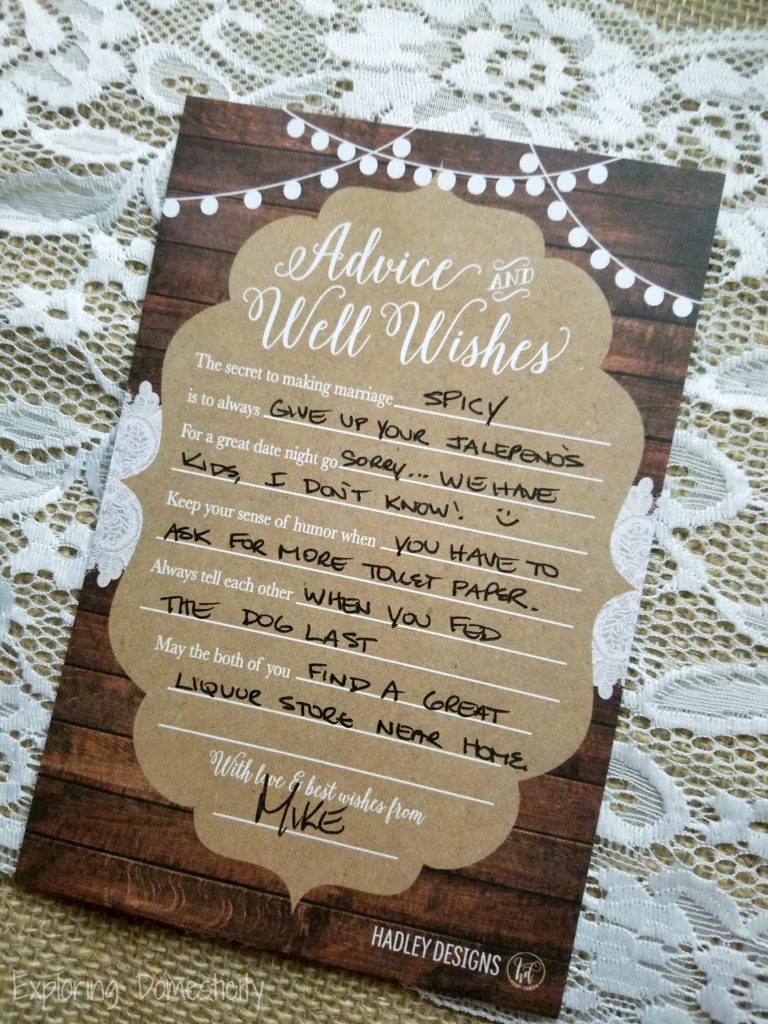 Add Some Glam
Photo Booth
One of the fun touches you can add to any party pretty easily is a DIY photo booth. There are so many excellent backgrounds and creative ways to set up a photo booth. I love the use of rustic doors, windows, or picture frames.
The biggest challenge in an outdoor space is where to create a background and how to make it stand. An easy way to do this is with a photo backdrop stand. We have this one and can carry it around easily with the case.
If you have a free-standing photo backdrop stand, you can use almost anything to create a fun party photo booth. We used curtains we already had. You can get fun curtains from a thrift store, mix some florals and lace for a bohemian looks, use something shiny for a glam look, or use sheer curtains and string lights behind for a fun glow.
Placing a table next to the backdrop creates a space for fun photo props. You can find a lot of kits with paper cutouts and sticks to put together some fun additions to your photos. We used these props along with an old frame and chalk markers to write notes to the bride and groom.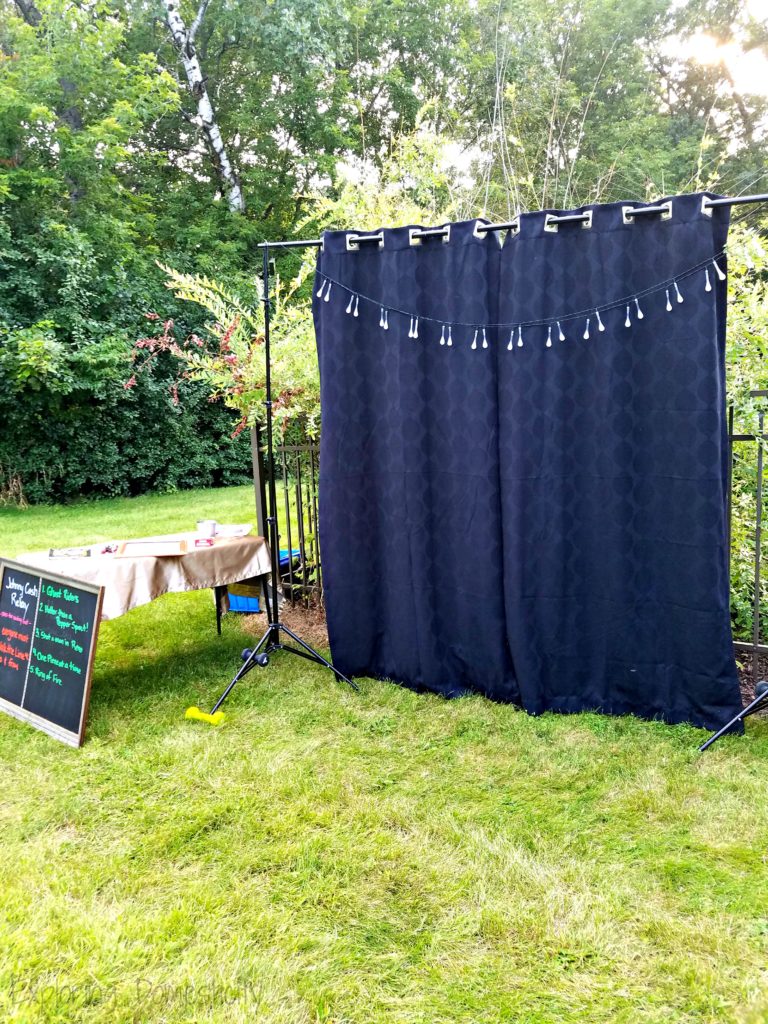 Lights
A fun addition to a photo backdrop is the addition of lights. We strung multi-colored solar lights across the backdrop for a pop of color.
Using solar lights is an excellent way to decorate an outdoor space. There is no need for outlets, so you can use them anywhere. They also have a sensor to turn on when it gets dark. So, you have automatic ambiance when it starts to get darker.
These are the exact lights we used to decorate our party.
Light Box
Who doesn't love a light box!?
I got this light box from UncommonGoods – you may have seen it here with other unique gifts – specifically for this party. Going with a theme revolving around country music icons, I figure there's nothing better than the vintage style of this light box.
These are a must! They are so fun and there are a lot of different styles with letters and even emojis.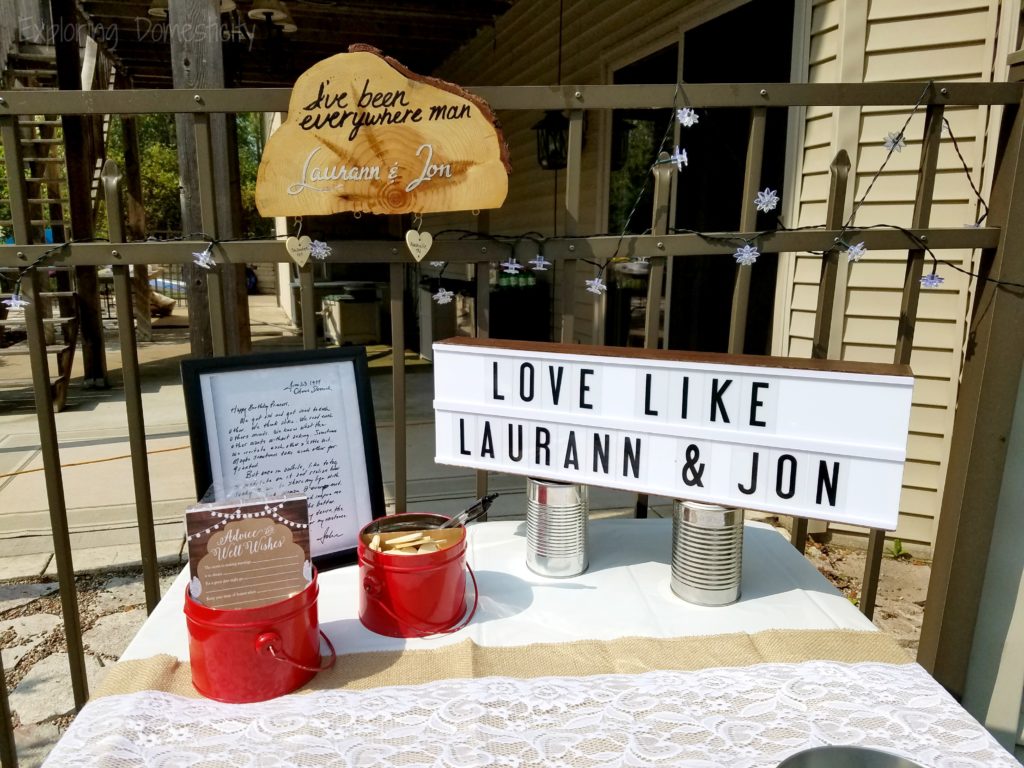 Johnny Cash Love Letters and Quotes
One of the sweetest special touches of this Johnny and June Couples Shower are the Johnny Cash quote and the sweet litter to June.
If you google Johnny and June and love letters, you'll find a couple letters he wrote. They are just so darn cute! This one was ready to go and easy to print for our decor.
With an old frame, a personal love letter makes for beautiful wedding shower decor. I definitely recommend framed love letters for any wedding shower.
Coffee / Dessert Bar
Another area that is great to have is a coffee bar or dessert bar. The star of our bar was the DIY Coffee Cup Holder. Lights, paper lanterns, and other fun touches made it an adorable spot.
Guitar Pick Confetti
Here is another easy DIY for you! With a music theme, this guitar pick confetti is such a fun and easy touch.
Have you seen guitar pick makers before? They will turn any plastic – even a credit card – into a guitar pick you can actually use.
Since we already had one, I decided to use the enormous supply of paint samples we have accumulated for the new house and make paper, guitar pick confetti. I think they turned out pretty cute.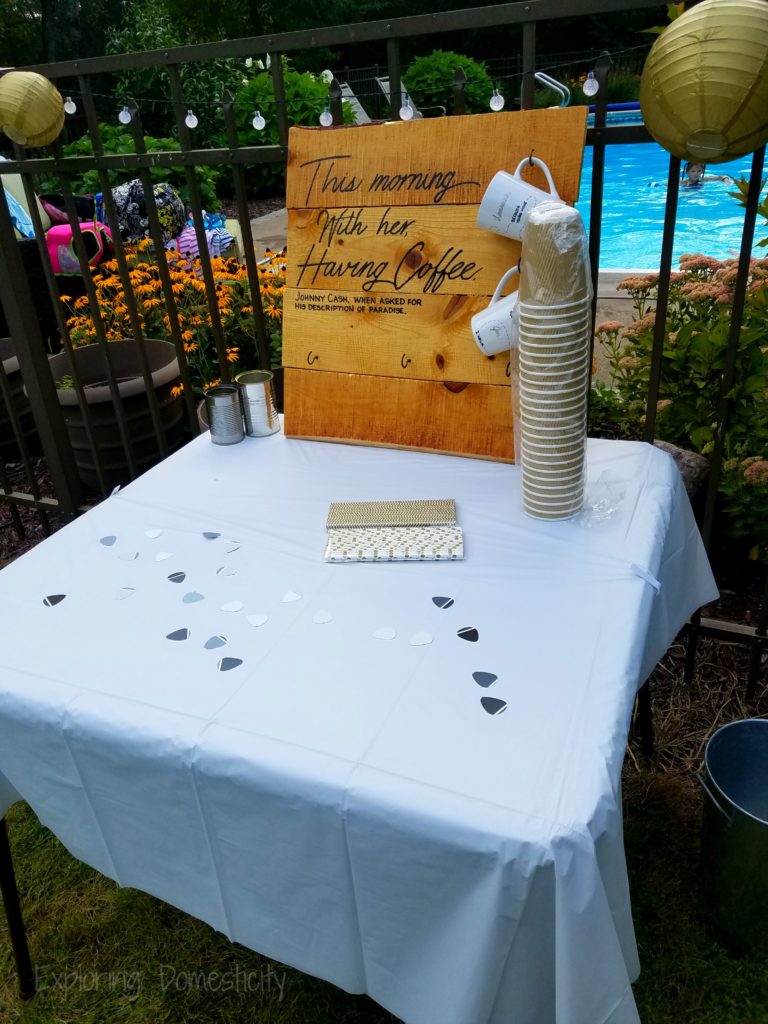 Dessert
My mom was on for dessert for the party. She introduced me to Zazzle, a company that has some great personalized party supplies. They even have a Disney Wedding Collection !
She got some personalized stickers for the bride and groom and we stuck them to these fun little dessert cups.
Mini desserts are so impressive and very fun. They may seems like more work, but they are easier than you think! We had key lime pie and chocolate compotes, and they were such a hit!
You can make these with anything. Even pre-made treats like cookies, brownies, or cakes and a bit of whipped cream make a super impressive dessert.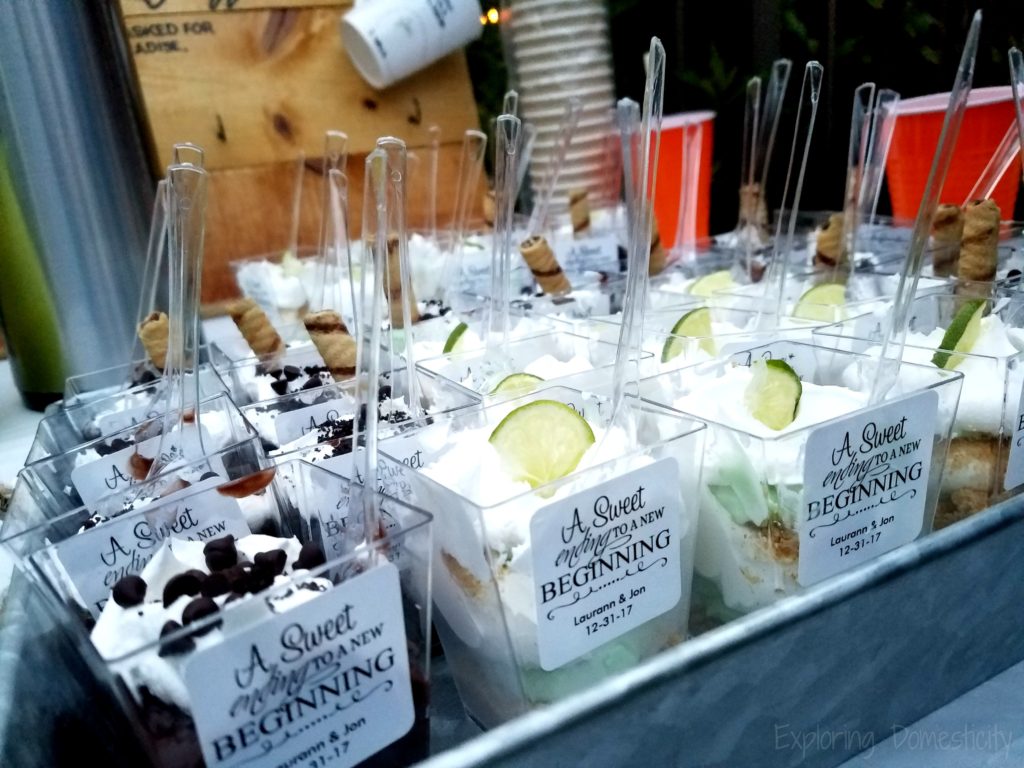 Wood
In addition to the DIY Coffee Mug Holder, we had another special wood project at the shower.
This idea is perfect for anyone who loves to travel. Small wooden hearts and little S hooks make a chain that could be used for many ideas. In this case, guests wrote locations the couple has visited on each heart with a Sharpie.
To go with the rustic decor, we sealed a piece of wood we had laying around. Over the top we added "I've been everywhere, man" and the couples names to fit our Johnny Cash couples shower theme. We easily screwed small eye hooks into the bottom for hanging.
Just like the Well Wishes and Advice cards, this is an activity that can be present at the couples shower without being pushy or corny.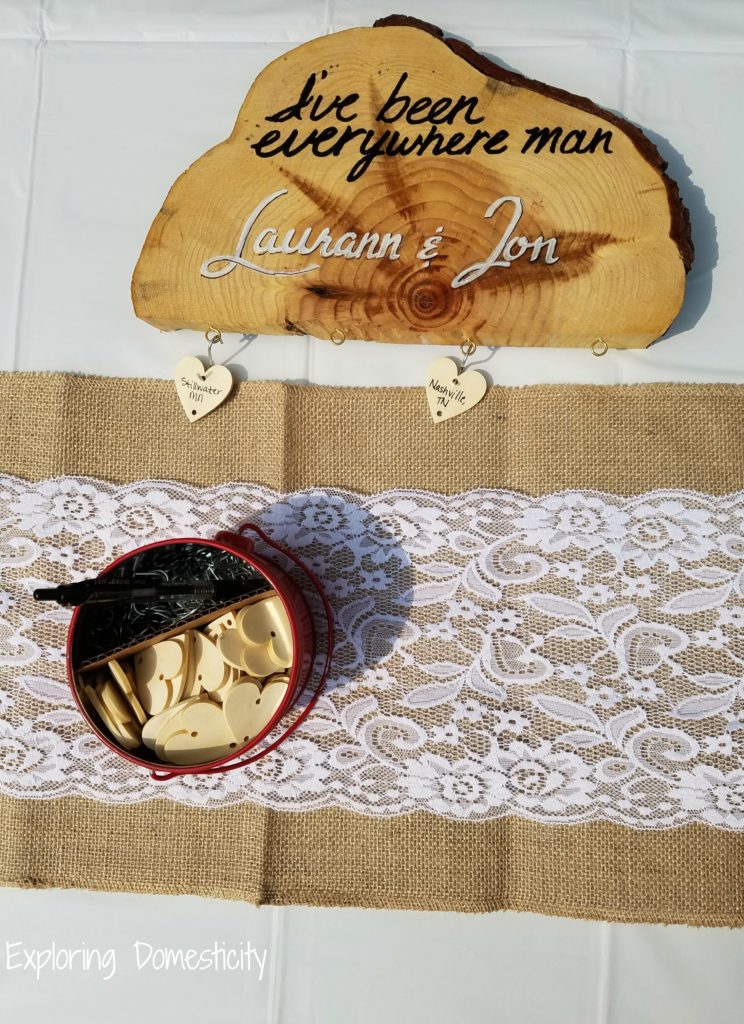 We had a lot of fun at our Johnny and June Couples Shower. Even without the Johnny and June theme, there are a lot of fun ideas and jumping off points for your own shower.
Are you planning a wedding shower? What theme are you going for?