Bright and comfy living room transformation with the addition of a very easy, DIY Faux Shiplap Fireplace Wall.
How we got this look for a fraction of the price and other amazing deals we found.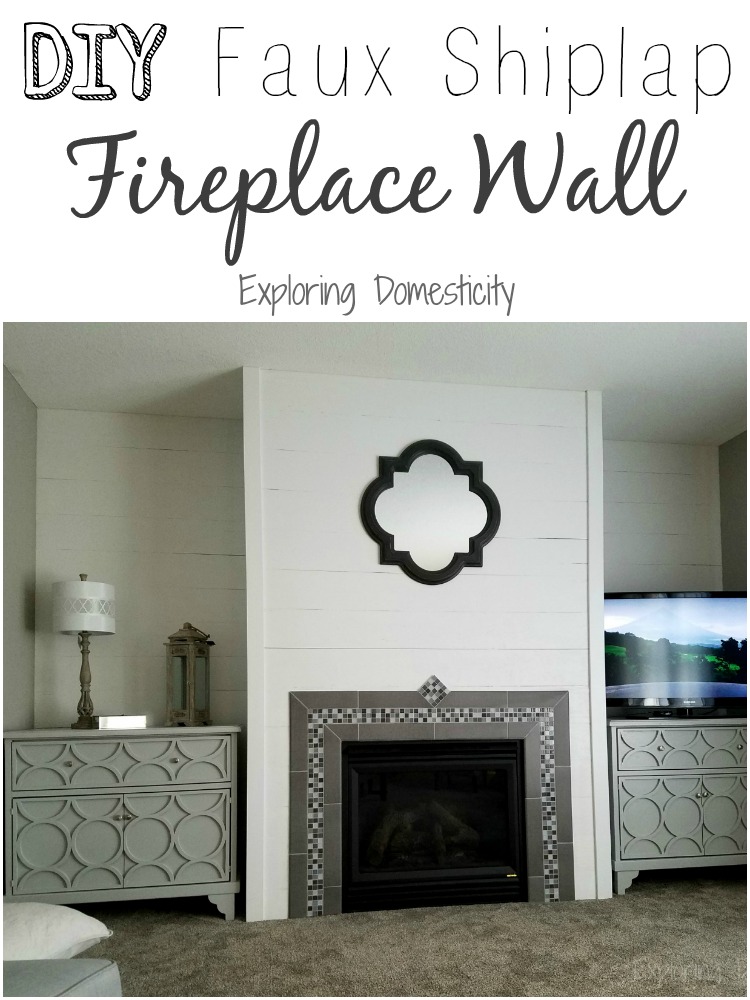 This post contains affiliate links we hope will be helpful to you in recreating this project. Thank you for your support!
We are finally nearly, completely finished with our main living room!
As you know, we have been doing renovations since we bought our new home in the Spring. We had one month after we closed to stay at our old home. In that time, we renovated everything from top to bottom. All the carpet in the house was replace, every wall was painted, special projects were built, and a wall came out.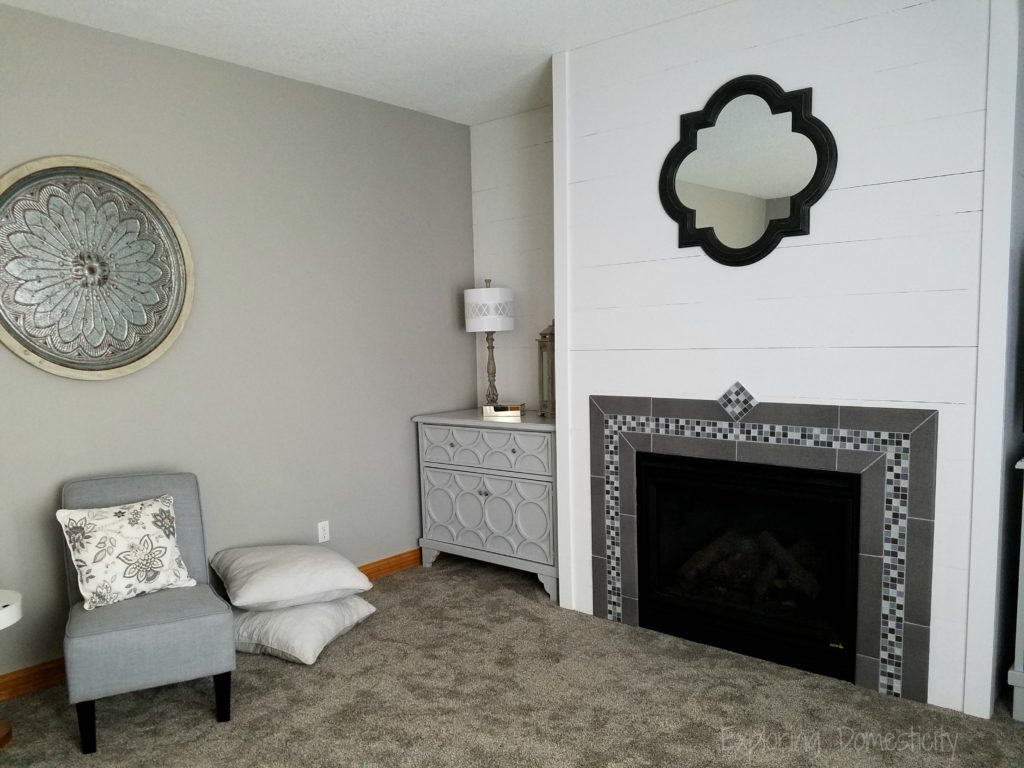 Our Living Room Renovation
One of my favorite projects is our living room wall. We did a faux shiplap treatment that was inexpensive, easy, and looks amazing!
I've been dying to share this for a while. Those of you who follow us on Instagram have seen a few pictures of it, because I can't resist!
We were looking for the right dressers to put on either side of the fireplace. I had some ordered from Wayfair, but we had such a horrible experience… I got messages multiple times that they'd be delivered and they never showed. Many phone calls later and they said they couldn't even find them. What a mess!
After looking forever, my amazing dad took a photo of one I loved at Ashley Furniture HomeStore, and made us the most beautiful custom dressers ever! So, we're ready to share our DIY faux shiplap fireplace wall and the whole living room!
DIY Faux Shiplap Fireplace Wall
As I mentioned, we painted every wall in the house. So, needless to say, when we considered a shiplap wall, the chance to cover a wall instead of patching and painting was unbelievably welcome!
It only took us a few sheets of plywood from Menards. So much better than using the fancy shiplap you can now find in stores. We cut them to the three different sizes we needed and started nailing them to the wall. Did you know they even have shiplap wallpaper now?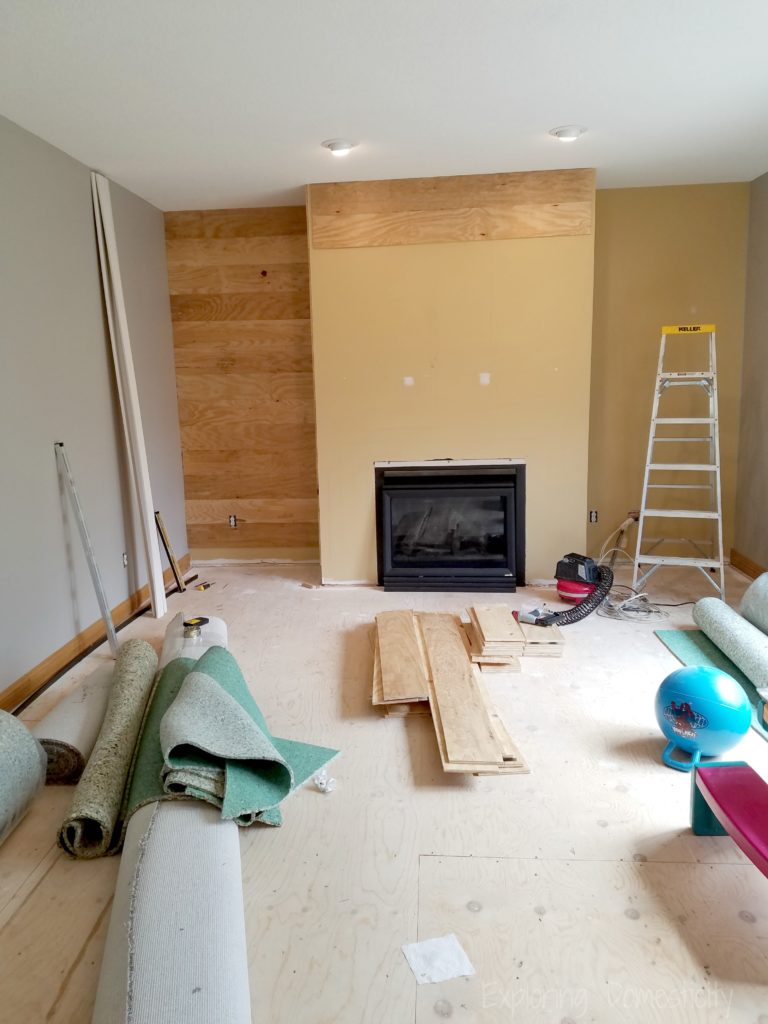 We figured it would be easiest to attach the pieces to the wall and then paint. In hindsight, although this was a bit easier and we didn't have to worry about any touch-up, it did cover some of the seams. In some areas, the paint seeped into the creases and made those spaces blend in in areas. As things settle, they will like show more and I already thing it's getting better.
If we had it to do over again, we'd probably still paint after installing the boards anyway. It is a time-saver.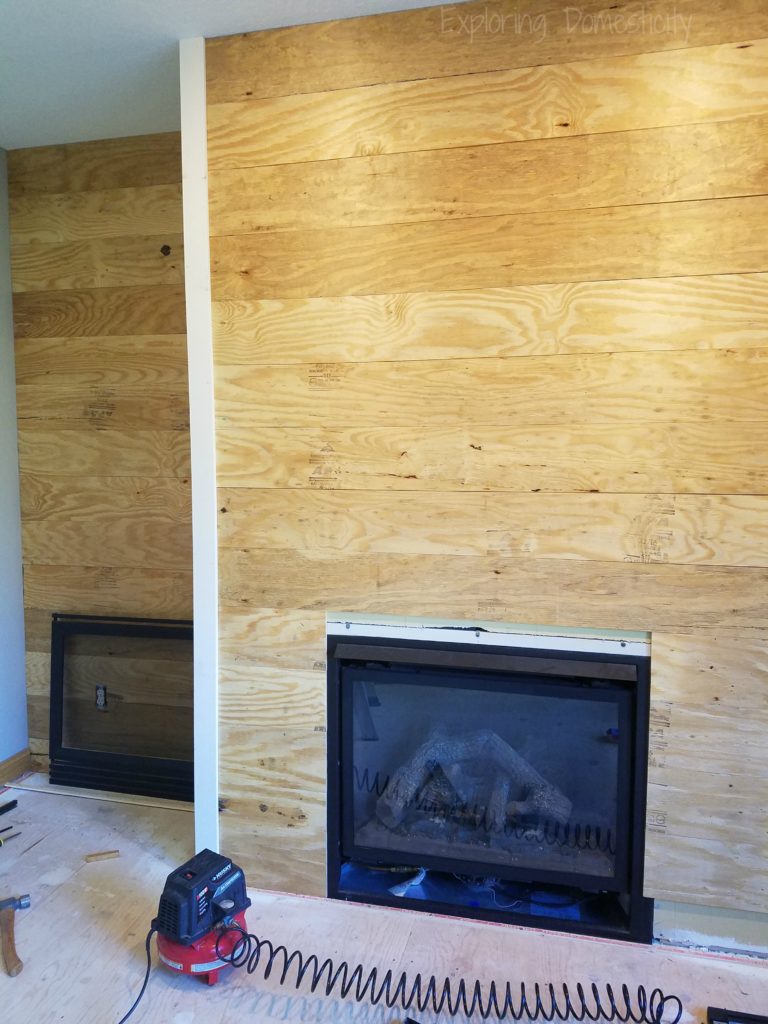 The best part about these faux shiplap walls is that you can cover anything!
We had all sorts of large holes with wires on either side of the fireplace. we didn't need the majority of those wires, so we were able to remove them and seal up the hold with no annoying mudding, sanding, or painting. Yes!
The only thing we had to do to finish it off was add two boards vertically to seal up the outside corners and give it a finished look. We were able to find the boards already finished in white, so there was very little to do!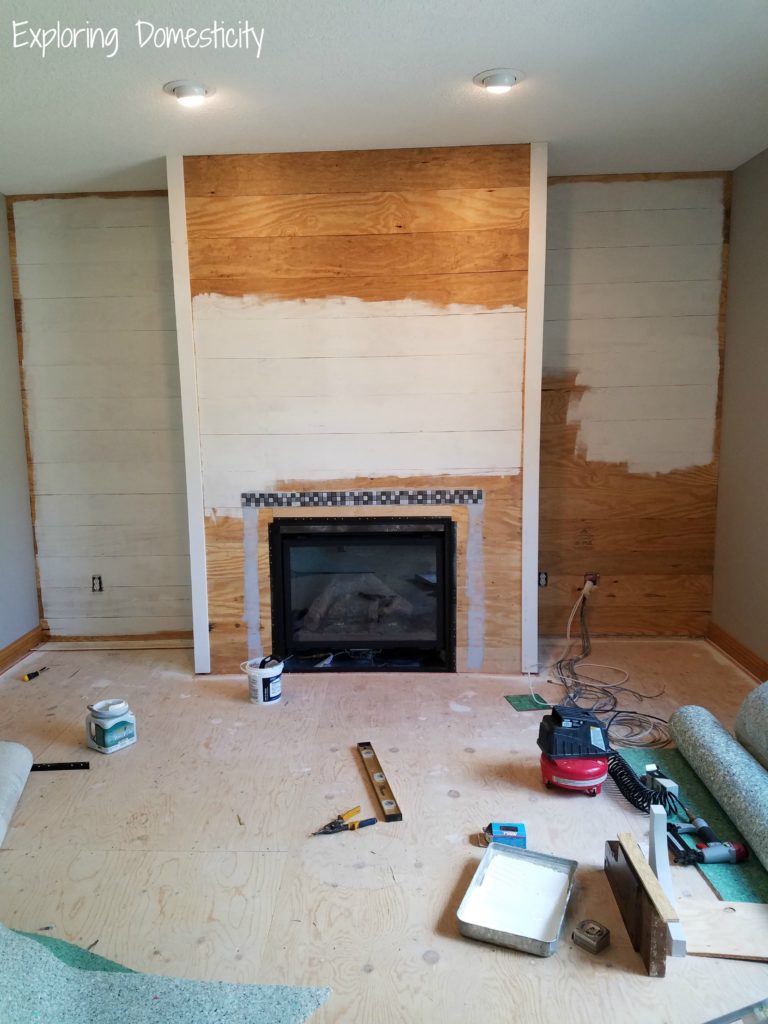 Tile Fireplace – and happy accidents
One of the best things to come together with our new fireplace is our tile.
We are big home improvement store visitors, and we have a tendency to hoard certain items when we find a good deal. Remember the spindles we used for the playroom loft bed?
We were looking at the boring fireplace and I mentioned how I wished we could use the gorgeous, square glass tiles (similar to these) I had gotten from Menards. My parents happened to have some tiles they had gotten at Lowes (with a bullnose edge like these), I believe, and we made a plan to put the two together.
It couldn't have been more perfect! We had very little to spare. In fact, when we made two cuts in the wrong direction, we ended up with a very happy accident. We did have enough tiles to re-cut. However, we had a small  square of glass tiles laying nearby so we decided to change our plans.
I love when things work out the way they did! We were able to use the tiles we had already and got a fun little accent as well.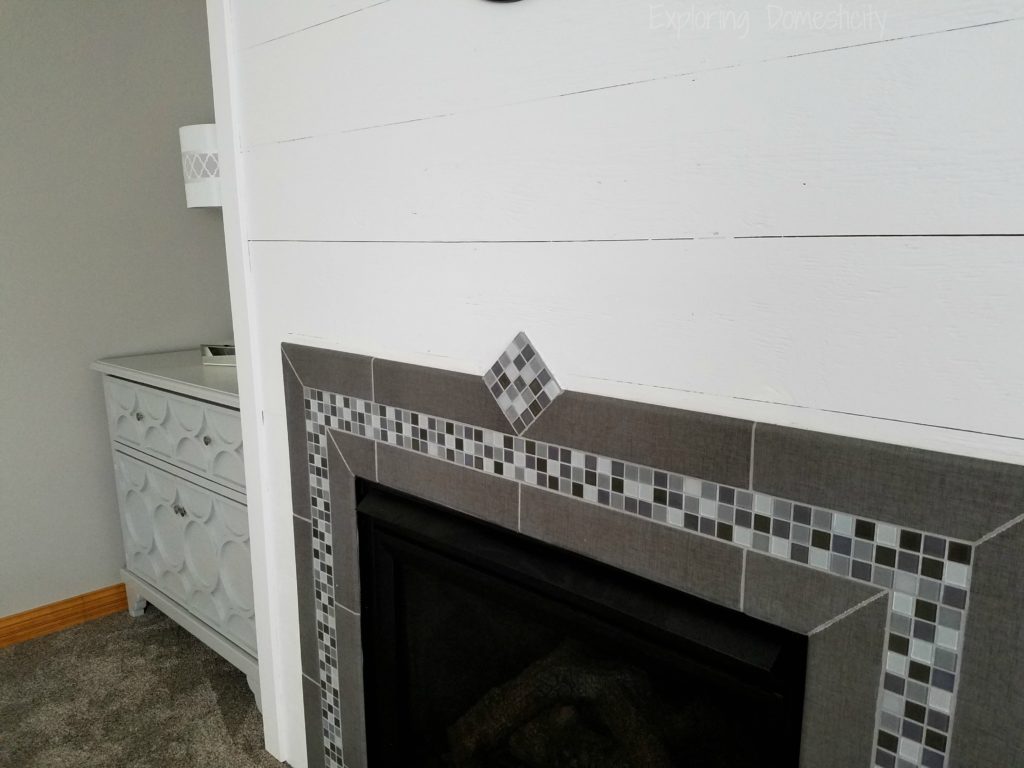 A lot of our projects work out this way! When I share our kitchen remodel, you'll see that we ended up with an accent stripe because Menards was out of the one color we bought when we went back to get more so we got another color for a stripe and it looks even better!
When we finished with the wall, I loved it so much that I didn't want to take away from it with a mantle. Besides decorating for Christmas, a mantle says to me "dust me" and "decorate me with things to dust."
So we left out the mantle. Considering we can always add one later, we wanted to see it without. Once we topped the wall with a mirror we already had, we loved the way it looked.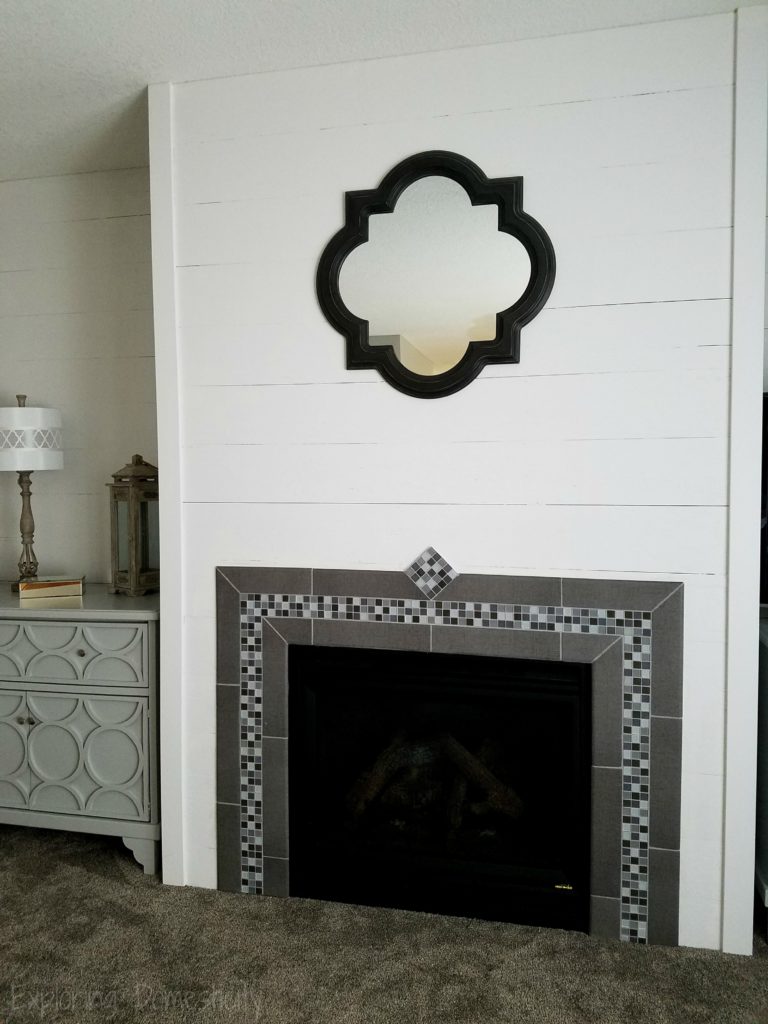 Custom Dressers
The reason we haven't be able to share this final transformation for so long is because we were waiting on finding just the right dressers to flank the sides of the fireplace. I explained our troubles with Wayfair, but it was a total blessing in disguise. The tables I had ordered probably would have looked very nice, but having these custom dressers is so much better!
It was hard to find the exact dimensions we wanted, so having them custom built worked great! They are pretty big, but they don't look oversized with the big, shiplap wall. I think any others we found would have looked a bit small.
It's insanely impressive how much my dad got the dressers to resemble the one we found in the store. The original idea was to use slices of large pvc pipe to make the circles, but he ended up cutting them out of mdf. There isn't much to say – they're just gorgeous and we're so happy to have them.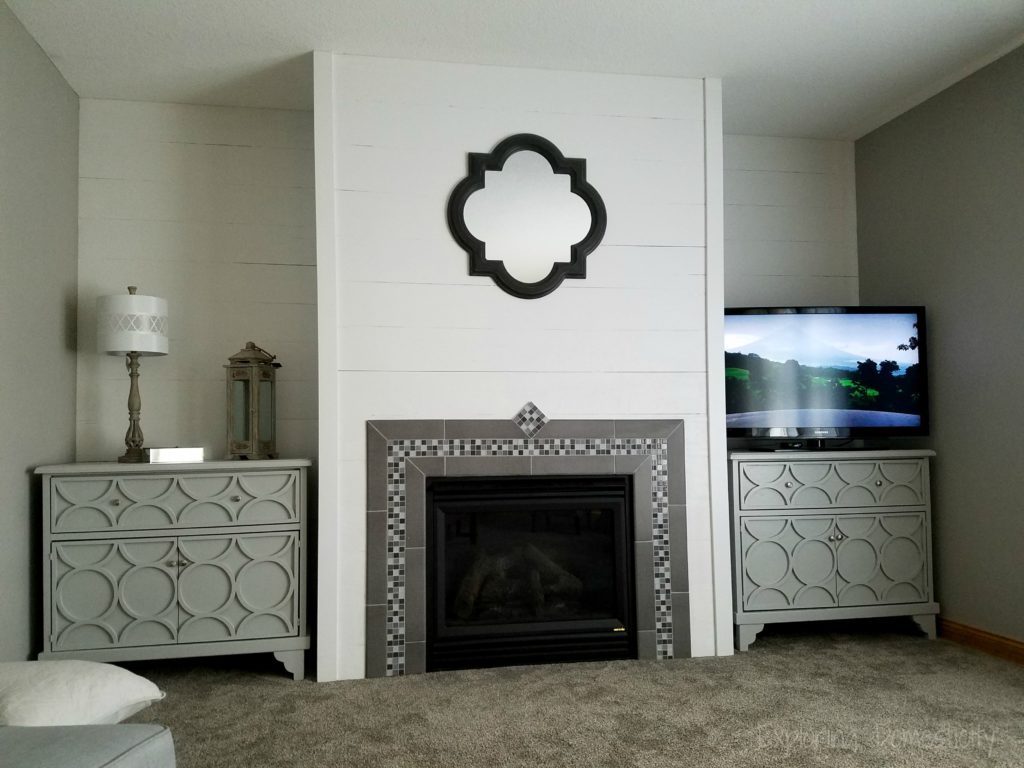 In our old house, we had made a gorgeous surround for our fireplace and built the wiring right in to mount the tv over the fireplace.
In this new house, we don't want the tv to be such a focal point so we placed it to the side. We have another room that will be more tv-focused. Let's be honest, tvs never look great in design, but this is our home and we keep it pretty comfortable and functional.
I did have a heck of a time figuring out what to put on the dresser on the other side of our faux shiplap wall. I found this gorgeous lamp and lantern at Hobby Lobby and a small mirrored box at TJMaxx. I have been obsessed with those stores lately!
It would look completely finished if I had just bought the gorgeous, green pumpkins the first time I saw them at TJMaxx. When I went back two days later they were gone. I also considered a small green pot with succulents from Trader Joe's, so if I can't find those pumpkins I'll go that route.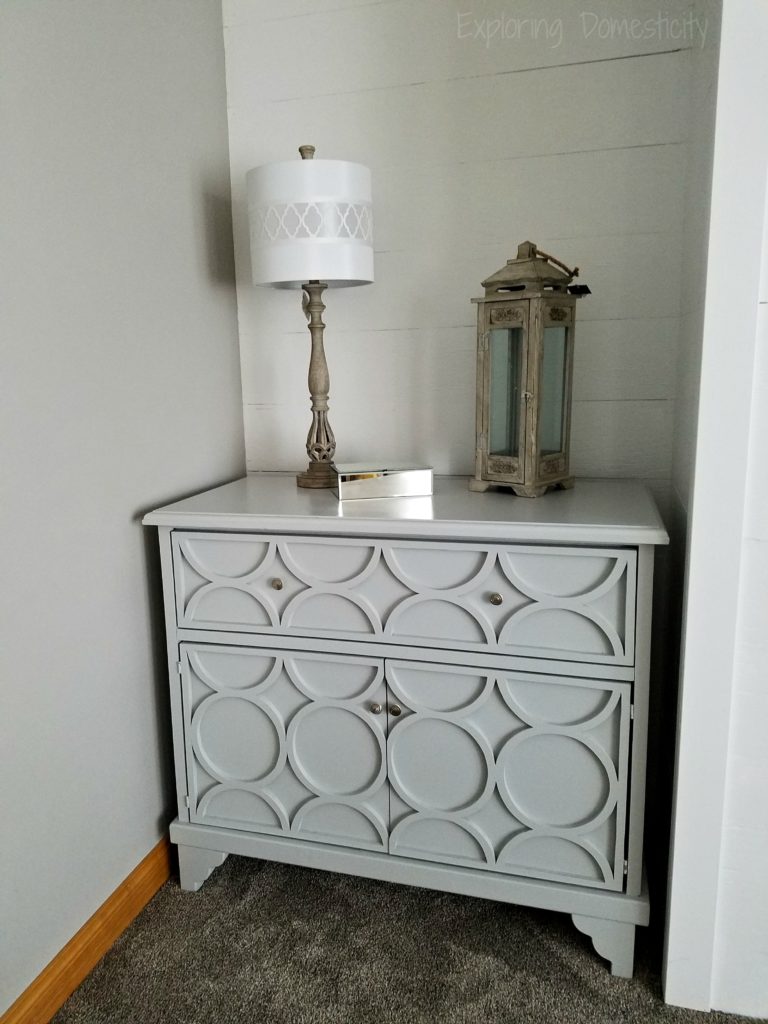 Where did everything else come from, you ask?
We had the couch and yellow and grey chair in our old house. We also had the coffee table, which lifts up and makes it the perfect spot when I have a lot of veggies to chop. We are going to refinish it this winter to go with the rest of the room. The pillows on the couch actually came from my parents. I have material to cover them, but when they got here they went so well I left them.

This room has some major bargains in it!
The light grey slipper chair was a steal at Aldi of all places – $39! The small tables we have around were also an insane steal! After the holidays, I got these tables at part of Target's 90% clearance. The two white tables with storage were $7 and the gold table was $8. Big thanks to Chrissy from Snacking in Sneakers for the tip!
The floor pillows are another find from TJMaxx. I had to do something to keep the kids from fighting over who got to lay on the bench. Having these two pillows has made a world of difference!
The amazing piece on the wall came from Hobby Lobby, and I love it! Of course, I let my husband win on placement and it's a little goofy and floating right now. I took the kids to a park with some great cliffs and hopefully got one great picture that we can make really large and frame over the fireplace to balance things out.
So, the last thing is really the coffee table and a little more to dress up the dresser on the left. Any suggestions?
Are you considering doing a faux shiplap wall in your house? Where will it be?


More Like This

You Might Like…