Enter if you dare to see our 5 Favorite Halloween Projects. Cute and easy class treats, upcycled witchy decor, Dollar Tree spider wreath, and customized Halloween pumpkins for Trick-or-Treating.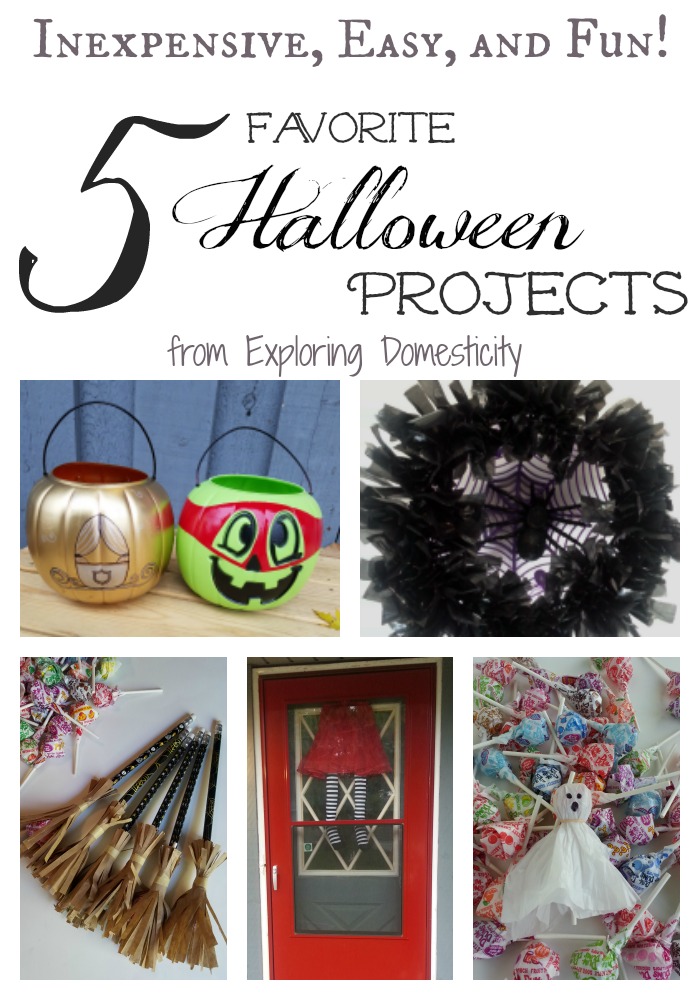 This post may contain affiliate links. We only include links we hope you will find helpful in creating your own Halloween projects.
We have a lot of fun with the kids around Halloween. There is always a project or two each year.
We've shared a few of them here before, so I thought it would be great to get them all in one place and get a head start on Halloween festivities with our 5 Favorite Halloween Projects!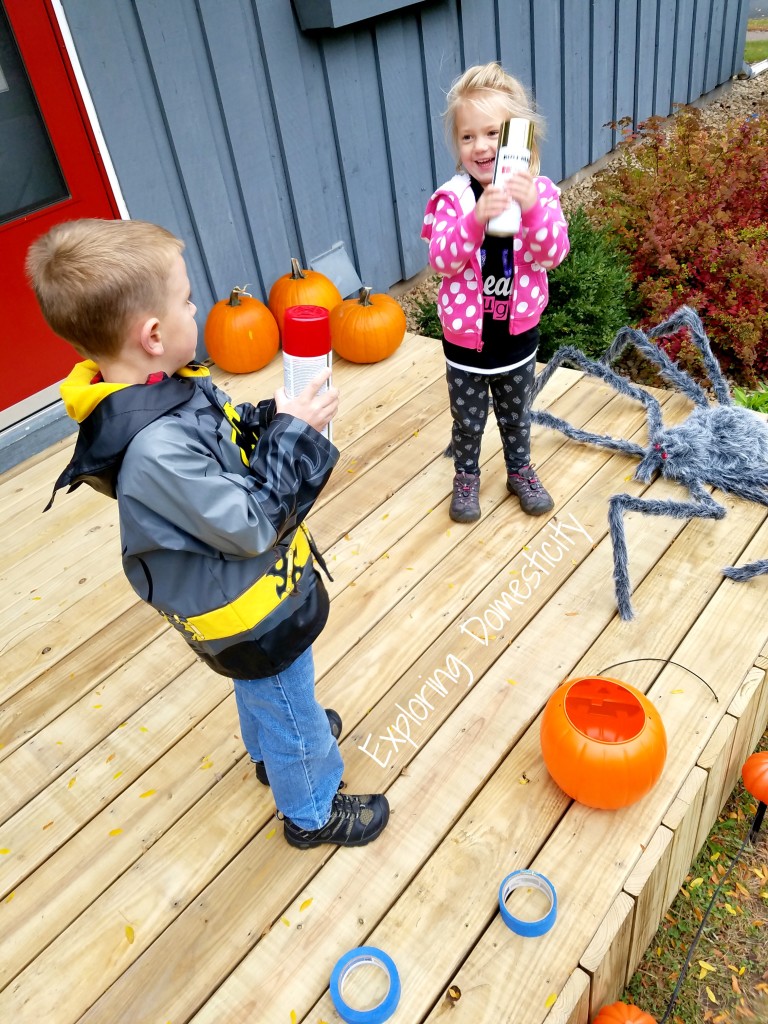 Our little guy has been asking to decorate for Fall for a couple weeks now. Ever since he stayed at Grandma's and convinced her to drag out all her Fall decorations.
We just moved out of a pretty small house, so we were limited in what we could do to decorate. Therefore, we don't really have "Fall" decorations. We never could resist Halloween decorations, though!
We were planning on getting out a few of the Halloween decorations to appease the little guy. However, the 90 degree, humid late September days in Minnesota threw us for a loop!
Instead, I'll share with you some of our Favorite Halloween Projects, and maybe even a peek into what we have planned this year.
5 Favorite Halloween Projects
You'll find a common theme in our favorite Halloween projects…
First… they are all very inexpensive – many involve using things you would normally throw away. Second… they are all easy to do – the kids helped with all of them. Third… they are so darn cute and fun!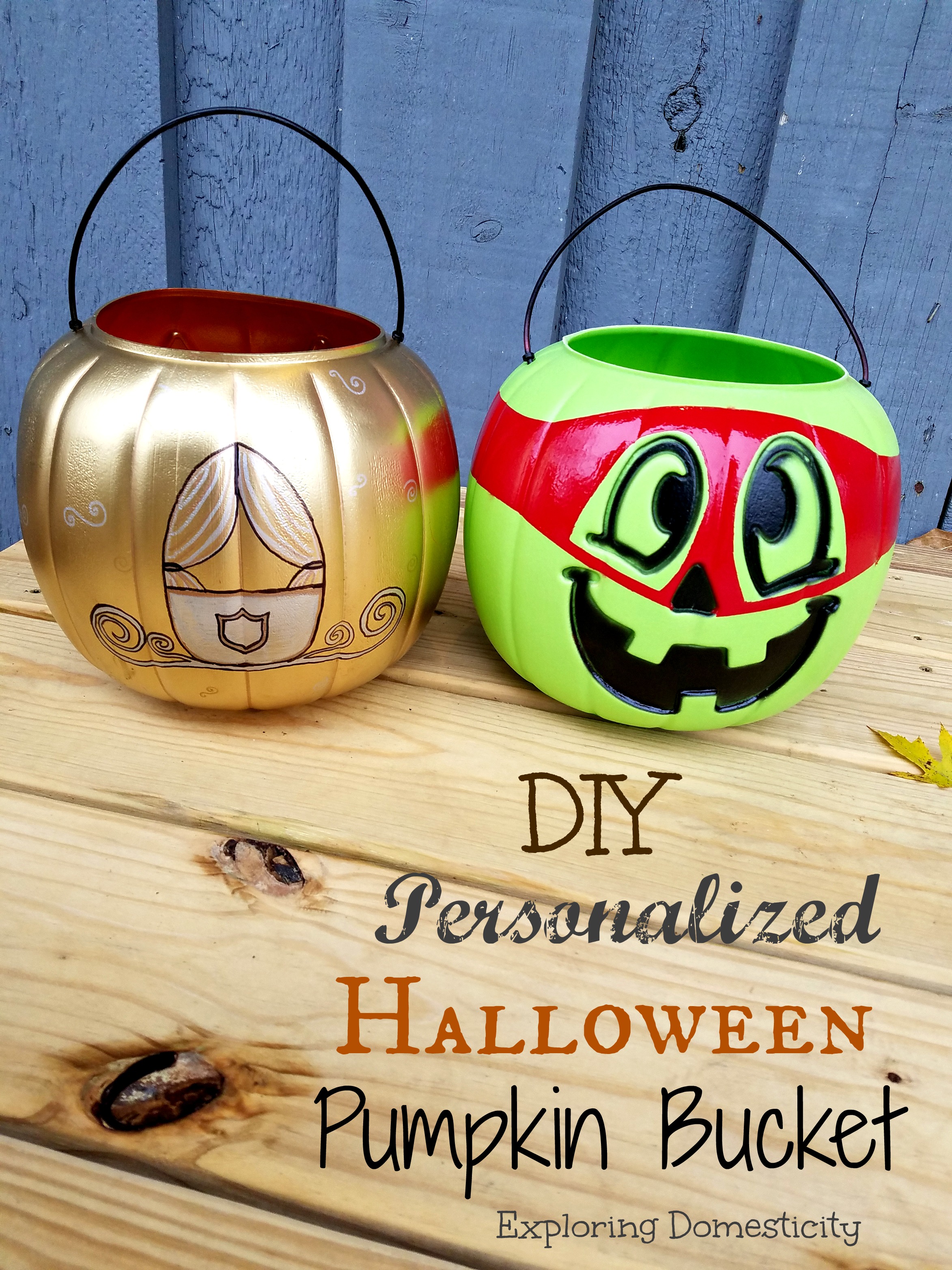 Custom Halloween Trick-or-Treat Pumpkin Buckets
The first of our favorite Halloween projects is one of the easiest projects and it is so much fun! Last Halloween we made Custom Halloween Pumpkin Trick-or-Treat Pumpkin Buckets, and now there's no going back.
Plastic Halloween pumpkin buckets are so cheap. So, it's very easy to pickup a new pumpkin to customize to fit your child's costume.
Last year, our son was a Teenage Mutant Ninja Turtle and we panted his pumpkin to look like a matching Raphael. It was so simple to tape off the eyes and add some red spray paint to a green pumpkin.
My favorite pumpkin was for our Little Lady's Cinderella costume. Since Cinderella's carriage is already a pumpkin, this was an easy one. We sprayed it gold and toyed with the idea of adding wire wheels to the outside. In the end, it was easier and less cumbersome for trick-or-treating to draw the carriage on the pumpkin.
This year, we have a Lego Batman and a Rock and Roll Witch. Any idea what we're going to make?
5 Favorite Halloween Projects #1: Custom Pumpkin Trick-or-Treat Buckets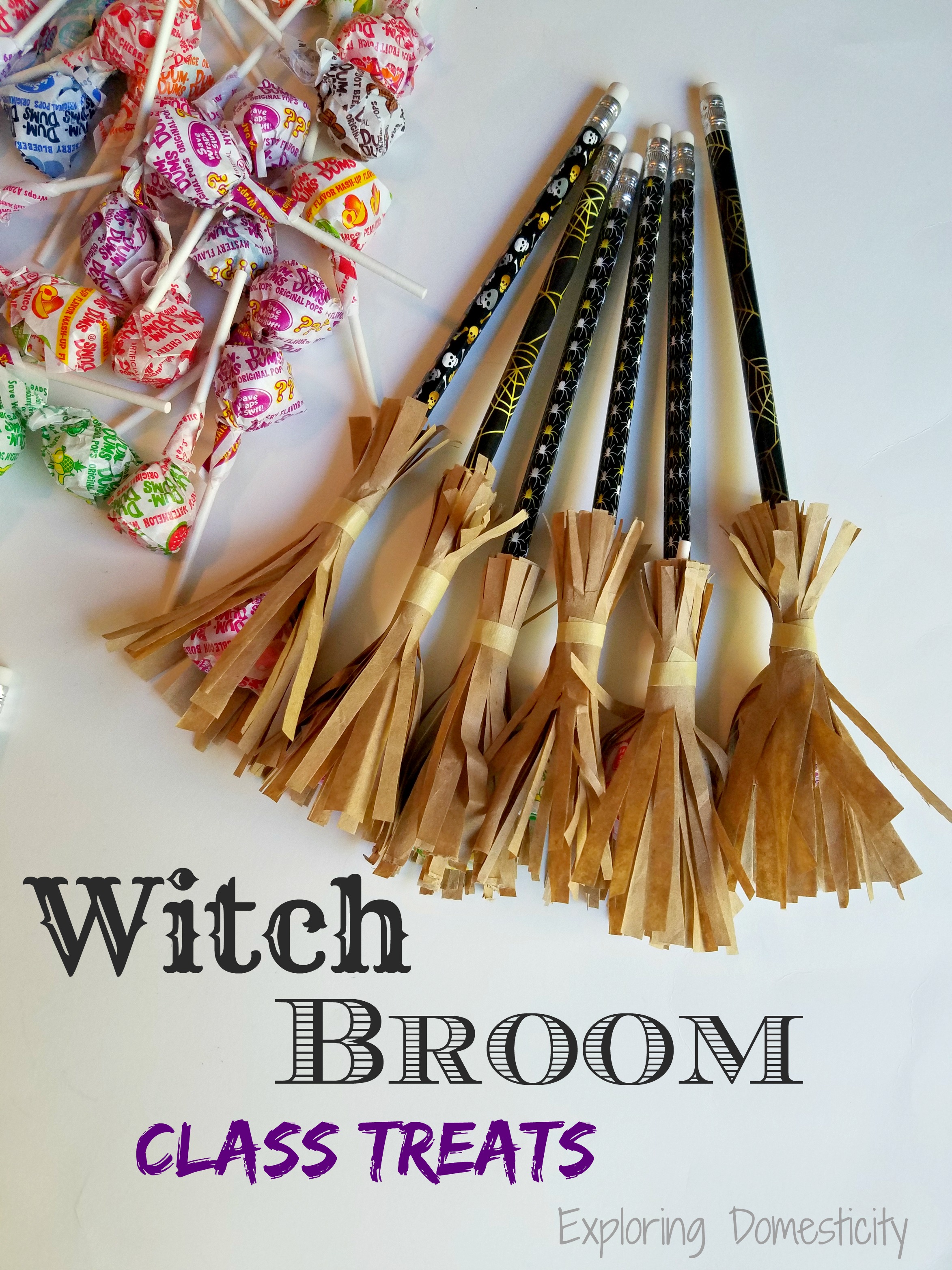 Witch Broom Class Treats (perfect for non-edible Halloween treats)
The second of our favorite Halloween projects is one of our most popular Halloween pins.
Everyone loves how simple and adorable these Witch Broom Class Treats are!
You could use pencils, glowsticks, straws, etc. and make an adorable treat for the class Halloween party. We used halloween pencils and packaging paper.
Our school recently switched to not allowing candy treats for the class, but we had already included the hidden dum-dums. It could just as easily be made without them for a non-edible Halloween treat.
These would be perfect for food allergy trick-or-treaters for the Teal Pumpkin Project.  In fact, you could even use the project above to make a teal pumpkin to put out for trick-or-treaters.
5 Favorite Halloween Projects #2: Witch Broom Class Treats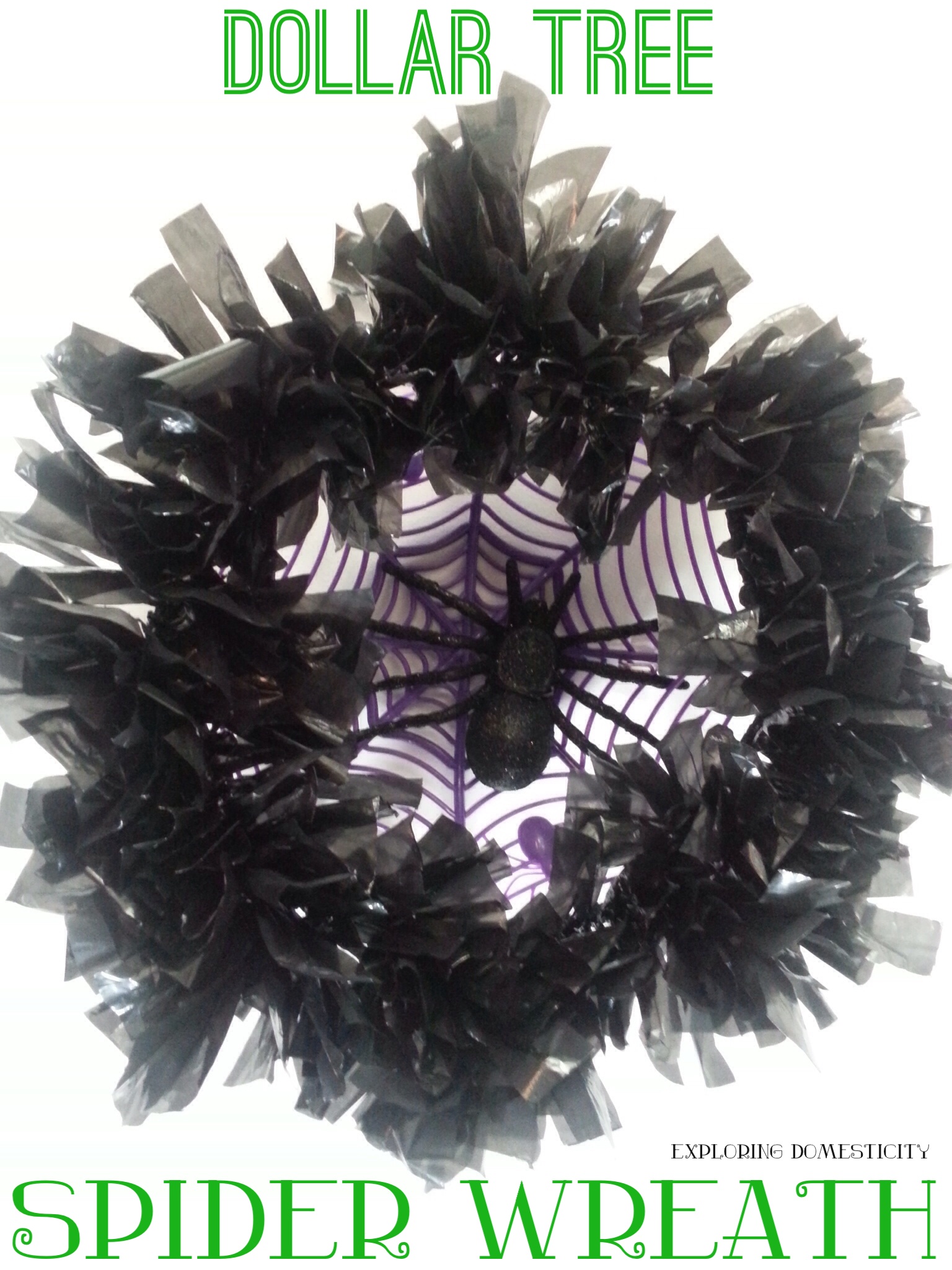 Dollar Tree Spider Wreath
The third of our favorite Halloween projects is a definitely throw-back. We made this "wreath" quite a few years ago. The kids were little, I was taking blog photos on my ipad, and it was a simplier time…
So, besides the awful photos, I still love this Dollar Tree Spider Wreath. The "wreath" is actually a Dollar Tree spiderweb bowl. I believe I still saw these bowls in stores last year. I know they still have these glittery spiders.
Once again, this project was cheap! I believe it was $3 for a whole thing. This could definitely double as your trick-or-treat bowl as well. Take the spider out or leave it in for a spooky surprise!
5 Favorite Halloween Projects #3: Dollar Tree Spider Wreath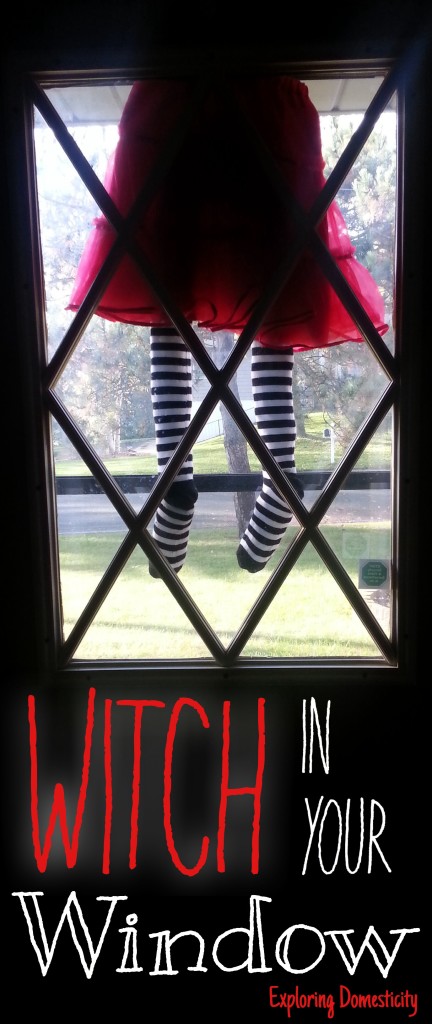 Witch in Your Window
Two years ago, we ditched the traditional wreath and went a little more fun for our door decoration. Enter, "Witch in Your Window."
We had some tights and a tutu skirt from a previous Halloween costume, so we turned them into a witch for our front door.
I think I'm bringing this one back this year, if my daughter will give up that skirt from her dress-up bin. We have a front porch now and this would be perfect to stick out of the house.
If you have old Halloween costumes, consider reusing them as Halloween decor. It's so fun to stuff things and give them new life!
5 Favorite Halloween Projects #4: Witch in Your Window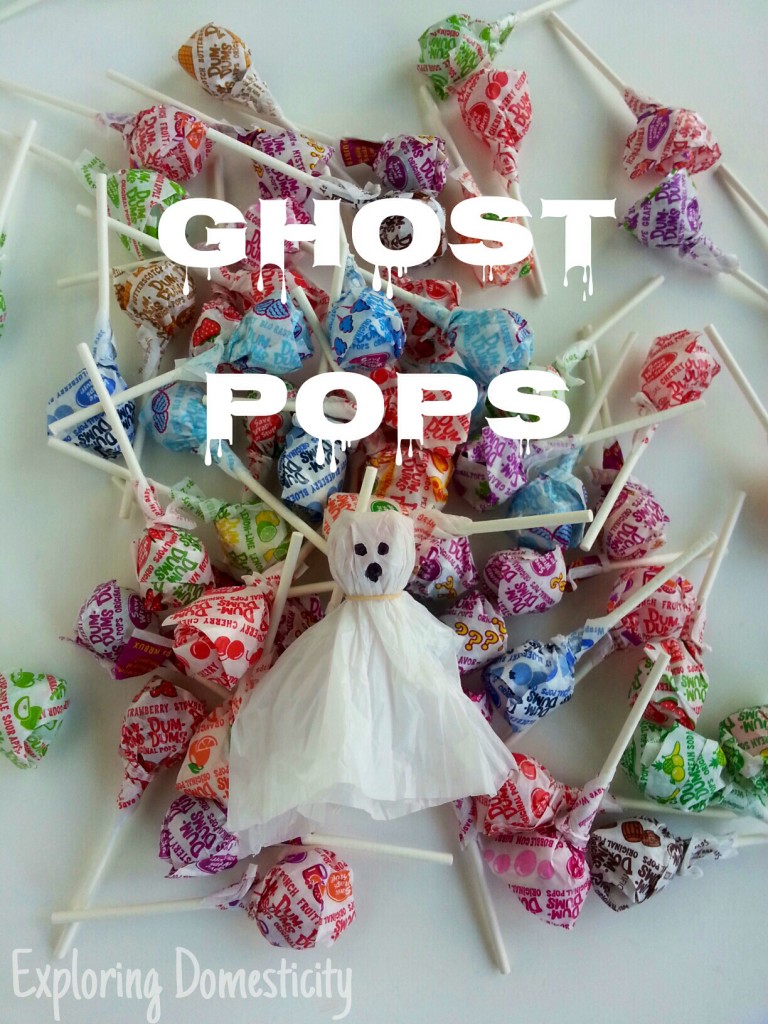 Ghost Pops Class Treats
The last of our 5 favorite Halloween projects is another quick and easy class treat. The kids loved making these Ghost Pops.
As you've probably gathered, Dum-Dums are our go-to Halloween treat. Not only are they insanely inexpensive, but they work so well for getting creative. Not to mention, Dum-Dums are way safer to have in the house than the good chocolate candy we wouldn't be able to resist.
You've probably made ghosts in school out of tissues or fabric. These are great because we re-used plastic shopping bags, so it didn't cost us a thing. Finding an easy way to secure them is the key. We did and it made the whole project super easy for the kids to do themselves!
How cute are they!?
5 Favorite Halloween Projects #5: Ghost Pops Class Treat
Other Halloween Projects
I have to give a nod to a couple of our other Halloween / Fall projects and recipes. The kiddos' costumes are still a favorite of mine from way back.
What's in store this Halloween?
I can tell you, the ideas are a brewin' – and I better get a move on!
You can probably expect to see some new personalized pumpkin trick-or-treat buckets. I will definitely be doing a new non-edible class treat for the kids – possibly with some inspiration from the new Disney movie, Coco! I also have a fun idea in mind for a Halloween cocktail once my bit of inspiration arrives.
What Halloween projects do you have planned this year?
Are you going to try any of these ideas? Let me know! I love to hear about it.

More Like This