Instead of toting around generic plastic pumpkin buckets for trick-or-treating, make those buckets a matching part of the kiddos' costumes. A DIY Personalized Halloween pumpkin bucket is so much fun to get creative with and very easy to make.
With just a little pant and time, that plastic pumpkin trick-or-treat pail can look like a part of the costume.
I have a Teenage Mutant Ninja Turtle and Cinderella trick-or-treating this year, so we made a TMNT Raphael pumpkin bucket and Cinderella's carriage, but my creative juices are going crazy with other possibilities!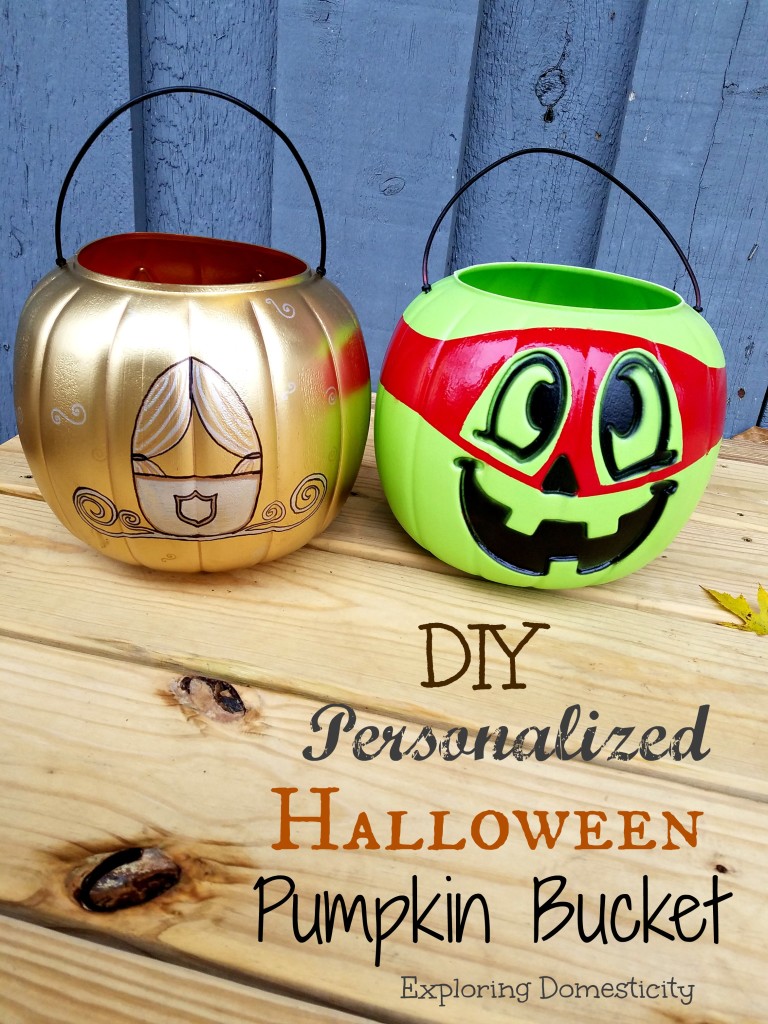 This post may contain affiliate links to products I think you'll enjoy. If you choose to buy a product from one of the links, this site will receive a small commission with no affect on your purchase price. Thank you for your support.
I only have two kids, but I have a million ideas for personalizing the cheap plastic pumpkin buckets to go with different costumes.
I want to spray all the pumpkins!
With a little spray paint and a one dollar plastic pumpkin, you could have an adorable addition to any Halloween costume.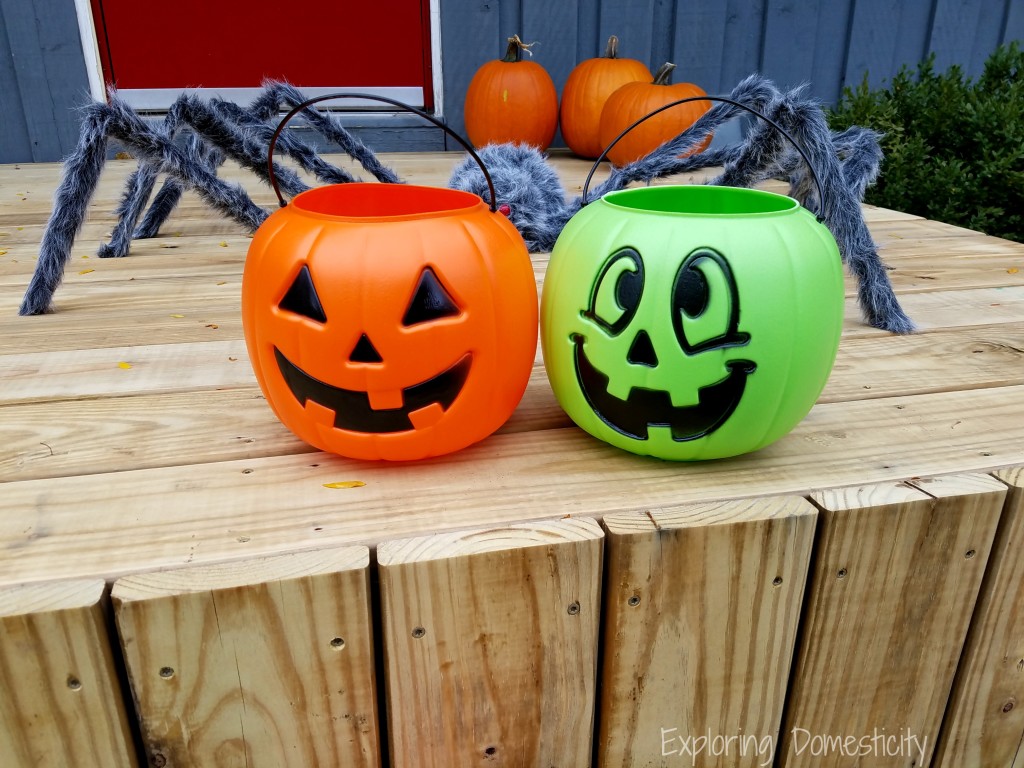 The idea to personalize the kiddos' trick-or-treat buckets came to me when we were talking to a family friend about TMNT painted pumpkins. My little guy already had a blue plastic pumpkin we used that day for a town Halloween event and I knew it would be easy to make out of a green plastic pumpkin.
I have no idea why it is so hard to find links to those cheap plastic pumpkins! I can't find them on the Walmart website, even though they are in stores for $1, and the Amazon ones are much more than that… strange…
I also had a little girl who had been asking to be a mermaid for a while and I wasn't having much luck with a costume that was cute and also warm enough for Minnesota in October. That day, we had quickly put her in one of her dress up dresses and she went as Cinderella. She seemed pretty content with that, so I figured if I made her a custom pumpkin she may never speak of the mermaid costume again.
It worked! Both kids had a lot of fun making the pumpkins and love them!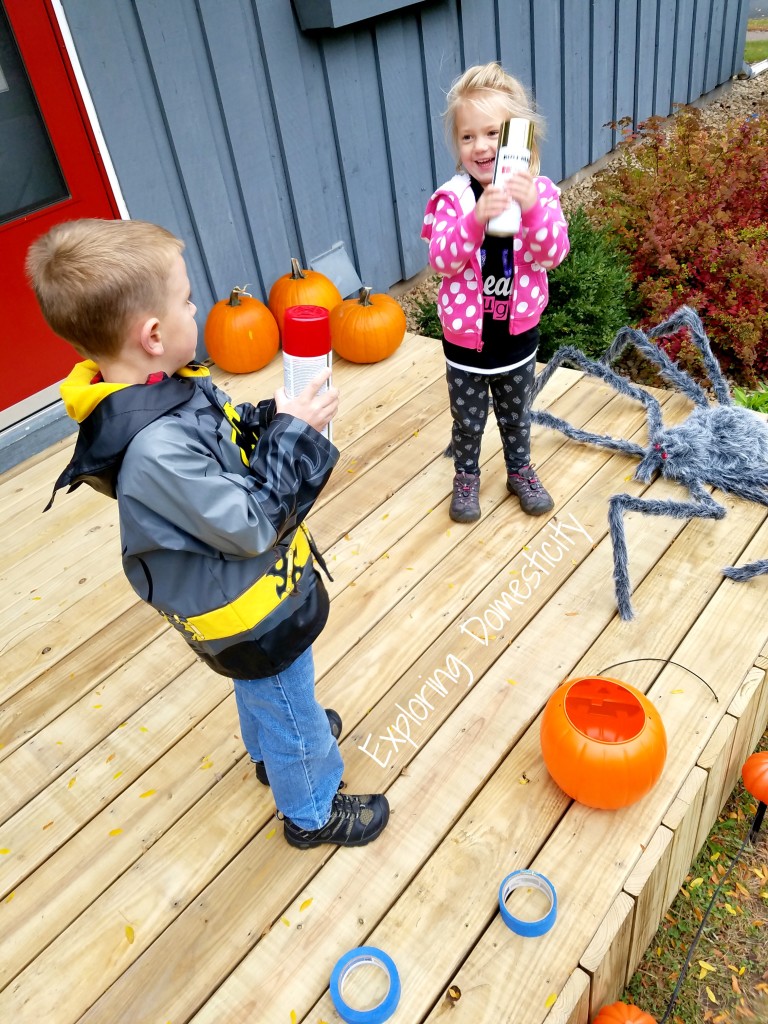 Teenage Mutant Ninja Turtle DIY Halloween Pumpkin Bucket
Turning a standard plastic trick-or-treat pumpkin pail into a Teenage Mutant Ninja Turtle is a pretty easy one. Especially since they have green plastic pumpkins in stores.
Depending on your kiddos' favorite Ninja Turtle, all you need is some painters tape and spray paint in either red, blue, purple. or orange.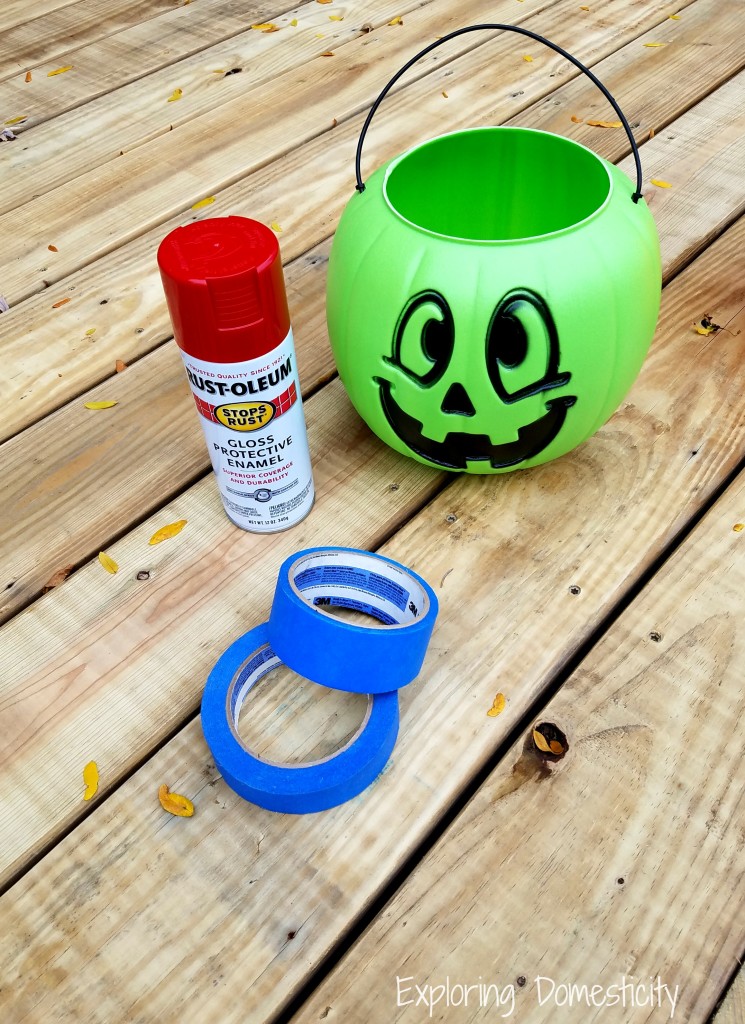 For something like a one-time Halloween treat bucket, it's probably not necessary to prep the plastic surface of the pumpkin, but you could give it a light sanding to hold the paint a little better. There is also special spray paint for plastic surfaces and you could give that a try. Or… you could just do what we do and use whatever is laying around. For something quick and easy like this, I'm sure it will get you through.
Use the tape to tape off the area for the turtle's mask. It's a little difficult to get into each of the pumpkin grooves for a perfect line, but it can be done and it's pretty easy to scrape off the excess if needed once the tape is removed.
You can just tape off an easy band around the pumpkin, or you can have a little fun with it and make the tie in the back – either look great. My little guy has been begging me to add a turtle shell, which I guess we'll squeeze in right under the tie, but there would have been a little more room without the tie.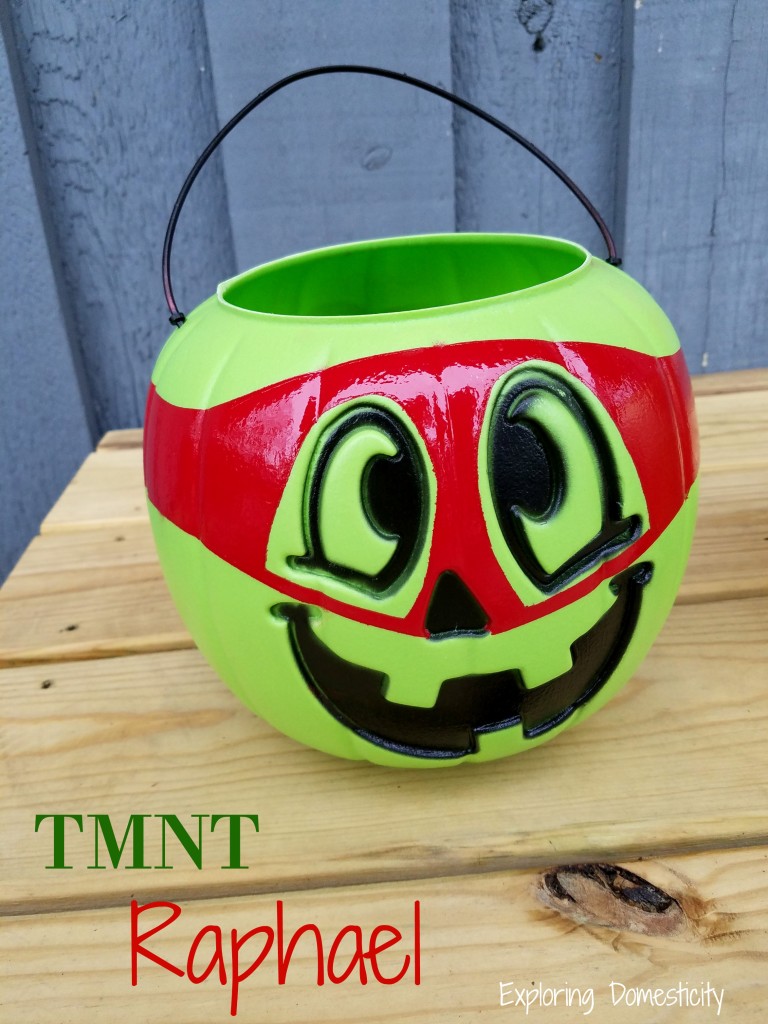 Cinderella's Carriage DIY Personalized Halloween Pumpkin Bucket
Cinderella's Carriage is such a natural choice for a pumpkin trick-or-treat pail – I mean, it started as a pumpkin! We went for the golden carriage and I had brainstormed about using the bottoms of plastic bottles for the wheels until I came across this Cinderella carriage pumpkin bucket and decided the wire was an easier way to go.
Unfortunately, as Halloween neared, we ran out of time and the golden pumpkin just got a quick little drawing with metallic Sharpies and a black Sharpie outline. I love the way it turned out and it looks just darling without the little wheels.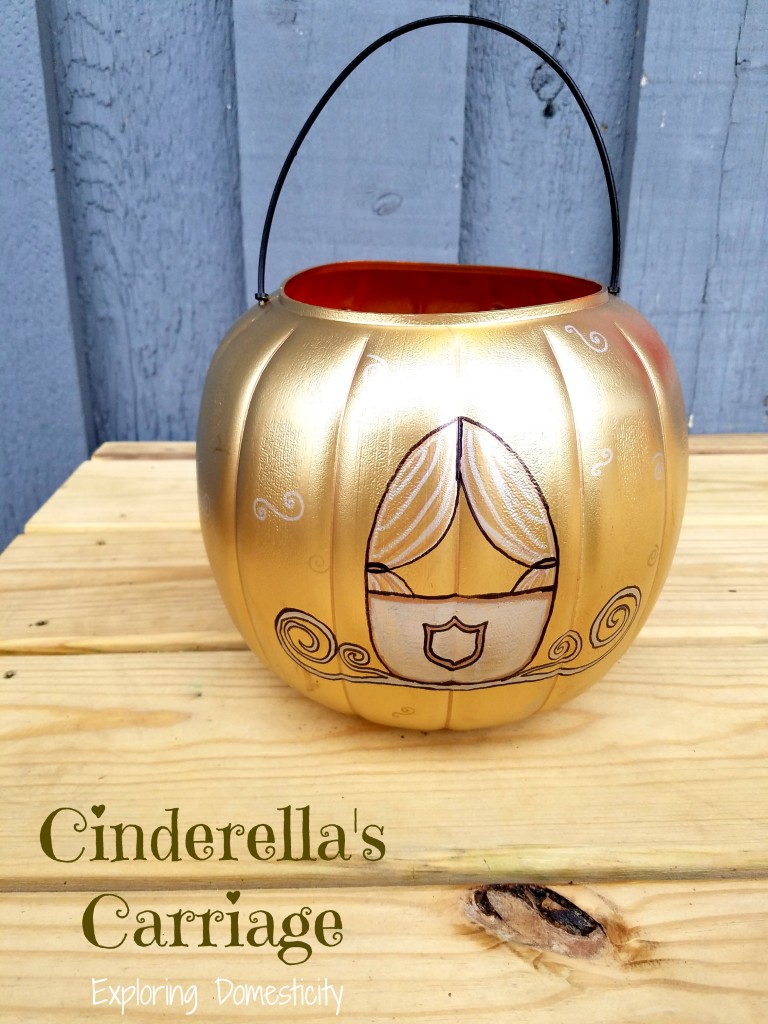 Spraying one of these plastic pumpkins is so easy! I can't believe I haven't seem more of these before. It makes me want to grab all those plastic pumpkins and get the spray paint out!
I didn't find too many DIY Personalized Halloween Pumpkin Bucket ideas during my Pinterest search, but I did come up with a few…
Steampunk pumpkins from Instructables
DIY Ninja Trick or Treat Bucket from The Pinning Mama
Monster's U Mike Wazowski trick or treat bucket from The Pinning Mama
Pig pumpkin found on Pinterest
Cousin It DIY Trick or Treat Pail from DIY Inspired
What is your kiddo dressing up as for Halloween this year? Is there a creative pumpkin bucket to go along with their costume? I bet I can think of one – I can't seem to stop!

More Like This