Simple and adorable Halloween treat, and so easy to make! These Witch Broom Halloween Class Treats combine a sweet treat with a Halloween pencil. The best of both worlds and very cute for kids!
Using one of the cheapest candies out there – Dum Dums – and Dollar Tree pencils, this craft is inexpensive and easy enough for kids. Plus, the little Witch Brooms look so great, the kids will love them!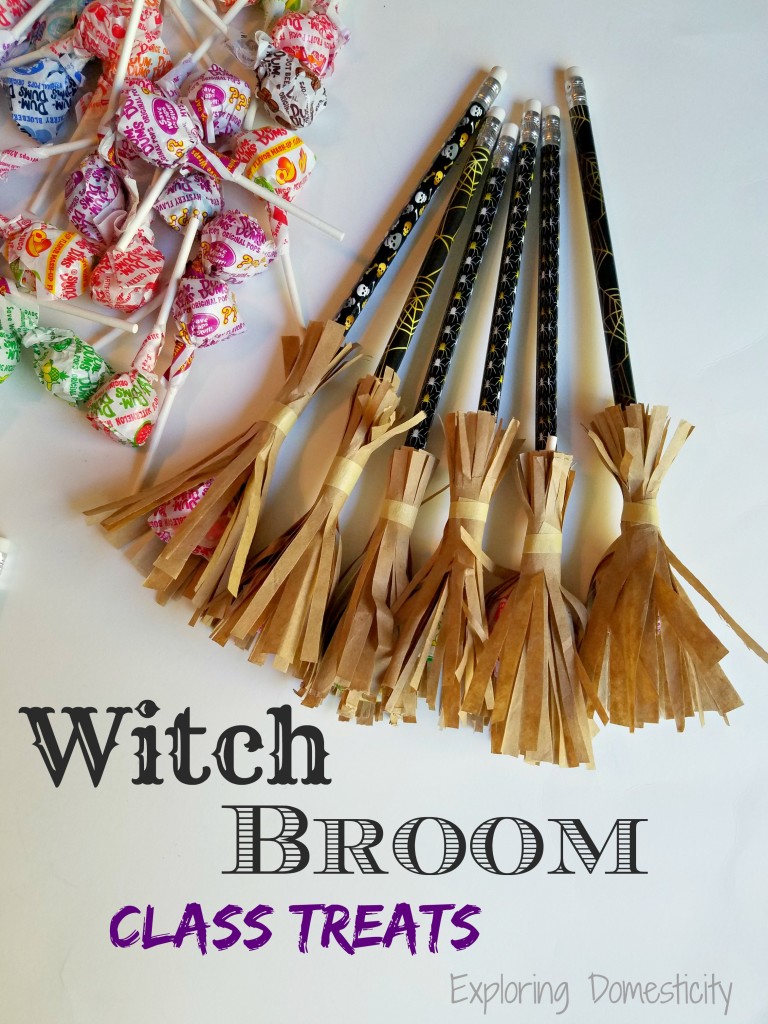 This post may contain affiliate links we hope you will find helpful.
Similar to last year's Ghost Pops, we use inexpensive materials and Dum Dums to create an adorable Halloween treat!
I love these little Witch Brooms. They were easy enough for the kids to help, quick enough to make 40 without going crazy, and cheap enough to not break the bank while creating 40 adorable brooms with a sweet treat and a prize.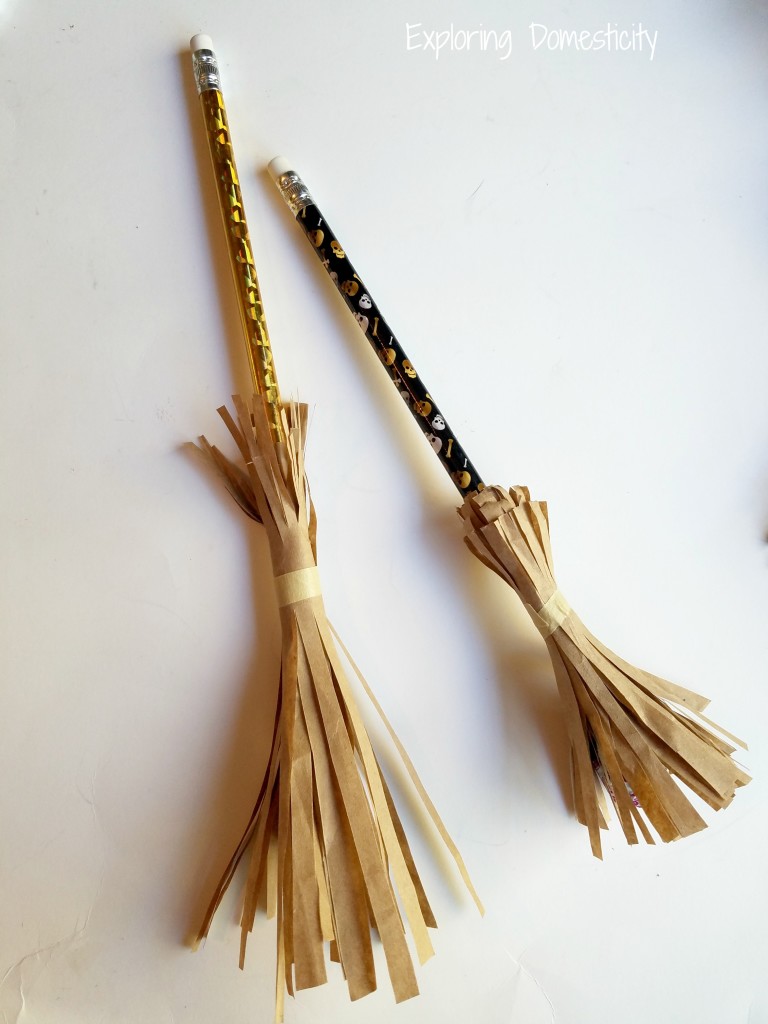 As I mentioned last year with the Ghost Pops, we love Dum Dums lollipops because they are such an easy treat to have around for the kids. They don't have too many treats, but these tiny suckers are something I always try to have in my purse for kid-bribery-emergencies. They don't melt or make a mess and it takes a while for kiddos to eat them.
During Halloween, you can get an enormous bag of Dum Dums for so cheap. They will seriously last you until the next year!
We only used a fraction of the suckers our of our huge Sam's Club bag and, since we have two classes to hand them out at, we only spent $4 on our four packs of Halloween pencils from the Dollar Tree. The brooms came from packaging paper I had from all of my Amazon purchases.
So, maybe $5 for the whole works!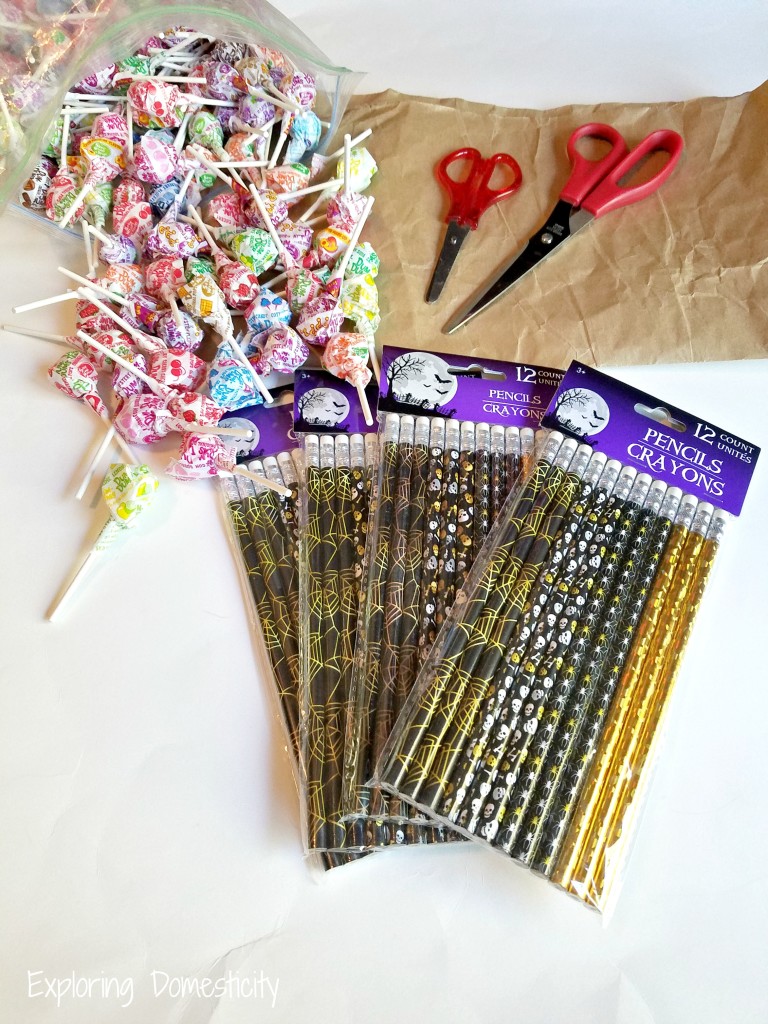 I had some great help from my soon-to-be-three-year-old, and these Witch Broom Halloween Class Treats are so easy, I'm pretty sure my 5-year-old will be able to do the whole thing himself when he gets home from school.
My little lady helped open the pencils and, using some small pieces of masking tape, she taped the suckers upside down to the bottom of the pencil. Meanwhile, I cut some pieces of packaging paper into strips roughly 4″ x 6″ and folded it a few times so I didn't have to make as many cuts.

If you don't have packaging paper lying around like we did, you could absolutely use some brown paper bags, grocery bags, or brown construction paper.
It's totally up to you what size you'd like your broom to be. So, measure out what you think looks best and make your cuts as wide or as narrow as you like. It's easy!
Once the paper is folded a couple times, cut into it the full length of the scissors on one side and about an inch on the other. Use a small piece of tape to connect the end to the pencil and roll all the way to the end. Wrap a small strip of masking tape around completely to secure.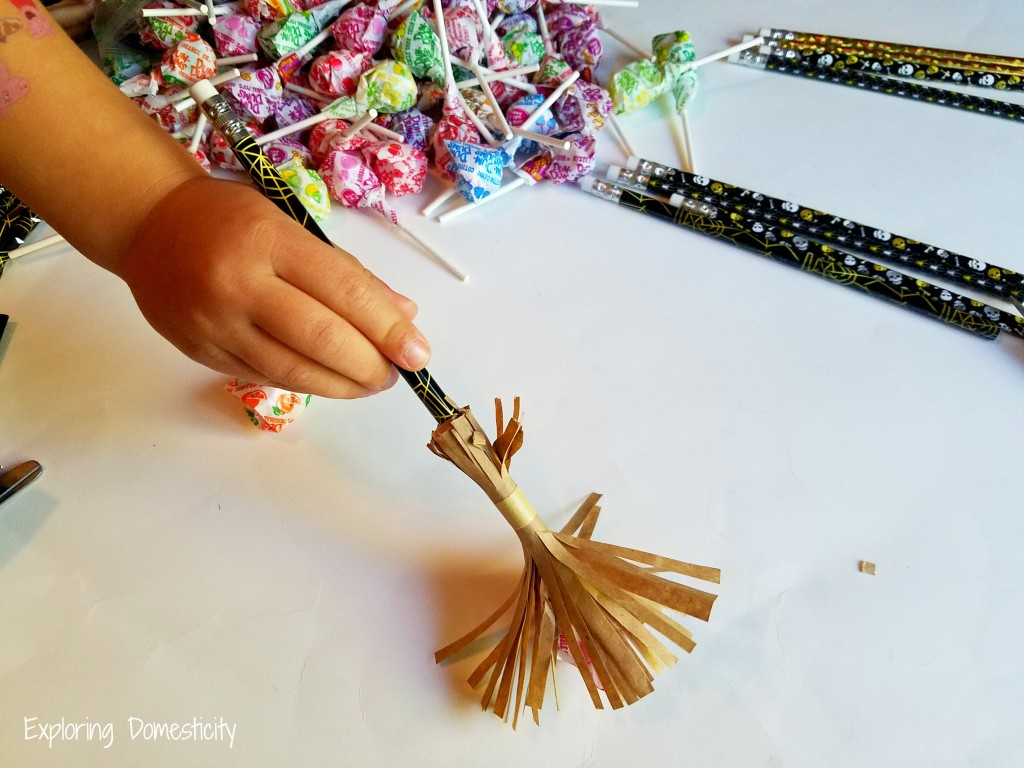 I love thinking outside the box of candy. Of course, we used candy, but we added a little prize with the Halloween pencil as well. For classes where candy isn't allowed, these Witch Broom Halloween Class Treats work perfectly with just the pencil. Plus, they're so darn cute!
What are you handing out to the class on Halloween this year?

More Like This


Witch Broom Class Treats Supplies