The delicious flavors of pizza with your favorite toppings, made lighter by using spaghetti squash instead of noodles.
Spaghetti Squash Pizza Casserole is a one-dish meal that couldn't be easier! Combine your favorite toppings, sauce, and cheese with spaghetti squash. Cook and spoon it up. It's a crowd pleaser and a kid pleaser all in one!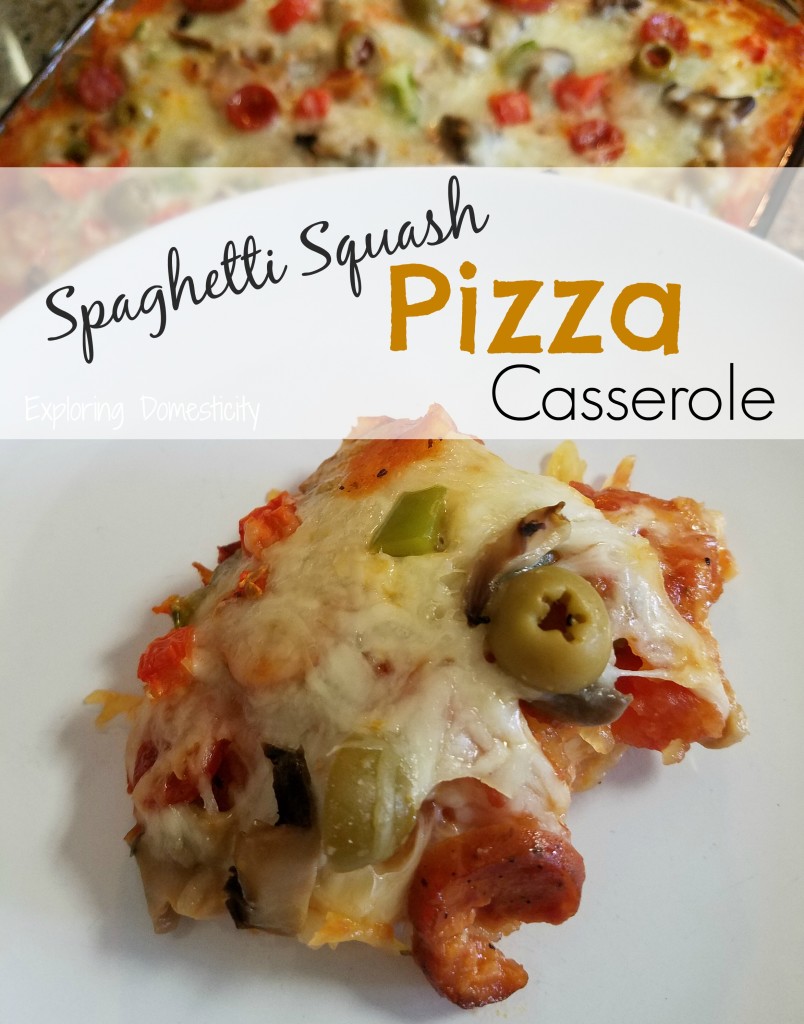 This recipe for Spaghetti Squash Pizza Casserole comes from one one of my favorite meals my grandma used to make. She always layered cooked spaghetti, sauce, and toppings and it was delicious!
In my mind this is still just called "Pizza Hotdish" – or is it Hot Dish? – if you're not from the midwest, I suppose you're wondering, "what is this crazy lady talking about? It's a stinkin' casserole. What the heck is a hotdish?"
I got the recipe from her when I was in college and looking to make some comfort food. I've lost it since then, but I do remember layering ingredients and the rest is probably pretty easy.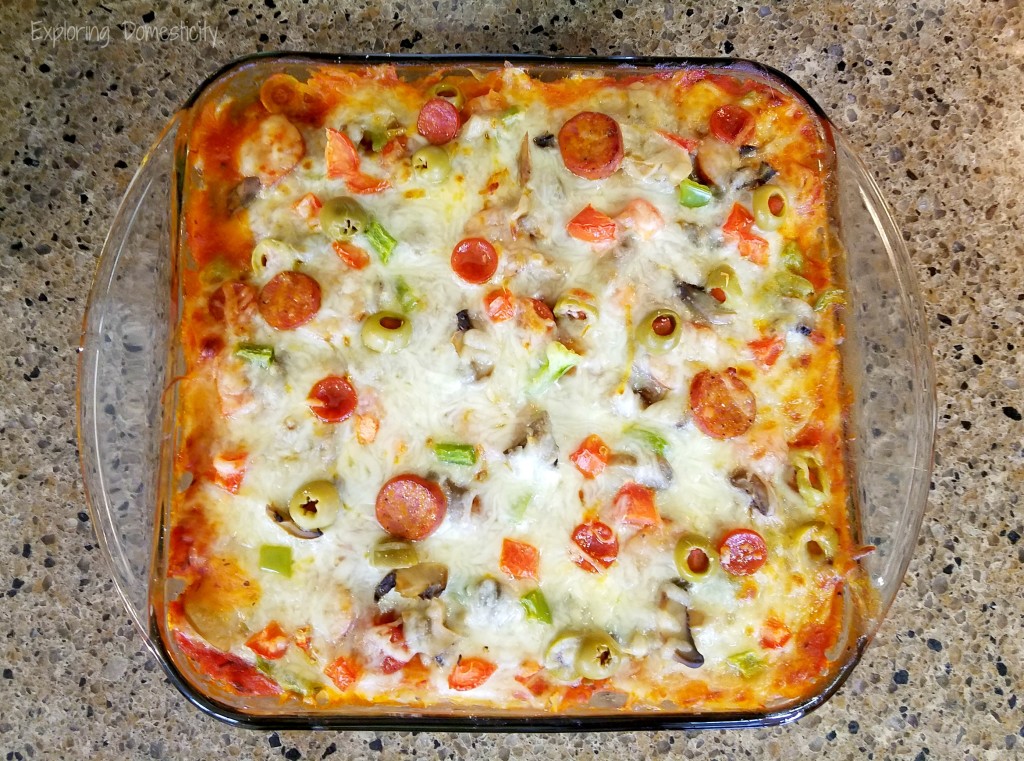 One of my favorite meals lately is to have spaghetti and meatballs with spaghetti squash, and I've found that the kids will eat spaghetti squash without a fuss if I add sauce and cheese.
We've been doing quick and easy versions of spaghetti squash pizza casseroles individually for the kids for the past couple years with just cheese, sauce, and pepperoni or sausage, but I've been dying to make it in a huge dish with all the supreme toppings just like my grandma did with real spaghetti.
I've given up on finding the recipe, but I think we ended up with something pretty delicious. Spaghetti Squash Pizza Casserole was born and it's delicious!
You can use any of your favorite pizza ingredients, for our supreme pizza we used it all!
Spaghetti Squash Pizza Casserole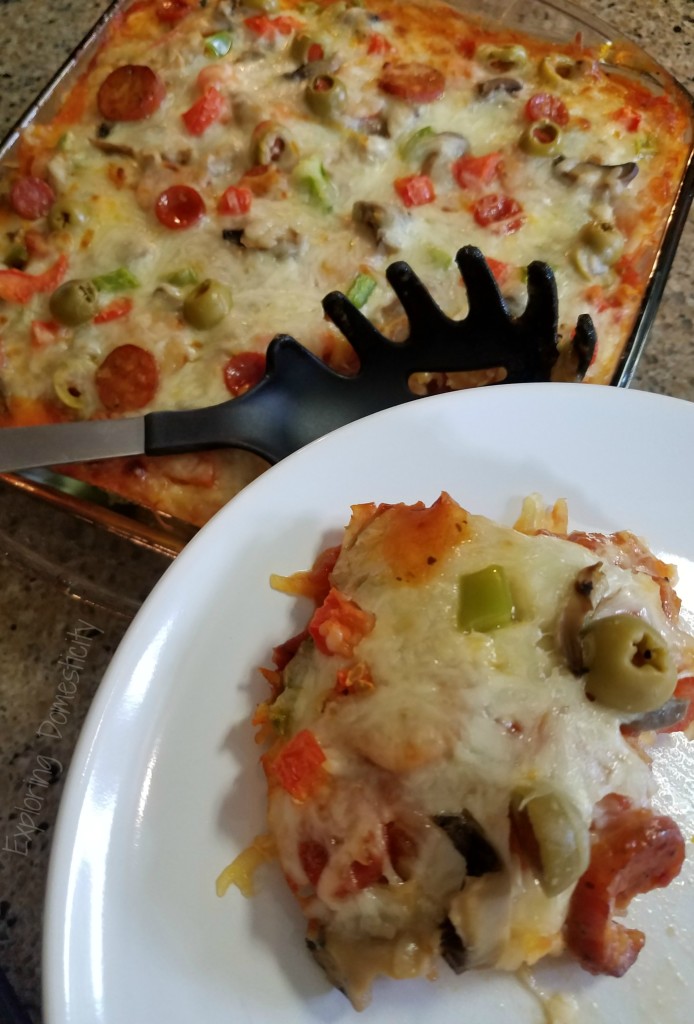 Ingredients
1 spaghetti squash
1/2 jar sauce
1/2 lb mozzarella cheese
pepperoni
sausage – I used 2 links of hot italian sausage
1 small onion or 1/2 large onion
peppers
mushrooms
olives
1 roma tomato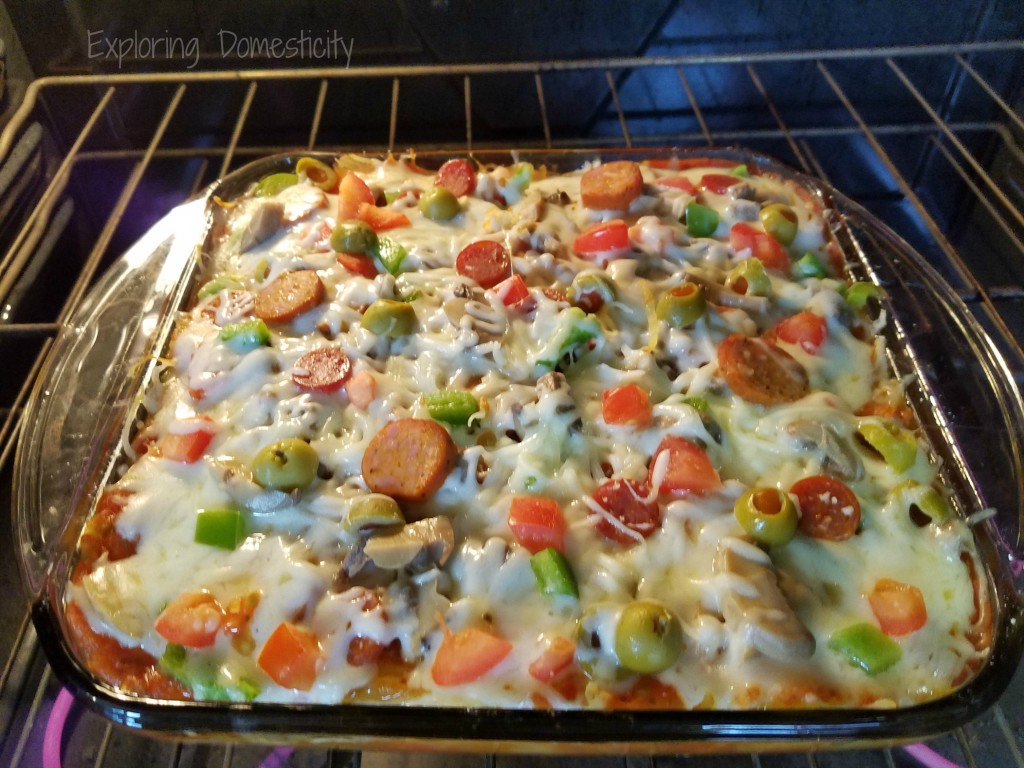 Directions
Cooking Spaghetti Squash
Preheat the oven to 375 degrees
Cut spaghetti squash in half lengthwise, scoop out the seeds,
Drizzle each with olive oil and salt and pepper
Chop 1/2 onion and fill each cavity
Cover with foil and cook 30 minutes
Remove from oven and let cool until you can scrape the squash from the skin
Spaghetti Squash Pizza Casserole
In a 2 quart, square casserole dish, layer a bit of the sauce on the bottom of the dish
Layer 1/3 of spaghetti squash, 1/3 sauce, 1/3 toppings, 1/3 cheese
Repeat 2 more times, saving just a few of the toppings to place above the last layer of cheese
Cover and cook for 30 minutes
Uncover for the last 10 minutes of cooking time to brown the cheese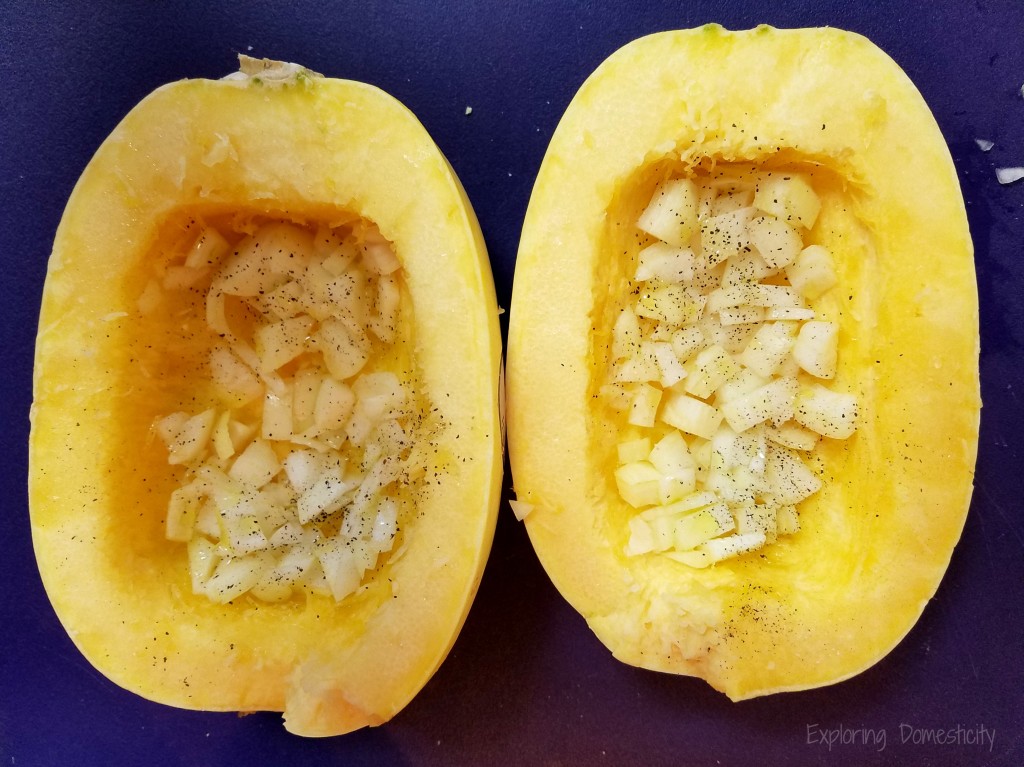 To cook the spaghetti squash, start by cutting the squash in half lengthwise. Scoop out the seeds and, if you're really ambitious, clean and roast them up. Drizzle both halves with olive oil – I used garlic infused olive oil for some extra flavor – and sprinkle with salt and pepper. Chop 1 small onion, or half of one large onion, and fill each cavity. Cover the baking dish with foil and cook at 375 degrees for 30 minutes.
Remove the squash from the oven and let it cool a bit until you can handle it a bit easier. With a spoon or a fork, pull the strands away from the skin.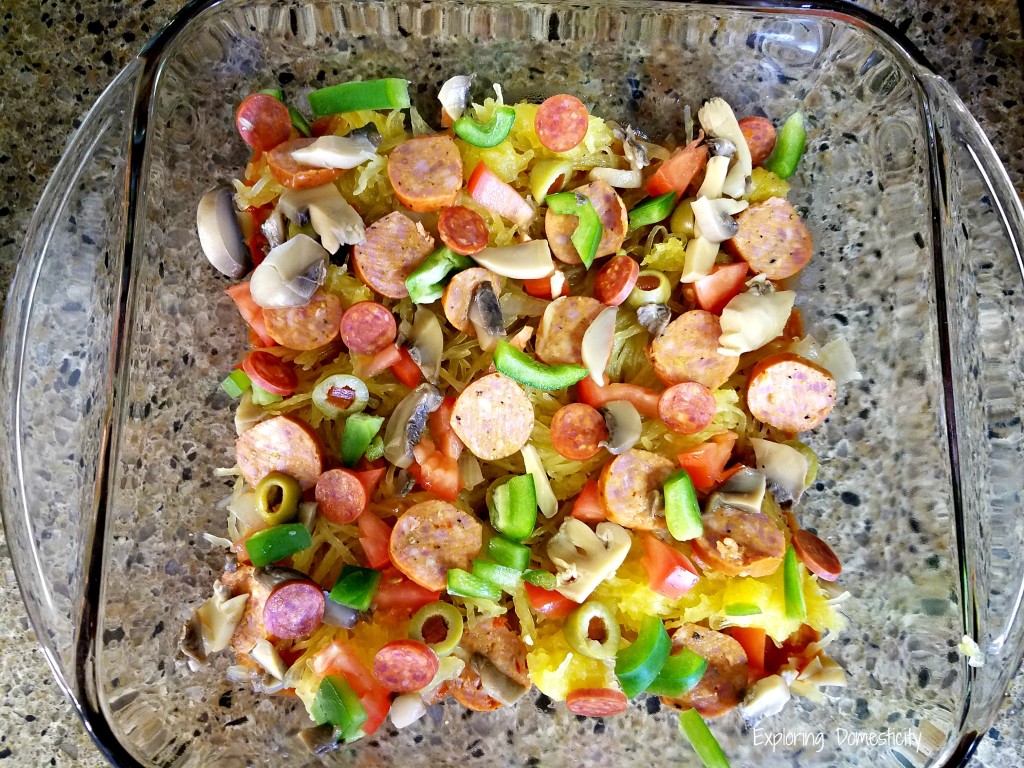 In a square, glass casserole dish begin layering the ingredients. Start with a small amount of sauce followed by 1/3 of the spaghetti squash, 1/3 toppings, and 1/3 cheese. Repeat with the remaining layers, saving a small amount of toppings for the very top on the last layer of cheese.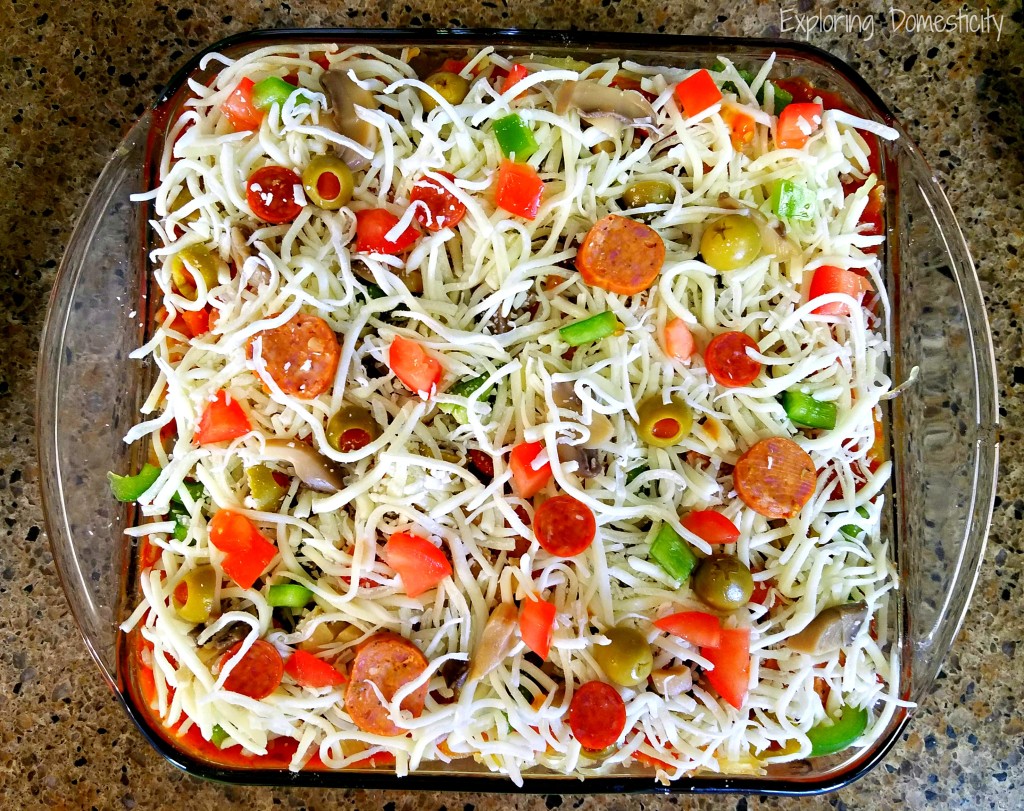 The toppings are really up to you and could make this for a different meal each time. The amounts are not a science and you can mix it up however you choose.
Cover with foil and place in the oven for 30 minutes. Cook 10 more minutes uncovered, and your Spaghetti Squash Pizza Casserole is ready when you have a beautiful golden brown top.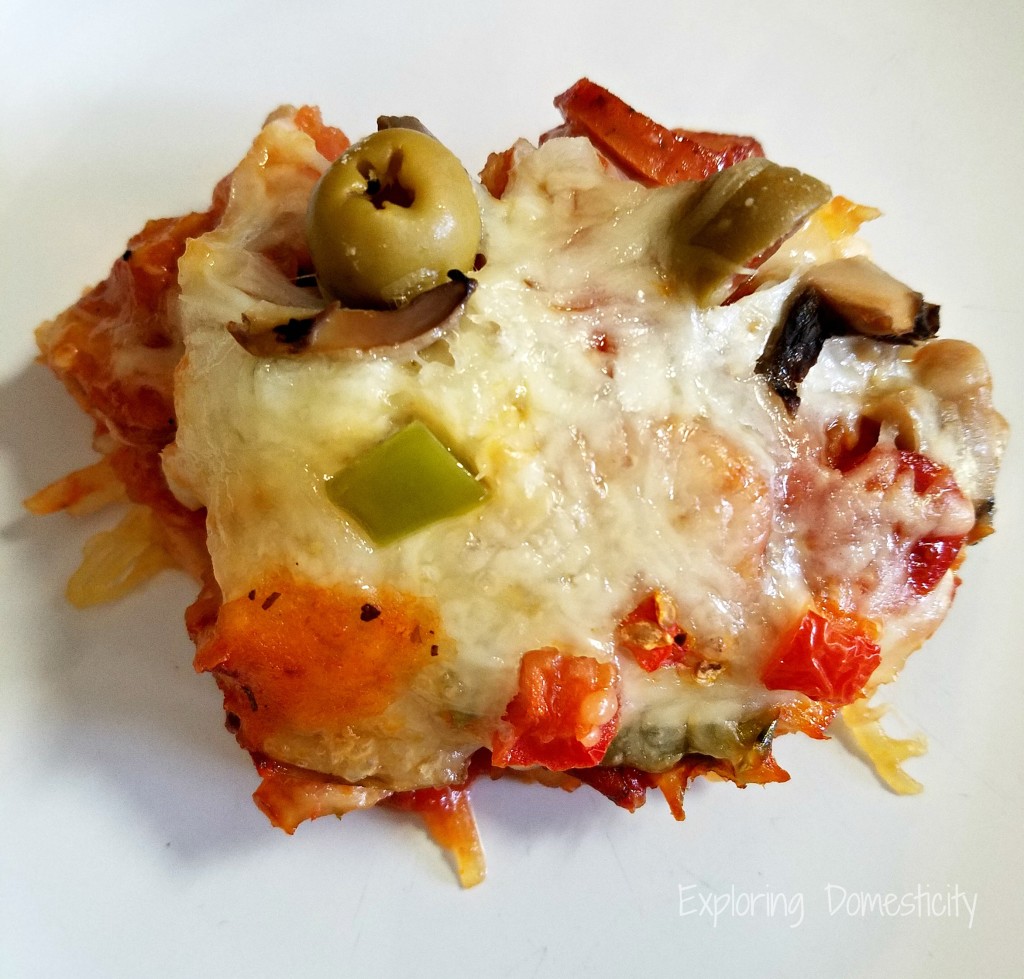 This definitely is right up there with my grandma's hotdish. Guaranteed, it's just as good as the pasta version.
So, whether you call it a hotdish or a casserole, Spaghetti Squash Pizza Casserole is a winner!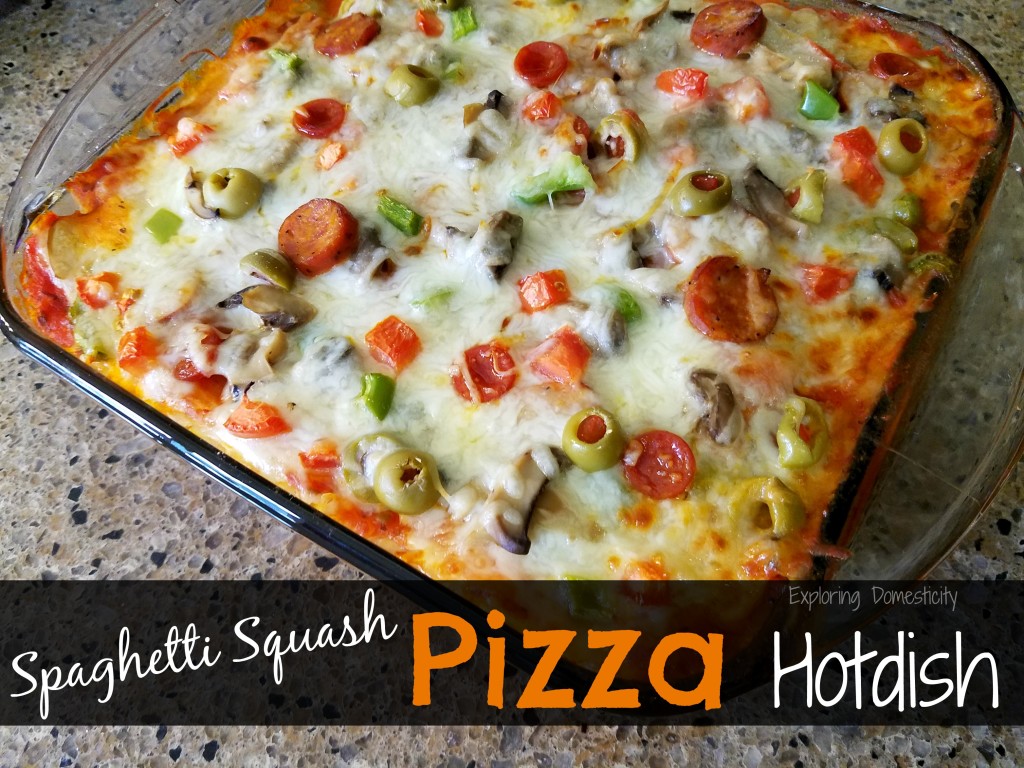 More Like This