Adorable and easy Halloween snack for kids. These cheese bats take just a minute to make, but they will make the kids light up!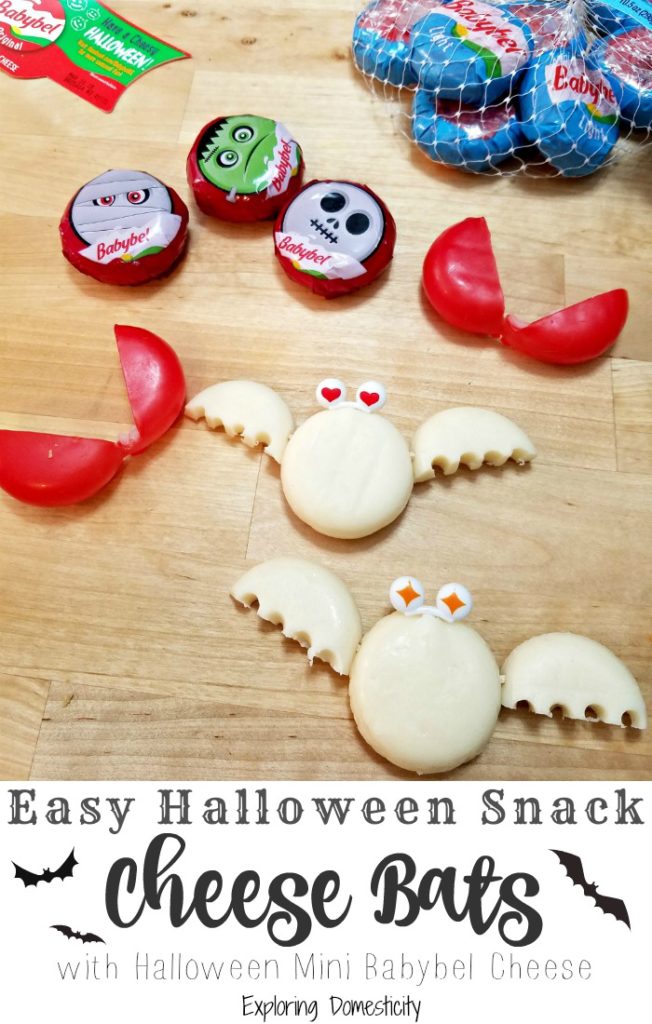 This is one of those fun snacks that is just too easy!
I love adding a special touch to the kids snacks and lunches when I can. When I first started making lunches for my step-daughter, I went crazy with themes and trying to make things look cute. Now that there are two kiddos in school and just not enough time in the day, the special touches have to be quick and easy.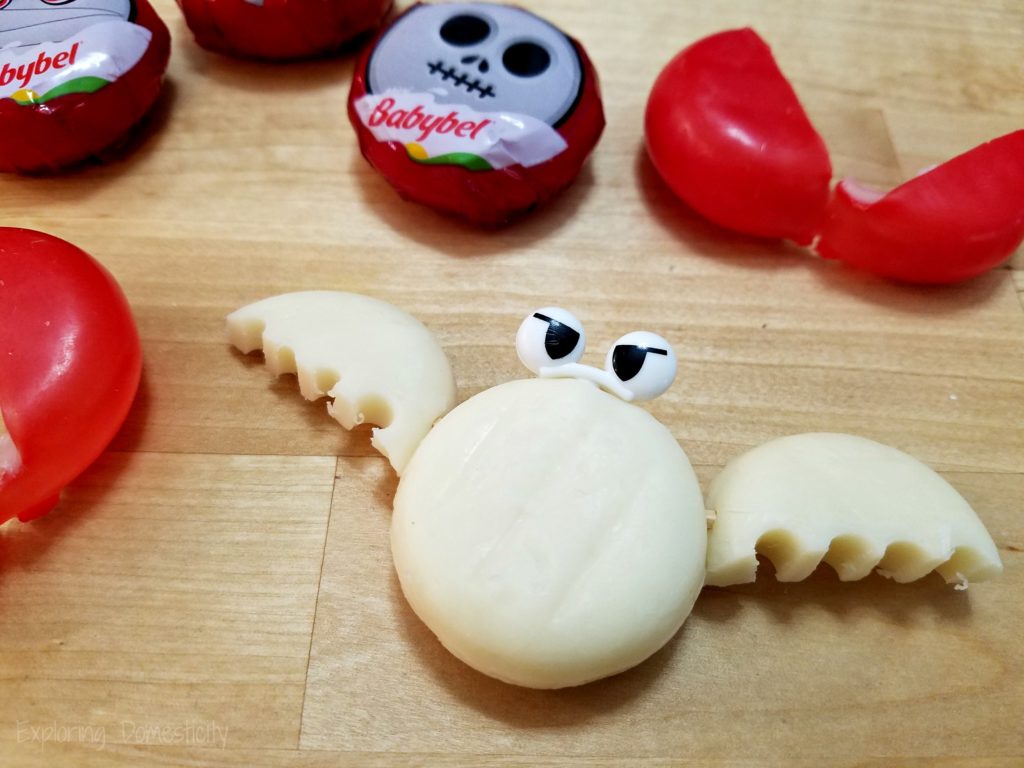 Easy Halloween Snack
Halloween is a fun time to do something special for snack or lunch. There are many easy ways to make lunch or snack a little spooky
Halloween Stickers
Add spooky eyeballs to just about anything
Carve carrot chips into pumpkins
Use Halloween cookie cutters on sandwiches
Add a black olive to make a hard boiled egg into an eyeball

Cheese Bats with Mini Babybel®
You won't believe how easy it is to make the kids' cheese into an easy Halloween snack!
You will need two Mini Babybel® cheeses – three if you are making two at a time like I did. Keep one cheese whole and cut the other in half. Then, slice the halves into two pieces. This is optional but I liked the look of the thinner slices for the bat wings.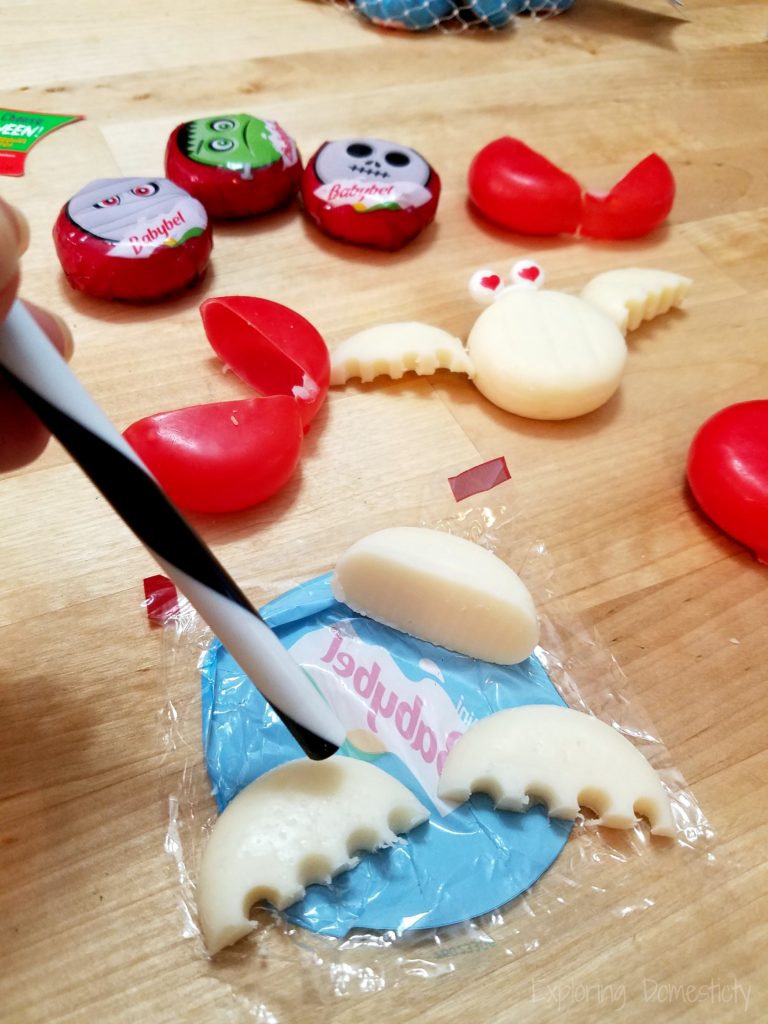 With a straw or a knife, cut small pieces from the bottom of the two halves to make the bat wings. Attach the wings to the whole Mini Babybel® with a toothpick broken in half.
Your spooky Mini Babybel® bat is done!
To make it even spookier, or cuter, add some eye picks. We have this set and the kids love finding them in their lunch or snack. I think these would also look adorable with a mouth as well.
Our bats flew into the kiddos' snacks for tomorrow along with some summer sausage with it's own eyes and some carrot chip pumpkins.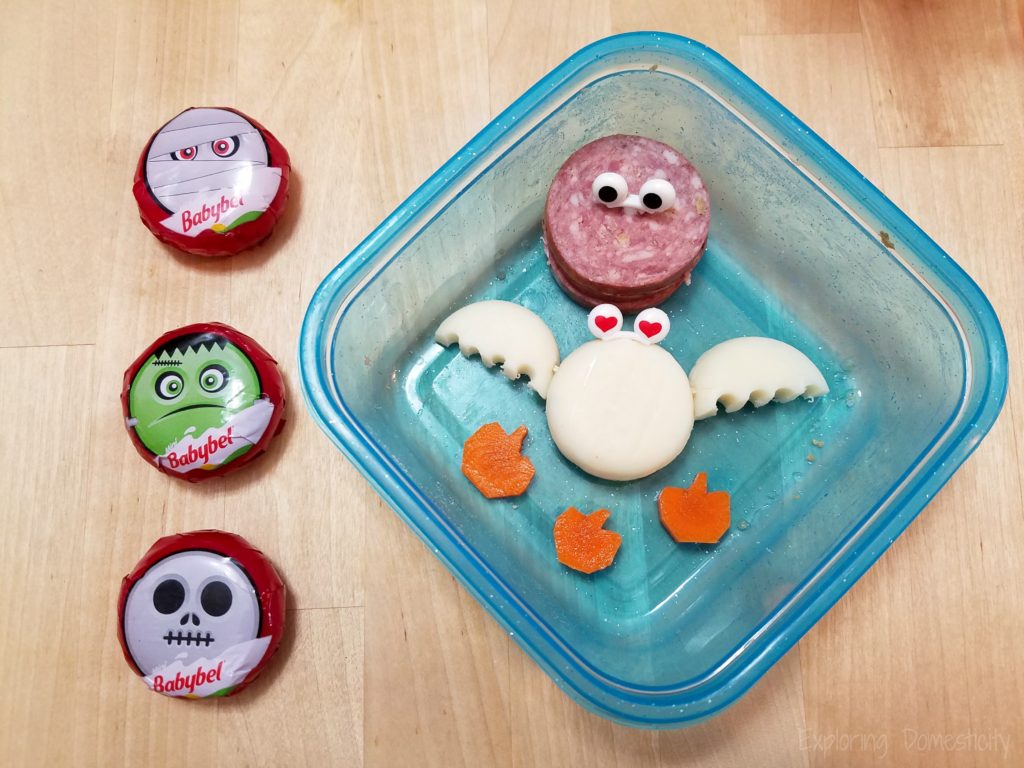 Halloween Mini Babybel® at Target
Babybel® has made it even easier for parents to add a little Halloween fun to any lunch or snack with zero effort. Their adorable Mini Babybel® are all dressed up for Halloween with ghosts, Frankenstein, skulls, devils, and jack-o-lanterns.
Our kids love this cheese! I can't tell you how many times our little guy has asked for "that cheese with the red thing that you peel." Kids love that fun, wax cover and getting to peel it off the cheese.
Not to mention, Mini Babybel® are 100% real cheese, and a great source of calcium and protein for kids. It's a perfect snack or addition to a kiddo's lunchbox.
These adorable Halloween Mini Babybel® are at Target right now and they have deals through the end of October.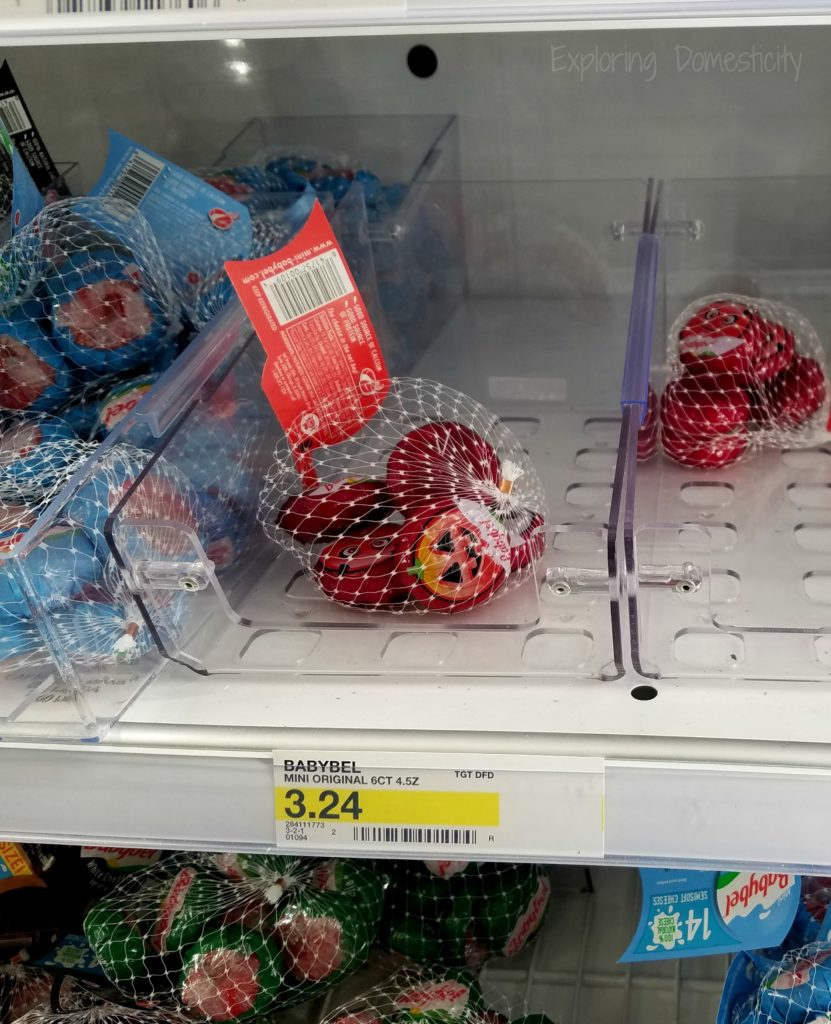 The position in the store will vary, I suppose, but I have to tell you they weren't were I expected in our local Target. I assumed they would be in the dairy by all the yogurt, but they were nowhere to be found. Instead, I found them the next aisle over in the coolers near the frozen foods.
I was tempted to take all the adorable Halloween Mini Babybel®, but I left some for the other kiddos and grabbed a large back of the Mini Babybel® Light – which tastes just a great, by the way.

Do you have a fun and easy Halloween snack you make for your kiddos?

More Like This
Make your own easy Halloween snacks