Non-edible class treats with color-changing beaded bracelets and sugar skulls for the kids to color. These Disney's Coco Inspired Sugar Skull Halloween Class Treats are so fun!
The kids will have a lot of fun and can easily make these simple bracelets. Their friends will love the spooky skulls and the color-changing magic of the bracelets! In the classroom they will be white, on the playground they will turn colorful, and when they come back inside they will glow! So fun!
Disney's Coco Inspired Sugar Skull Halloween Class Treats are perfect for children with allergies because they are a non-candy Halloween treat.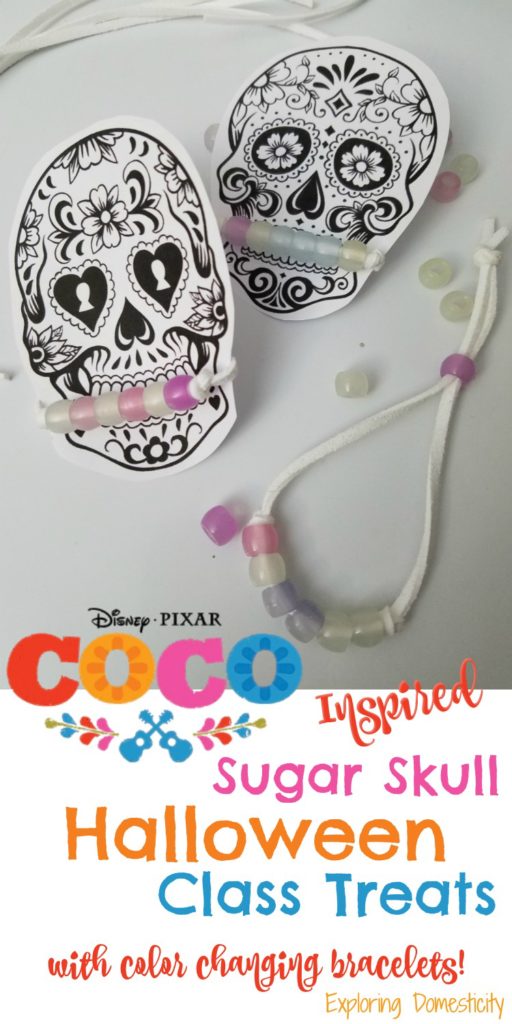 This post contains affiliate links. We got all our supplies on Amazon and did a lot of comparison shopping, and we hope you find the links and information helpful for your own Disney's Coco Inspired Sugar Skull Halloween Class Treats. This post is also sponsored, in part, by sdsaena and we were given this beautiful witch hat.

Disney's Coco
Between our anticipation for Disney's new movie, Coco, and all the excitement surround the Disney Social Media Moms Conference invitations, I have been consumed with Disney!
From the get-go, I knew I wanted to make our class treats with some sugar skull. They are so fun! Sugar skulls are traditional folk art to celebrate the day of the dead. They are perfect for class treats or gifts because they are skulls but not quite so scary.
Disney's Coco comes out in November, but we're looking forward to it now! The imagery is perfect for Halloween, so we're jumping the gun and getting a head start because we're so excited!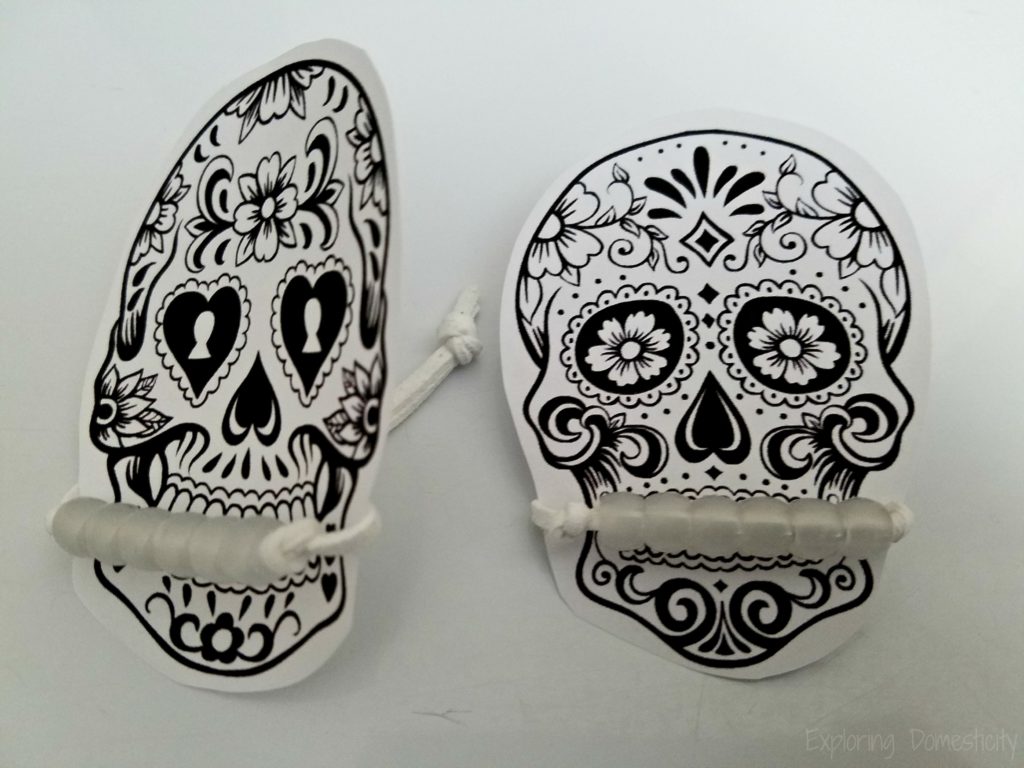 Halloween Class Treats
We love making unique class treats for Halloween, Valentine's Day, and birthdays. I've been thinking about this year's class treats since early September when pins on our Witch Broom Class Treats started going crazy.
There are so many great Halloween favors on Amazon. Everything from Halloween stamps, to bouncy eyeballs, to foam masks, and more! It's enough to get anyone's creativity flowing!

Color Changing
I started by looking into color-changing items. Our kiddos got color-changing cups from their Birthday at the Minnesota Children's Museum, and they  are their favorite cups!
Color-changing cups may be a bit more than you're willing to spend on a class treat since you have to get more than 20 for a typical class. I have been looking for both classes, so we're talking more than 45.
The next idea was to use color-changing straws because they are less expensive and just as fun. If anyone else wants to go this route, you could tape them to the back of a sugar skull coloring card, or put a skull ring around a couple straws.
Options for Color Changing Straws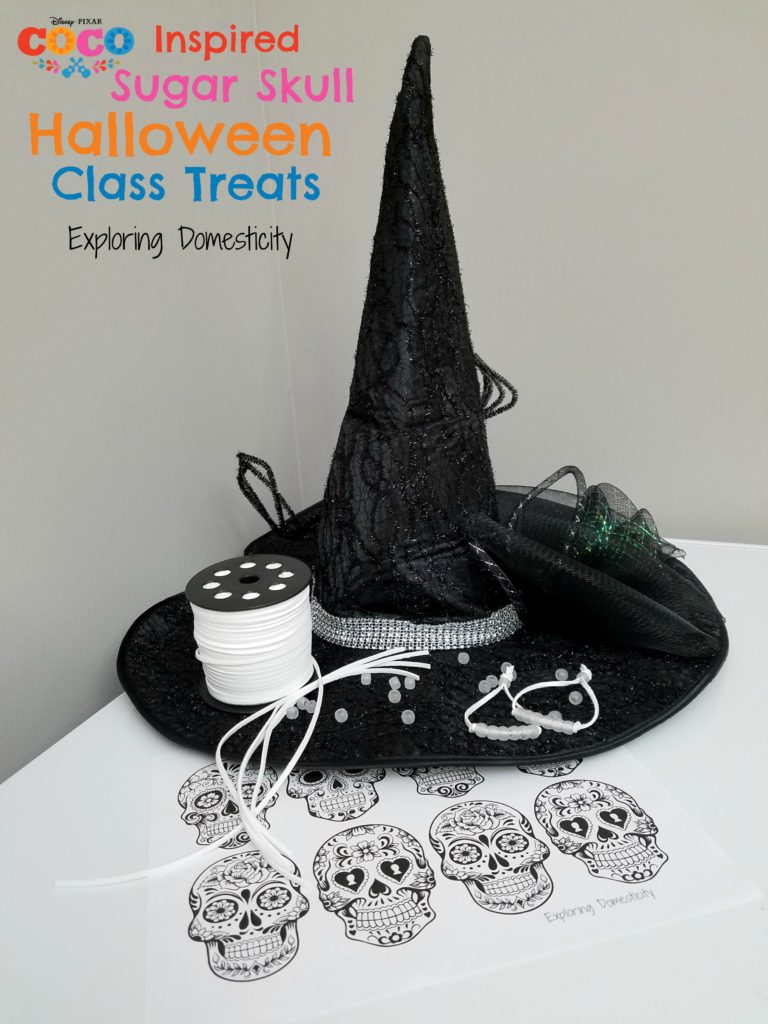 Disney's Coco Inspired Sugar Skull Halloween Class Treats
The plan changed entirely when I came across Color Changing Beads! The beads look white, but change color in the sun, and glow in the dark.
How fun are these!
Immediately, I knew what I wanted to do! With sugar skull card to color, bracelets with color-changing beads make great skeleton teeth.
I don't know if these is something that was popular outside of our school or town, but when I was in elementary school we made a particular type of bracelet with pony beads. I used to have a whole kit with different colored pony beads and leather strings.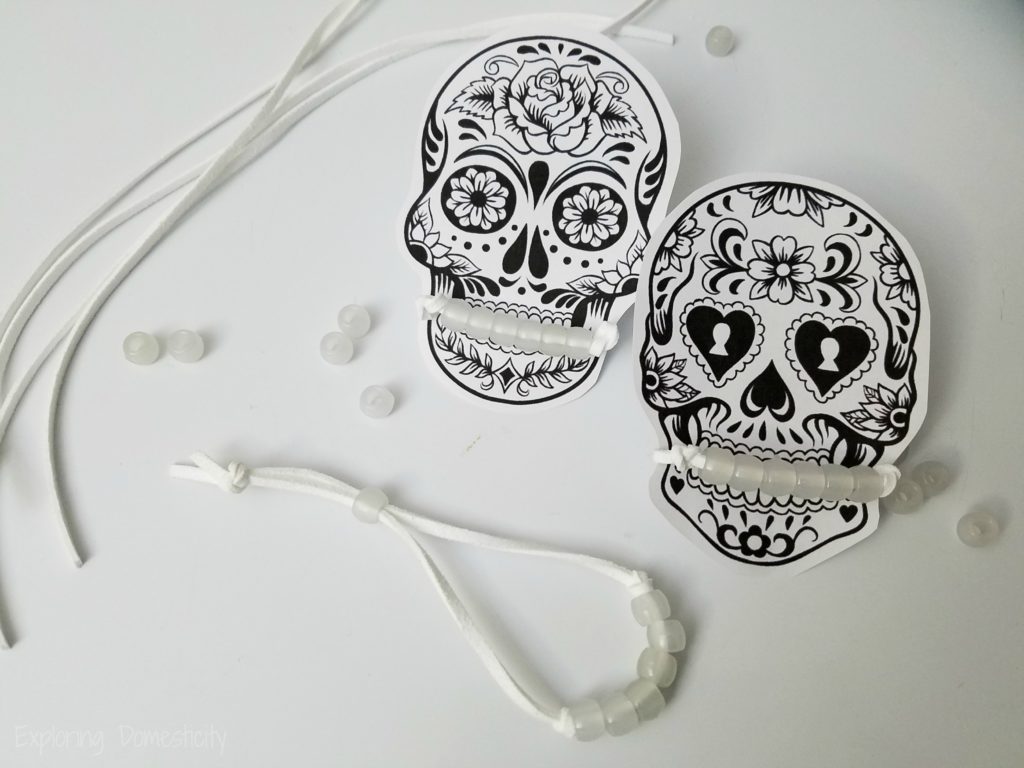 How to Make the Bracelet
They are so easy to make! First, cut a strip of leather string to your desired length. They are adjustable, so they just need to be big enough to fit over the fist, taking into consideration a little extra length for knotting. Our strings are cut to just over 11 inches after measuring the kids' wrists.
I would say 12 inches is a good amount for young children. Fourteen inches seems to be plenty for adults.
To make the bracelet, string 6 beads on the leather, center them and tie knots on each side. Then, using one bead, string it over the two ends of the leather for an adjustable bracelet. If you're worried about the bead coming off, tie a knot in the end of the strings to secure it.
The leather string I ordered is 100 yards and about 3mm wide, 1.4mm thick. This is smaller than the leather we used as kids. It works well and the adjuster bead still holds. With a bit thicker leather, it will be a tighter fit and you probably won't have to tie a knot in the end to secure.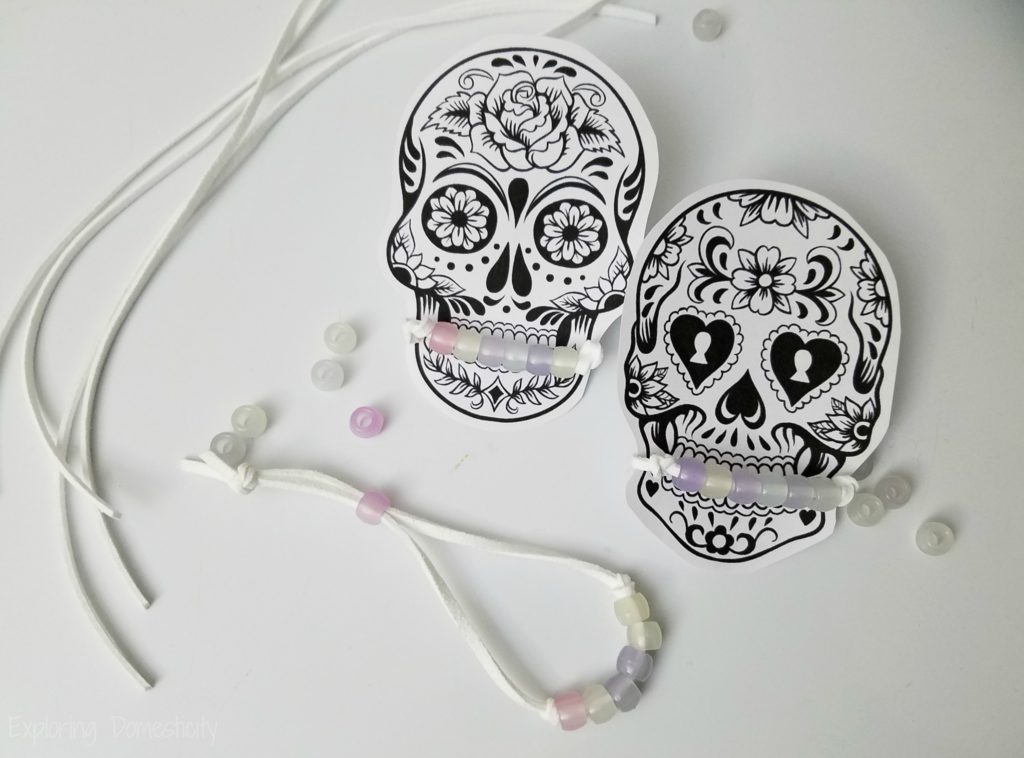 To make these Disney Pixar Coco Inspired Sugar Skull Halloween Class Treats, we need some skulls!
The white beaded bracelet makes for a great sugar skull smile. The skull can be colored in or left black and white for the kids to color.
I tried my best to duplicate the characters from Coco, but my artistic ability is lacking and time before Halloween is running out.
Luckily, PicMonkey has 4 different varieties of sugar skulls to use. Eight skulls fit on a sheet of paper and look great. You can easily pick the ones you and want create them yourself with a PicMonkey free trial.
I printed the first batch of skulls on computer paper to check out the size. If you're in a hurry, you can definitely put these on regular paper – no one is going to mind, I promise. However, making the skulls out of card stock will add a bit more stability.
Great for the Kids!
This project is fantastic for kids! The bracelets are so simple to make, and they can help cut the sugar skulls. You can leave the skulls black and white for others to color. You could even add a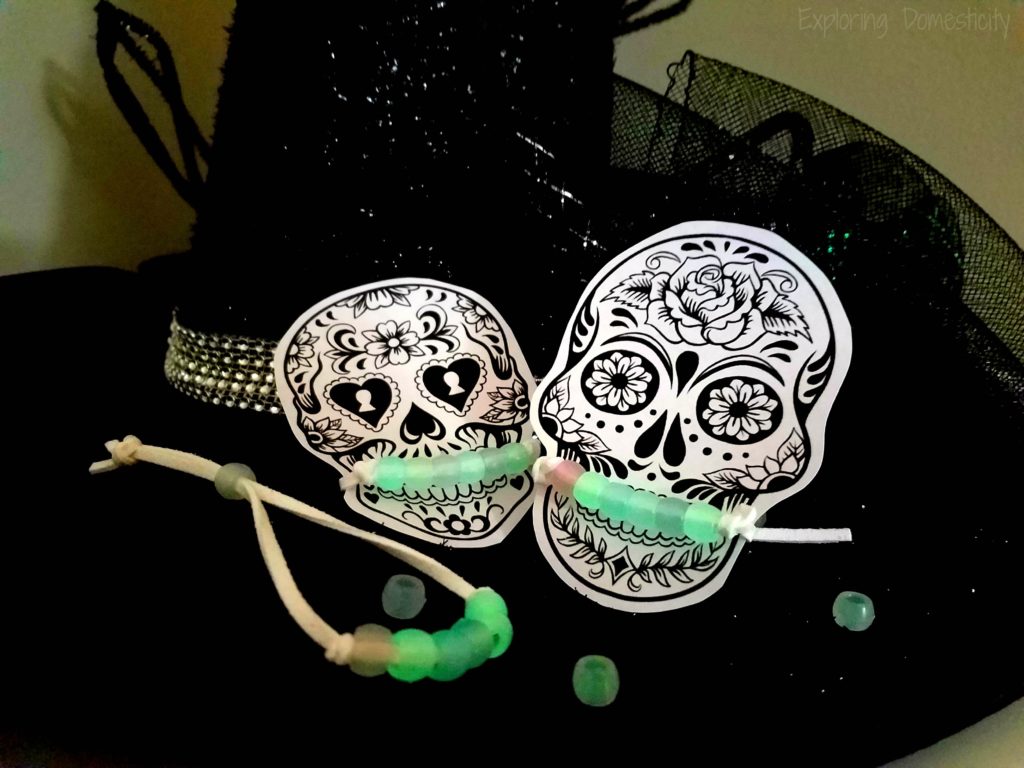 Perfect for Halloween!
Disney Pixar Coco inspired sugar skull Halloween class treats are great to celebrate Halloween or Day of the Dead – witch ever you prefer. Day of the dead doesn't have anything to do with witches, but I have to mention the awesome hat featured in the photos above!
We got this gorgeous witch hat from sdsaena. A lot of the time, when ordering Halloween supplies online, you can't be sure about the quality. I never expected this hat to be so nice! It's soft, but very heavy duty and gorgeous! It holds shape well and has gorgeous sparkle all over, including the beautiful flower, bow, and spooky spider.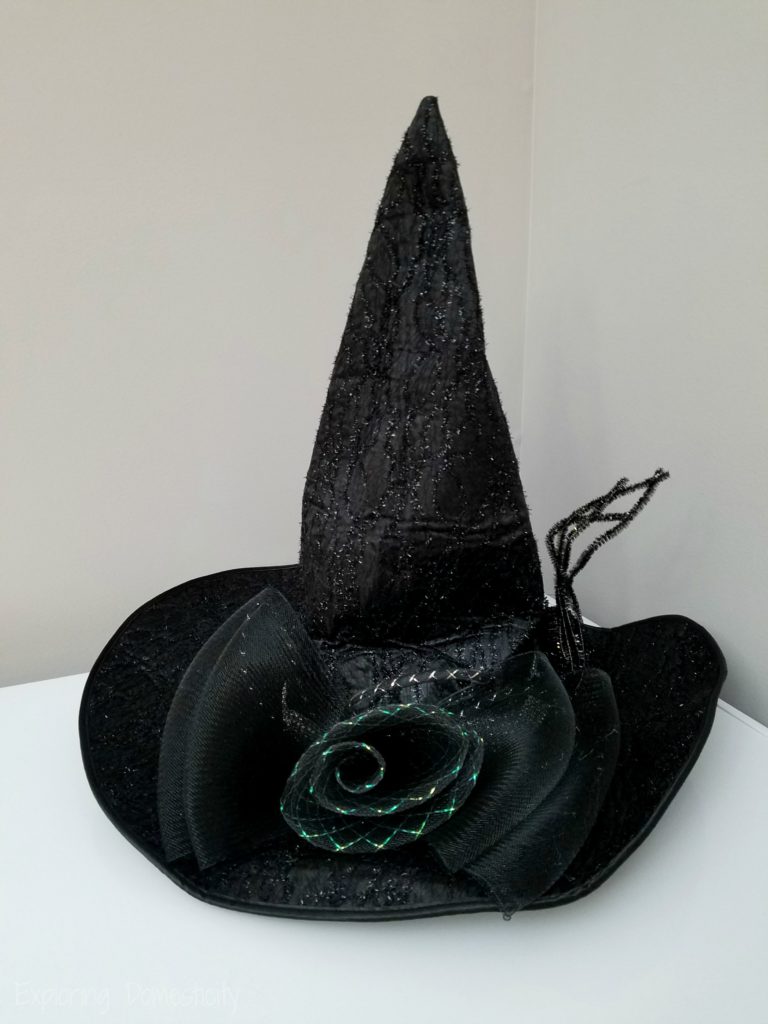 Other Halloween Class Treats
For more Halloween Class Treat ideas, you can see what we did in previous years!
Do you make class treats? Has your school discouraged edible class treats as our school has?

More Like This


Disney's Coco Inspired Sugar Skull Halloween Class Treats Supplies