Everyone in our family are total Marvel fans and this mom loves to find new healthy recipes!
These spinach muffins have no food coloring, just an entire bag of spinach!
The kids loved it! I mean, what kids can resist a bright green food!? They had a blast helping!
This post includes affiliate links so I can share with you some products I love! If you choose to make a purchase I receive a small commission which does not affect your purchase. I really appreciate your support and I know you'll love them too!
While I was looking into getting Disney on Ice tickets for my little lady, I realized that there is a Marvel Avengers show also coming to town. Who knew!? So, I added Marvel Universe Live to our family outings list.
Around the same time, I found a green muffin recipe from The Green Forks. I've been looking for healthier options for when those dessert cravings hit. I felt inspired to alter the recipe a bit and get the kids excited by calling them Hulk Muffins.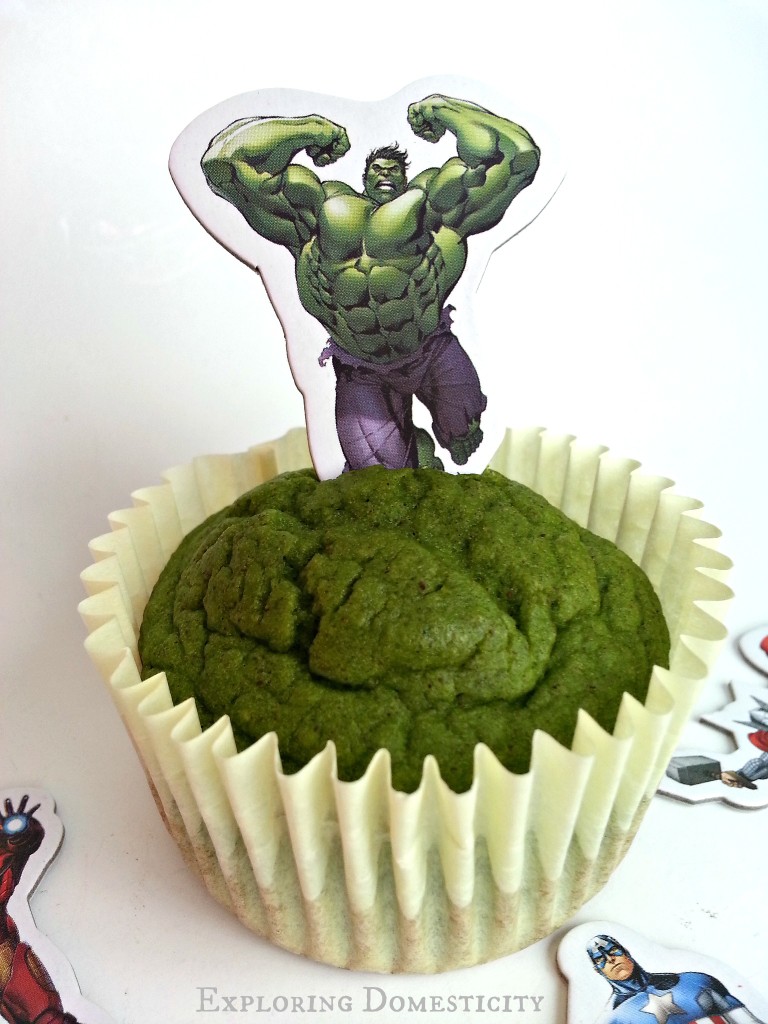 The kids had so many opportunities to help and they had a lot of fun. They added the liners to the muffin pan, mashed the bananas, stuffed the blender full of spinach, poured the dry ingredients in once I measured them out, and helped out with a taste test of the batter.
It's so much fun to get the kids involved! Mine kiddos are used to spinach in smoothies and things, but they were thrilled at the bright green color of the batter!
Check out my new pan! I've raved about these pans when I've shared my Frozen Breakfast Sandwiches. I got a USA pan muffin tin for Christmas – happy lady! Nothing sticks to these! I had some batter spills after baking the muffins and I just touched them and they popped right off, clean as can be! I can't say enough about them – all USA Pans Bakeware is great!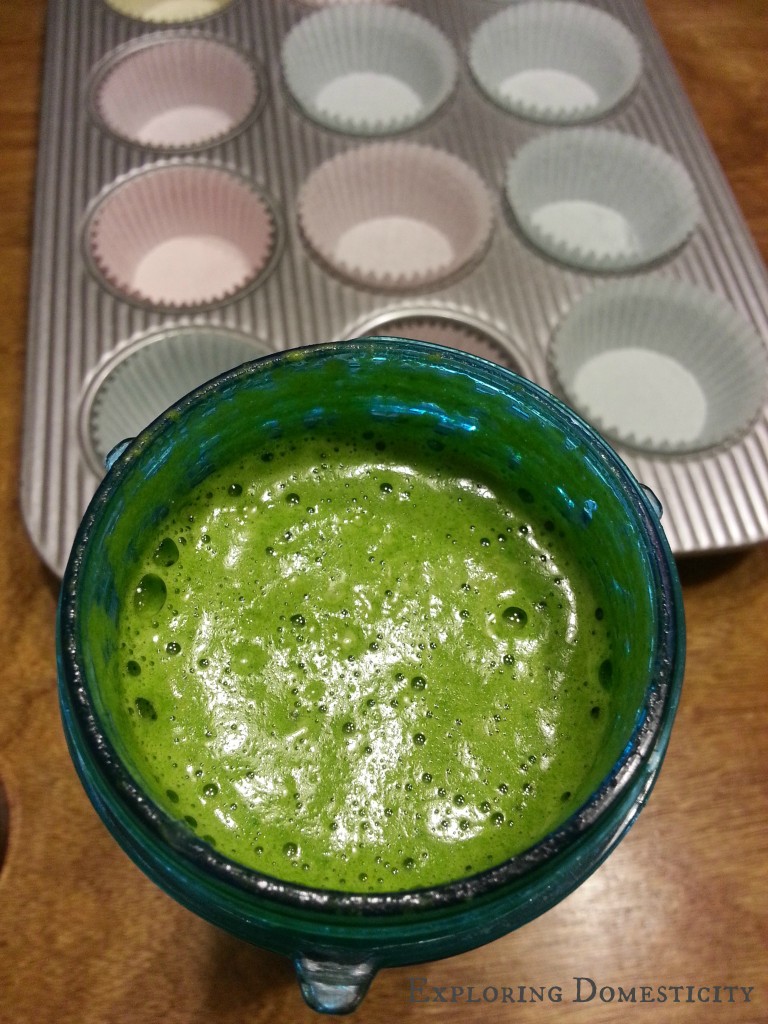 So, how do you get your little ones to eat a ton of spinach and get super excited because it looks so cool?
Make Marvel Avengers Hulk Muffins!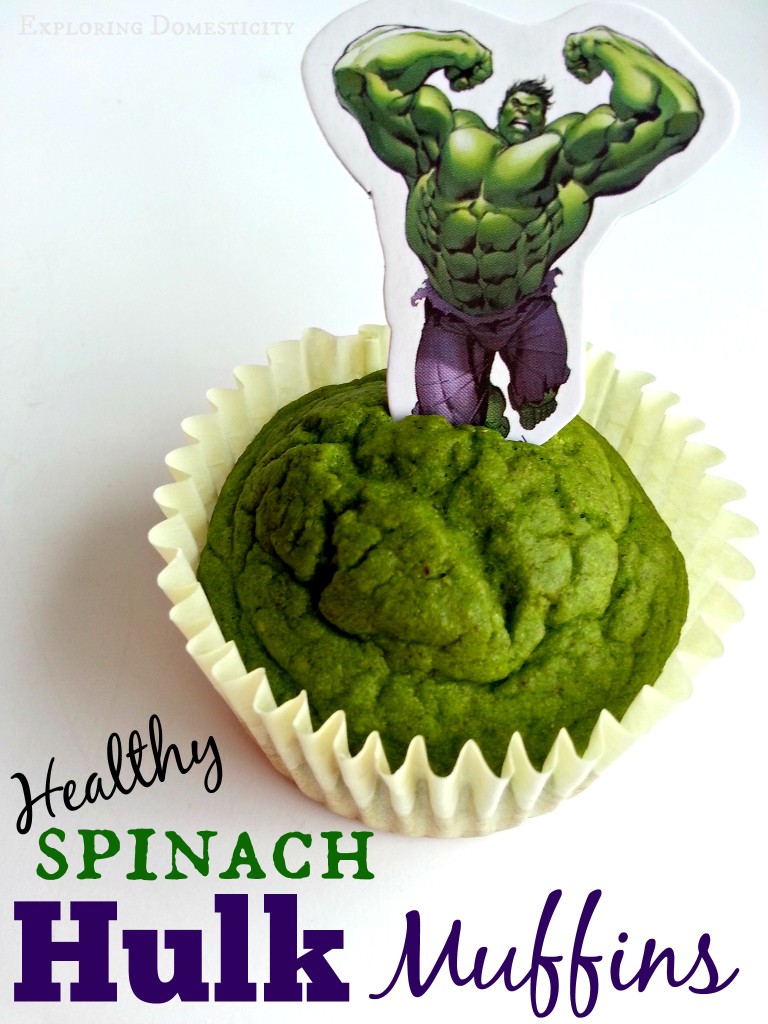 Healthy Spinach Hulk Muffins
What You Need
2 cups flour (use what you prefer or a blend)
3/4 cup sugar or sugar substitute (I used Monk Fruit in the Raw)
2 tsp baking powder
1/2 tsp baking soda
1 1/2 tsp cinnamon
1/2 tsp salt
1/2 cup unsweetened apple sauce
3/4 cup milk
6 oz bag spinach (I had an 8oz bag I had used some from so it wasn't exact)
2 mashed bananas
2 tsp vanilla extract
What You Do
Preheat oven to 375 degrees
Mix all dry ingredients (flour, sugar, baking powder, baking soda, cinnamon, and salt) and set aside.
Add milk and spinach to a blender and purée until smooth. I added the spinach in about 3-4 batches so it would blend well and because I was using a blender for single-serving smoothies 😉
Add mashed banana and vanilla extract and blend.
Pour spinach mixture into the dry ingredients and fold together with a rubber spatula until completely combined.
Fold in applesauce.
Fill a 12-muffin tin with paper liners and fill 2/3 of the way with batter. (Mine were a little small the first time around and I had enough batter for six more muffins. Fill to your liking and it will make anywhere from 12-24, depending on your muffin size.
Bake for 15-20 minutes, or until an insearted toothpick comes out clean.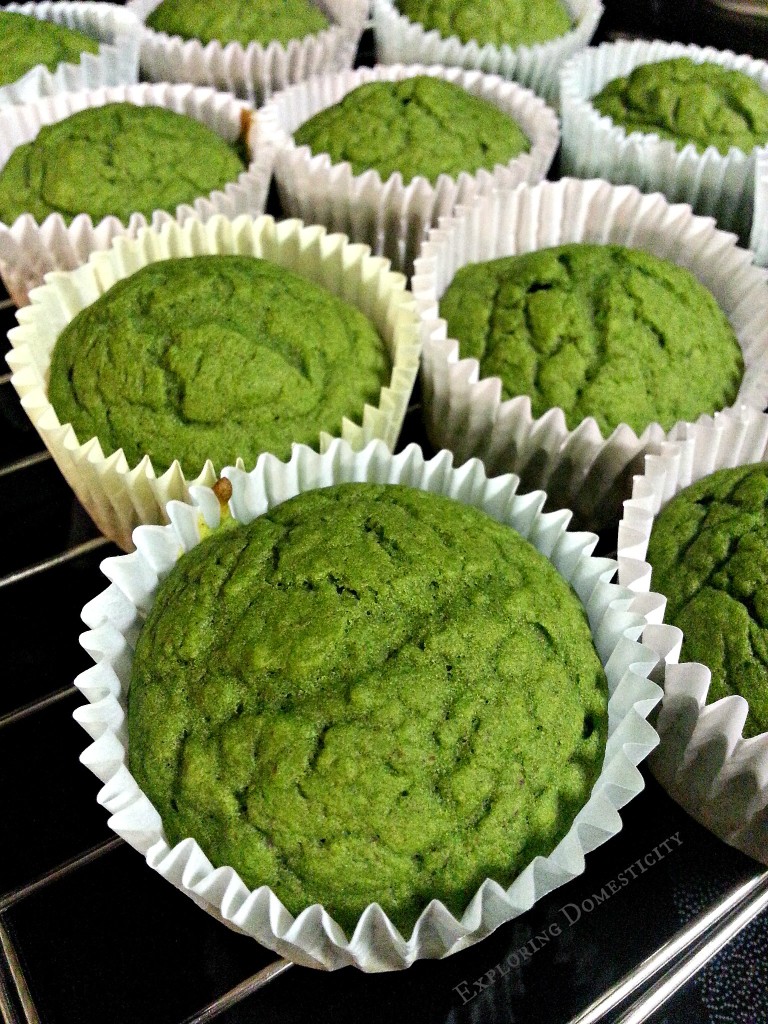 I hope you try these out with your kiddos and that you have just as much fun as a family and the kids love eating them just as much as mine!

More Like This
Get Ya Some