There is nothing more classic 'summer' than a hot dog on the grill. A hot dog on a white bun with ketchup and mustard may be pretty classic too, but hot dogs can be so much more! From Octopus Hot Dogs, to creative topping options, to meatless dogs, there are so many options!
Check out this list of creative hot dogs and enter to win your own Lightlife Smart Dogs and other Lightlife products!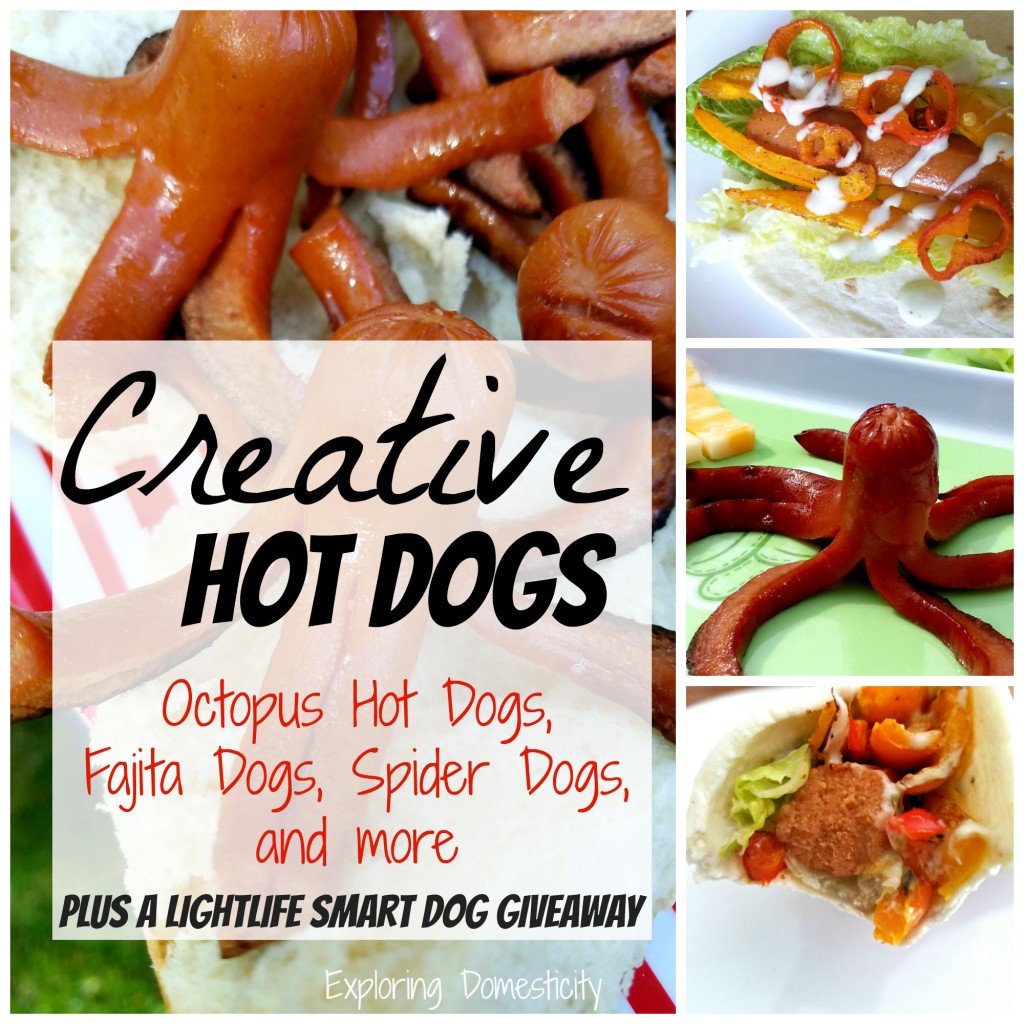 I received this product for free from the sponsor of the Moms Meet program, May Media Group LLC, who received it directly from the manufacturer. As a Moms Meet blogger, I agree to use this product and post my opinion on my blog. My opinions do not necessarily reflect the opinions of May Media Group LLC or the manufacturer of this product.
When you think of summer, you have to think of grilling. There is nothing easier to throw on the grill than a hot dog. Kids love them, adults love them, but they don't have to be boring.
One of the absolute easiest ways to impress your kiddos with an easy meal they will gobble up is to transform their plain old hot dog into an Octopus Hot Dog. It's so easy and fun!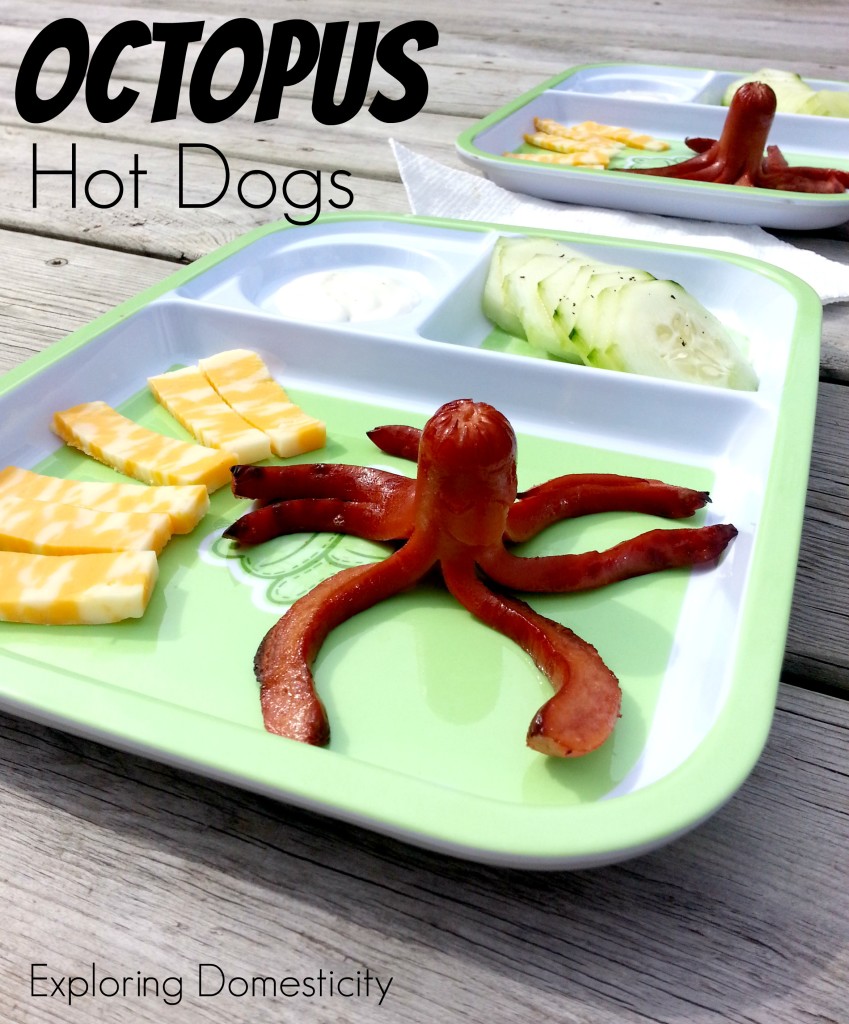 Octopus Hot Dog
cut the hot dog 2/3 of the way from the bottom to the top
turn and cut cup the other side
repeat until you have 8 legs – or however many you can cut without cutting them off 🙂
cut two eyes and a mouth at the top, you could even cut small triangles of carrot to insert into the eyes
fan the legs out and cook on the grill, oven, or in a pan until the legs curl up
Spiderman Spider Dog
We did Spider Dogs for my son's Spider-Man birthday party. They worked exactly like the Octopus Hot dogs, but we cut them in half to make them smaller and set them on top of a Hawaiian roll.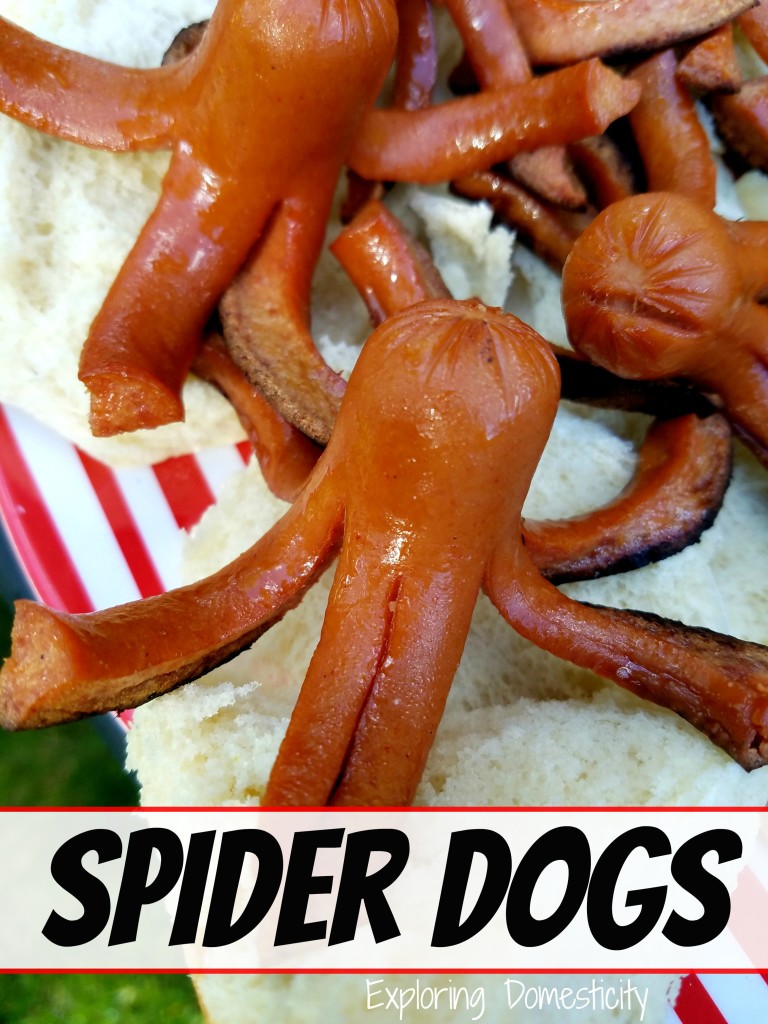 If you want to top off the superhero birthday with a special treat, try a Hulk Muffin (or frosted for a cupcake).
Creative Hot Dog Combinations
I never thought much about adding unique toppings to my hot dogs. A little ketchup, a little mustard, and I was good. Just recently, my husband and I tried the Burger King Whopper Dog on the way to the cabin. It was amazing! I've since added lettuce and pickles to my hot dogs and it had me thinking about how many other combinations would be fantastic.
There are so many different ways to jazz up a hot dog. You can put almost anything on a hot dog and totally change it up and impress.
California Dog: avocado, mayo, lettuce
Gyro Dog: tzatziki, tomatoes, and onions on a pita wrap
Taco Dog: taco seasoning, onions, tomato, lettuce, cheese
BLT Hot Dog: bacon, lettuce, tomato
BBQ Coleslaw Dog: BBQ sauce topped with slaw
Fajita Dog: Peppers, onions, fajita seasoning, on a tortilla (optional cilantro avocado yogurt dressing)

I'm totally looking forward to getting more creative with my hot dogs. I made a super simple lunch with the Fajita Dog. All I did was cut up some peppers and sprinkle them with a little cumin, chili powder, onion powder, and garlic powder and give them a couple squirts with my spray bottle of olive oil. Then I let them hang out in the toaster oven and finally popped in the Lightlife Smart Dog for the last 6 minutes. Warning: do NOT overcook! They blow up like a balloon, which I know from experience! I arranged it all in a tortilla over lettuce and gave the top a little Bolthouse Farms Cilantro Avocado Yogurt Dressing.
I can't wait to try all sorts of different combinations. Now, with my package of Lightlife Smart Dogs, I can try even more because I have a much better option.
Lightlife Smart Dogs
Lightlife consider their products "Meat without the Middleman"— they taste, feel, and look like meat even though they are made from plants, not animals. Beyond hot dogs, they also have sausage, deli slices and tempeh. All of their products are plant-based, Non-GMO Project Verified and they are committed to giving back to the community.
They can be a little hard to find, but I got my Smart Dogs, Deli Slices, and Tempeh in the produce section at Target. Sidenote: the deli slices make a pretty tasty sandwich.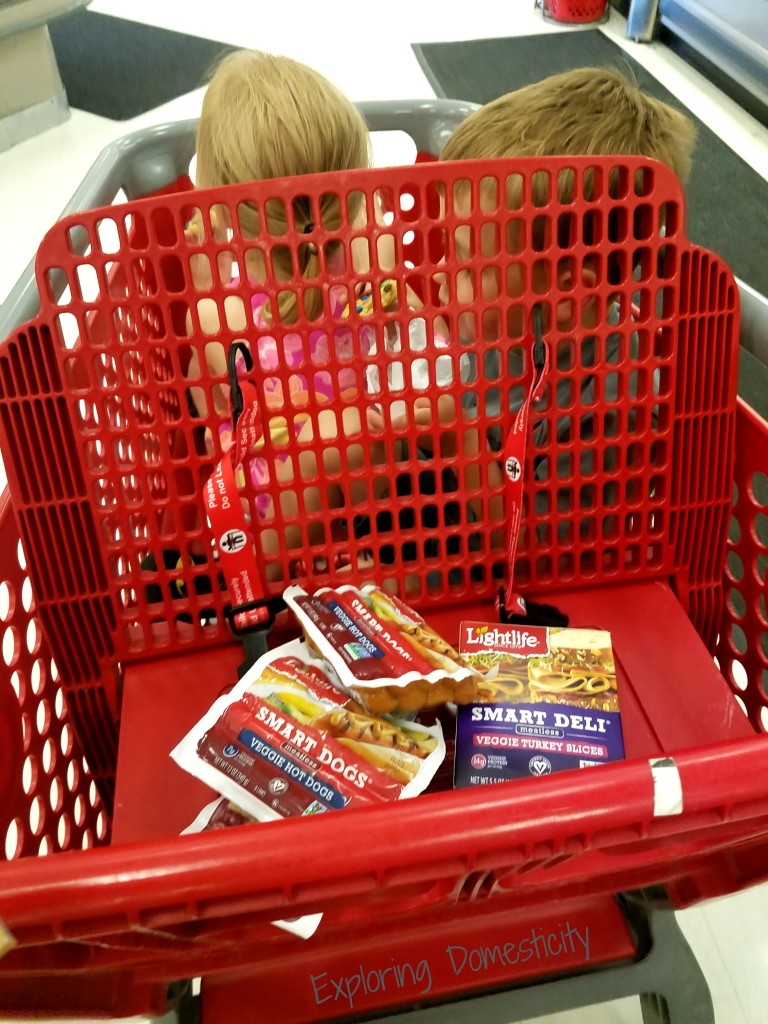 Lightlife's Smart Dogs are America's #1 meatless hot dog – I actually found them on Popsugar's list of best veggie dogs. They are plant-based, certified vegan and Non-GMO Project Verified, and grill-ready.  Smart Dogs have 7 grams of protein and only 50 calories per link and Jumbo Smart Dogs have 13 grams of protein and only 100 calories per link, so they are a much better option for me!
Connect with Lightlife online to see their latest products and get exclusive access to discounts and special offers!
lightlife.com | facebook.com/lightlife | twitter.com/lightlife | pinterest.com/lightlifefoods
Lightlife Giveaway
Yay! I love when I get to share with you guys! Lightlife and Moms Meet are fixing one of you up with some Lightlife coupons for free products so you can try them yourselves.
I'm making it very easy to enter this time!
Simply comment on this Facebook post, this Instagram post, or tweet the message below. Make sure you also follow and come back here to comment with which tasks you completed. I will pick a winner 7/28!

More Like This