Dress up your pumpkin spice treats with some fall leaves and homemade chips. These fall pumpkin muffins are adorable with very easy homemade white chocolate chips and cinnamon sugar leaves.
Very easy homemade white chocolate chips and cinnamon sugar leaves make these Fall Pumpkin Muffins from Krusteaz a real show stopper!
Plus, enter the giveaway for your own pumpkin spice goodies from Krusteaz!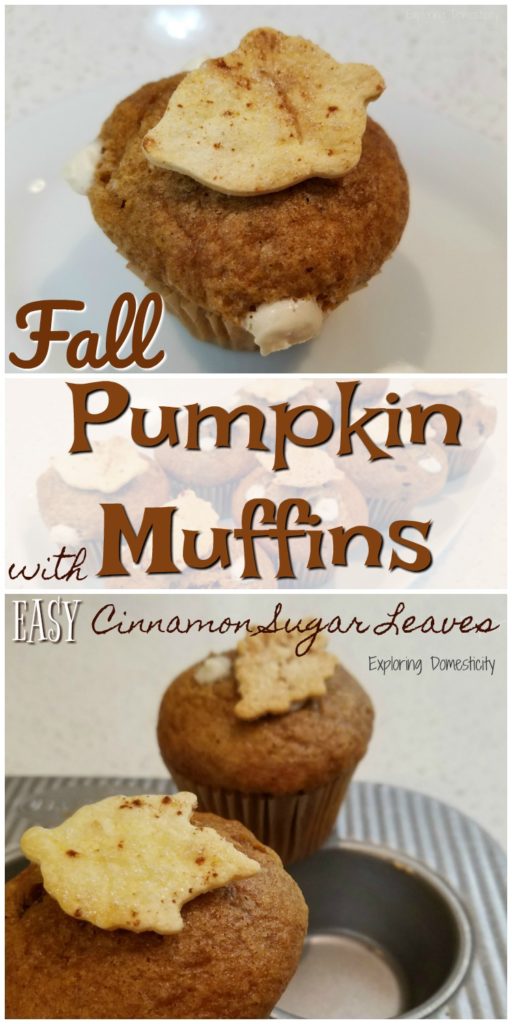 This is a sponsored post, but all ideas and opinions are our own. This post also contains affiliate links to products we hope you will find helpful for your own Fall Pumpkin Muffins.
Who doesn't love Fall?
I'm going out on a limb to say you love Fall because you must be a pumpkin fan! These pumpkin spice muffins are delicious! Not to mention, they look quite adorable with their homemade white chips and cinnamon sugar leaves!
Fall Pumpkin Muffins
Anyone who knows me, knows I'm not really a baker. Until recently, the kids only got to bake at Grandmas.
However, Krusteaz has help me overcome my fear of baking because they make it so darn easy! We are no strangers to muffins now either, because we made Protein Pancake Muffins with a Lemon Protein Glaze not too long ago with Krusteaz pancake mix.
This time, it's all about the pumpkin.
They even sent me my new favorite Fall mug that says Pumpkin Everything. I love it!
As a busy Momma, who does not consider herself a baker, I love to take help where I can get it. Boxed mixes make it so easy! It's also very easy to let the kids help because we only need a few ingredients and they can stir it up.
These muffins are delicious! The pumpkin spice is subtle and the whole house smells yummy while baking!
Of course, we couldn't stop there…
Fall Pumpkin Muffins Embellishments
Two things came to mind to make these muffins really special. We just recently got some very fun chocolate chip molds to try, so we wanted to make our own custom chips. We also wanted to use the adorable Fall cookie cutters Krusteaz sent.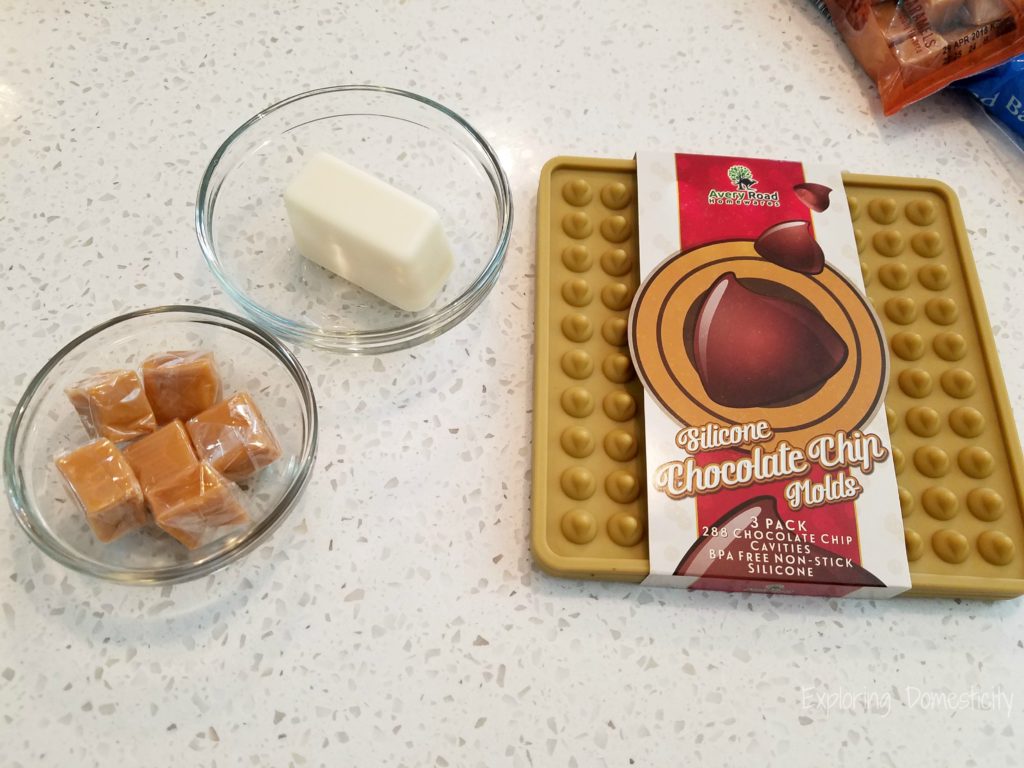 Chocolate Chip Mold
It's so fun that you can make your own chocolate chips – or any kind of chips you want!
The kids had so much fun with this. I handled the hot candy, but they loved breaking it apart and popping out the chips. They also loved eating our failed attempt with caramel!
We had white almond bark in the pantry, and I love a white chocolate chip with pumpkin, so that was was we did.
It only takes about 30 seconds to melt one square of almond bark and it filled the whole mold easily.
The key is to keep tapping until you no longer see air bubbles coming up and popping. Then you know you got the perfect, adorable tips on the chips. Pop them in the fridge or freezer for a quick cool.
We used the freezer and they were done by the time we made the muffin mix and the cinnamon sugar leaves.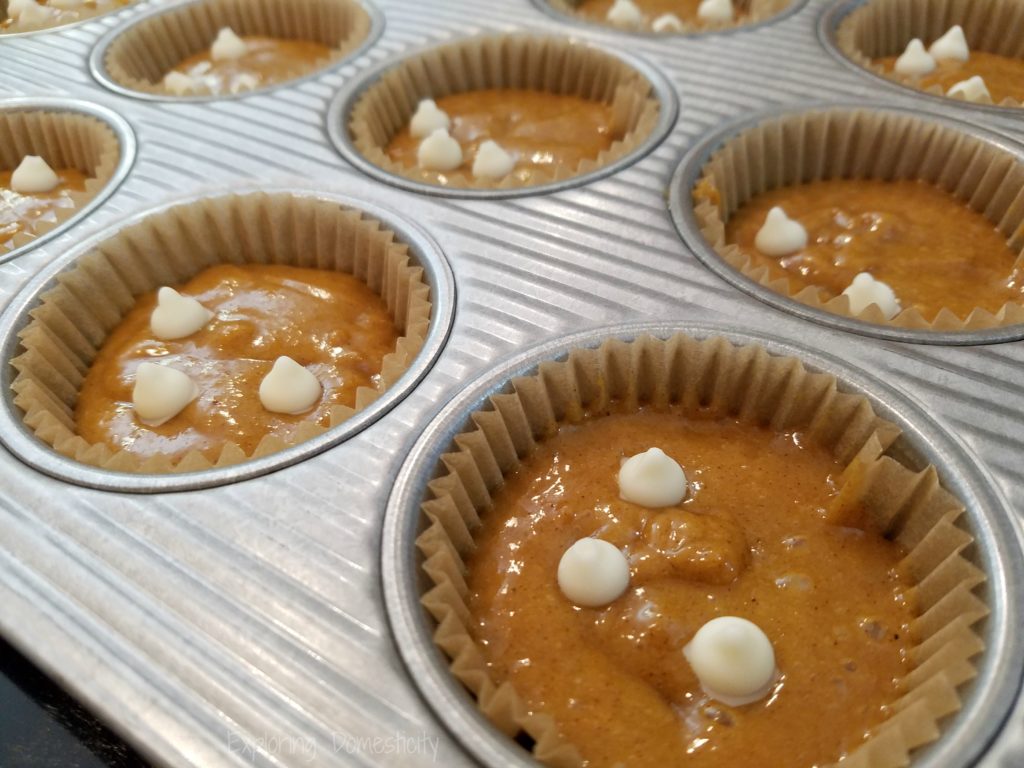 We also tried to make caramel chips in one of the other molds, but they are a little more complicated… First, 30 seconds was too long and made them boil over. Then, the working time is much shorter and the clumped up. Wed did end up with some cute, caramel chips under our mess, though. If you're better in the kitchen and you use a double boiler, it would probably work fine.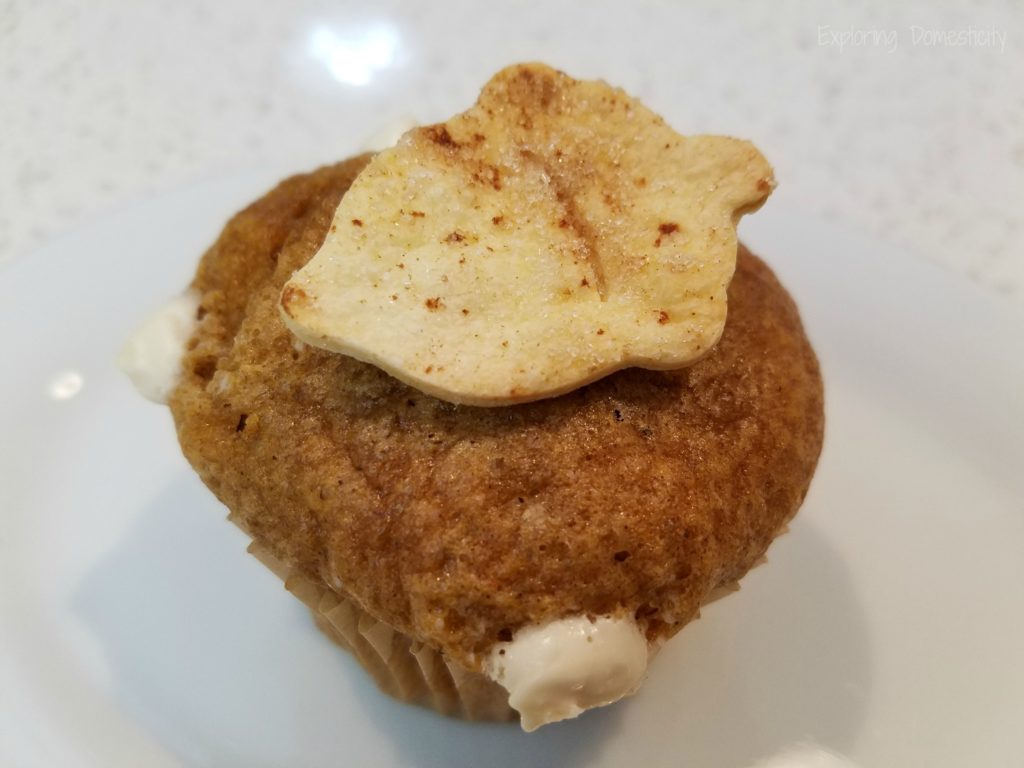 Cinnamon Sugar Leaves
These are the best!
You wouldn't believe how easy these are and they really make the whole cupcake.
All you need is…
flour tortilla
butter or a cooking spray
cinnamon and sugar
leaf cookie cutters
Cut the leaf shapes out of the tortilla. It's really easy with this cookie cutter set of leaves and acorns because you can even stamp down to add details and then push the tortilla out.
The kids love to help here!
Once they are all cut, place the leaves and acorns on a baking sheet (can't say enough about these pans!) and spray with cooking spray or brush on melted butter. Then, sprinkle with cinnamon and sugar. I couldn't find our cinnamon sugar mix which really helps, so I didn't them separately and they weren't as even.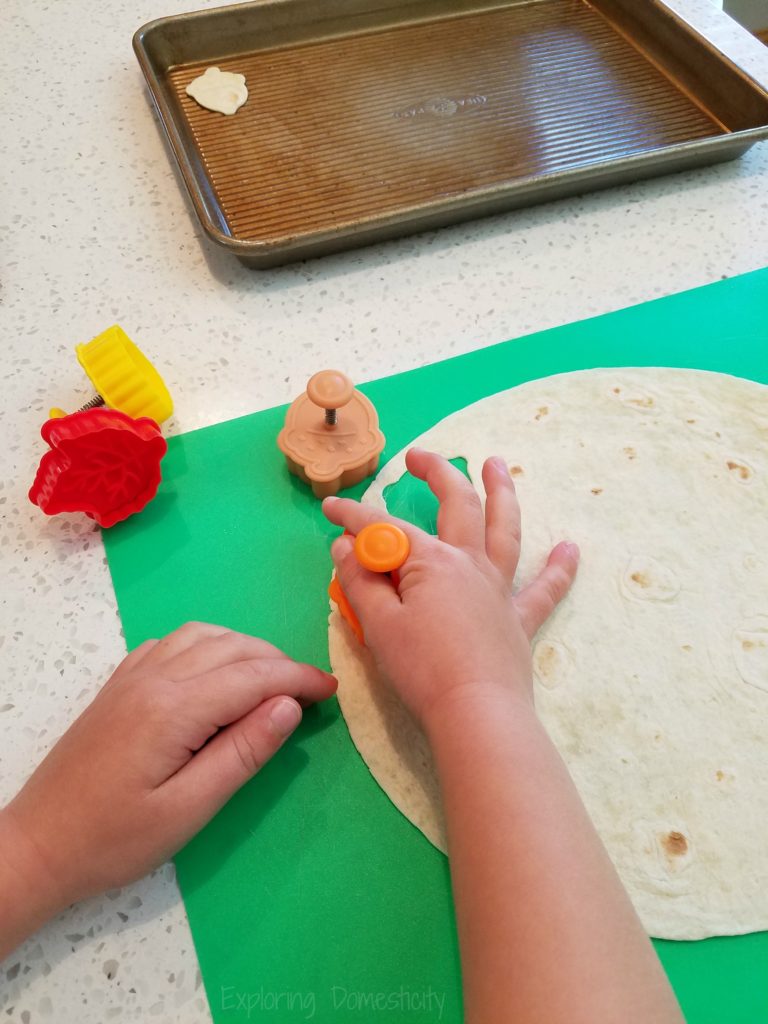 Pop them in your preheating oven and just keep an eye on them so they don't get too brown. Once they are crisp and a little golden, they are done.
They taste like a churro or an elephant ear!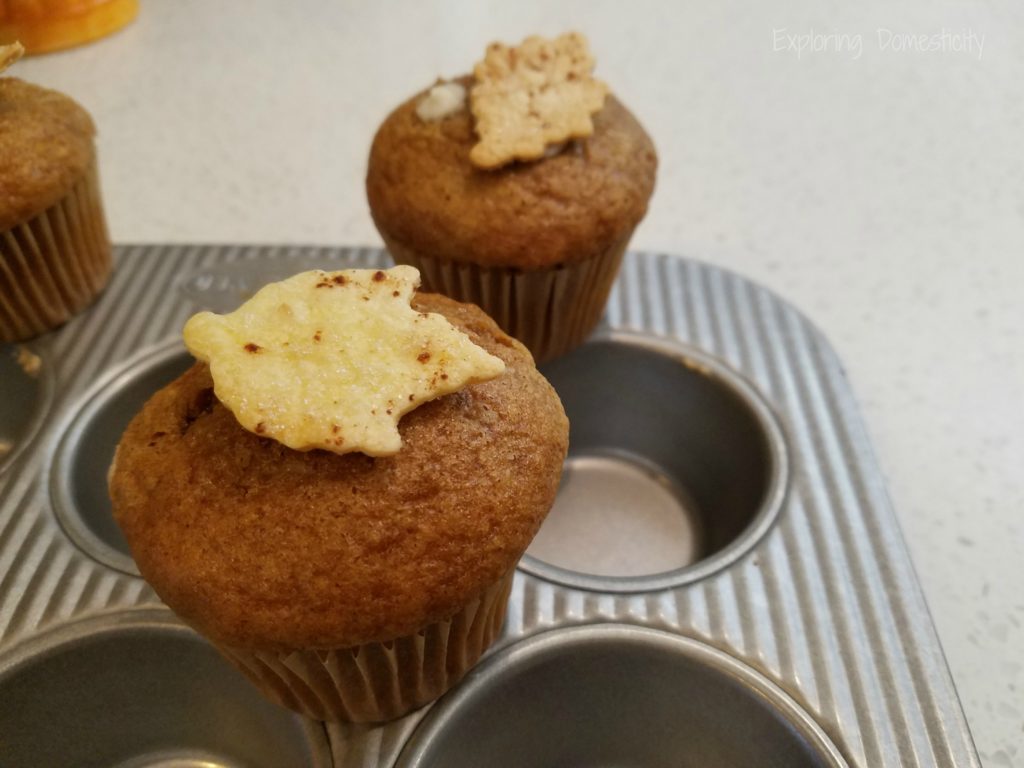 Finishing the Fall Pumpkin Muffins
We wanted our homemade white chips to be seen, so we just sprinkled a few on top of each muffin. In the future, I would recommend mixing them in because it was one of the best tasting bites of the muffin!
Unless you filled your silicone mold without any overflow, you will have some extra shards of almond bark that will break off when you pop out the chocolate chips. I used a little bit of these extras as the "glue" for our cinnamon sugar leaves. You could also use one of your chips.
The heat from the muffins melts the chips just enough to stick on your leaf. Also, the bit of candy on the back makes the leaves an even tastier bite!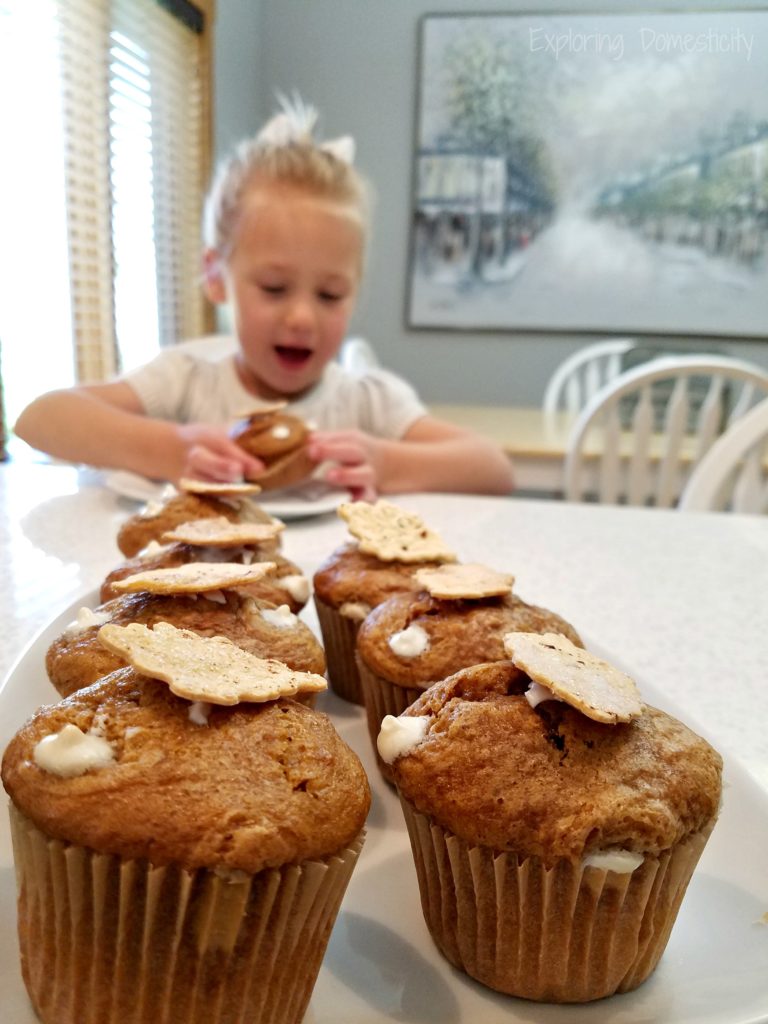 Pumpkin Spice Products from Krusteaz
The Fall Pumpkin Muffins weren't the first pumpkin spice product from Krusteaz that we tried.
Immediately after opening the box, we made the pumpkin spice cookies. They come with a cinnamon icing that is amazing.
Oh my goodness! Are they good!
The other pumpkin spice product we haven't tried yet is the Pumpkin Spice Bread, but I can't wait! Pumpkin bread is my favorite!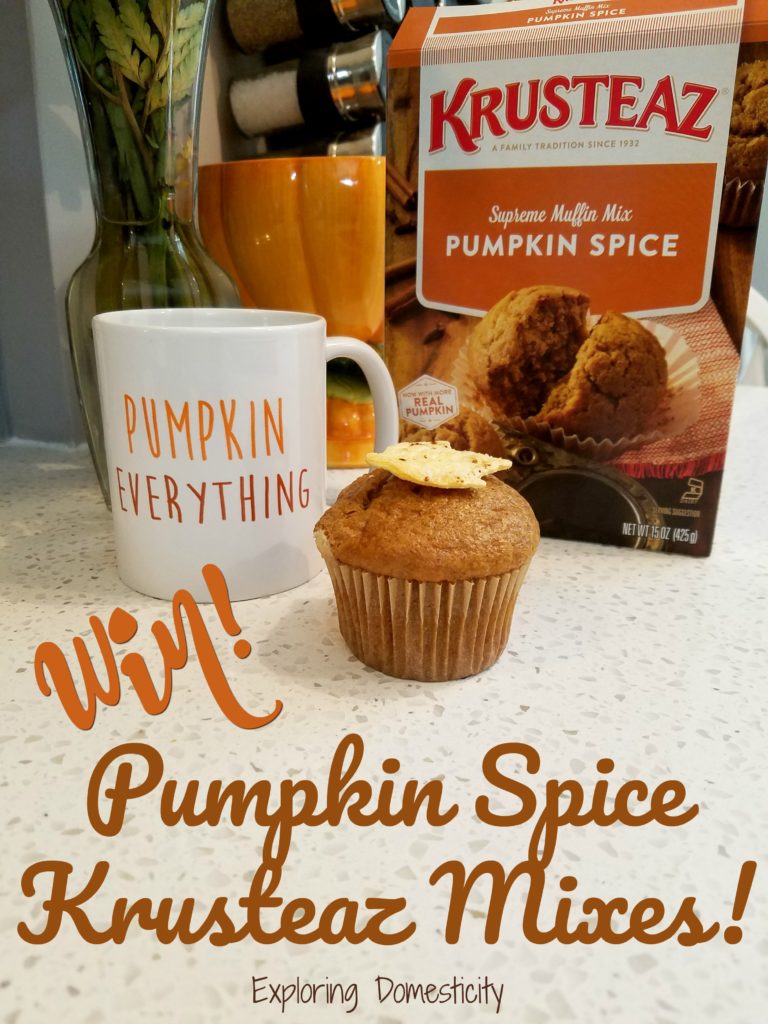 Krusteaz Pumpkin Spice GIVEAWAY!
Lucky for you, Krusteaz is giving one of you some of their amazing pumpkin spice mixes to try yourselves!! Enter below and you'll be in pumpkin spice heaven in no time! Let me know if you make your own Fall Pumpkin Muffins!
Make your own Fall Pumpkin Muffins