Perfect for holidays! This Warm Caprese Christmas Tree is a show stopper. This easy appetizer will impress with the Christmas Tree shape and delicious caprese flavors!
The pull-apart Christmas tree is the perfect finger food for holiday parties. The flavors are also hearty enough for a filling snack or a light lunch during the Christmas season. 
Stay 'til the end for a cheesy giveaway too!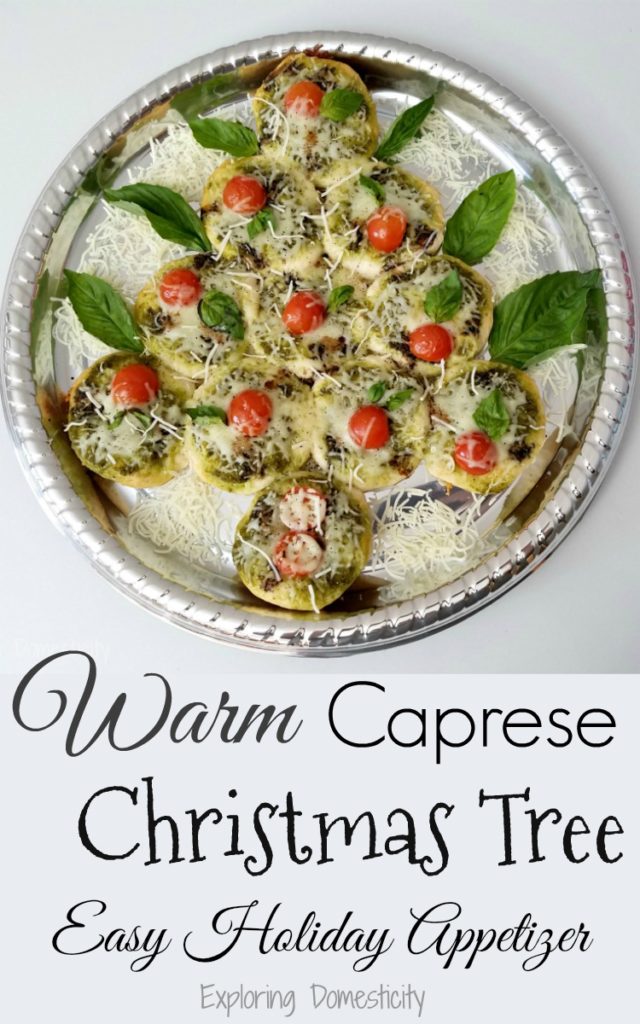 Christmas Tree Holiday Appetizer
I'm really looking forward to showing you this fun appetizer for the holidays! It's the cutest thing and will be fantastic for the office Christmas party, family or friends holiday get-togethers, or just a fun lunch or snack during the holiday season.
The inspiration for this recipe comes from a veggie pizza we love. We use the same biscuit Christmas tree but cover in dill dip and fresh veggies. Yum! There are a lot of ideas that can come from creating a pull-apart Christmas tree.
As you know, I'm currently obsessed with balsamic vinegar, pesto, and mozzarella. If you don't know, check out this amazing pizza.
So, the Warm Caprese Christmas Tree was born!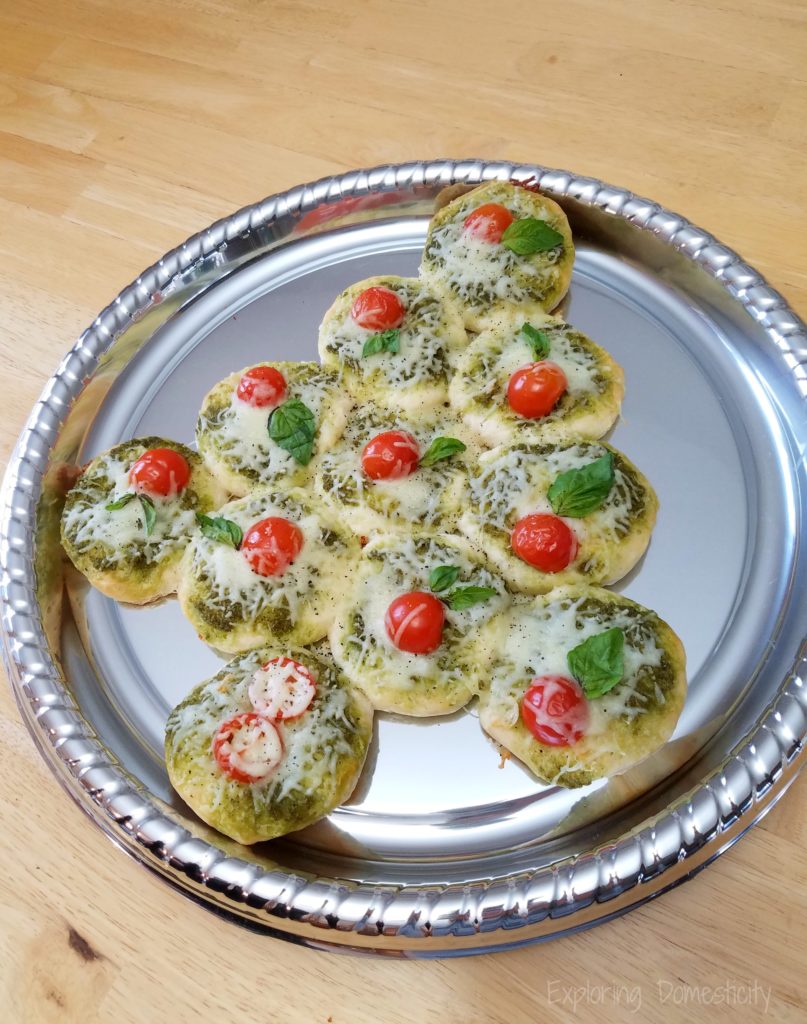 Warm Caprese Christmas Tree
In addition to the fun Christmas tree shape, this appetizer is a winner because of the delicious flavors, gooey cheese, and buttery biscuit.
It's so fun when you can make an appetizer into an adorable shape. Guests will love a pull-apart appetizer because it's the perfect little  portion and you don't need a plate or silverware. Easy peasy!
It's so simple to make this adorable Christmas tree. If you can follow the directions on a package of biscuits, you can pull this together.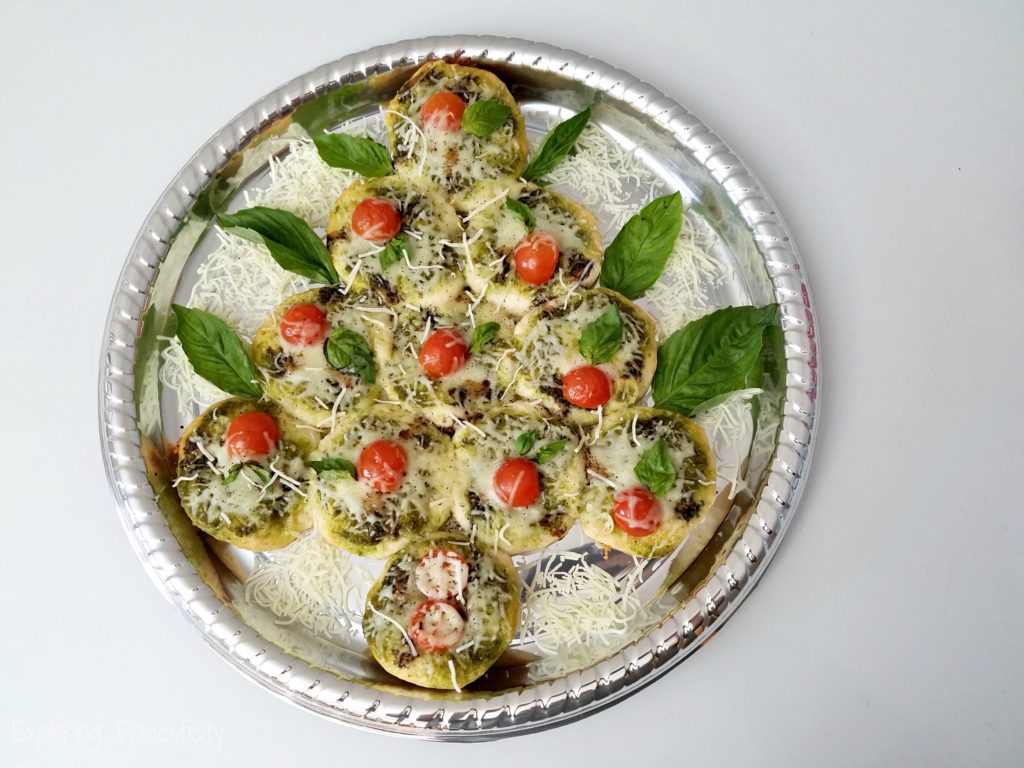 Recipe for Warm Caprese Christmas Tree
Ingredients
1 tube of biscuits
3-4 tbsp pesto – premade or homemade
Grape or Cherry tomatoes – we used 6 cherry tomatoes
1 cup balsamic vinegar
1 tbsp honey
Salt and Pepper
Fresh basil
What you do
Balsamic Glaze
**This makes more glaze than needed, but it hardly feels worth it to do any less. If you have a tiny saucepan, you can cut this down further.**
Place 1 cup of balsamic vinegar and 1 tbsp honey in a small sauce pan over high heat.
Bring to a boil, then reduce and simmer until the liquid has reduced by 1/3.
Remove from heat and set aside.
Warm Caprese Christmas Tree
Remove biscuits from tube and split each biscuit in half. Place them on a pan (recommendations on this below!) in a snug Christmas tree shape.
Spread about a tsp of pesto on each biscuit.
Cut cherry or grape tomatoes in half and "decorate" the Christmas tree with as many as you prefer.
Place in the oven and follow the directions on the biscuits.
Remove from oven and drizzle with balsamic glaze.
Add Crystal Farms Shredded Mozzarella Cheese, sprinkle with salt and pepper, and return to the oven until melted.
Remove from the oven and add fresh basil leaves.

Some Tips
Biscuits. The biscuits I have from Aldi are quite large. If you find smaller ones, one tomato piece will fill the whole bite a bit better. Also, with the arrangement of the Christmas tree, I have two and a half biscuits leftover.
Pans. I use my favorite USA pan because I use them for everything and have virtually nothing else. However, a cookie sheet with no edges will help with moving the Christmas tree to a platter. I thought my baking mat would help, but I think parchment paper might work even better.
Party Time. The Christmas tree looks the best right after the cheese melts. As the cheese cools it loses some of the bright white "snow" look. If bringing this to a party, I would suggest to make everything at home and apply the cheese and melt right at the party.
Of course, all of these pictures were taken after the cheese had cooled because it took me so long to figure out how to transfer it to the platter. It looks just fine and will still be a hit even if you take it to the party cold!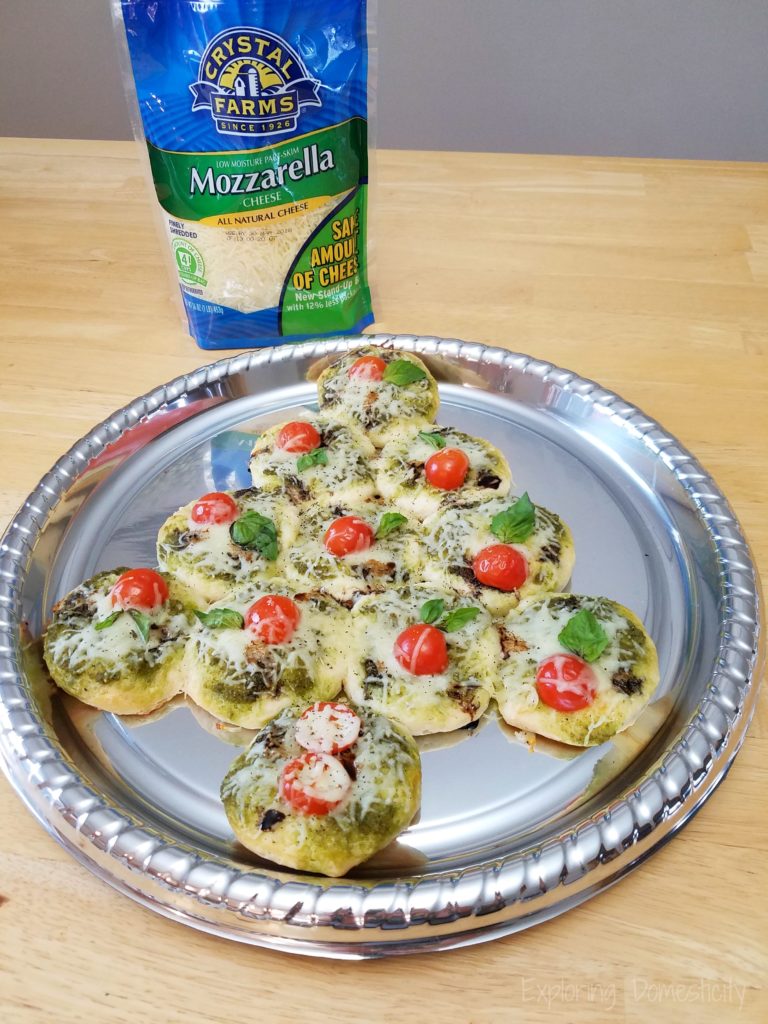 Crystal Farms Cheese & GIVEAWAY!
I love the Crystal Farms Shredded Cheese for this instead of the traditional fresh mozzarella, because I like that it gives the tree the look of snow.
It would definitely be a bit easier to use slices or a block cheese. However, it may not give that "fresh snow" look. I also love that the Crystal Farms Shredded Cheese is very fine, so it looks great for this.
Crystal Farms Cheese is made by our neighbors in Wisconsin with few preservatives for cheese lovers, by cheese lovers. Who else is a cheese lover!? Two hands up here!
For all of you cheese lovers, Crystal Farms has a giveaway!
All you have to do is visit this link and comment below with what cheese and recipe you'd like to try!
The contest will end 12/18 and Crystal Farms will supply the prize of free product coupons to the winner!

More Like This