Selling your stuff can be a pain. A lot of the time it's just easier to donate it all than dealing with garage sales, Craigslist, or ebay… After months of back and forth about the hassle of a garage sale and lots of waiting on Craigslist postings, I found the BEST place to sell your stuff! I made over $200 in one month selling in Facebook garage sale groups on the same stuff I had posted to Craigslist for months!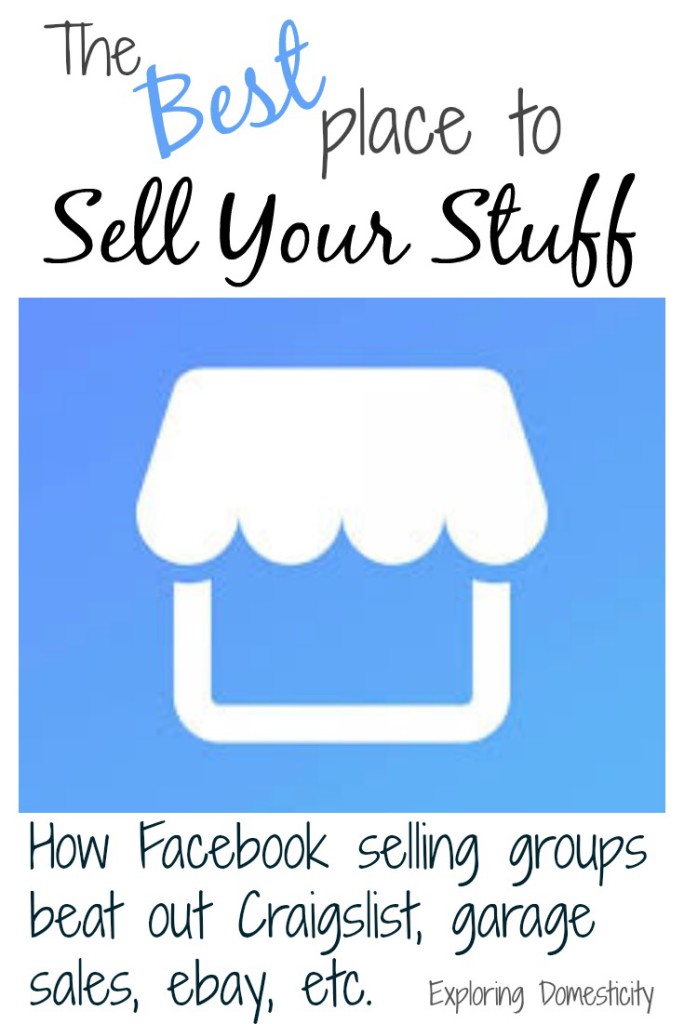 This post may contain affiliate links. If you choose to purchase an item from the link, this site will receive a small commission with no affect on your purchase price. Thank you!
When you've finally made the decision to declutter and clean out all the excess junk that's weighing you down, you can't get rid of the stuff fast enough.
But, let me tell you, it's a lot of work and, unless you donate it all, it doesn't go fast. If you want to take that excess stuff and turn it into cash, it can be quite a process.
I bet you don't know where to start… Craigslist, Ebay, Amazon, garage sale???
Craigslist can be the easiest as far as listing and avoiding shipping, but arranging to meet can be such a struggle and items can sit for a long time unless you stay on top of it.
Ebay and Amazon can be a bit intimidating. The pressure to appear professional and reach the right audience, along with building up some seller feedback can turn a lot of people off.
Garage sales seem easy because you haul all your crap to the front lawn and wait. However, anyone who has actually had a garage sale knows that it's a lot of work. Garage sale pricing is also going to be quite a bit lower than the other options, and the hauling, pricing, selling, and cleaning can break down to getting paid peanuts for your time. It's exhausting when it's all over.
So, where is the best place to sell your stuff?
Based on my experience this past month, my money (and all my old junk) is on Facebook selling groups.
I just recently ventured into them and found two groups in my area. I placed the same products that had been on Craigslist for many weeks in the facebook groups.
Responses came in right away! For the same stuff that got no response on Craigslist! 
It is quicker and easier to message and set up the exchange. The number of no-shows or people who rudely leave you hanging is significantly less. After selling 15 items in the past couple weeks, I only had one complete no-show. It's much more personal, which I think keeps people more polite.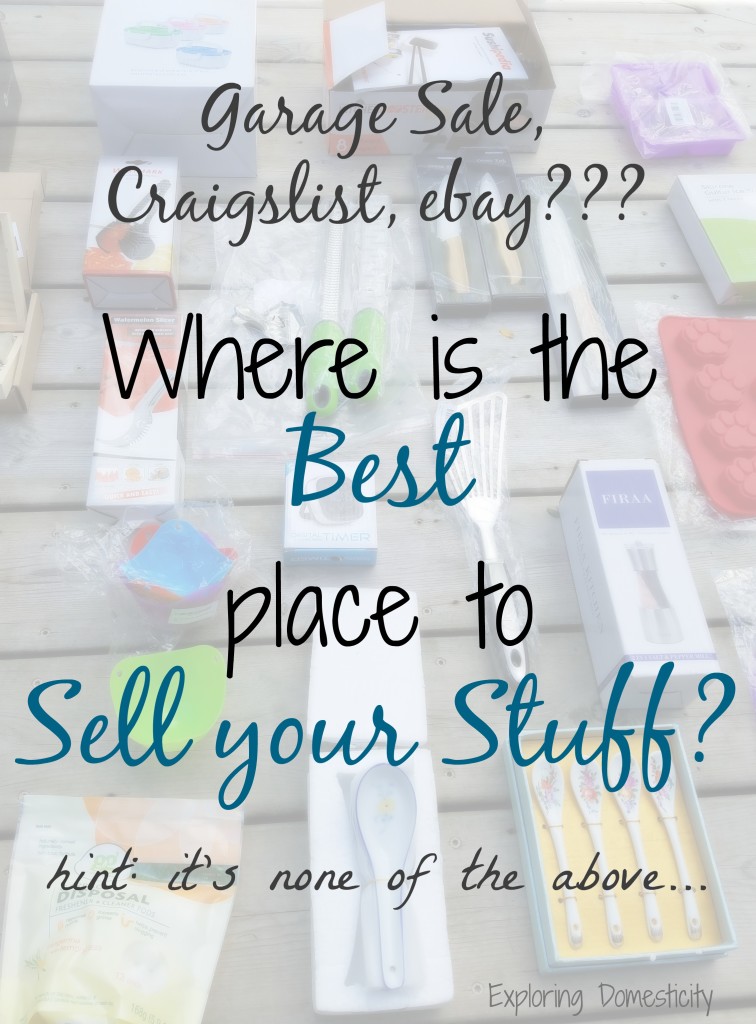 Selling on Facebook is easier than you think!
I find selling on Facebook to be easier than Craigslist and much easier than Ebay for many reasons:
Facebook selling groups are less formal
Product links are allowed instead of making sure you have all the perfect keywords
You can create an album for listing multiple items
Easily photograph and list items right from your phone
buyers comment right on the item and see when others have shown interest before them
if multiple buyers are interested, potential buyers can type "next" so the seller can go right down the line
users seem more polite since they are using their facebook profile and it's easier to keep in touch
groups have specific rules to follow and those who don't will be ejected
groups are often in a more concentrated area than Craigslist which makes meeting easier
As I mentioned, items that I had listed on Craigslist for weeks, even months, sold much quicker on Facebook. Immediately after listing my items, several inquiries popped up.
For instance, I had this Diamond Plate Cooler was listed on Craigslist twice over a couple months. I had many photos from all angles, tried to include as many keywords as possible, and listed it at a very reasonable $30.
After one day on facebook, with one photo, I had someone interested. Not only did she come for the cooler but she saw my tipsy whisky glasses, meat shredders, and set of graters and bought it all. I had like items together, so it was even more desirable for her because she could make the trip for more than one item.
Get more money for your items
Searching both Craigslist and Facebook selling group, it appears Facebook groups list items at a higher price than Craigslist and much higher than a garage sale. It seems the prices are similar to those of ebay without worrying about shipping. Another reason Facebook is the best place to sell your stuff!
I listed this dashboard video camera for $15 and even had someone offer me $30 to hold it for them. This is even more than you'd pay for the camera on Amazon, but if you don't have Amazon Prime free 2-day shipping, it is a great price and you can have it the same day.
Great for those last-minute items
Since I was listing items in October, I created a collection of things I thought might be a great addition to, or inspire ideas for, a Halloween costume. I quickly sold Trump and Clinton masks, a rockabilly polka dot dress, and these gorgeous pink lens sunglasses.
It was a week before Halloween, so this went over very well because they could pick it up that day.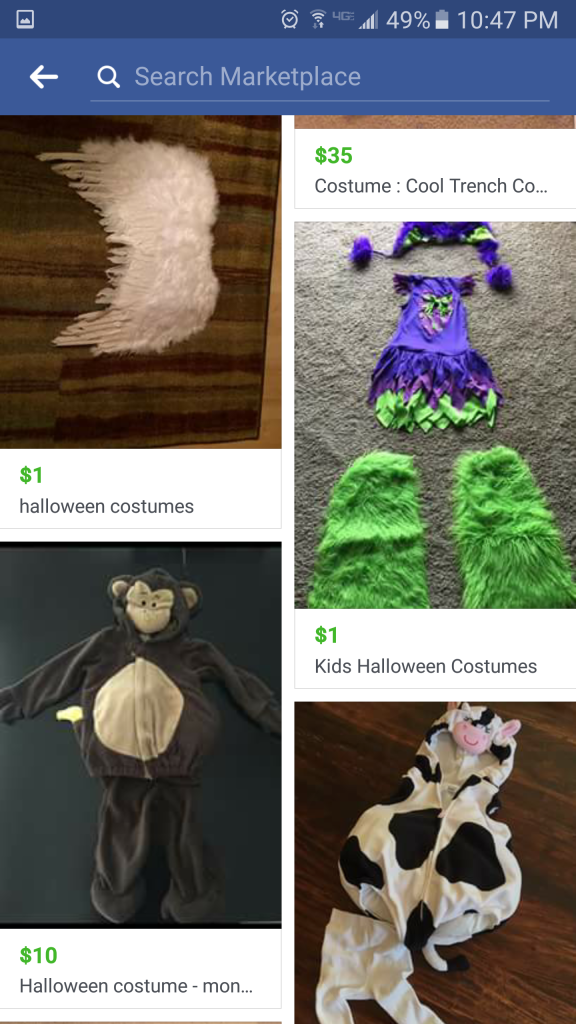 November is a great time to list items that are new or like new because people are on the lookout for Christmas gifts. If you're like me and hardly get an early jump on anything, Facebook is the best place to sell your stuff because it can be sold and picked up in the same day with very little hassle.
How to find the right Facebook group
Finding the right Facebook group is easy. I simply looked up my city and "garage sale" to find groups in my area. Just this month, Facebook added the Facebook Marketplace. I have listed one item there so far, and I'll look into it. So far, the groups are still the best place to sell your stuff. It will be interesting to see how the Marketplace takes shape…
I joined two groups. One group is my town and a couple of the closest surrounding towns, and the second is a nearby town with a very large number of members.
I always post to the closest group first. The smaller group means my posts are seen easier and I know that the members will be likely to come to me.
The larger group had a quicker response to my first post because of the large number of members, but when I added, "pickup in (my city)" I didn't get as many responses. Once I slow down a bit with the number of things I need to get rid of, I will likely post in this group more and offer to meet.
Perform a Facebook search and find out what selling groups you can find. Stop by my facebook page while you're there and share whether Facebook selling groups have been working for you!
Have you had much luck selling on Facebook?
Where do you think is the best place to sell your stuff?

More Like This


What I Sold