Keep your flower gifts cute, fresh, contained and mess-free with this easy packaging.
Perfect for teachers, your little performers, or anyone! Give one flower or many and keep them fresh without dealing with the hassle of tipping or spilling vases.
All items can be found at the dollar store, and make your flower gift a breeze for you and the lucky recipient.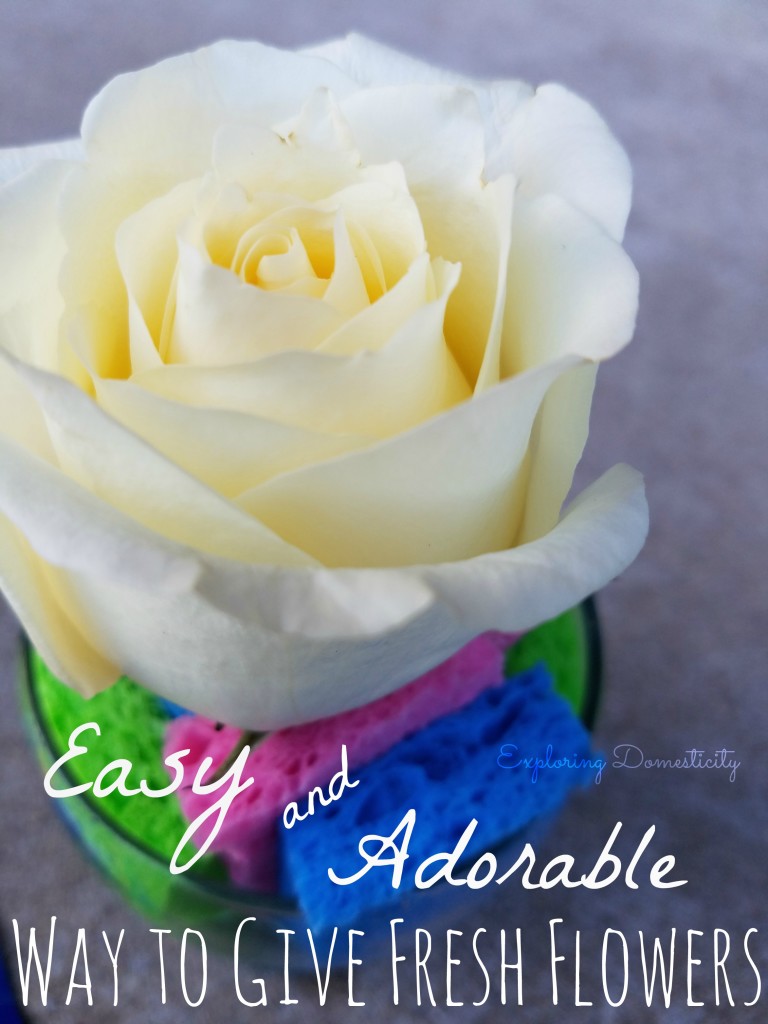 The preschool play is finally here. The little ones have been repeating their same line over and over at home and practicing their "squeaks" – they're mice – for months.
Since getting all those little ones to put on a play is some hard work, and we love their dear teachers so much, we like to give them flowers after the performance.
Last year, we used colorful bud vaces from the dollar store, but they were a little difficult for me to carry around and shelter near the bottom of my tiny preschool chair during the performance. I have two kiddos who each want to give their own flower to each of the four teachers this year, so we're going an easier route and skipping the vase.
I was trying to think of a way to keep the flowers fresh even if the teachers aren't able to get them into water until they get home. I was also wondering how to split up the plant food that came with the two bundles of flowers, but would be split between 8 separate roses.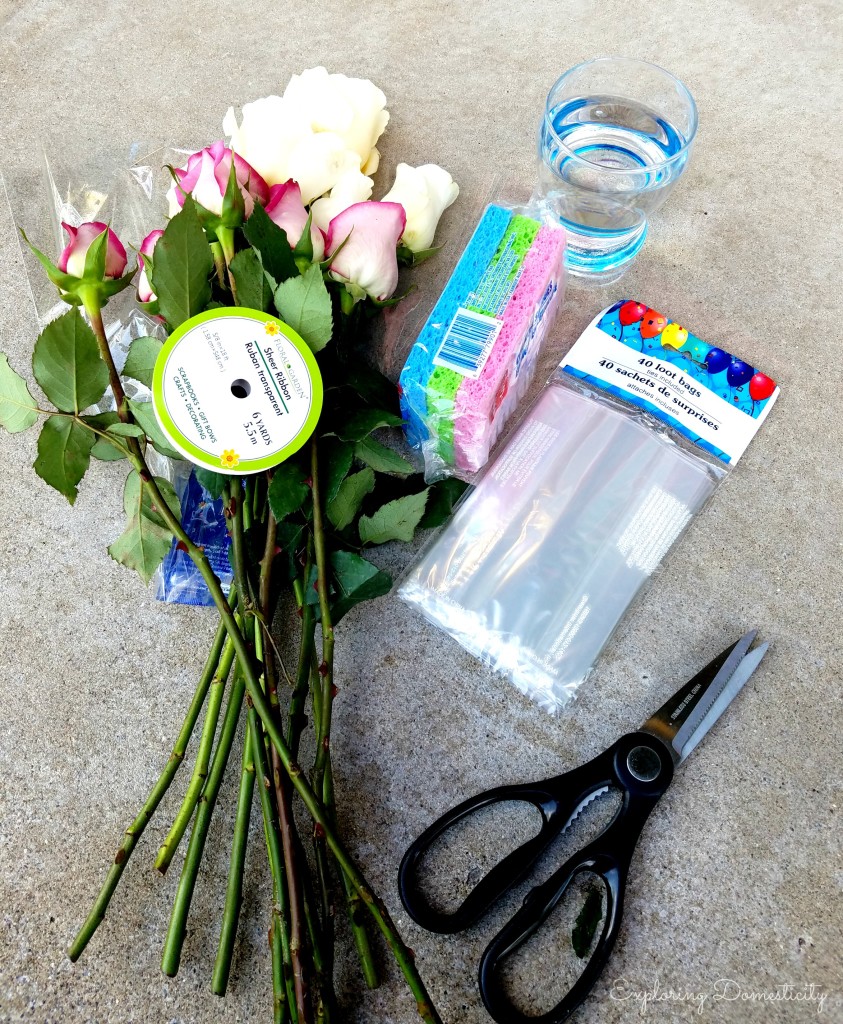 I got our two bunches of 6 roses from Aldi for $2.99 each. I then went to the dollar store and purchased a pack of 40 smaller clear gift bags, a three-pack of sponges, and some ribbon – three bucks total. So, for under $10, my kiddos have an adorable little gift to surprise each teacher.
Each kiddo is giving one flower to each of their four teachers, that means we needed to make 8 of them. Luckily, I found the bonus 3 pack of sponges hiding in a separate area on the bottom shelf, giving me 9 pieces after cutting each of them into three.
There are a couple ways to do the next part:
With sharp, skinny shears, a metal kabob stick, or even a small knife, make a hole down the center of the sponge piece
cut the sponge down one side like a hot dog bun
use two sponge pieces to make it more colorful
Using one piece, simply fold the sponge in half around the flower stem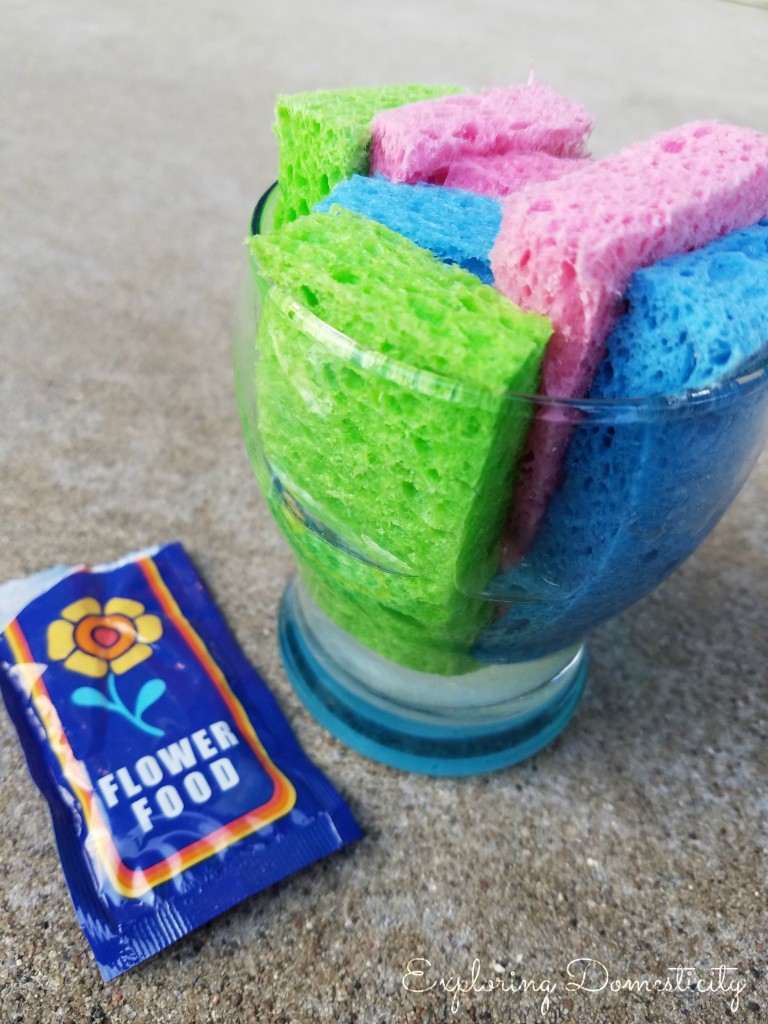 After you have decided what you want to do with your sponge pieces, place them in a cup of water and the plant food and let them soak it up. No matter which way you decide to go with your sponge, the goal is to encase the stem of the flower in the wet sponge so it will stay hydrated until it is moved to a vase. The sponge also helps the water stay contained so you can place it in the small gift bad and seal it with the twist tie. A pretty ribbon covers the tie and makes it look even cuter.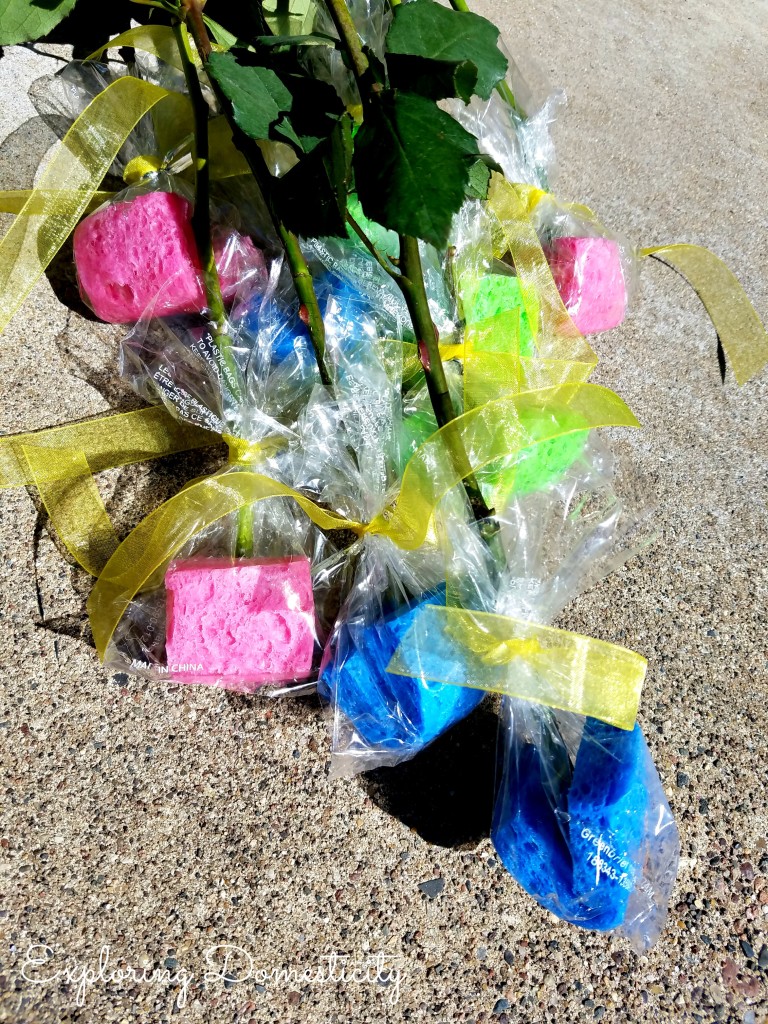 I love how the colorful sponges look in the clear bag. I even toyed with the idea of adding some confetti – I think it would really make it look cute! The sponges keep the flower hydrated, and the water mess-free. It also enables you get a little of the plant-food to each blossom.
This way of doing it makes the flowers much easier to transport and you won't have to worry about them spilling. It's a great alternative to those small plastic beaker-looking things. I don't know where to get those anyway, and they are no nearly as cute. This method is so easy and makes a single flower look really special.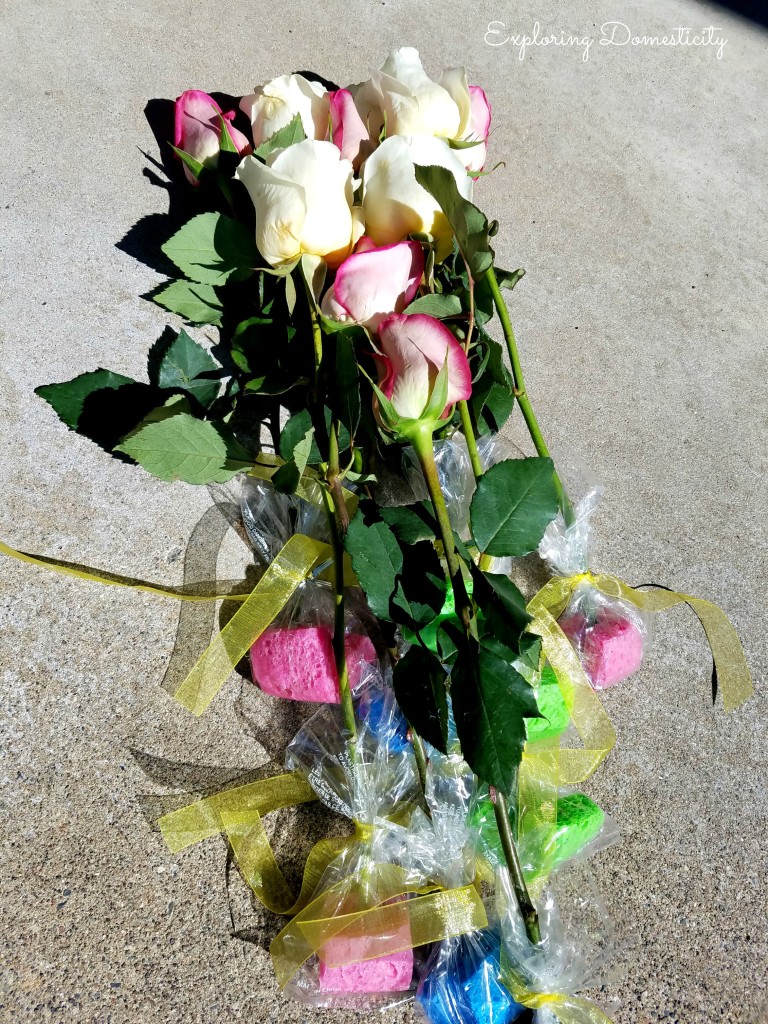 Since there is some plant food soaked into the sponge, it's also a smart idea to advise the recipients to squeeze the sponge into their vase when they add the water. Hopefully, that sponge has kept the flower nice and moist until this point and it will last for many more days.
What little surprises do you like to do for teachers to let them know they are appreciated?

More Like This