School has been in session for a couple months now. In September we're all armed with school lunch ideas and a plan to pack perfectly balanced lunches throughout the year. It's not easy to keep up creative, healthy, cold lunches all year long!
Are your lunch ideas getting a little stale at this point?
After a good 30+ cold lunches packed this year, we've fine tuned it and found our favorite lunch bags, containers, as well as snack and drink containers. We also have some of our kiddos' school lunch ideas to show you for some inspiration, and links to other helpful school lunch ideas to boost your creativity!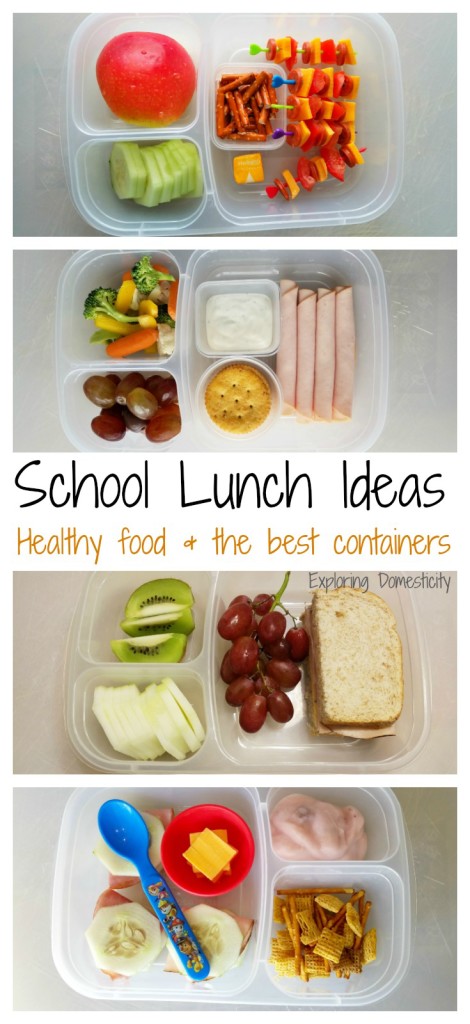 This post contains affiliate links. If you choose to make a purchase from the link, this site will receive a small commission with no affect on your purchase price. I hope you find the links helpful!
We've been making about 5-6 lunches a week between the two kiddos. We have a kiddo in kindergarten who brings a cold lunch about half the time and needs a snack for each day. Furthermore, we have a preschooler going two full days a week who needs nut-free lunches that must be packed to meet certain standards.
We've learned what works for us, and my hope is that you'll get some ideas and find the products we love just as helpful as we have!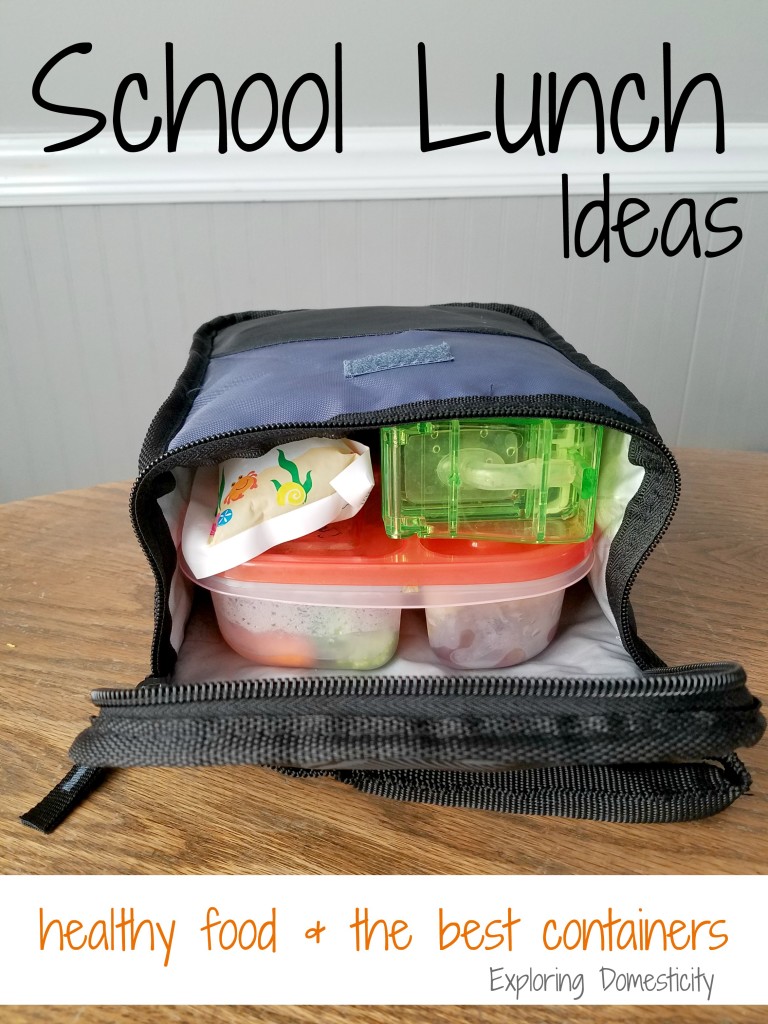 The school day is long, so I want to make sure my kiddos have the energy to keep them going throughout that long day. Veggies and fruit are the best and easiest way to do that. I laugh at all the health foods that brag about easier portability, because there is still nothing easier than fruit or some veggies for that!
We try to keep it pretty simple. Mix it up with sandwiches, add in some non-sandwich ideas, and add some fruits and veggies. My kiddos come back with empty lunch boxes each day, and I know they have the fuel they need to learn.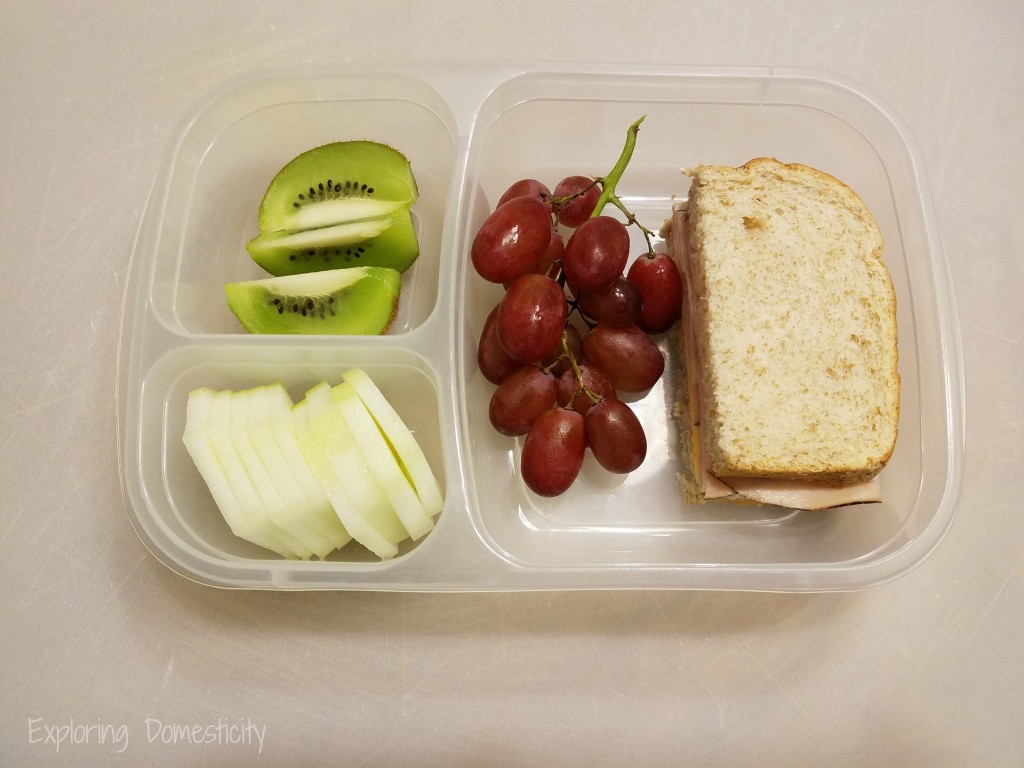 Lunch Ideas
I see all these lunches that look so fancy and the kids are eating leftovers from healthy, delicious dinners. However, I'm not one that likes many cold leftovers, so we keep it pretty simple.
Sandwiches
Mix up the type of bread: wheat, whole grain, french roll, even a hot dog or hamburger bun, pita
Different contents: turkey, ham, bologna, tuna salad, chicken salad, pb&j, pb & honey
Added toppings: lettuce, pickle, mayo, mustard, different types of cheese, cucumber

Sandwich Alternatives
Wraps: tortillas or flat bread with sandwich fillings, spreads, or veggies.
Quesadilla or Rollup: melt cheese or add any toppings for a quesadilla or rollup. We do ham and cheese rollups, pb&j quesadilla, taco quesadilla, pizza rollup
Tip: Melt cheese on a tortilla and add pizza toppings. Roll and slice in half or into small disks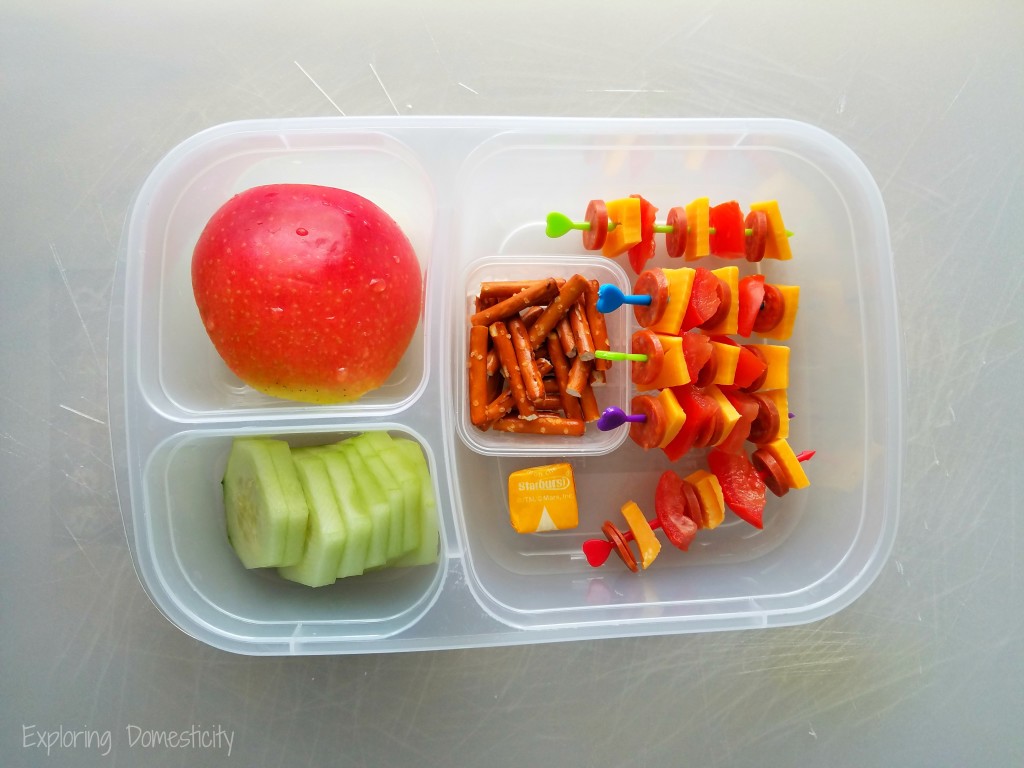 Kabobs: meat, cheese, veggies, etc on toothpicks. We used mini pepperoni, cheese, and tomato to make pizza kabobs.
Tip: You can find all sorts of cute picks for these and it makes it really cute and fun! We used regular heart toothpicks found at the grocery store.
Cucumber "sandwiches": Slice cucumbers or hollow out a long portion of a cucumber and fill the middles with meat and cheese
Lunchables: Homemade lunchables, or momables, are always fun for kids – add all the pieces separately and let them assemble themselves.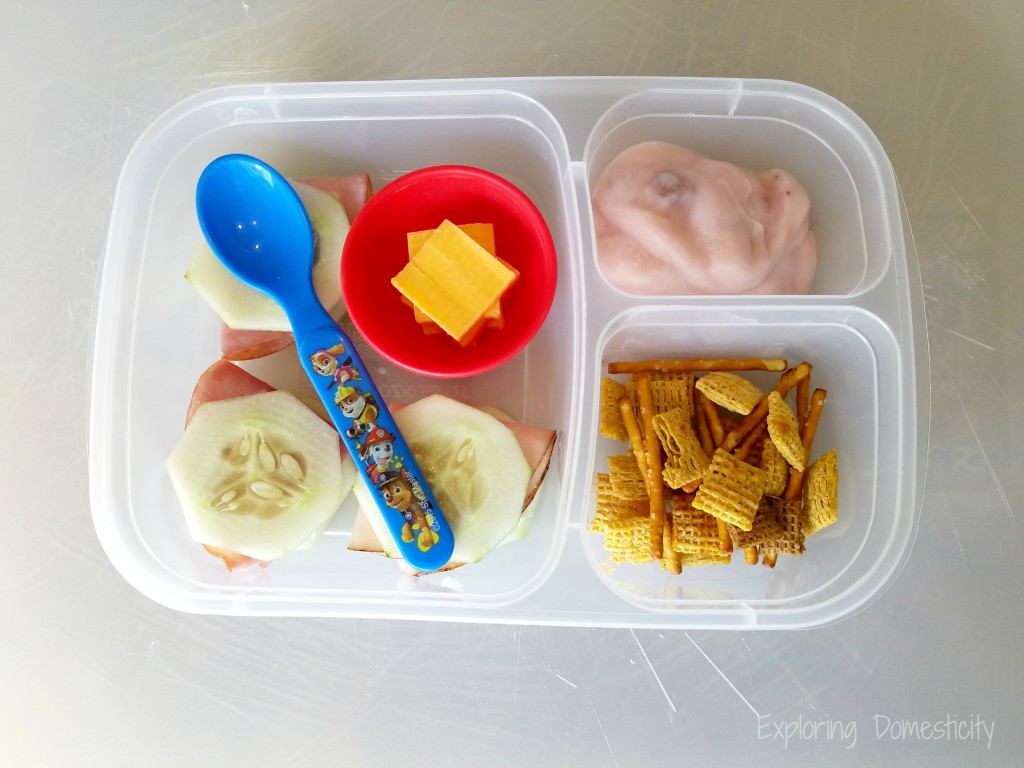 Fruits and Veggies
Bananas: So easy because they have their own covering! Give whole, cut in half, etc.
Tip: Etch a message into the peel – it will blacken to reveal the message by lunch time.
I totally suggest a Banana Keeper – they are amazing and keep the banana fresh so much longer! We got our banana keeper at the dollar store, but they can be hard to find.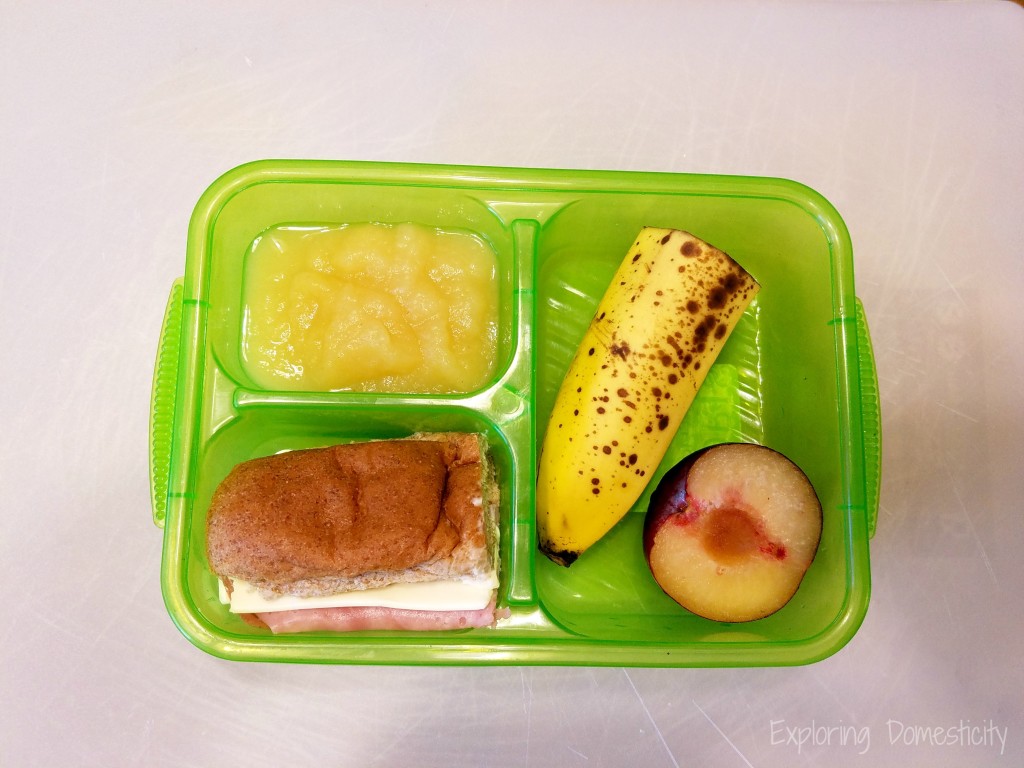 Apples: Whole or half keep the best, but you can also use a solution to keep the apple slices from browning.
Tip: As a special treat, add in a few of these amazing caramel bits. I got them at Aldi, but found them on Amazon as well.
Oranges: Keep whole or cut in slices, rings, wedges, etc
Veggies and dip: carrots, broccoli, cauliflower, peppers. cucumbers, etc. All are good, but kids go crazy for a little dip.
Tip: We use tiny containers just like these from the dollar store and they work great!
Other fruits: strawberries, grapes, pineapple, plums, pears, nectarines, etc… They're all great! We try to mix them up and always have a couple on hand. The kids love them all!

Snacks and Treats
Applesauce or yogurt: If you have a container with a good seal, these are great! My kids like a couple "ants" in their apple sauce. They also love if I add two different colored sprinkles to plain yogurt so the can make a new color as they stir.
Tip: We love these reusable squeeze pouches for applesauce and yogurt. The bright colors are fun for kids and you can fill your own instead of buying them.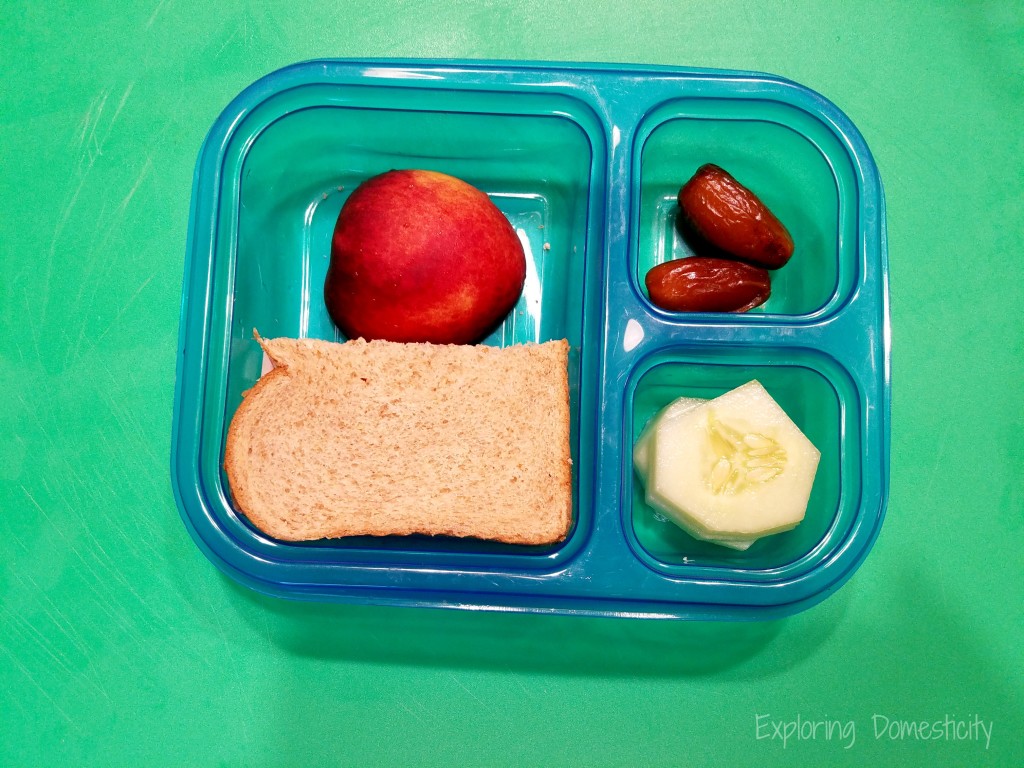 Dried Fruit: raisins, bananas, cranberries, blueberries, dates, etc.
Pretzels: This is one of our go-tos because they hold up pretty well and my kiddos love them with raisins
Cookies: we don't go big on the sweets, but I love adding one or two small cookies such as animal cracker and these fun frozen cookies we found.
Crackers: Mix it up! Goldfish, oyster, ritz, club, etc.
Tip: Again, we use the tiny containers – the round shape fits a ritz perfectly! –  to keep everything fresh. Nothing worse than a stale cracker, pretzel, or cookie!
For more school lunch ideas, check out my Lunches Pinterest Board. There are some amazing pins there with so many more ideas such as 125 Healthy Lunchboxes for kids from Holly Grainger, Make Ahead Cold Lunches from Happy Money Saver, and 50 Kid-Friendly Meal and Snack Ideas from Mom to Mom Nutrition.
This is our first year doing this, and we have learned some things.
Our little guy just started kindergarten and his sister started full day preschool two days a week. We started out the year with big lunchboxes with a lot of compartments and I was sending my little guy with a heavy water bottle.
Lunch Bags and Containers
We quickly learned that the bags we had – this lunch bag and this lunch bag – were too bulky and for our little one's backpacks. We made the switch to smaller, simpler lunch bag – we have this ArticZone bag in black and pink and found it at Walmart.
The smaller bag is so much easier for them to carry in their backpacks. I fill them with one container, a small ice pack, and a drink box. They are much lighter than what I was packing before.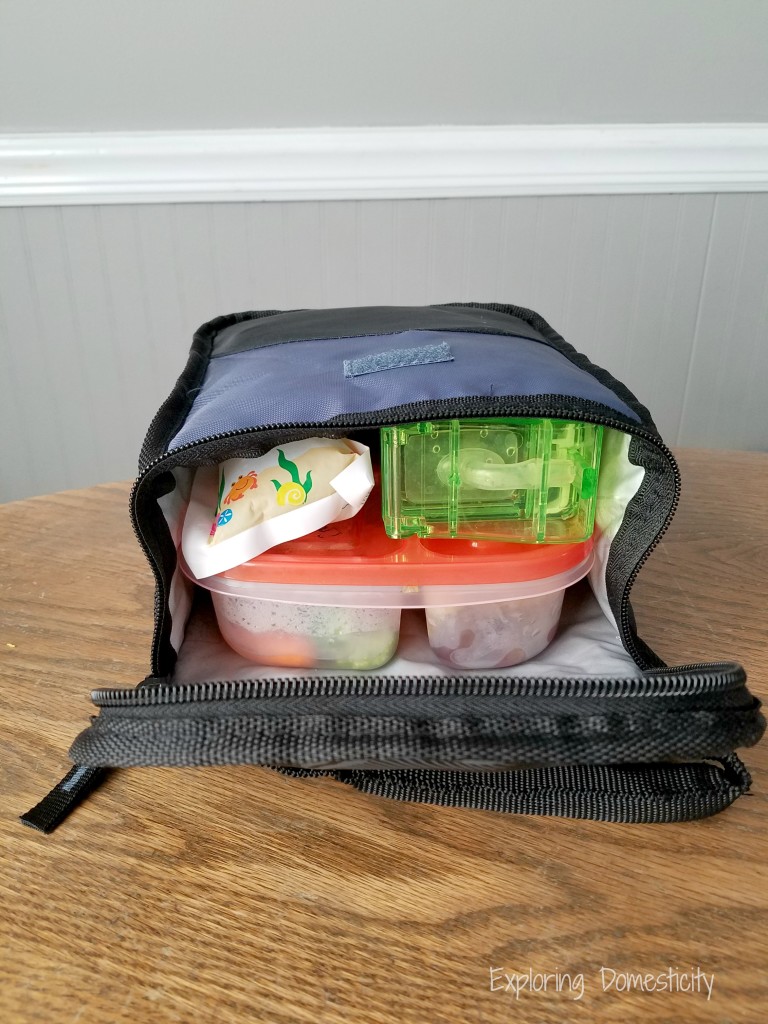 These bags fit our containers perfectly!
Speaking of containers… I am a container hoarder! Anyone else???
I've collected all sorts that I have used for them for a very long time. A couple months into school and I find that I am using these 3-compartment plastic lunch boxes almost exclusively. The size, thick plastic, and great seal have made them our favorite! They are also BPA free, and the colorful lids are easy for the kids to open but keep the contents secure and separate.
As I said, the containers fit in our small lunch bags perfectly, but there isn't room for a big, round water bottle. Thankfully, the Drink in a Box is a perfect fit!
Drink In a Box / Snack in a Box
Two years ago, I attended the Moms Meet Wow Summit (highly recommend if it ever comes to your area or you'd like to make a trip with a bunch of fun moms!!) and in our huge, overflowing swag bags there was the cutest drink cup that looked like a plastic juice box.
The cup we got was pink, but that didn't stop my little guy and girl from fighting over who was going to get to use it.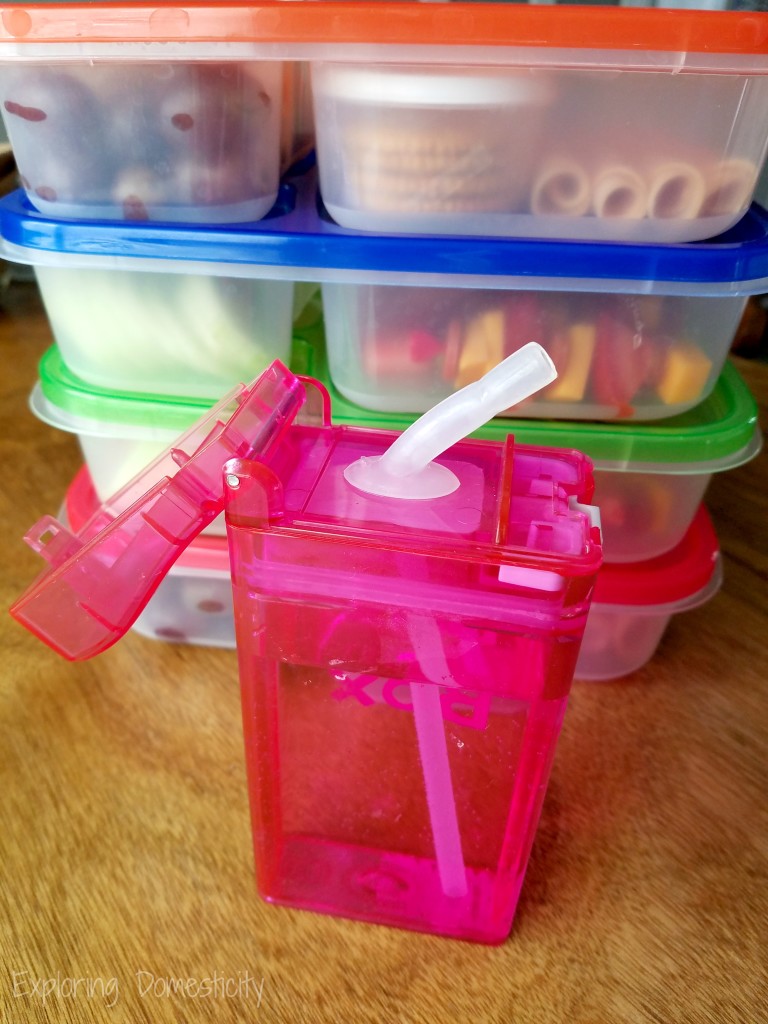 Years later, and we are now packing school lunches for small kiddos.When we switched to this smaller, simpler bag, larger water bottles wouldn't fit.
The Drink in the Box, with it's rectangular shape and small 8oz size, is the best for fitting into the lunch bag! It's a nice, small size (although, they have a larger one) and it fits flat against the lunch container.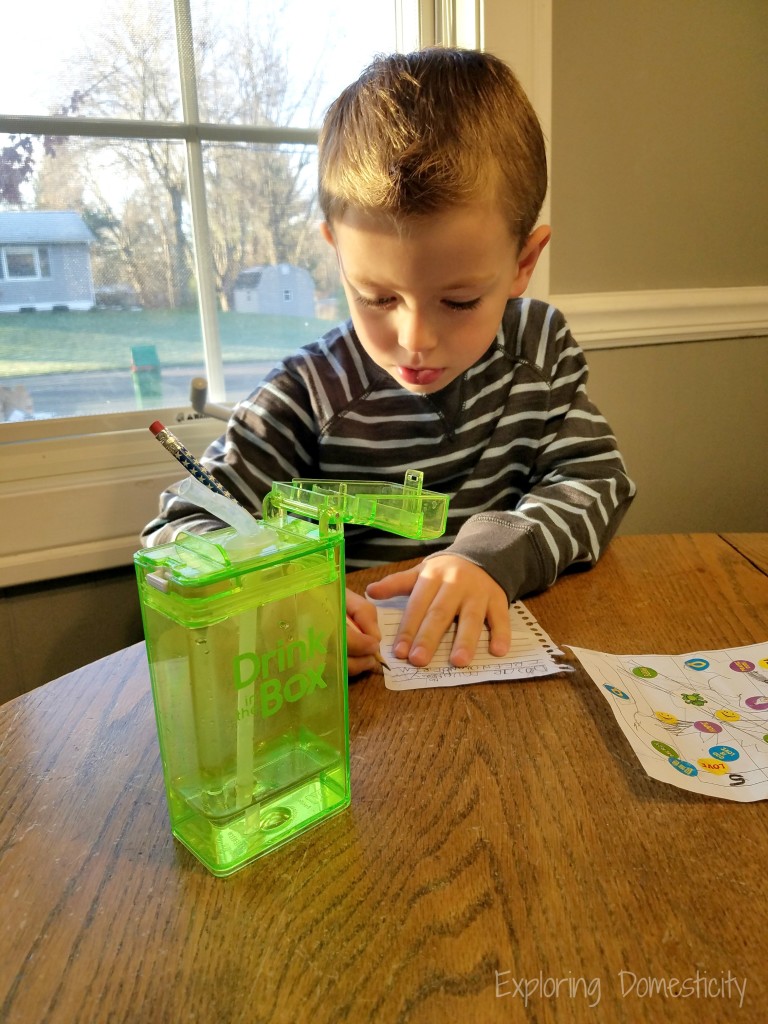 When I raved to the Drink in the Box company about how much we love their product for school lunches, they were sweet enough to send us a small green box so the kiddos could each have their own. They also sent their 12oz Drink in the Box, which I am claiming for myself, of course!
We now have another thing the kiddos fight over – the Snack in the Box container. It's a bit larger and has two 6oz compartments, with separate lids, for snacks. More often than not, my son is the one who gets to use it because we have to send an afternoon snack with him. He loves it!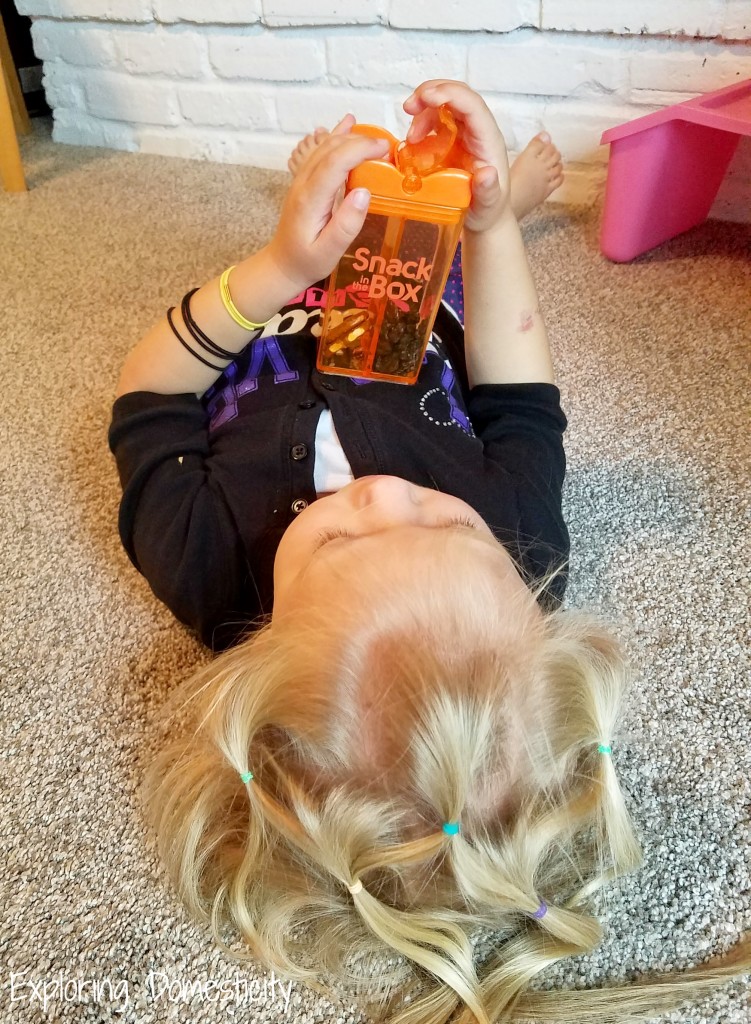 Almost a third of the way into the year and I'd say we've gotten it pretty much dialed in. We try to switch it up and add variety to their healthy lunches, we have found the lunch bags that work for our little ones, and we have the best drink and snack containers – and I am so happy to have found them!
Everyone starts losing creativity at times, let me know some of your school lunch ideas!
Also, let me know your favorite containers and lunch bags!

More Like This
Get Ya Some