Keep your kiddos busy and engaged this summer with the ABCs of Summer daily activities, snacks, art, and science. Each day focuses on one letter of the alphabet with snacks. art or science, and a physical activity to go along with it.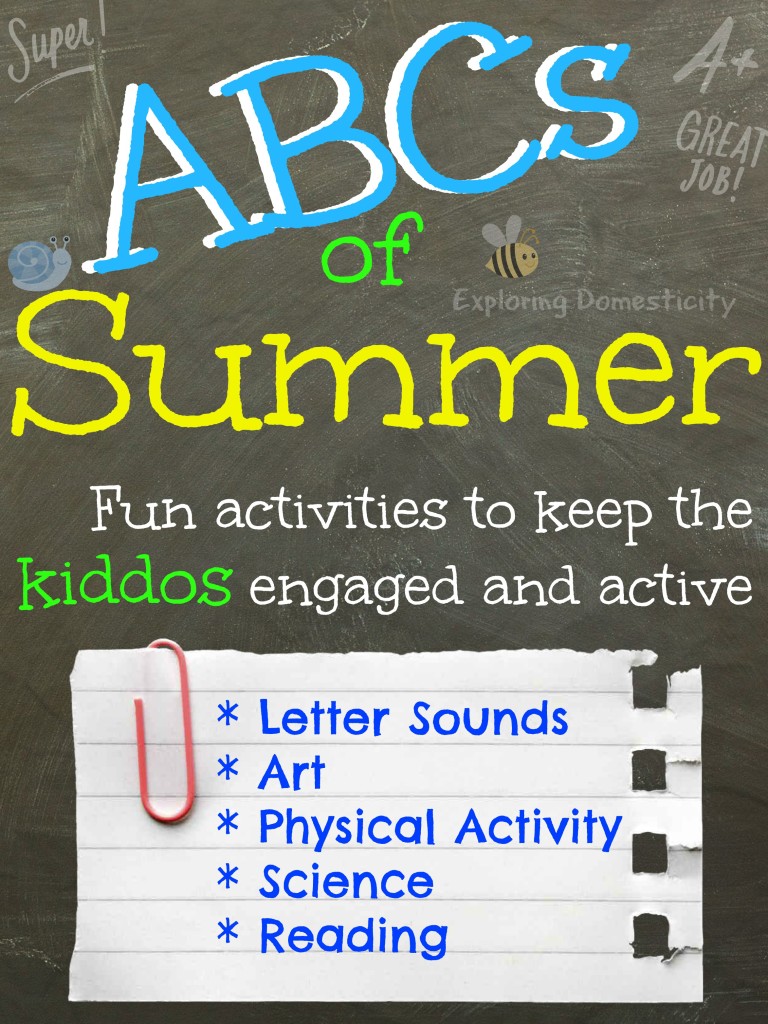 This post may contain affiliate links for products that I think may be helpful for your summer planning and fun with your little ones. 
I was trying to think of a way to keep the kiddos busy this summer as well as help them work on their letter sounds, vocabulary, following directions, and physical activity. So, to give us a bit of inspiration and a jumping off point, I decided to go with a new letter of the alphabet each day. In addition to learning the sounds, practicing writing, and identifying new words, we have an art or science activity, a physical activity, and a snack revolving around the letter of the day.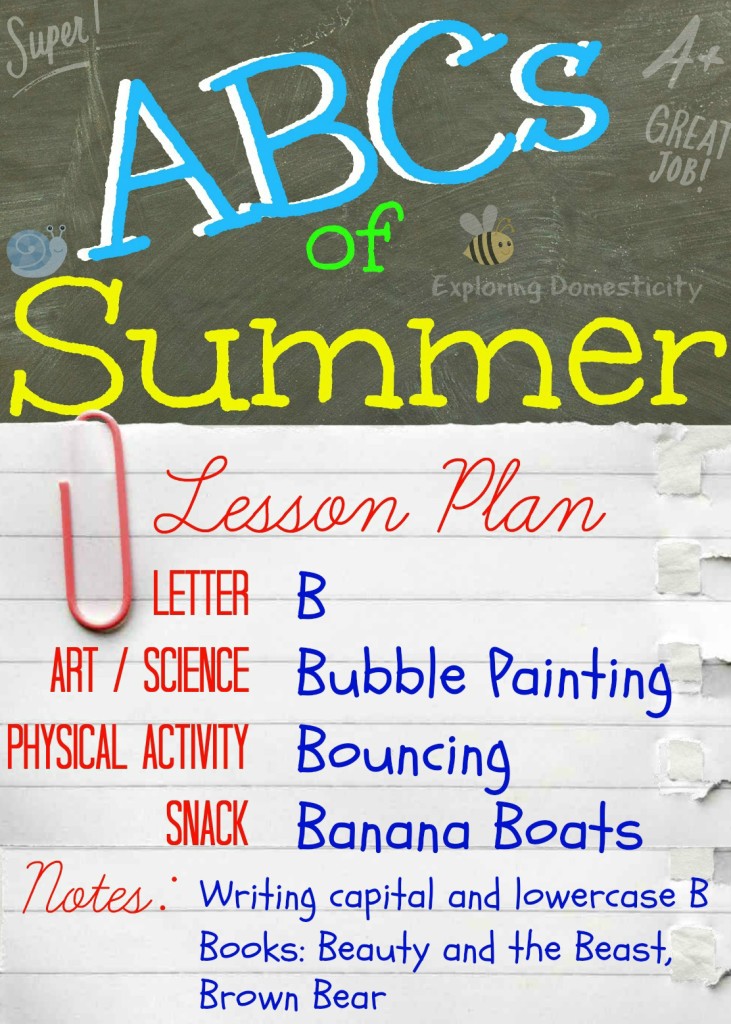 ABCs of Summer:
Letter B
Lesson Plan
Art / Science: Bubble Painting
Physical Activity: Bouncing
Snack: Banana Boats
Additional Activities: Write capital and lowercase 'B' before bubble painting, Books: Beauty and the Beast and Brown Bear, and Baseball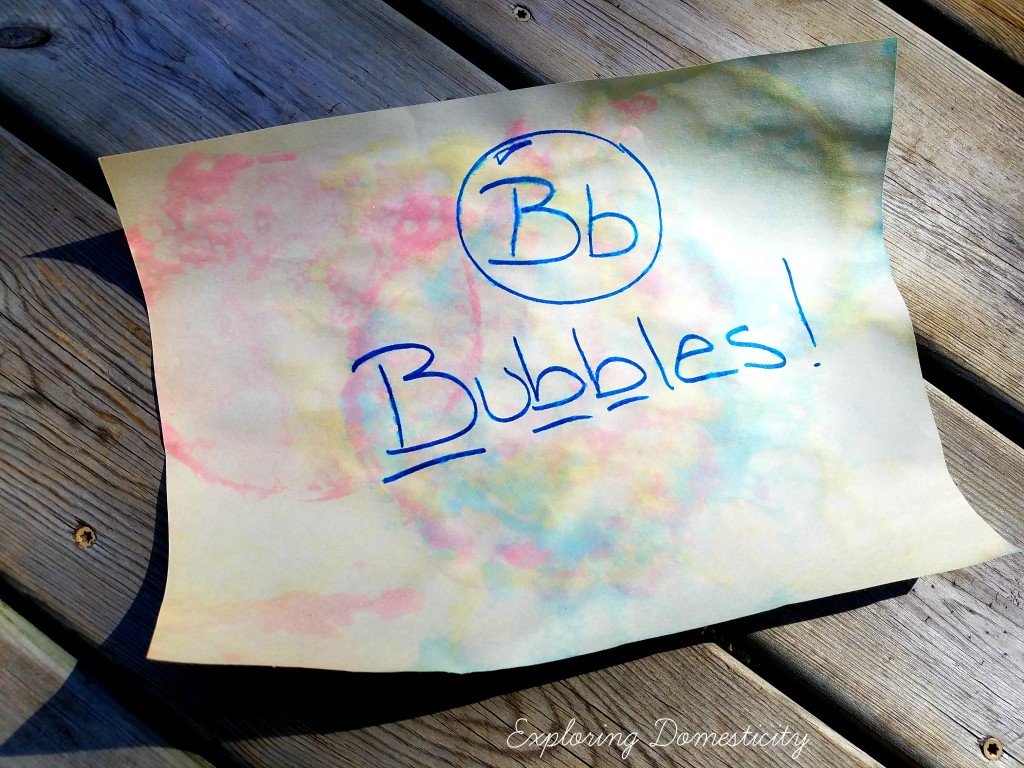 Bubble Painting
Supplies:
Construction Paper
Bowls
Dish Soap
Water
Straws
Paint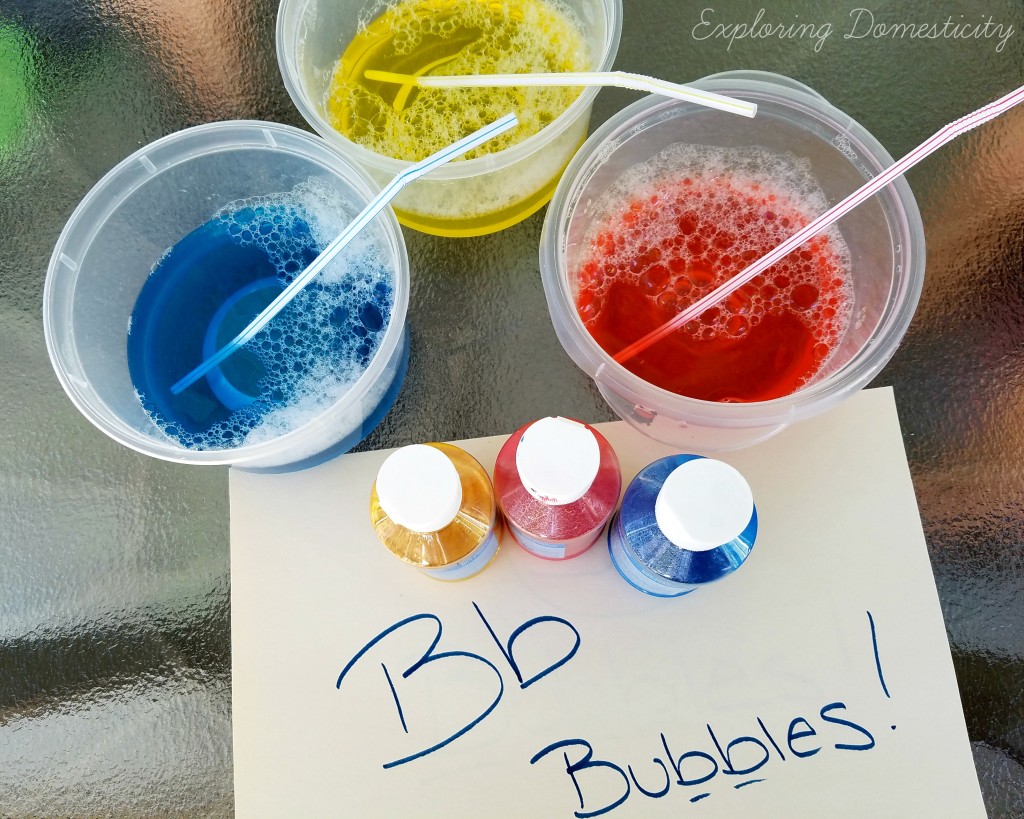 Directions
Fill the bowl about 1/4 – 1/3 of the way with water
Place several drops of dish soap in the water
Add paint to desired color
Insert straw and blow to create bubbles
Lay paper, face down, over the bubbles
Repeat with different colors
If you don't have your supplies ready in time for this art project, see the additional activities below. I used the time I needed to prep and had the kids practice uppercase and lowercase 'B's.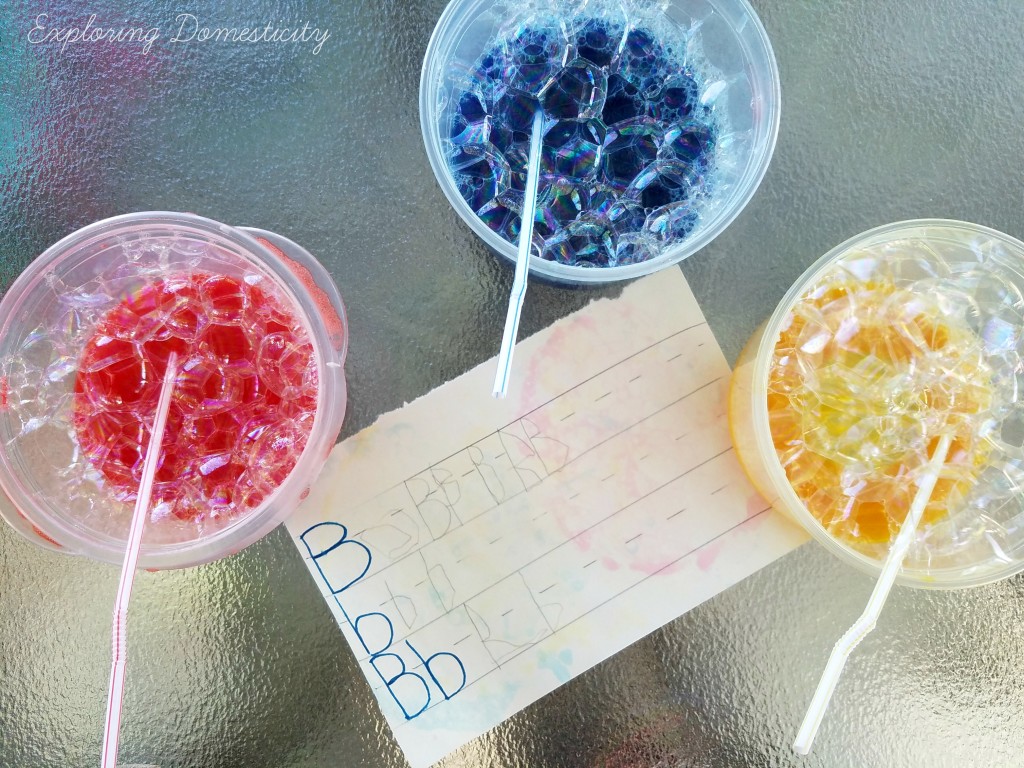 Bouncing
There are a lot of 'B' activities that can be done to get the kids active.
Physical Activities for the Letter B
Baseball
Basketball
Bowling
Bear Crawl
Bear Hunt – this is so fun! Kids love it! (it's a great book or song with actions)
Since it was a beautiful day and one of the kiddos had already left with Grandma and Grandpa, we decided to focus on BOUNCING in the pool and on the trampoline.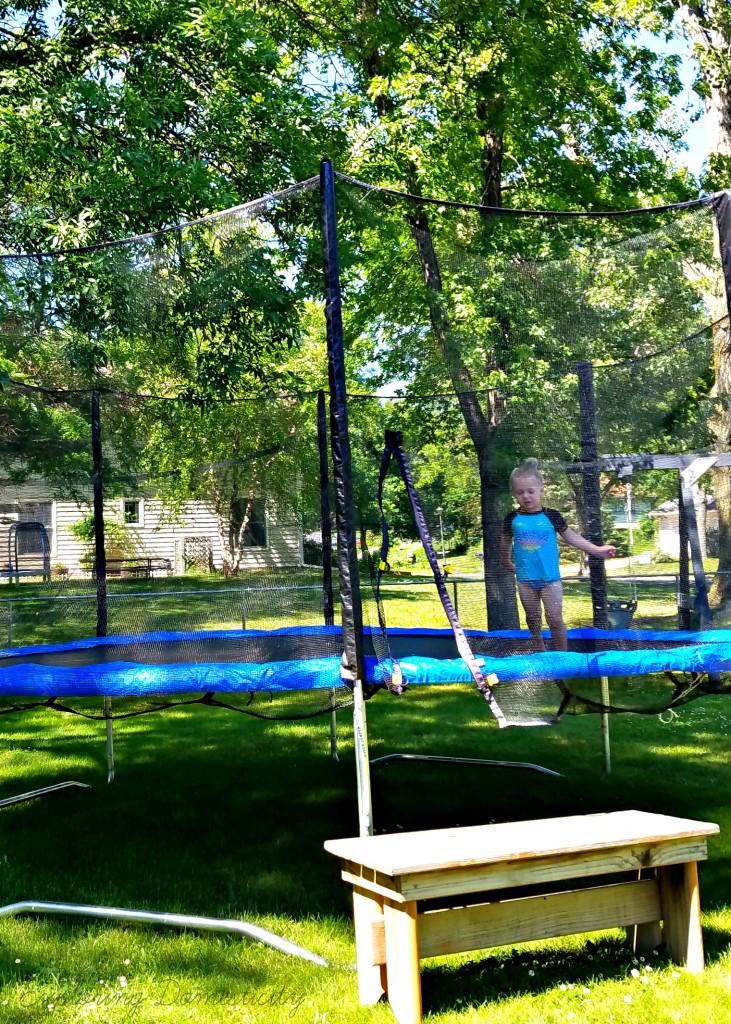 Other good options for "bouncing" without a pool or a trampoline would be bouncing various balls (tennis ball, playground ball, basketball, etc) or bouncing on an exercise ball or kids hopper.
Snack: Banana Boats
This snack is so much fun! Who doesn't love playing with colorful fruit? It's so easy and the colors are perfect for making a masterpiece.
These Banana Boats use a banana half, two grapes, and a slice of watermelon. Too easy!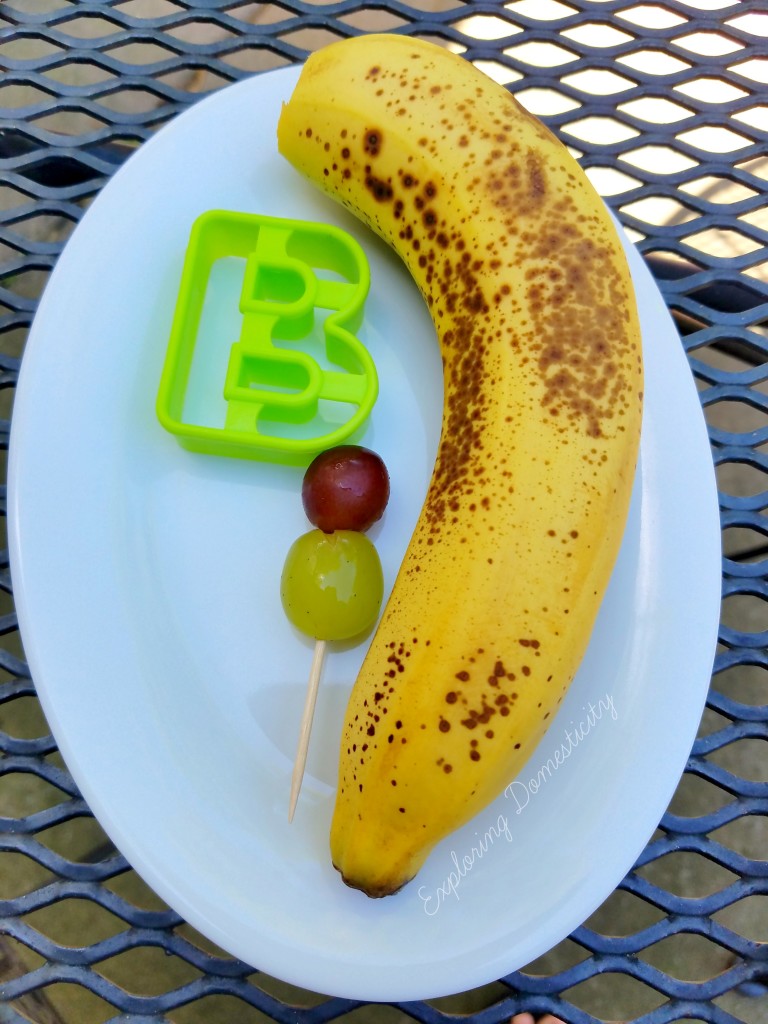 Use a whole banana or a banana half and slice a small sliver off the outer curve of the banana so it will sit flat on the plate and the ends will curve upward like a boat. Sticking a toothpick into a large grape and a smaller one on top will create your captain. Another toothpick through a watermelon slice will make a great sail. You can use these letter cookie cutters to make it even cuter with a letter 'B' sail.
Such a cute treat and perfect for a warm summer day!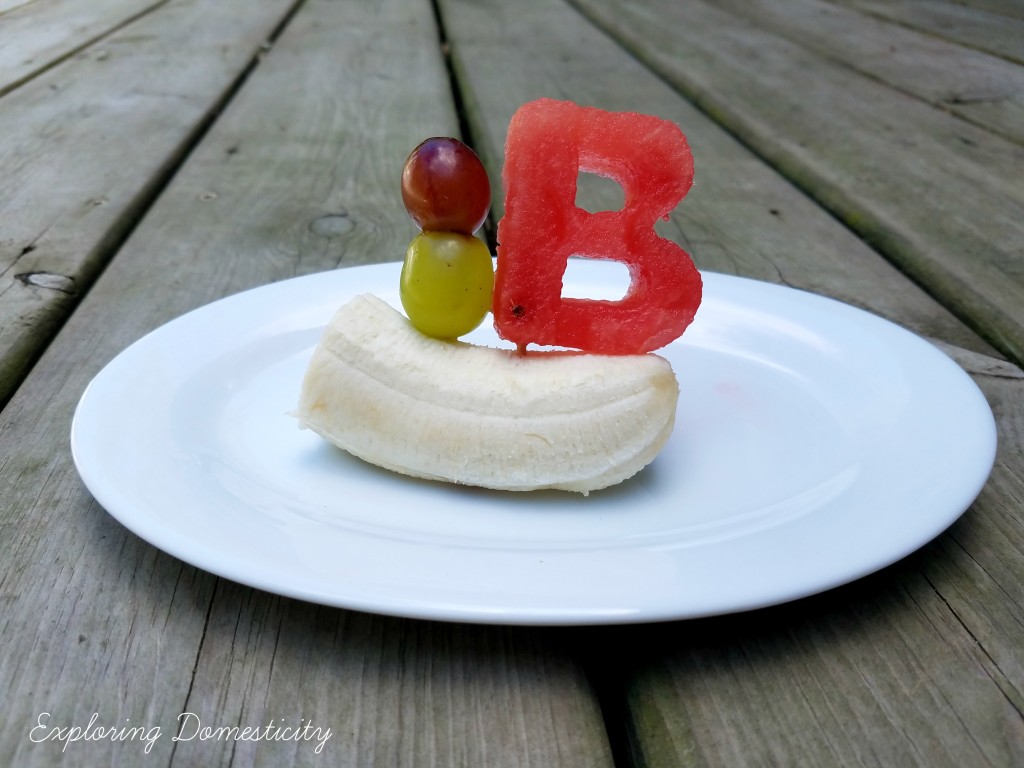 Additional Activities
Writing the Letter 'B' on Paper
Tailoring it to your little one's ability, its nice to incorporate not only letter recognition and sounds, but writing as well.
Give them an example to follow. It also helps greatly to demonstrate one or two in front of them. If needed, creating dots to connect, lines to trace, or even lines like paper to give a guide will help. Always, always, always be encouraging and find strengths to praise along the way, especially if it is a new or difficult task for them!
I have a 4 year old who is doing pretty well with writing letters, and a 3 year old who is a little newer to it. Both needed an example drawn in front of them and some direction, but I also used dots and tracing to help out my 3yo.
Books: Beauty and the Beast and Brown Bear
Shortly after Bubble Painting, my little guy left with Grandma and Grandpa for the cabin. The kiddos had just dragged out the Leap Reader, so it was the perfect opportunity to play with my little lady and her Beauty and the Beast book. If you haven't seen the Leap Reader, you have to check it out! It is so fun!
We also couldn't pass up the opportunity to read Brown Bear, Brown Bear What do you see? This has always been a favorite with every child I have ever known. It's kind of a sing-song type ready and the kiddos always end up memorizing it and reciting it right along with the reader.
It was such a fun 'B' day! I'll have to plan something extra special for the letter C since it's the beginning of each of my kiddos' names.
What are you doing to stay busy with the kids this summer? Do you have any ideas for me?
Stay tuned for the letter C!

More Like This