Spring is here and that means Mother's Day isn't too far away. Meaningful Mother's Day Gifts sometimes take some planning, so here are some great gift ideas to get those ideas flowing early. Everything from homemade gifts, to meaningful jewelry, to my personal favorite – precious hand print art.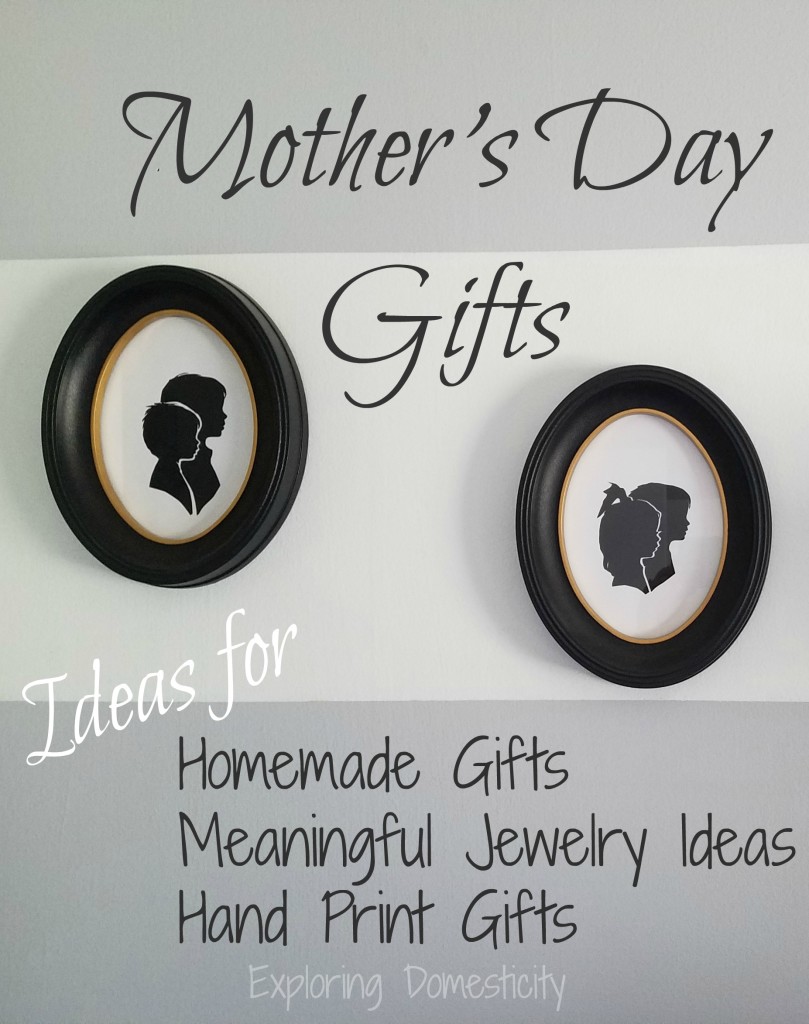 This post contains affiliate links, and I received the necklace below in exchange for my honest review. 
Mother's Day Gifts
Ever since the my kiddos were born, my one request for a Mother's Day gift has remained the same…
Hand Print Art
I can't get enough of it. I love seeing those tiny hand prints and how they've grown. It is one of my favorite measures of how my little ones have grown.
W have little "flower hands" glued to popsicle sticks, a frame with my little ones' hands inside, and even just a hand print stuck into a Mother's Day card. I can't get enough of them!
You'll notice a theme in this post… Since we're in the process of moving, half of our stuff is in storage and I have no pictures… Use your imagination here for hand print flowers and framed hand print art…
I've pinned all sorts of hand print projects, because they are perfect for grandparents too.
Some of my favorite hand print ideas for Mother's Day
DIY Love Hand & Foot Print Sign from Inspirational Momma
Blowing Kisses Card  from Life is Sweet
Hand Print Fist Keepsake from Glued to My Crafts Blog
Hand Print Pot Holders from Preschool Ideas for 2 Year Olds
Meaningful, or Symbolic, Jewelry Gifts
My husband is notorious for returning home late or rushing out on my birthday, Mother's Day, or Valentine's Day and returning home with a card and some kind of chocolate or flowers.
He's not exactly the best at planning ahead for meaningful gifts…
Birthstones
However, one of the sweetest gifts I got from my husband was a gorgeous ring with the birthstones of everyone in our family. If we weren't in the middle of a move, I would show it to you because it is very sweet and pretty.
Here are more examples of birthstone rings for mom. I especially love the infinity ring.
Jewelry and big, expensive gifts aren't necessary, but any mom melts at something that is symbolic of their family and sweet little ones. Something they can keep close and wear each day means they can be reminded at all times.
…and that's something no mom can resist
Symbols of the Children
Anytime you can remind a mom of her precious little ones, that's a win! It will instantly become her favorite gift or favorite piece of jewelry, and she'll be reluctant to ever take it off.
This beautiful necklace with three hearts reminds me of myself, son, and daughter and is so special to me. Not to mention, it is gorgeous!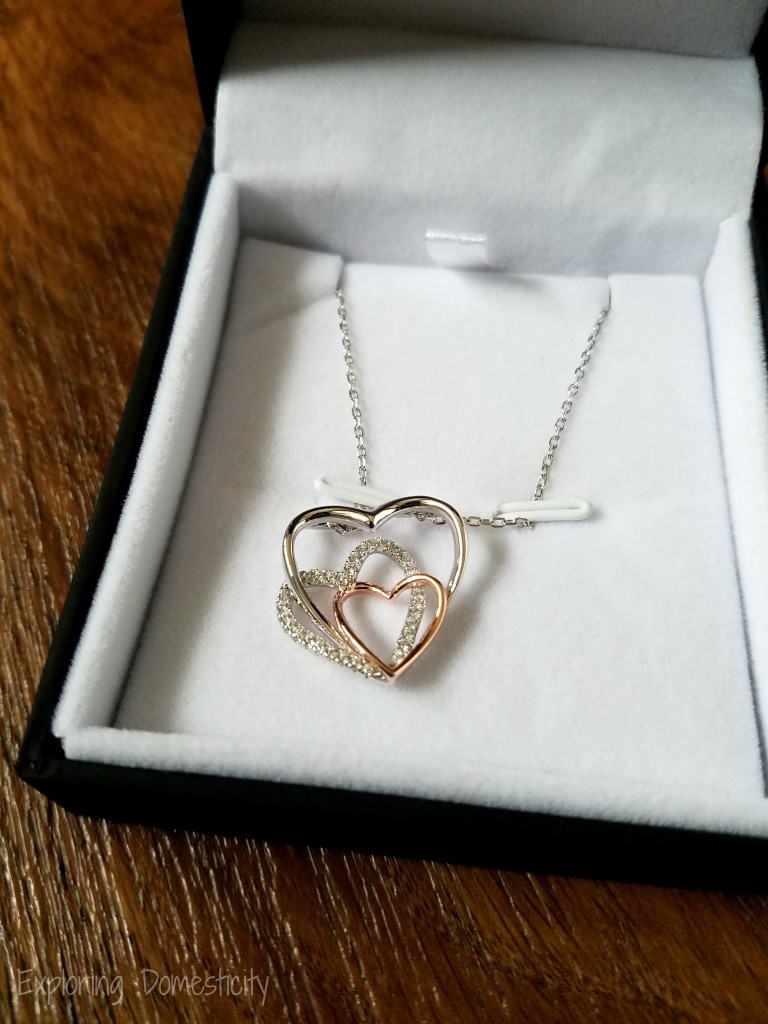 Jewelry like this necklace is the perfect gift because it's beautiful and has a very subtle symbol of motherhood, rather than the types with 'Mom' written right on them.
Of course, moms love any reminder of the most wonderful title in the world, but this is something that shows thought and can be worn with anything.
This is the Jeulia Design Two Tone Romantic Triple Heart White Sapphire Necklace, and they have other beautiful jewelry that would make a perfect Mother's gift.
In addition, this necklace also comes in a very beautiful and unique box that makes it a wonderful gift. Along with the fun presentation, the box can be used as a jewelry box because of the cute little drawers.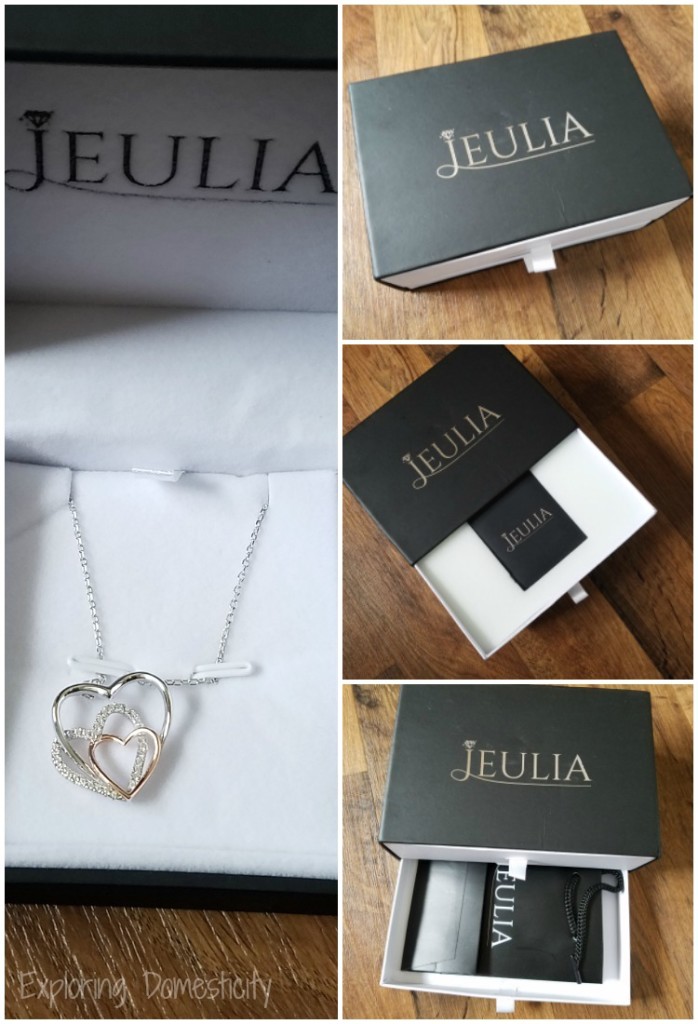 Fingerprints
I have one other piece of jewelry that is just as special to me. When I was in labor with my son, I got a "push present" from my mom – written as if it was from my husband, we did already talk about how terrible he is with gifts or meaningful gestures… 😉
The gift was a card with information for a fingerprint necklace – all we had to do was bring his little fingerprint into the store and it would be put on a pendant. I wore that necklace everyday for over a year. As often happens with a second child, we were never really quite on the ball about getting her fingerprint added. I'll have to do that one of these days! It's only been 4 years… no rush…
Here are other great ideas for necklaces incorporating your child's finger prints.
Homemade Gifts
What mom can resist something made by their children or husband?
There are some really great ideas out there for gifts you can make yourself. Many have fantastic poems sure to make Mom's heart melt. If it can make Mom melt, Grandma will be a complete puddle.
I love homemade gifts because they have so much meaning.
Most moms and grandmas don't like to have a lot of money spent on them and may even feel uncomfortable with a store-bought gift, but no mom can resist something handmade.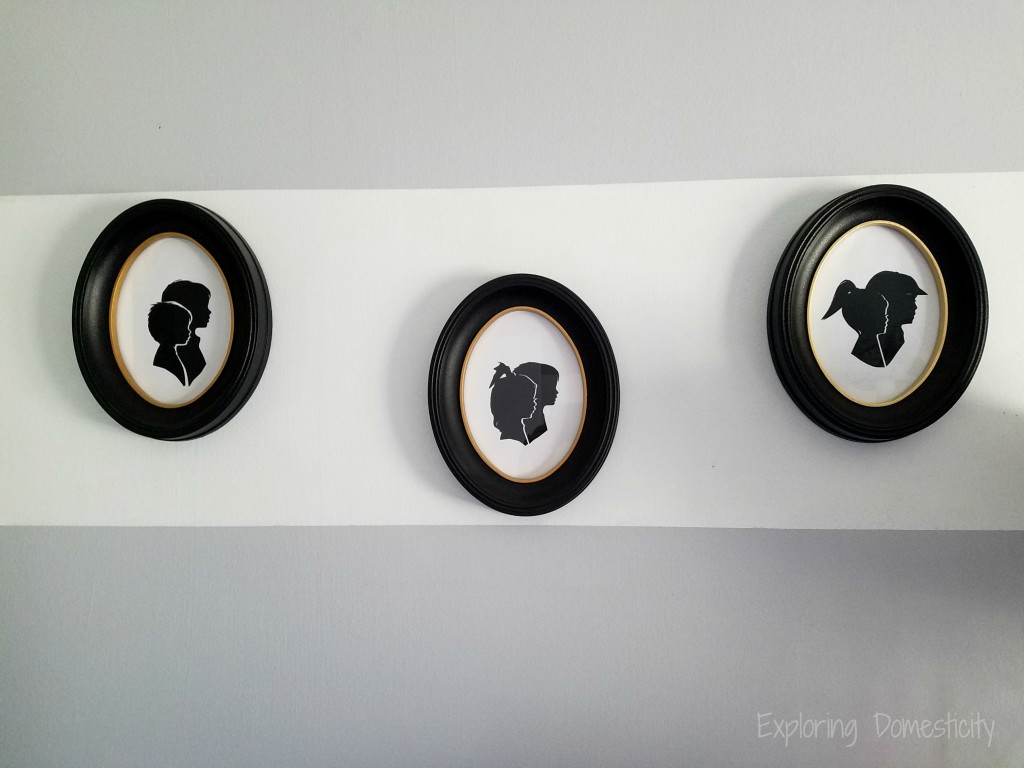 Each year when we go to Walt Disney World, we have silhouettes made of the kids. This is something you can also do yourself with a photo or a shadow. I usually give one to my parents for Christmas, but they would make great Mother's Day gifts. I can't think of a mom out there who wouldn't love this idea!
I found these Silhouettes from Preschool Ideas for 2 Year Olds , and I love what she did to decorate them, but there isn't a tutorial… Fortunately, there are others out ther. I looked around and found a tutorial for framed Children's Silhouettes from Cottage Hill, and a great tutorial for making and cutting silhouettes  from What I Made Today
More DIY Mother's Day Gifts for moms and grandmas
19 Awesome DIY Mother's Day Crafts for Kids to Make from Craftriver
Mother's Day Gift for Grandma from Crafty Morning
What was your favorite gift from your children? 
Do you have a go-to Mother's Day gifts, or something you often gave as a child?

More Like This