We went through the crazy process of buying and renovating a foreclosure, and we made it out alive. Check out the new house sneak peek tour!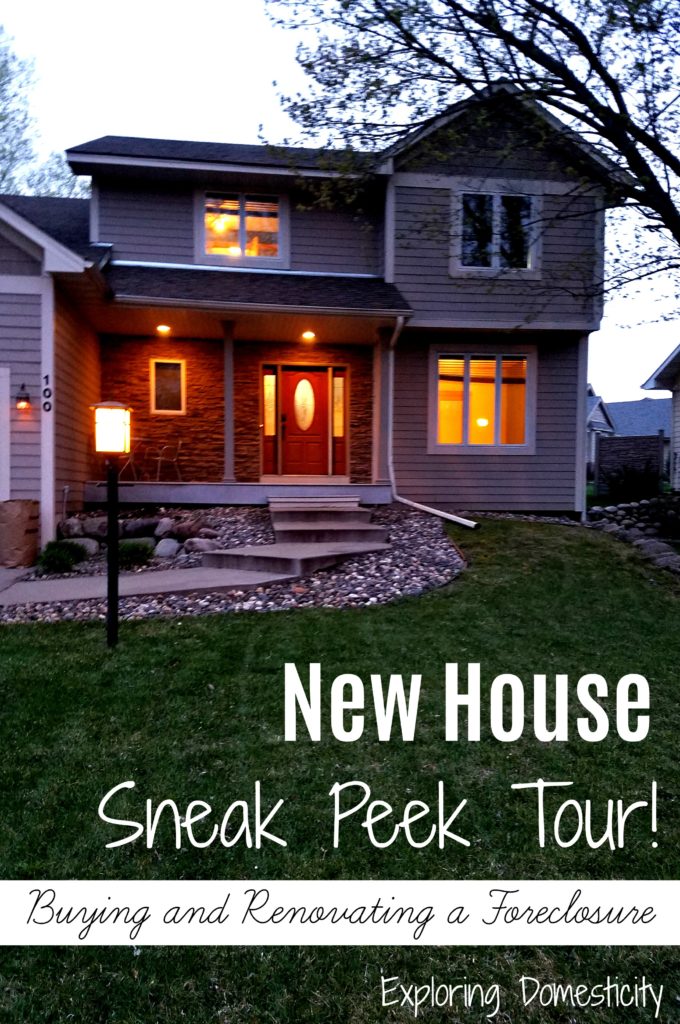 This post contains affiliate links that we hope are helpful to you. If you make a purchase through the link this site will receive a small commission. Thank you so much for your support!
I've meant to start sharing the progress on the new house so many times now. Ever since I first shared our new house, I've planned to share our progress often but nothing ever felt "finished" enough. We've done so many project, but we have plenty still going and are not quite at the "perfectly decorated" stage yet. Oh well, it's time to share anyway!
New House Sneak Peek Tour
We really hit the ground running and got so much done in the first week – it's insane! The next two weeks were also very productive as we wrapped up the major renovations and started moving in. We've now been in the house for two weeks and are completely moved out of the old house as of last weekend.
I think the best way to do it is to go room-by-room with reveals, but I'll just share a quick sneak peek with some progress pictures now. If you've been following on Instagram, Facebook, or Twitter, chances are you've seen some of these pictures along the way.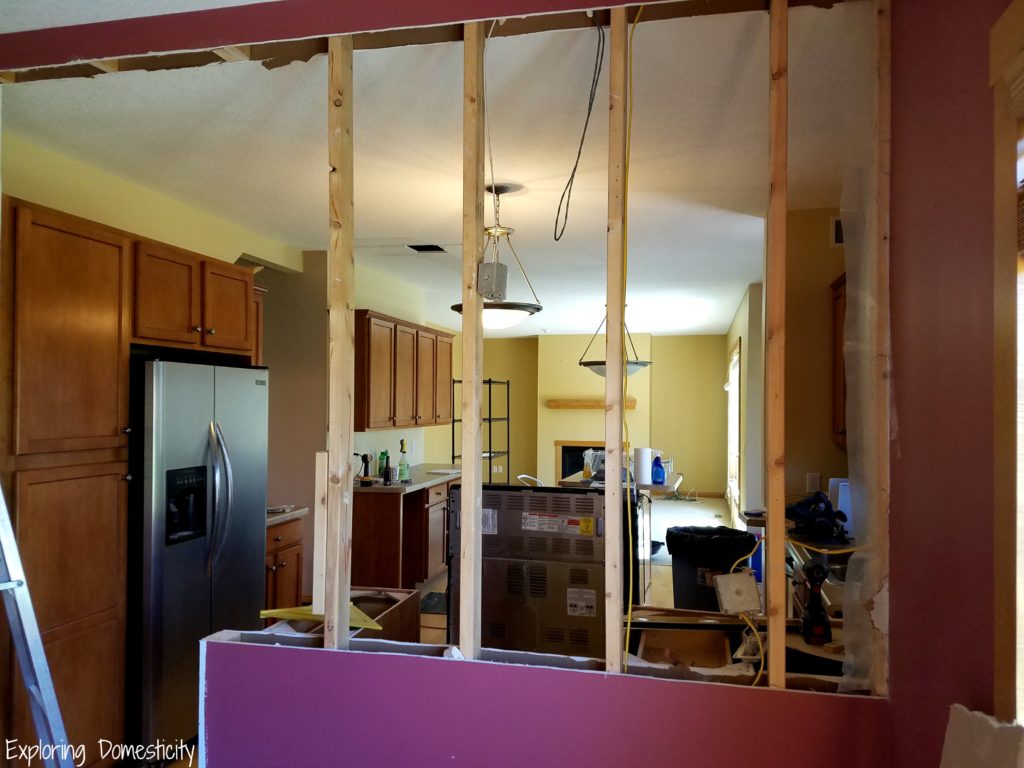 First Week
The first week was the craziest. We got right in after the closing and started getting to work.
Being a foreclosure, and rented before that, the house needed a major cleaning even before starting the renovation process. I think I deep cleaned the place a good three to four times between then and now to finally feel like it is only our dirt.
During the reno process, we had one room cleaned and designated as the spot for the kids to play while we worked.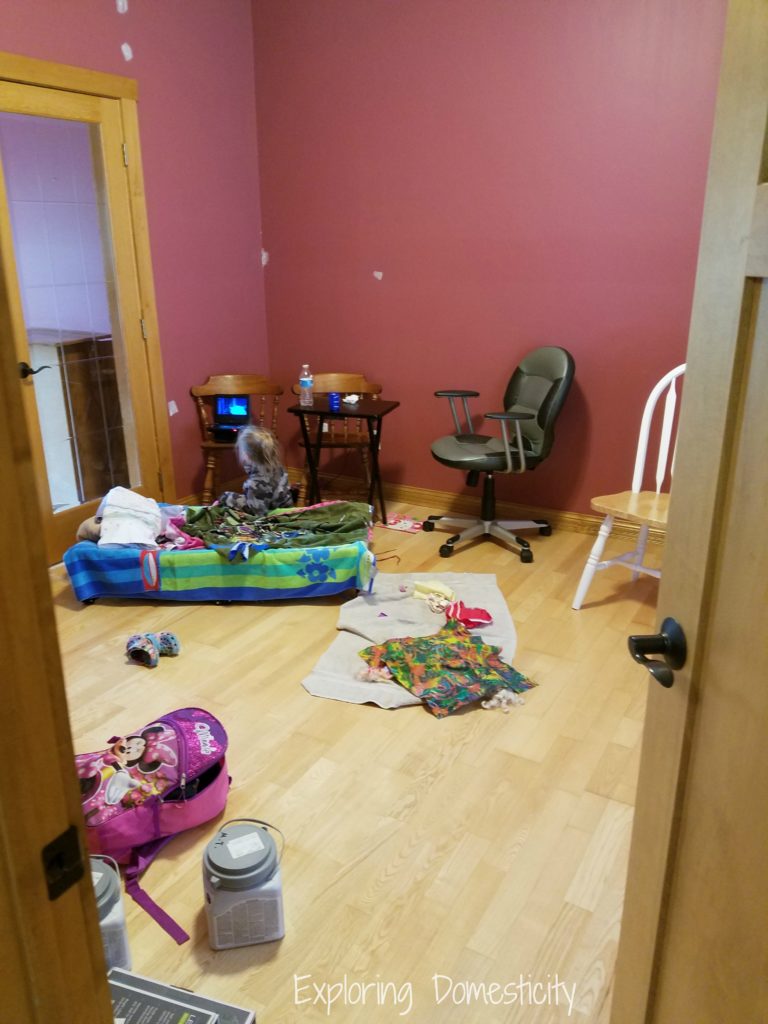 By the second day we got to one of the biggest changes and started to tear out the wall between the kitchen and the dining room. It is amazing what a difference it has made!
Tearing out the kitchen cabinets and cleaning the others, we happened upon a miracle product! I can't even begin to tell you how much we have depended on the 409 Degreaser my husband picked up from Menards on a whim. Even my mom bought two bottles after she used it one time. It's amazing!
The previous tenants must have fried a lot of food because the cabinets were disgusting. A few squirts of the degreaser worked wonders! It worked on every tough spot we came across.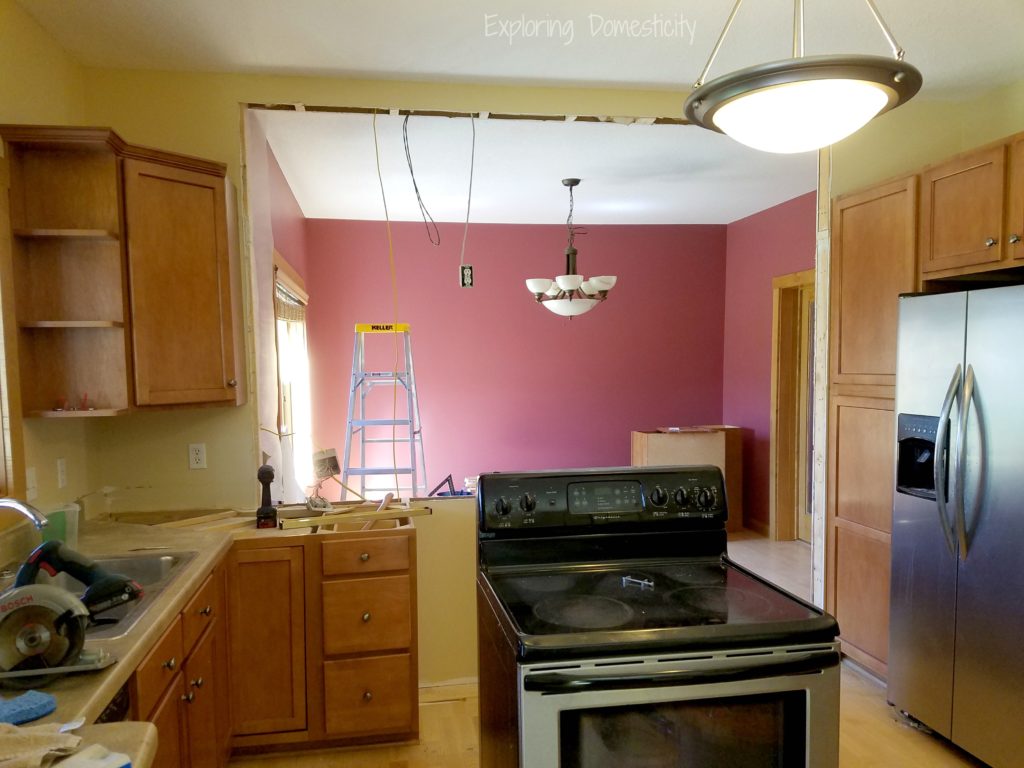 Paint
By the time the first week was up, every room upstairs was painted. That first week included 9 each day of mostly painting.
Nearly every room color came from checking the mistint area at our local Menards. Finding paint for $5 a gallon makes me giddy!
The Little Lady's room got a blush pink accent wall to go with the grey that was also used in the Little Guy's room and their bathroom. Little Guy also got an accent color. We bought the blue full price – gasp! – but it was worth it. We used the color in his nook and above the wood trim.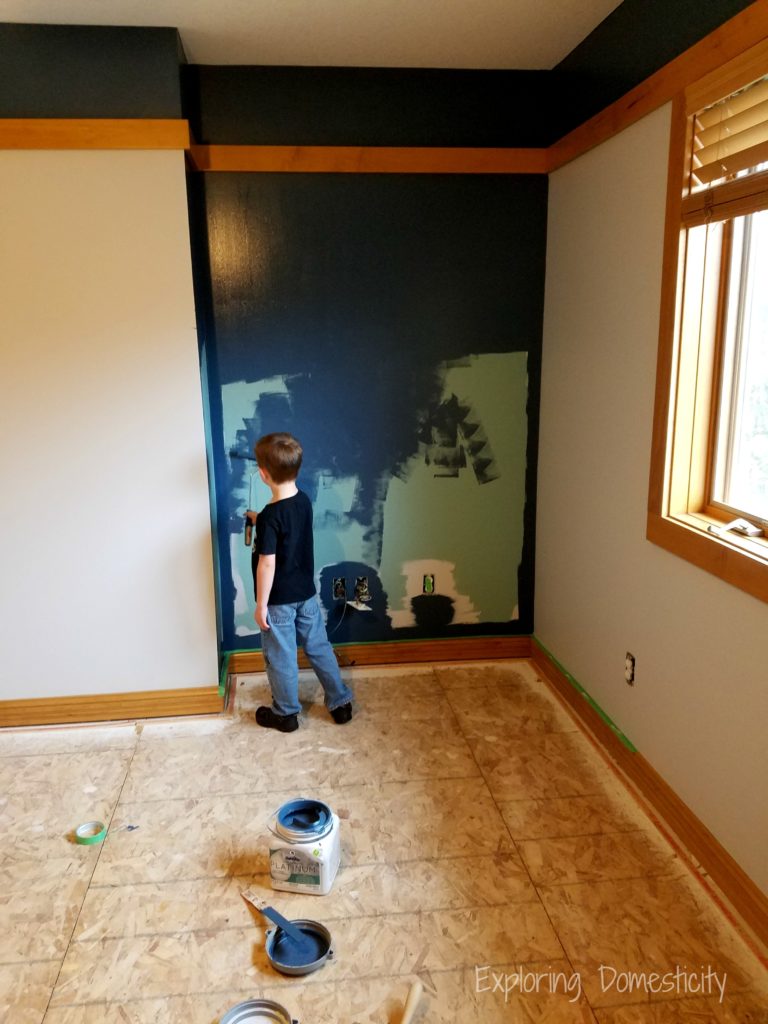 The spare bedroom / playroom got a gorgeous grey with a hint of green, also found in the mistint aisle. I'm so in love with this color!
Nearly the entire house, including most common areas, and our bedroom and bathroom got painted in Folsom Grey. It is the BEST color! It's an amazing greige that changes based on the light. So, it really does look different in different areas of the house.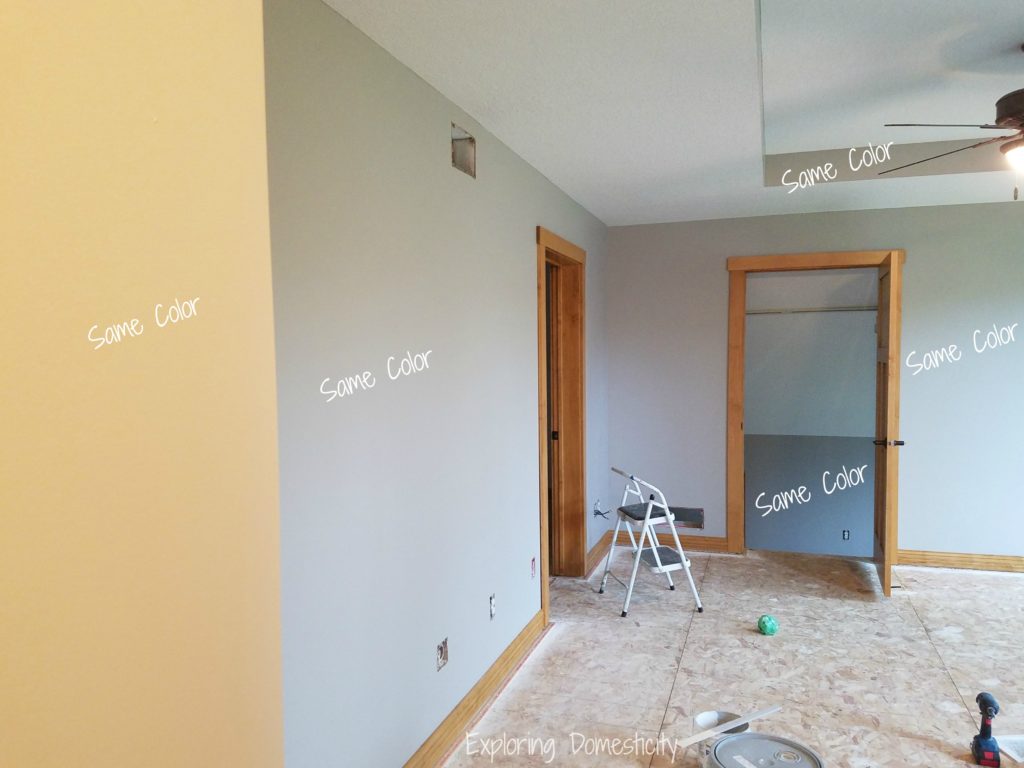 Week 2
During the painting in week one, a lot of other projects were also making progress. By week 2, we were able to get most of the house carpeted. Luckily, my husband used to do it for a living, so he was able to take care of it himself.
At this point, most of the upstairs was close to finished. After a deep cleaning in the bathrooms and laundry room, the second floor was ready for furniture.
Since we were still living in our old house, the first room to get put together was the Little Lady's because she has graduated from a toddler bed to a big bed.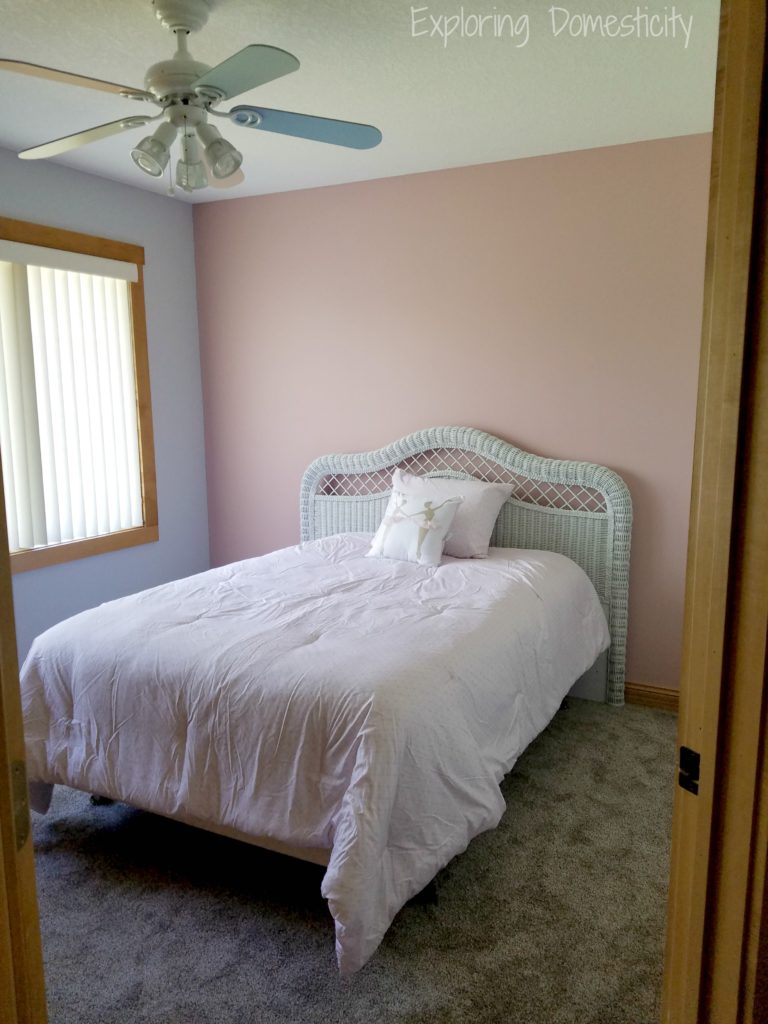 The biggest change in the whole house happened when the wall we opened up in the kitchen / dining room was finished and we were able to paint it all. It was definitely the most dramatic!
Our new counter tops from Menards arrived. The white quartz is beautiful, but it was SO heavy! So, it was a huge disappointment when we realized they had gotten one of the cuts wrong and it all had to be hauled back out and returned.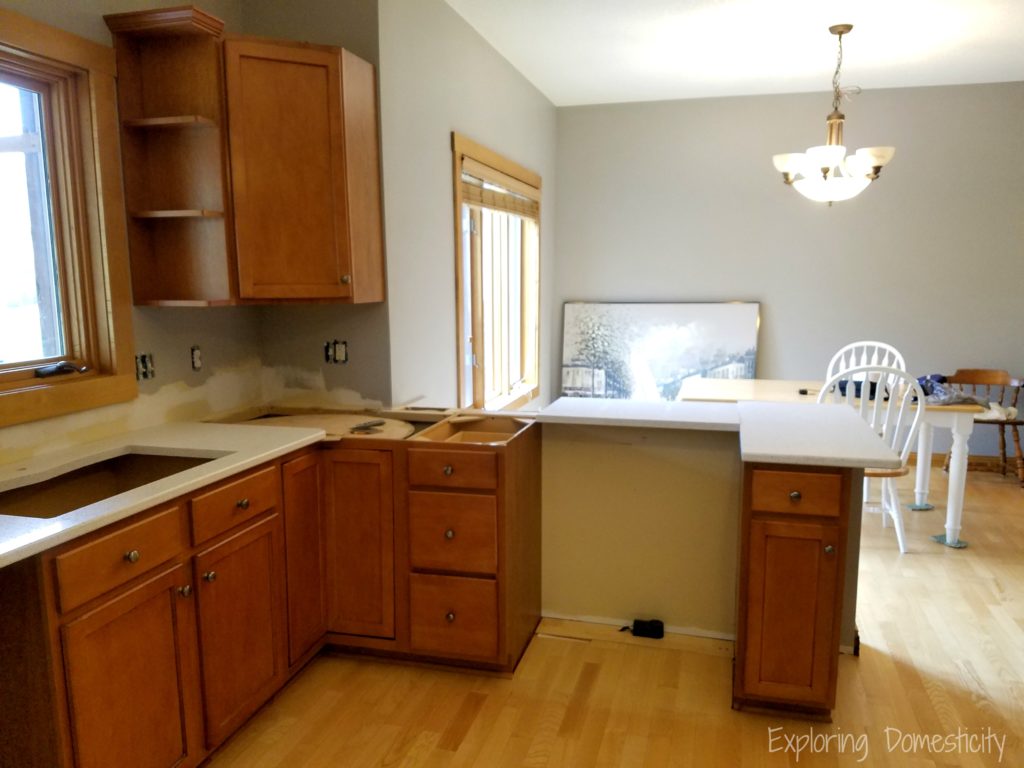 Fireplace
Another really fun project, was the accent wall in the living room. The existing fireplace was a little drab and awkward.
We decided to do a faux shiplap wall out of plywood. I can't wait to share that process step-by-step!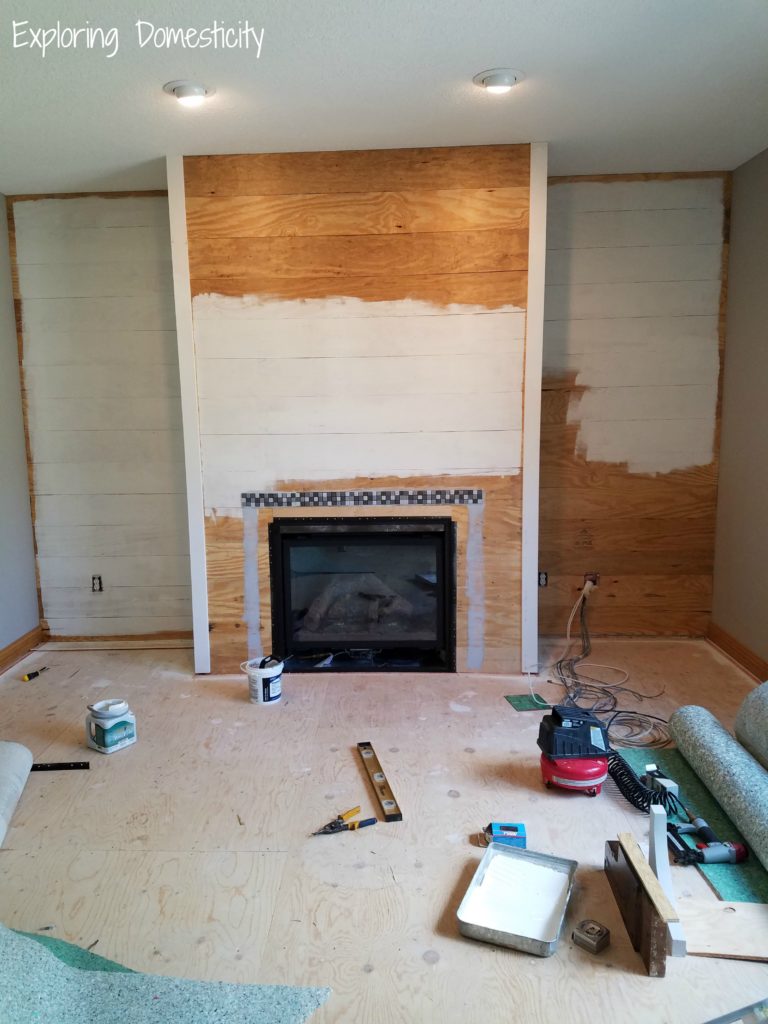 As with the mistint paint, we had also been hoarding tile for various projects. We were able to come up with a design using some glass tile my husband and I had, and some tile my parents' had. I LOVE how it turned out!
We finished painting the lower level during the second week. If we hadn't still had our old house, we probably could have moved in at this point. We were already using the old fridge and a microwave and toaster oven each day while working, and rarely eating meals at home, so it wouldn't have been too difficult.
Week 3
We entered week three planning to move into the house and out of the old house by the weekend. It was a crazy week!
Things really started to come together.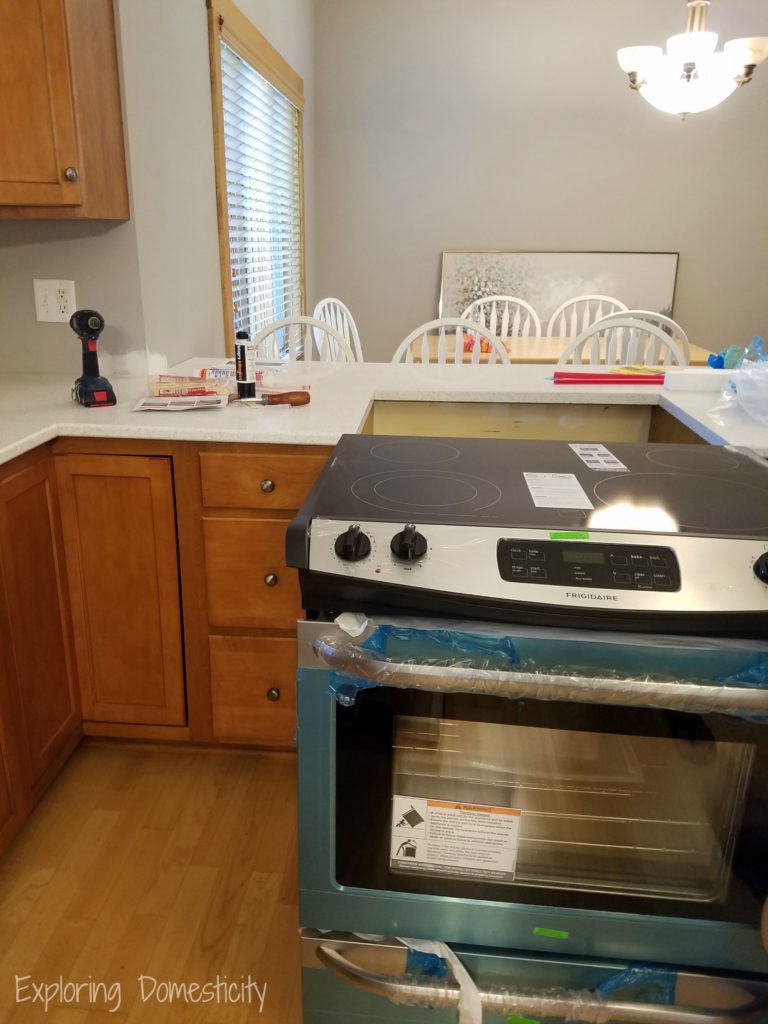 The new countertops arrived just in time for the new appliances. We got mostly Frigidaire appliances from Lowes, and I'm so excited about them! The countertops were rushed and arrived sooner than we thought. However, there were a few imperfections even the second time around. Luckily, they don't show, and we were able to secure a couple of our old pieces from Menards for free because of the trouble. We now have an amazing piece to have a pass-through from the kitchen sink to the screen porch.
With more and more cleaning, it finally felt like we could move in.
That was a process!
I think it would have been better to do a truck or a couple trucks and just move everything at once. However, we just kept taking loads of things as we went back and forth. So, that means that we have a lot of crap in the basement to go through and start putting away.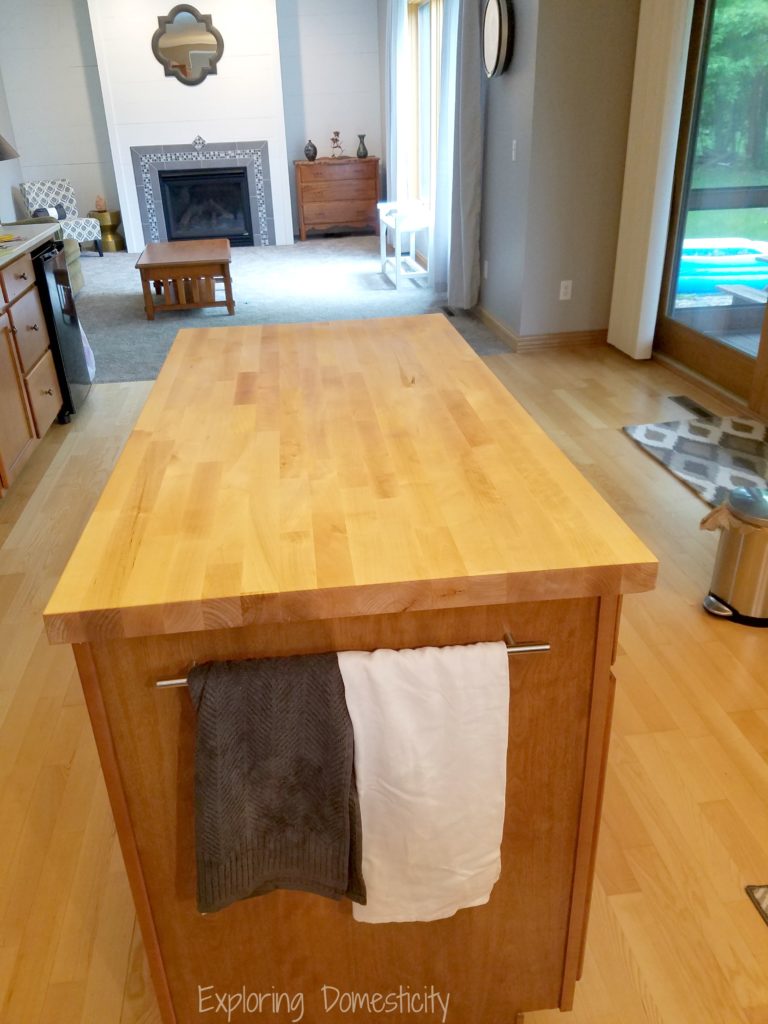 Week 4
We moved in and haven't looked back. We love it here! Everything is now moved out of the old house and it's no longer ours. We're still unpacking, decorating, moving things around, and just getting things the way we like. It's still a work in progress.
The move, along with all the end-of-the-school-year craziness, is why I haven't posted in a while. Now, school is out and things are starting to settle down, so expect more posts!
I can't wait to share the full kitchen remodel, the faux shiplap fireplace, the kids' bedroom, the new loft bed in the playroom, and everything else!
Have you done any major remodeling projects? Or, bought a foreclosure? Share your experiences with me!