** Update: Amazon announced this week that it will no longer be accepting "incentivized" reviews. I've been following this closely and have written about it here.
Who doesn't love free stuff???
I had no idea how easy it was to get incredible products for free. It has become a total obsession and I get happy mail all the time. Along with an exciting hobby, I've found a way to make some money along with it. I'm hooked!
Check out how anyone can get FREE products on Amazon, as well as some tips to make a little money as well.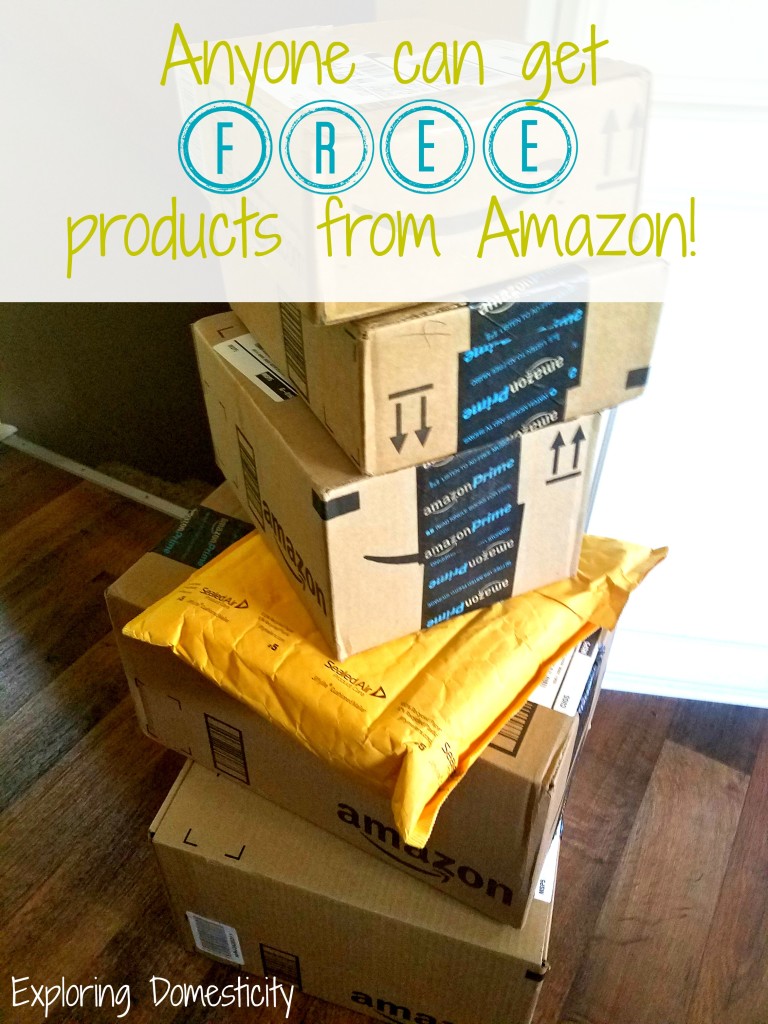 This post contains affiliate links. If you choose to make a purchase from the links provided, this blog with receive a small commission with no affect on your purchase price.
** Update: Amazon announced this week that it will no longer be accepting "incentivized" reviews. I've been following this closely and have written about it here.
I held out on Amazon Prime for a while even after hearing so many people raving about it. Finally, while we were on vacation and in need of some movies, I decided to give the free trial a whirl. Well, after placing a few Christmas orders, I was hooked. When I found a way to make back the $99/year and then some, I was so glad I did it! We're now hooked on so many benefits of Amazon Prime.
Want to know how I've more than made my money back and earned actual cash?
While on vacation, my husband and I wanted to watch a movie after the kids were in bed, so I decided to give the Amazon Prime one month free trial a chance. We were blown away by the selection of movies and watched a couple during our trip. I also used that month to buy some Christmas presents with the free shipping, so I was pretty happy right off the bat.
I absolutely recommend it! Do you know how much free shipping, movies, and music you can take advantage of in 30 days!?! You can sign up here: Try Amazon Prime 30-Day Free Trial
 I've even thought of sending my mother-in-law a gift of Amazon Prime because she would get a total kick out of getting free products.
Then came the game changer.
I was tuned into all things Amazon Prime and I started to notice that you can review products for Amazon sellers and, with Amazon Prime free shipping, I could try out amazing products for free!
It was a bit overwhelming to start.
I started out with two different websites and eased into it, both look for an Amazon Review as well as other tasks on your blog or social sites. Sometimes you may find an opportunity for just an Amazon Review, but often the sellers on these sites are looking for shares on social media as well.
Amazon Reviews and Opportunities for Bloggers/Influencers
Giveaway Service is the first one I tried. It was pretty slow to start because the products aren't updated much, but I did get some nice review and continue to check for new products. I didn't have too many reviews from this service, but it was a nice way to start out and not be overwhelmed. I hardly use this service now because a lot of the opportunities are looking for more than just an Amazon review, and most of them just offer a heavy discount instead of a free product.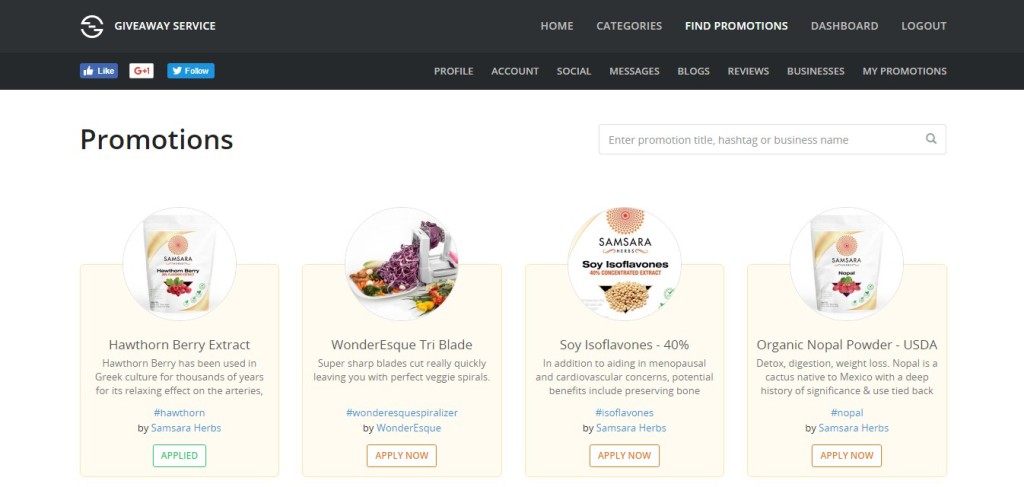 Tomoson was the next site I joined. I loved the larger selection and that, as well as offering free products, there are opportunities for paid reviews if you have a blog or large social channels. I still check this site daily for opportunities.
You can sort by Paid Posts, Freebies, and Deals and it is very easy to search the products and clearly see what the seller is looking for with icons for an amazon review, social channels, or a blog post. I don't have a YouTube account and many sellers hope for that, but I am able to deselect the YouTube icon, and I often still receive the opportunity by substituting another social channel. I've found that  tweeting about my review is a great, no hassle way to promote and up my chances of being selected.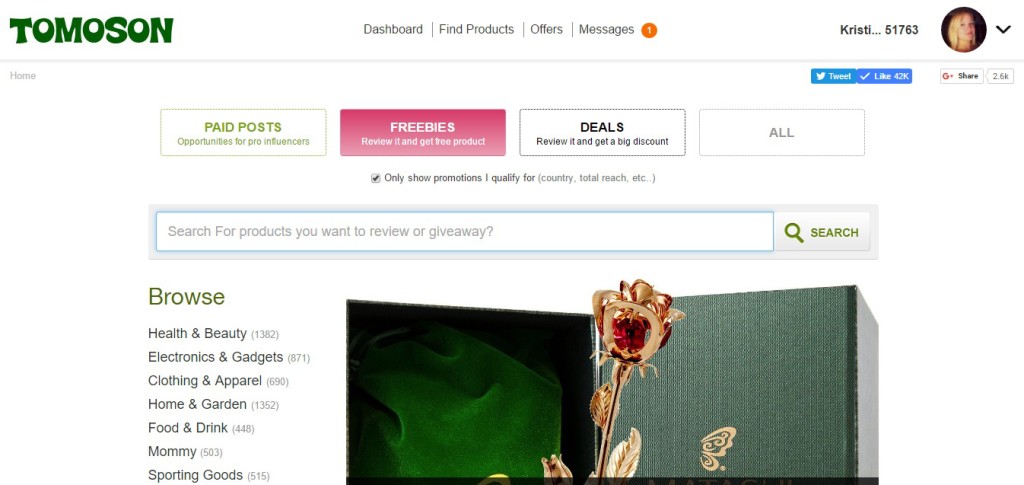 Tomoson and Giveaway Service both have timelines on their review opportunities and keep track with a completion percentage.  I haven't used Giveaway Service in a little while, but the deadline a little over a month, I think. With Tomoson, you can select the timeline you feel comfortable with when applying for the opportunity. The default selection is 14 days and I just stick with that.
** Update: Amazon announced this week that it will no longer be accepting "incentivized" reviews. I've been following this closely and have written about it here.
Just Amazon Reviews!
For those who do not have a blog or large social channels, the third site I joined is my favorite and perfect for anyone. Amz Review Trader only requires a review on Amazon and seller feedback. They offer free products as well as amazing deals for reviews.  There is no timeline placed on the reviews, but I have noticed that if I wait too long some companies may end their membership and I can't submit my review.
This is really the easiest site I've found for Amazon Reviews! It is so easy to search for products and the database it HUGE! Once you've selected an item you want, all you have to do is click the button to "apply" and wait to see if you're selected. If you are selected, you will receive the coupon code right away and you can place your order. SO EASY!
I have used this site to search for deals on things we've been looking for anyway such as presents for the kids, tv antennas, etc, but most of the time I just look for free products. It's very easy with this site. I select my favorite categories and sort by price from lowest to highest. That way, I can see all the FREE products first and make my selections.
This site limits the number of reviews you can have going at one time and you can work your way up to more products. I found it really easy to work my way up quickly, and I now have unlimited product request and 70 reviews at a time – which is way too much for anyone's sanity anyway! You can find the information about each tier here.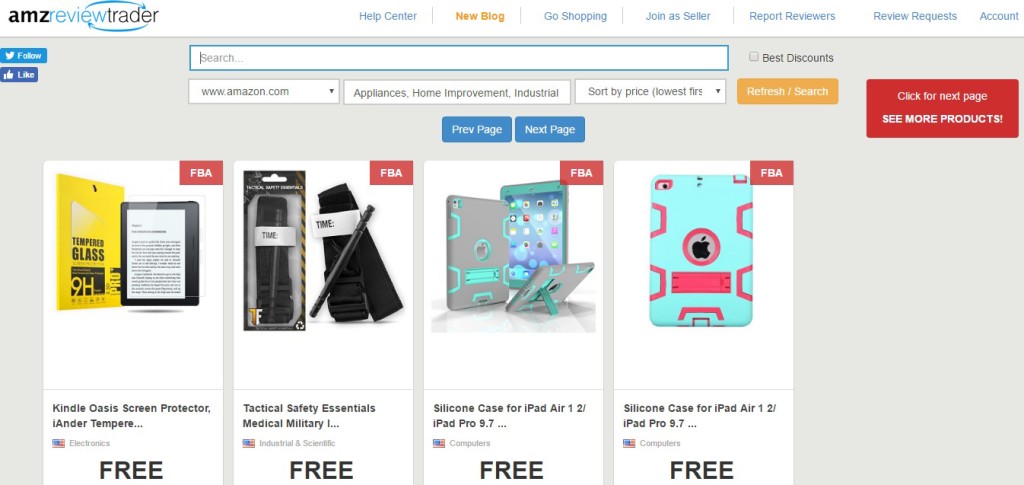 So, free products are very fun, but didn't I also mention that I was making money as well? 
I did. I'll explain a little more in detail in a future post, but I've found two ways to more than make back my original $99/year investment in Amazon Prime.
First, you can imagine with over 800 reviews, the products really begin to add up. I've been able to get gifts for family and friends, replace some of our older items, and get items for free that we would have spent money on anyway. As my supply has gotten larger, I've had to pare down a bit. Although I try to be careful with selling items I've received (more about this later), I have been able to sell items I've replaced and sell some older items or those that were taking up too much room. I haven't done a real total, and I promise to do so before I talk about it in detail, but I've more than doubled that original $99 without really trying.
Second, as I have become one of the top 6,000 Amazon reviewers, sellers have been emailing me for reviews. I have way more opportunities than I possibly have time for, so I've found that I can join the AmzTracker affiliate program to make some extra money. When I receive an email for a product I can't review, I provide the seller with a link to all the tools and other reviewers available from subscribing. So far, I have made $50 just from turning reviews away. Awesome! If you plan to review products, I completely recommend joining this affiliate program.
** Update: Amazon announced this week that it will no longer be accepting "incentivized" reviews. I've been following this closely and have written about it here.
How to get started
I'm going to make it really easy. It can be overwhelming at first, but it's really very simple.
Sign up for Amazon Prime. You won't want to pay for shipping and with Amazon Prime you will have free shipping in two days. You can also choose "no rush shipping" and earn money towards movies and music (more about that later as well!)
Join AmzReviewTrader. It's free and it's easy!
Review any products you can on Amazon. Review previous Amazon purchase or any product you've bought and used. Sellers look at your previous reviews to determine if they want to select you for a promotion.
Join the Amz Tracker Affiliate Program. Use this as a mostly-passive way to earn extra money.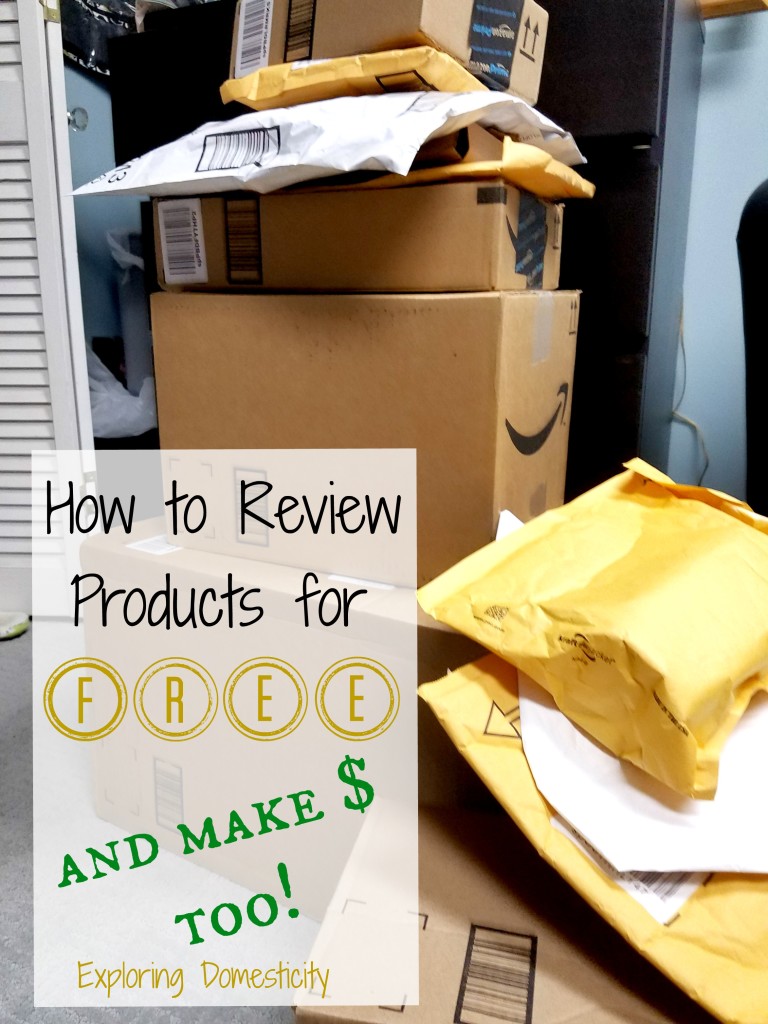 More Like This