Protein Pancake Muffins with Lemon Protein Glaze make an easy on-the-go breakfast for busy mornings. Add in any fruit, such as cherries or blueberries. Once you drizzle on the super easy Lemon Protein Glaze and it's a real morning treat!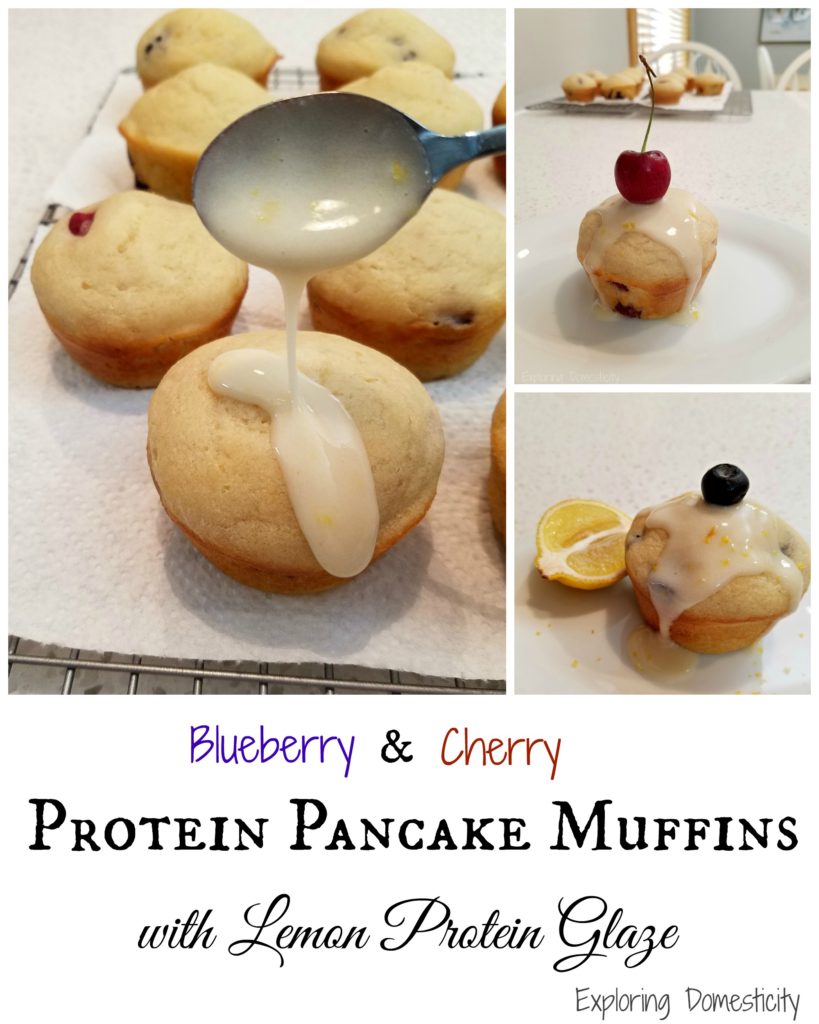 This post is sponsored by Krusteaz and may contain affiliate links.
It may  be the beginning of August, but I know some of you have school starting up already this month and I want to pass on a fantastic – and EASY – recipe for Protein Pancake Muffins with Lemon Protein Glaze. Perfect for busy mornings, and I can tell you first hand they are a HUGE hit with kids.
Krusteaz is celebrating the launch of their new Protein Buttermilk Pancake Mix right along with National Breakfast Month in September.
…but I couldn't wait!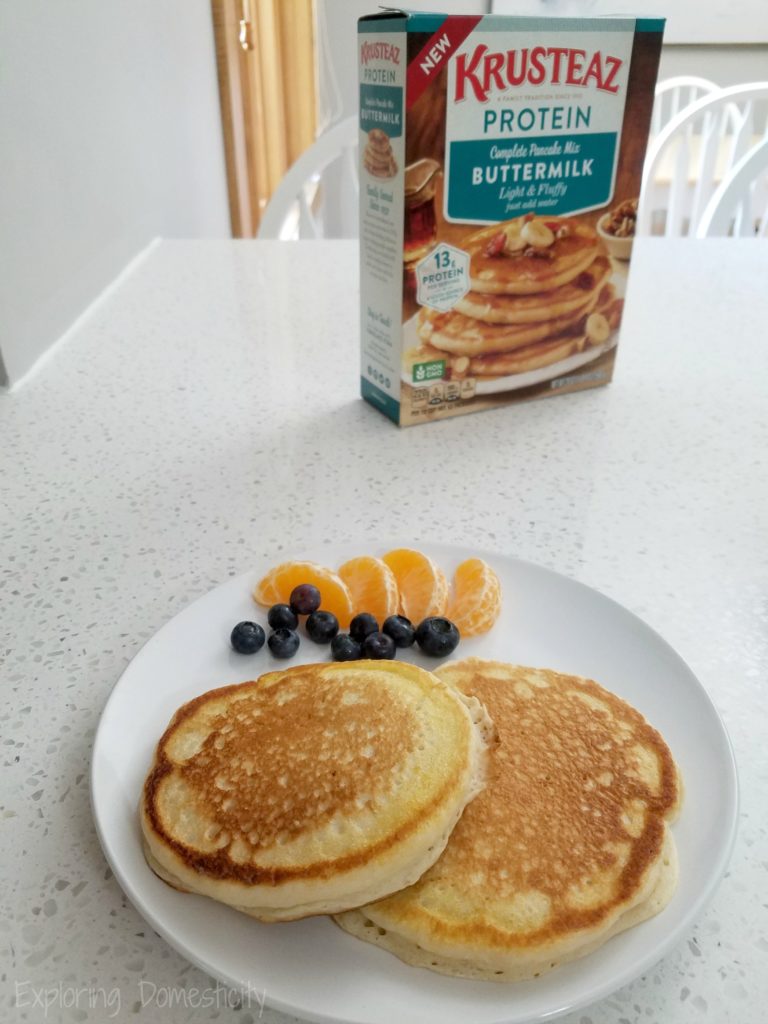 These pancakes couldn't be easier. They mix with just water and they are light, fluffy and delicious. The whole family gave them a huge two thumbs up.
Best of all, they are packed with extra protein to get those kiddos, and the rest of the family, through the day.
To celebrate National Breakfast Month in September, and the start of a new school year, I originally planned to make some fantastic Protein Pancake Donuts and finally use our silicone donut pan. I've been so excited about using it for the first time, but it was a casualty of the move and I can't find it anywhere.
Alas, we turned the Protein Pancake Donuts into Protein Pancake Muffins. I will make them as donuts someday, but muffins are just as good and it's more common to have a muffin tin anyway.
Speaking of muffin tins… I have to tell you about my favorite.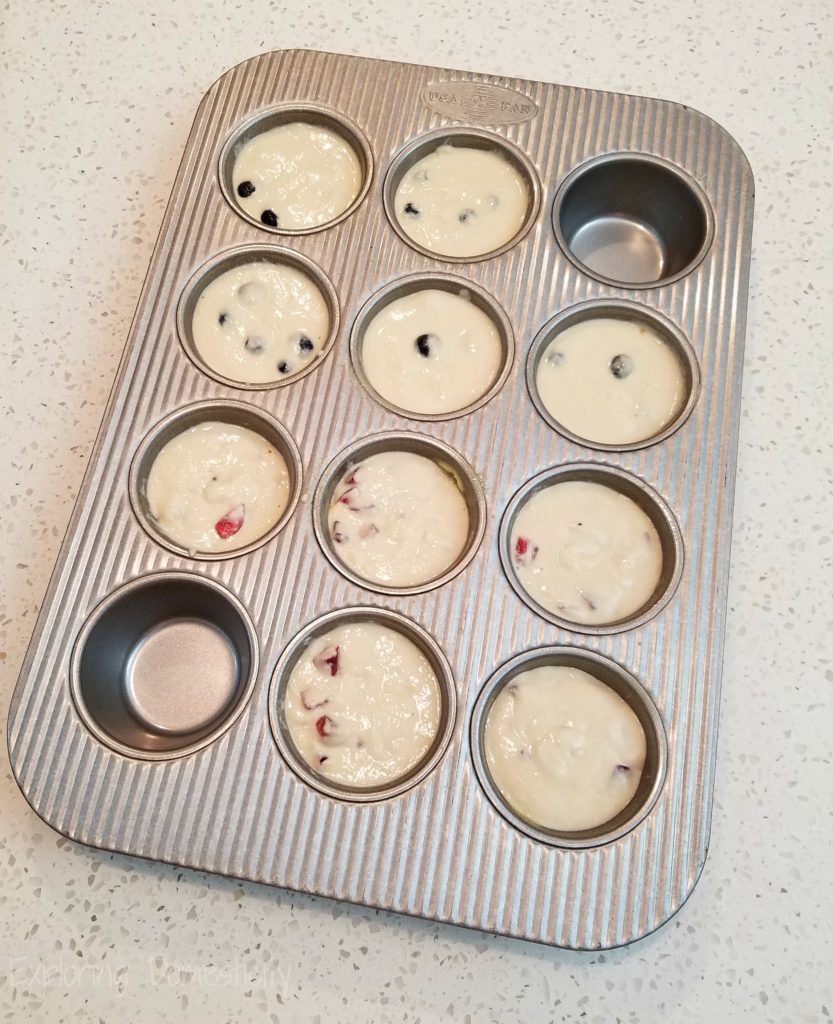 I've mentioned before my love for USA Pans. The rippled bottoms make them incredibly non-stick and cook things beautifully. I find it funny that the muffin tin top is rippled but the muffin cups are not. Either way, the muffins came out beautifully with no sticking, confirming my love for these pans.
You wouldn't believe how easy it is to turn pancakes into muffins. Perfect on-the-go breakfast. Or, as my kiddos consider them, cupcakes.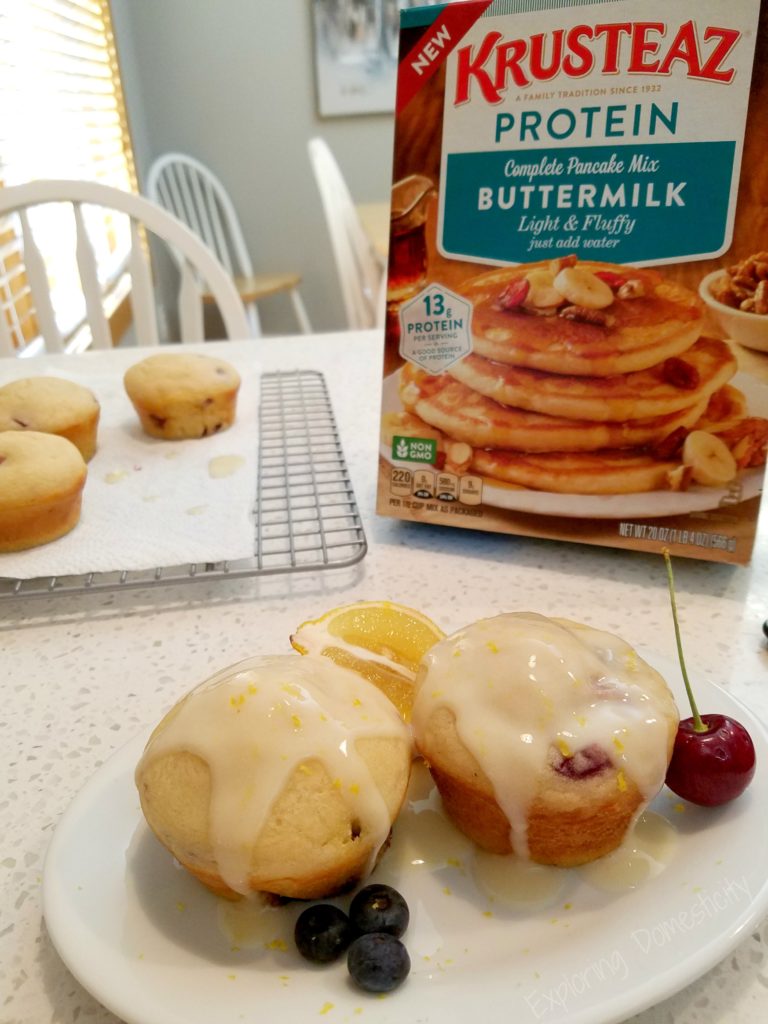 Protein Pancake Muffins with Lemon Protein Glaze
Cherry Protein Pancake Muffins & Blueberry Protein Pancake Muffins
Ingredients
Krusteaz Protein Pancake Mix
Water
Add-ins – in this case, cherries and blueberries
Directions
Preheat the oven to 350 degrees
Follow the direction on the Krusteaz Protein Pancake Mix box – 1 cup of mix will yield 4 muffins in our tin
Fold cherries or blueberries into the batter – 8 chopped cherries or about 1/4 cup of blueberries
Add batter to a greased muffin tin and fill to just below the top.
Bake for about 15 minutes or until a toothpick comes out clean.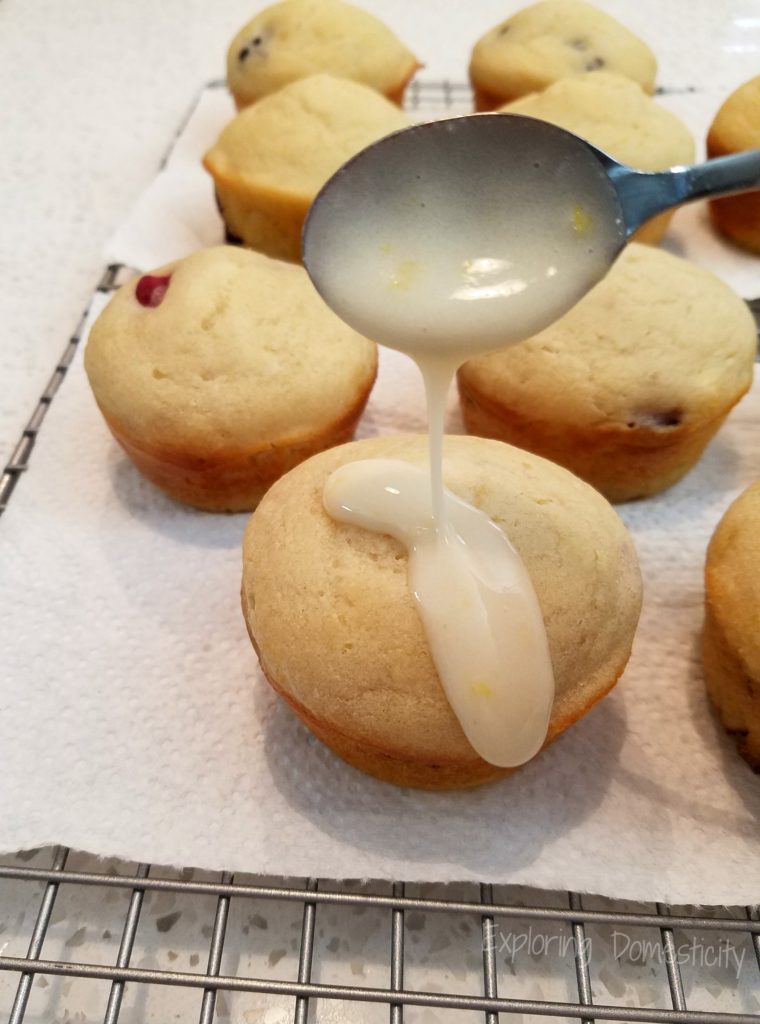 Lemon Protein Glaze
Ingredients
1 scoop vanilla protein powder
Zest and juice from 1/2 a small lemon
Water
Directions
Place one scoop of your favorite vanilla protein powder to a small cup – this measuring glass works great
Slowly add water as needed and whisk until smooth consistency – we ended up with about 3 tbs of glaze
Add the juice and zest of 1/2 a small lemon – our lemon was very small
Wisk until blended and top muffins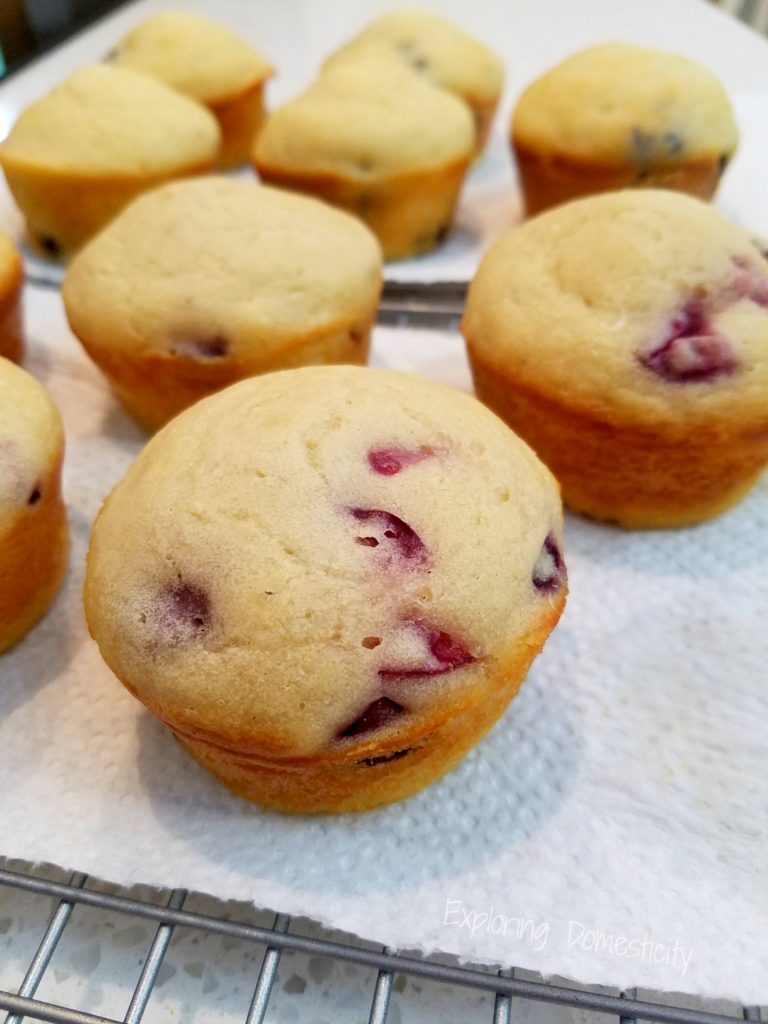 These Protein Pancake Muffins with Lemon Protein Glaze are fluffy and so delicious. Add any fruit or add-ins you like to make them different each time.
The Lemon Protein Glaze really sets it off and adds an amazing, sweet tang.
Depending on the protein powder you use, the consistency and taste could be different. We have this vanilla protein and the glaze tastes great. I also highly recommend this measuring glass and mini whisk. It was so easy!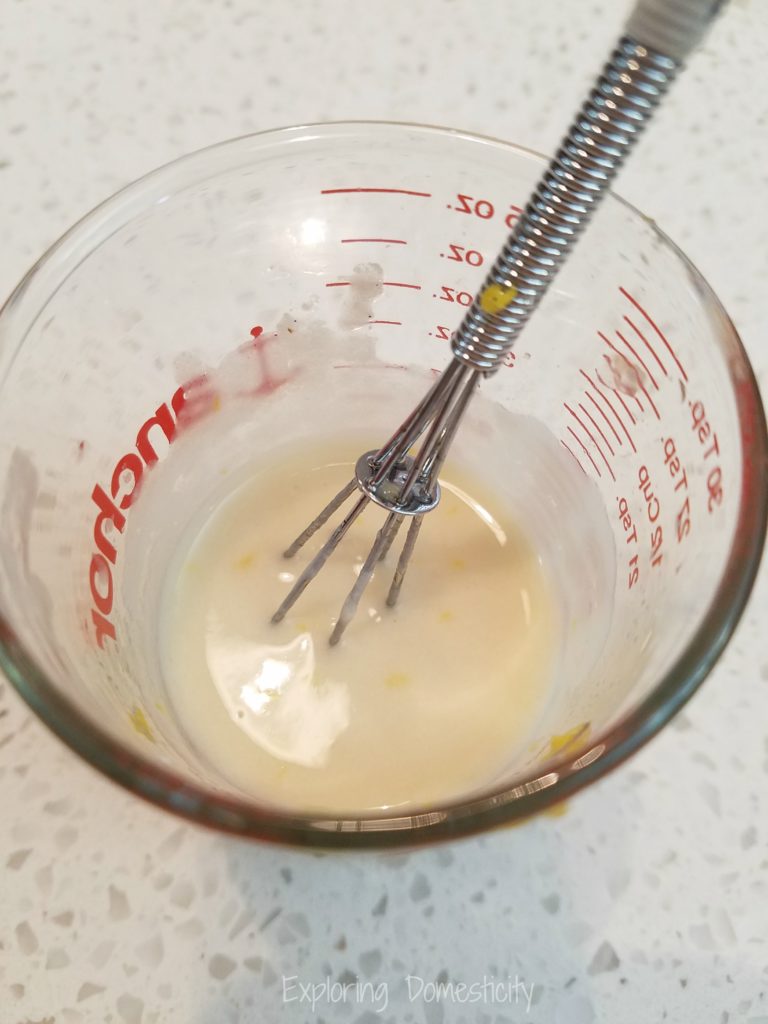 None of us can decide between the Cherry Protein Pancake Muffins or the Blueberry Protein Pancake Muffins. They are both delicious!
Who can resist cherries this time of year? They are so delicious, and make for a really sweet bite. Plus, how gorgeous is that red color!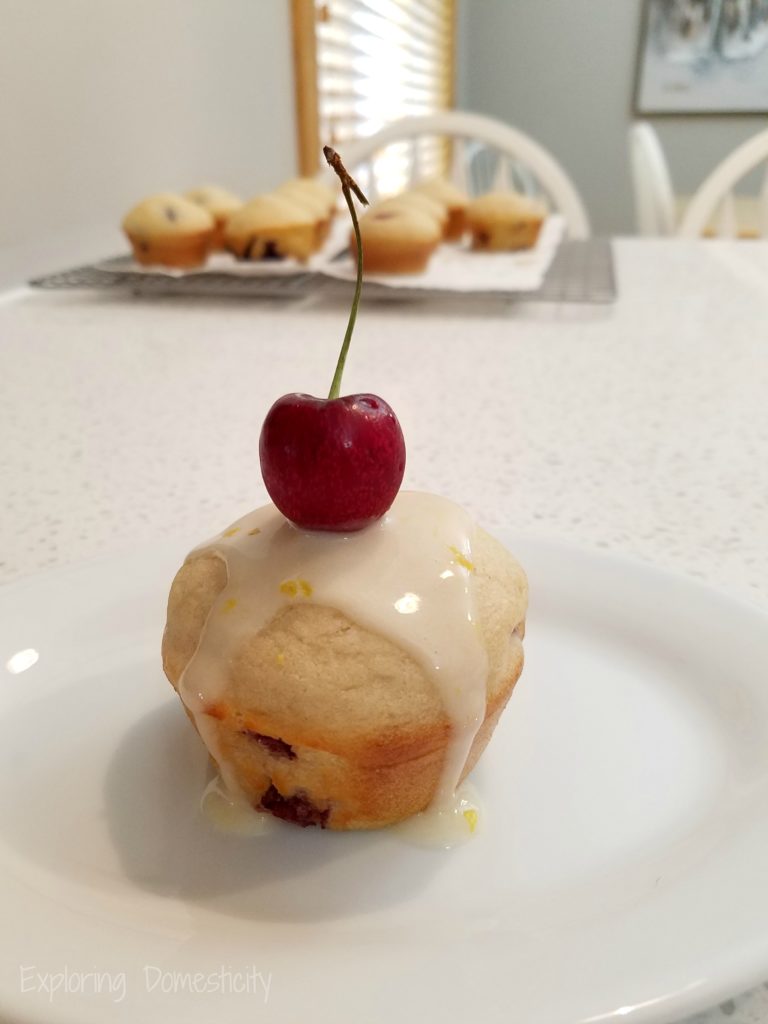 Blueberries are definitely a cheaper option and a little easier to get year round. Of course absolutely any add-ins you'd like would work in these muffins. Just like your favorite pancakes.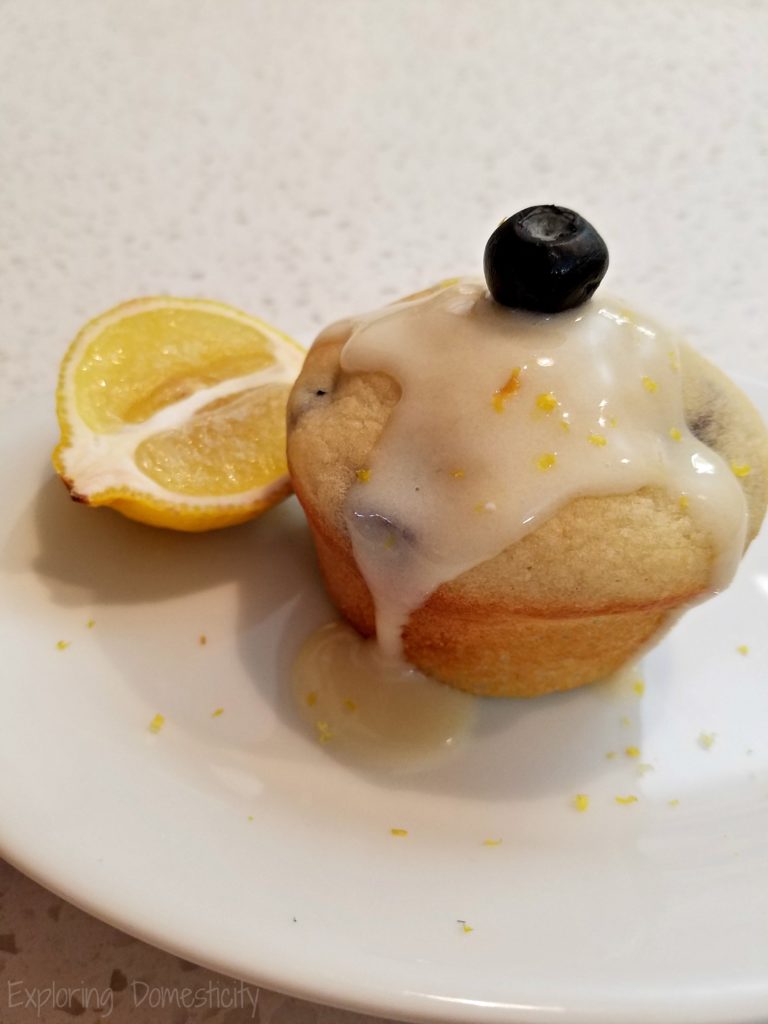 Which fruit would you add to your Protein Pancake Muffins?
Have you ever made a Protein Glaze?
Oh! The best part! A GIVEAWAY!
Krusteaz also has a gift for one of you! Enter below to win a Krusteaz tote bag, Krusteaz Buttermilk Protein Pancake mixes, and other goodies.

More Like This