A Diaper Genie is one thing that seems to be on the registry of all new moms. However, buying refills for 2 – 3 years straight is SO expensive! Did you know you can refill them with regular garbage bags? You can with this better Diaper Genie Refill!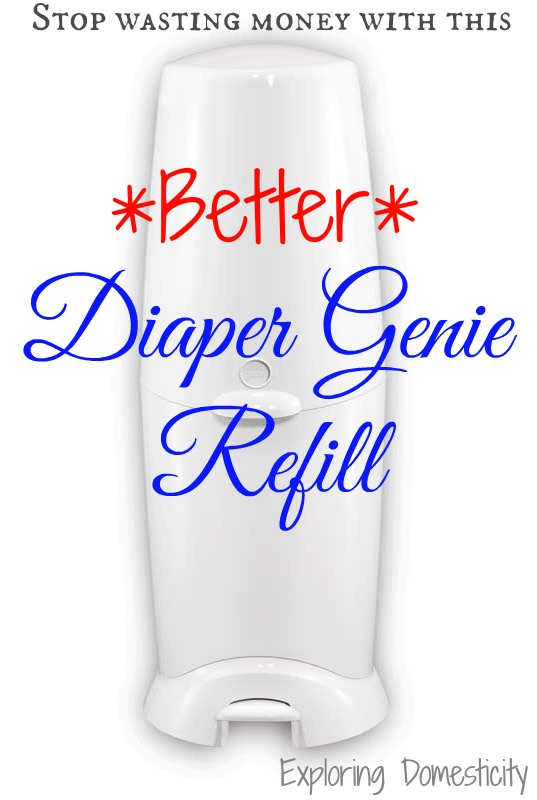 This post contains affiliate links. We hope you find the products linked helpful!
We used our Diaper Genie with two kids before finding this cheaper solution. Such time wasted!
I posted about this back in March when I first switched from expensive Diaper Genie refills to Glad ForceFlex bags. I wasn't sure how much I'd like them or the best way to install them. I am now!
** Second Update: this post must be almost 3 years old since our youngest will turn 5 this Fall. It continues to be one of our most-pinned post, so I updated the main photo. Unfortunately, we don't have our Diaper Genie anymore to update all the photos in this post. I guess you'll all just get a chance to laugh at my photos from back when we literally used our blurry ipad and posted photos to blogs without bothering to edit. **
Here's the story…
Back in March, we finished off our last Diaper Genie refill and, of course, my husband never warned me we were on our last pack. So, I was left with the dreaded job of forking out a substantial amount of cash for something that holds poo… Great…
I could have picked up the three pack for almost $17, but I thought about something I had seen on Pinterest. Use a Glad Forceflex bag instead? Worth a shot!
I paid almost $12 for 68 bags. This got me a lot more for my money. Another bonus is the Febreeze odor prevention – they also have Gain scented bags as well.
Ok, if you've ever opened a ripe Diaper Genie, you know that this won't likely work miracles but any little bit helps. After more than a month of using these bags, I can tell you that it makes a BIG difference! I almost gagged every time we opens the diaper genie. It now holds the smell in MUCH better! It's probably a combination of the Febreeze odor prevention and that the bags are bigger and can close and gather around the odor, unlike the tube of regular refills. BIG PLUS!
I didn't know while I was at the store that the medium-sized bags were recommended. I got the tall bags. They definitely don't seem too long to me and I think the size is just fine.
The first few times I used them I tried to stick pieces of the bag through each of the refill holes. Let me tell you, there is an easier way!
How to Secure a Better Diaper Genie Refill
1. Pull the bag through the middle of the empty Diaper Genie refill cartridge.
2. Pull the two red tabs at the sides a bit to start to tighten.
3. Locate two holes on opposite sides of the refill cartridge. Insert the red tabs into the holes from the bottom. Circle over the hole and pull the tab through the hole from the bottom UP. This way the bag will tighten inside the cartridge.
4. Tuck the bag down into the cartridge around the entire circle.
5. Hold the two red tabs and pull tight to make everything fit nice and neat.
6. Tuck the red table down into the cartridge as well.
7. Insert the bag down into the Diaper Genie and enjoy spending less, smelling less, and emptying less often!
TIP: Save your empty Diaper Genie Refill Cartridges that came with your Diaper Genie. You will likely use the trash bags for a long time and they eventually take a toll on the empty refill cartridge. I think I had to buy an extra one just for the cartridge, when I had thrown others away for years!

More Like This


You Might Like…