There is always a bit of reflection this time of the year. For us, it's on Exploring Domesticity and Mom Life in general.
We're looking back on our 5+ years of Exploring Domesticity. How it started. What was the purpose in the beginning. And what the plan is in the new year ahead.
Whether you're longtime readers, stumbled across a couple interesting posts on Pinterest, or just checking us out for the first time… We want your input!
What do you want to know? What are you interested in? How can we help?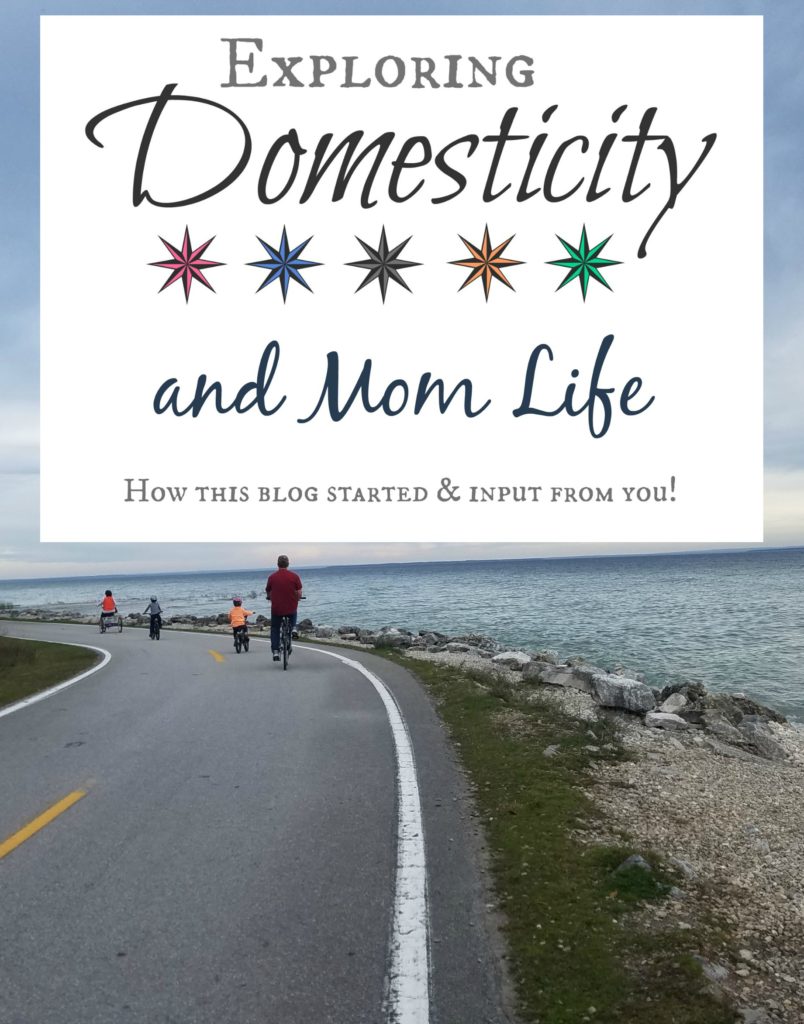 Hey all!
Happy New Year to you!
I have taken nearly a month off for the holidays and New Year. It wasn't planned that way. I figured I would take some time to enjoy the kids being home for Christmas and get back into it on January 2.
Let me tell you what happened on January 2nd…
I was so excited to get back to normal as I got our 1st grade and PreK kiddos ready for the first day back. I packed a lunch for our preschooler. Filled the backpacks with snacks, water bottles, papers and library books to return, etc… I smiled and told them how much fun it was going to be seeing all their friends again, and pushed them out the door.
I was going to be SO productive!
The new year is the time to get all your stuff together. Cleaning, healthy eating, workouts, work, organization, etc.
I had the kitchen cleaned up, my work station ready, and I was just peeling the last of the carrots for the roast that was already in the crockpot.
And then the phone rang…
It turns out the PreK kiddos had another week off of school. Our Little Lady was sitting in the office waiting for me to pick her up.
Mother. Of. The. Year.
I felt terrible. There were a couple tears as I got there, but she's resilient and it turned into something she was happy to rub in her brother's face when he got home.
It's ok, Moms. We're all doing our best.
I share this just to say…
Being a mom, and carrying that mental load of responsibility for our little people, is hard.
We drop the ball sometimes.
It's going to happen, and we've all been there. We will also be there again.
We've scrambled with splitting our attention between dinner and kiddos, only to scorch the whole thing. We've ditched our commitment to only feed our kids the best and most nutritious meals for convenience and sanity. We've pinned an entire board full of fun activities for the kids in the few minutes we were able to sit on the couch when we plopped them down in front of the tv instead.
It is all ok! There are no "rules" and we are allowed to make up our own minds about what is the best for our children and ourselves.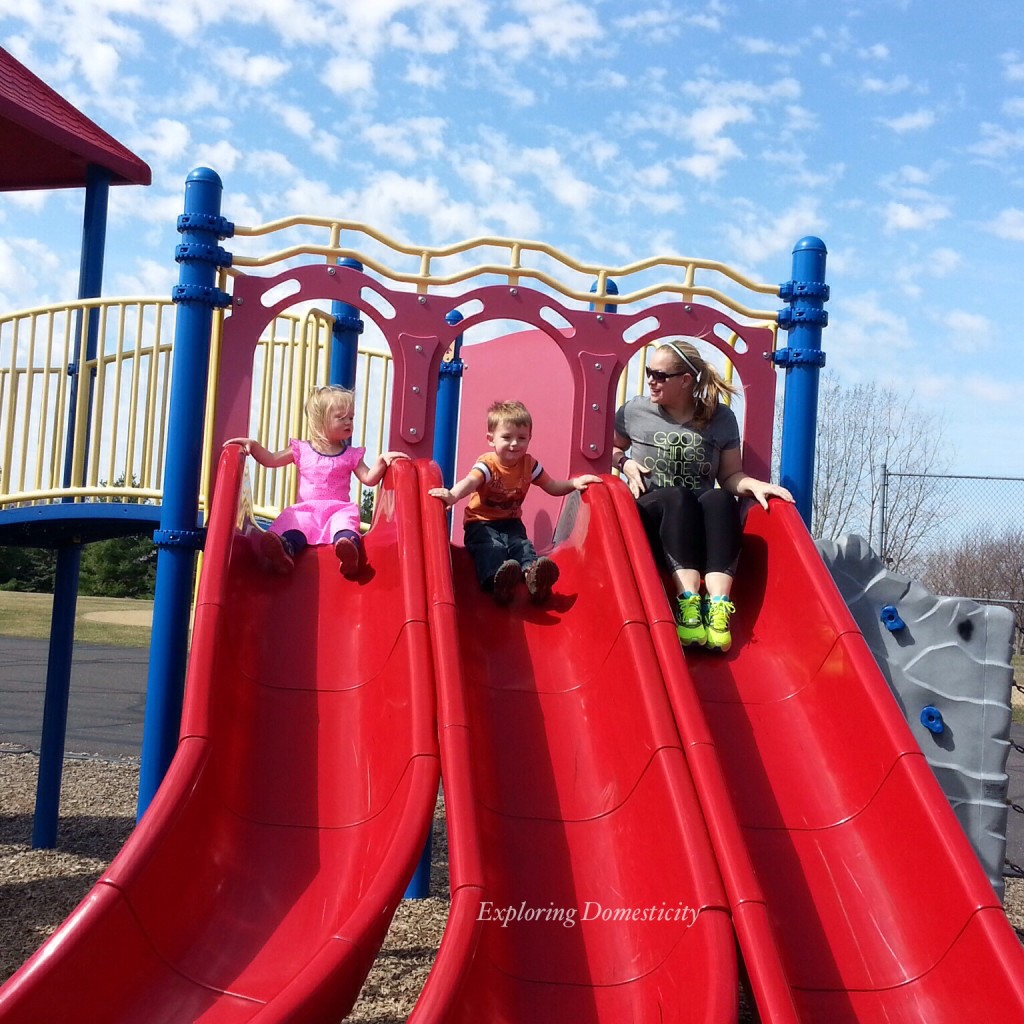 How Exploring Domesticity Started
After our first kiddo in 2011, I was on maternity leave and started filling the feeding times with scrolling through Pinterst. The was the absolute first time I EVER read a blog or found out that people were writing them.
Being a crafty, DIY family, I was very interested in those posts and thought it would be fun to share things like that someday.
I never saw myself as a stay at home mom.
However, when our daughter came along in 2012, that's exactly what I did. I started to stay home with both of our kiddos.
I knew so little about actually running a home, making meals, keeping a house clean, and raising kiddos full time.
I was quite literally Exploring Domesticity
I didn't know if we would be able to make the one-income, stay at home mom thing work. I was learning as I went. And I also had guilt about contributing enough to the family without making money.
I continued to scroll Pinterest as I nursed our second child. I pinned everything I could related to healthy recipes, baby and toddler tips, cleaning hacks, money saving and money making tips…
You name it! If it related to being at home, creating a great experience for the kiddos, and saving enough money to let me continue – I was all over it!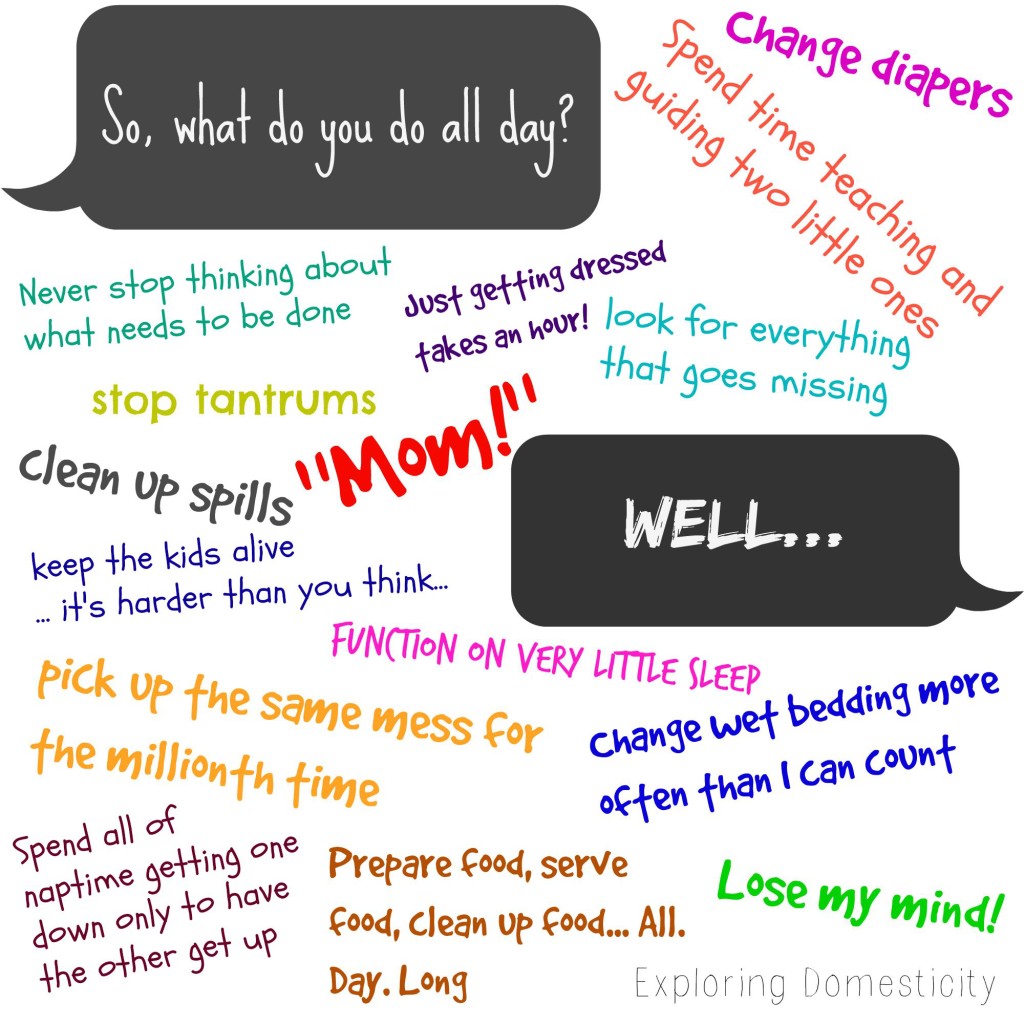 I'm a blogger???
This is exactly what I named my Pinterest board when I started to pin articles about blogging. I think I was 3 years into Exploring Domesticity when I finally changed the name of the board.
Exploring Domesticity started with little projects and tips here and there.
Blogging was so rough back then, not all pretty and perfect like today – and you'll see what I mean when you read these posts! I was just sharing little tips about re-growing onions from scraps, making breakfast sandwiches at home, and making your own laundry soap.
Then, as I tried to lose the baby weight and set a healthy example for the kids, many of the posts revolved around health-related topics.
Last year, I got a bit more organized and focused on four categories: Health, Kids, Organization, and Saving Money. Those were the areas where I wanted to focus my attention, and I did pretty well for the most part.
My health wasn't very on track this year, but I did LOVE sharing the stories of other Motivating Moms. Also, organization was seriously lacking, and I ended up with more House buying/selling, DIY, and Disney posts. But that's what was going on in our life last year.
What's Next for Exploring Domesticity?
This year, I want to go back to what I needed when I became a stay at home mom. I needed resources for the basic questions I was running into day by day.
How to save money or make money as a stay at home mom. Quick and Easy meals for the family and healthy snacks for kids and moms. Making your home a place that makes you happy. Fun activities for the kids.
I also want to know what you're interested in reading about and what you're looking for.
What kinds of things are you googling?
Can we use that information to help other moms find the answers and tips they need? How can I help you?
Motivating Moms
I'm thinking of bringing back the Motivating Moms series in the coming year. Not just moms who motivate us with their health and fitness, but moms that are rocking it in other areas as well. Maybe the Money Saving/Making Mavens and the Domestic Divas can share their stories as well with helpful tips for the rest of us.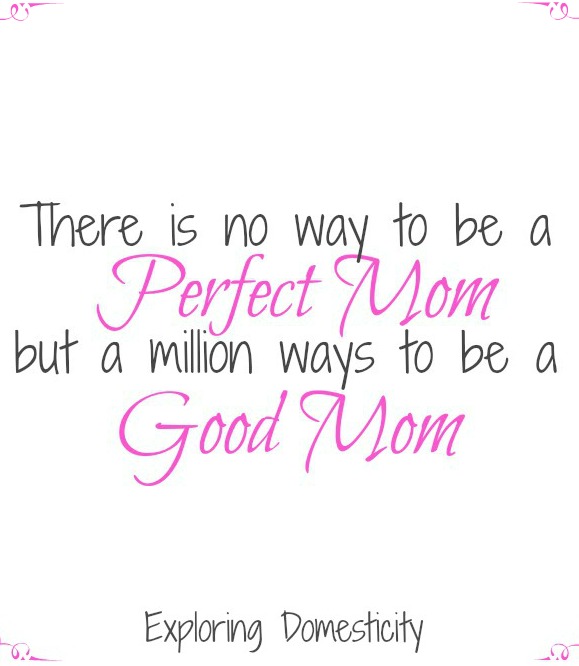 Let me know your thoughts!
I want to know what you think! What are you pinning or googling these days? What topics are you most interested in reading about?
Please let me know in the comments which of these are the most interesting to you and if there is something else you find yourself pinning and googling often.
Parenting tips
Fun activities and projects for the kids
Travel with kids
Disney travel tips
Quick and Easy recipes for the family
Fun and healthy snacks for kids and moms
Home renovation and DIY
Home Decorating
Camping and Camper posts
Saving Money
Making money from home
Healthy living tips
Healthy family tips
Parties – food, games, and decorations for birthdays and showers
Anything else you can think of – I want to know!
Feel free to copy and paste any from this last that interest you and leave them in the comments along with anything I don't have written. If you want to submit them privately or talk more about it, please feel free to email at exploringdomesticity(at)gmail(dot)com!
More Like This