Finding a unique gift for teachers is tough. This DIY Teacher Gift with Essential Oils is easy to make, inexpensive, and something all teachers can benefit from!
In minutes you can put together a Mood-Boosting Anti-bacterial Room Spray to help keep those special people happy and healthy. Also, add a quick and easy Stress Ball for those rough days.
This works for teachers, coaches, bus drivers, etc. and it is a gift that is great for both male and female recipients. We've got it covered!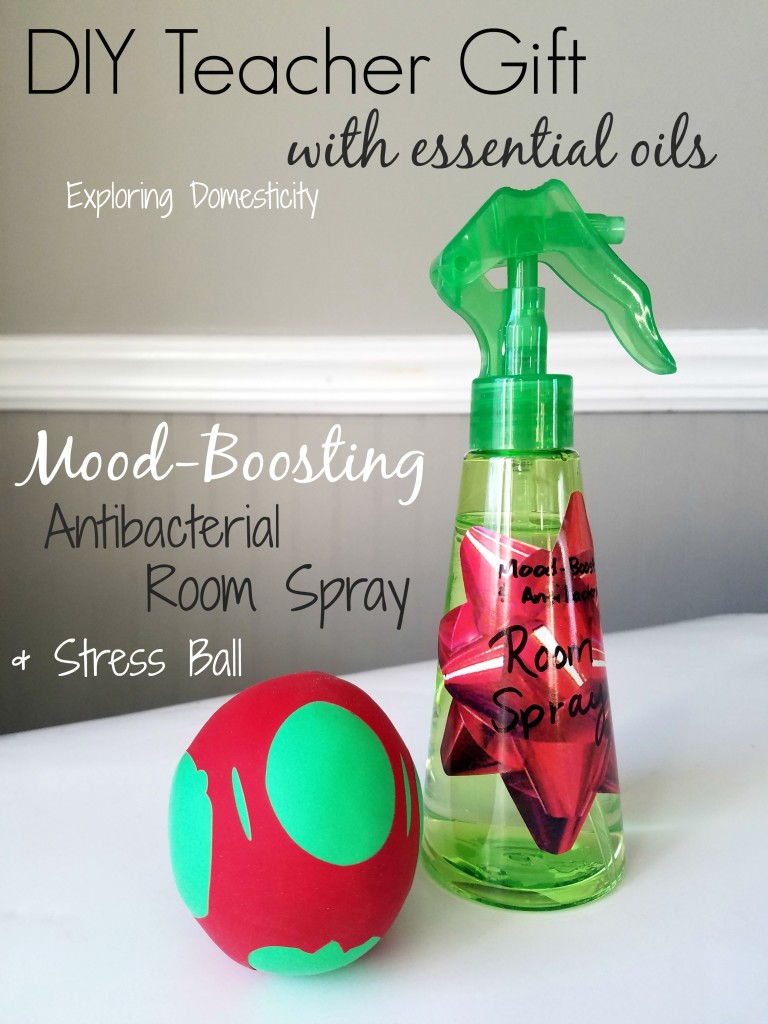 This post contains affiliate links. if you choose to make a purchase from one of the links, this site will receive a small commission with no affect on your purchase price. They are all the exact items I used, and I hope you find the links helpful!
We always try to think outside the box for teacher gifts. It can be hard…
I imagine teachers can get sick of coffee mugs, candy, etc… Gift cards are good, but they can seem a little impersonal… Everyone wants to come up with that one gift that will be unique and teachers will actually love and USE.
What could be better than something to boost their mood, relieve some stress, and even help fight some germs???
We're so excited about this DIY Teacher Gift with Essential Oils! The Mood-Boosting Antibacterial Room Spray and Stress Ball are just what teachers need! …along with bus drivers, karate instructors, dance teachers, etc…
It works for them all!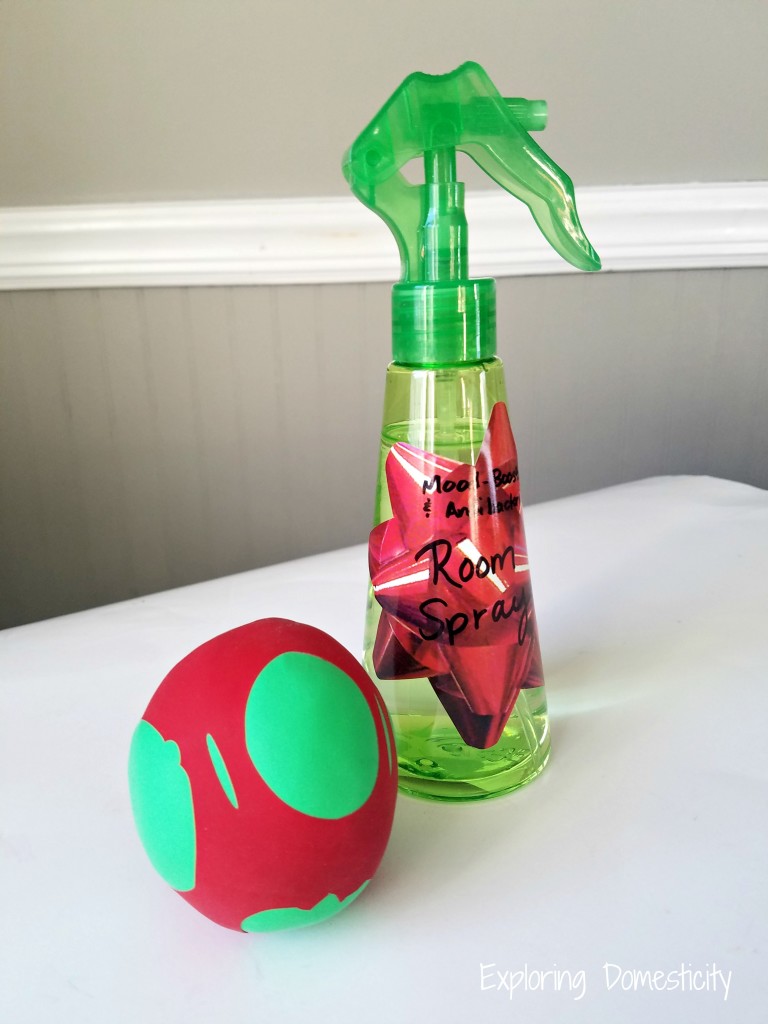 DIY Teacher Gift with Essential Oils
I knew this was something I wanted to do, so I took to Pinterest and started gathering ideas onto my Essential Oils Pinterest board.
I found This pin for Anti-Flu Anti-infectous Aromatherapy from Joan Morais Naturals and this pin for making a stress ball from A Thrifty Mom particularly helpful.
I don't know why I'm so intimidated by essential oils. I always feel like I'm going to get it "wrong." Although, you could research it forever, and there are some helpful tools out there…
It's just something you have to play around with.
Find out how each of them make you feel.
Research the benefits of each, and go from there. For instance…
Essential Oil Benefits
Lemon Essential Oil has antibacterial and antifungal properties. In addition to many other benefits, it can also lift mood and fight depression.
Lavender Essential Oil has calming effects along with a long list of benefits.
Peppermint Essential Oil has the ability to boost energy as well as have a calming effect. It can be used to improve mental focus, relieve headaches, and soothe digestive issues.
It's no wonder that lemon, lavender, and peppermint are the most used oils in our house!
So, it was pretty easy to decide what I wanted in this spray. After that, I just played around with the drops until I found the scent I like.
The bottles we have are from the Dollar Tree and hold 150 ml. I should note that it's recommended from other sites to use glass bottles instead of plastic because the citrus oils may break down the plastic…
Just fill the bottle with your essential oil blend and fill the rest of the way with distilled or purified water. To mix, roll the bottle around in your hand for a little while.
This recipe is a pretty subtle scent, so add as much or as little as you prefer. This is a gift from your (and your student's) heart.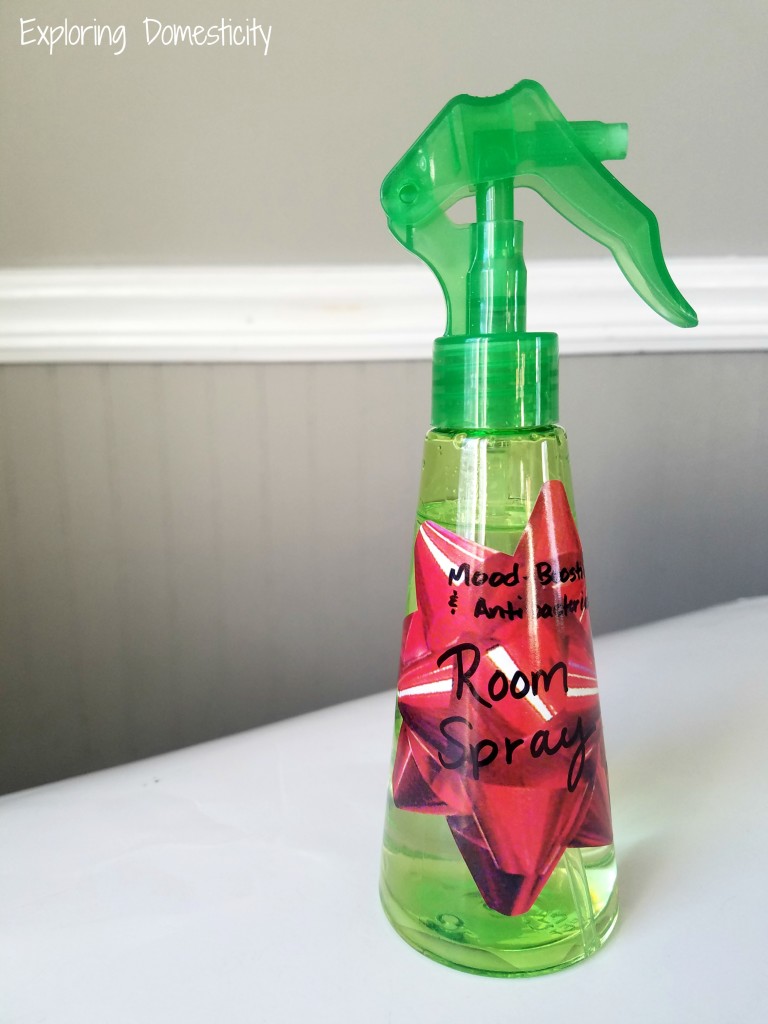 DIY Teacher Gift: Mood-Boosting Antibacterial Room Spray
At the advice of Dave, from I'm Simply a Dad, you can also add 1 oz of witch hazel to the mix to help the oils blend for a more even scent. Thanks, Dave!
Fill with distilled or purified water, cap, and roll the bottle around in your hand to mix.
Add a special touch with a tag, or one of these bows I love so much!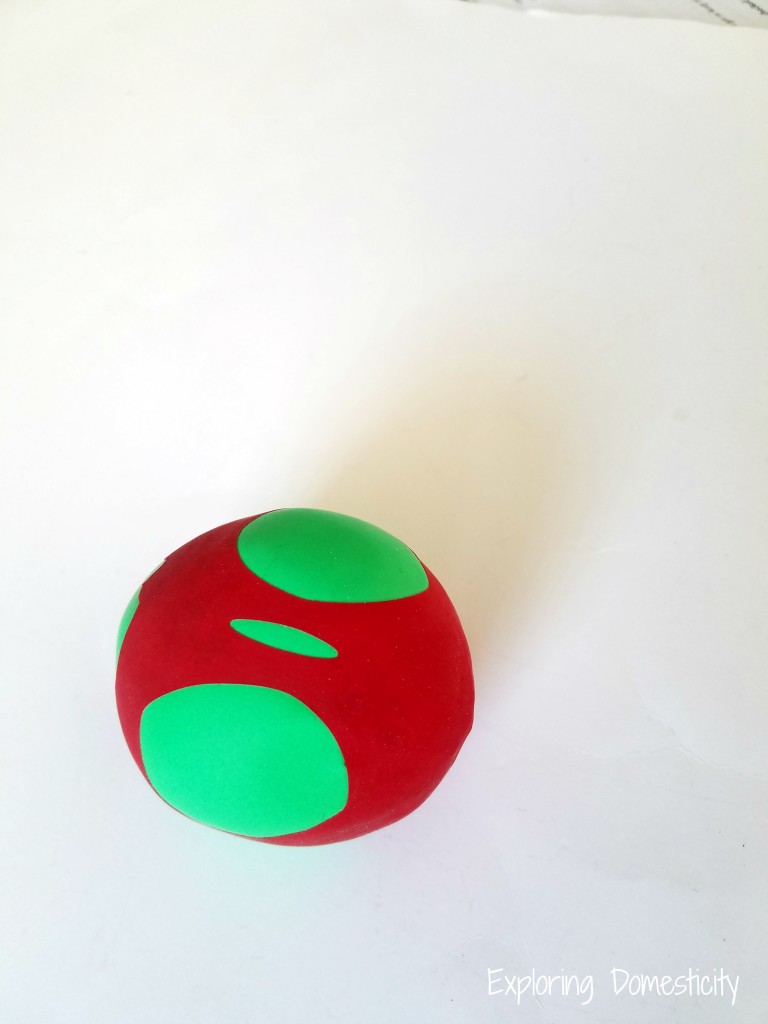 DIY Teacher Gift: Stress Ball
The next part is just a fun little add-on. I saw these in a store the other day and it brought me back to when we used to make them in school.
They are so much easier than you think – and you can make it as simple or difficult as you'd like.
With a funnel, add roughly 2/3 – 1 cup of flour to an empty plastic bottle
Optional: add a few drops of your favorite essential oils (ie. 5 drops lavender and 10 drops lemon) and shake. This can clump but it makes it smell nice and it works better if they are added after the flour.
Blow up the balloon to about twice the size it will be when full, and twist to hold
Cover the opening of the plastic bottle with the balloon and turn upside down to fill
When full, remove from bottle and carefully try to remove as much air as possible
Simple version: The easiest way to do this is to stop here, tie a knot, and be done with it. We also cut off the rolled portion that makes it look obviously like a balloon.
Harder version: If you want it to look seamless, cut the balloon near the top of the flour (check out the instructions here from A Thrifty Mom for a little more depth on this version). Keeping the outside of the balloon clean, stretch another balloon around the outside.
Hardest version: I had to take it one step further just to try it out, and have a little fun with it. Leaving plenty of room at the top to cover the opening in the other balloon and prevent leaks, cut some holes in the sides of the top balloon. This makes it a little harder to stretch, and a little messier… It comes out with two different colors and a little fun.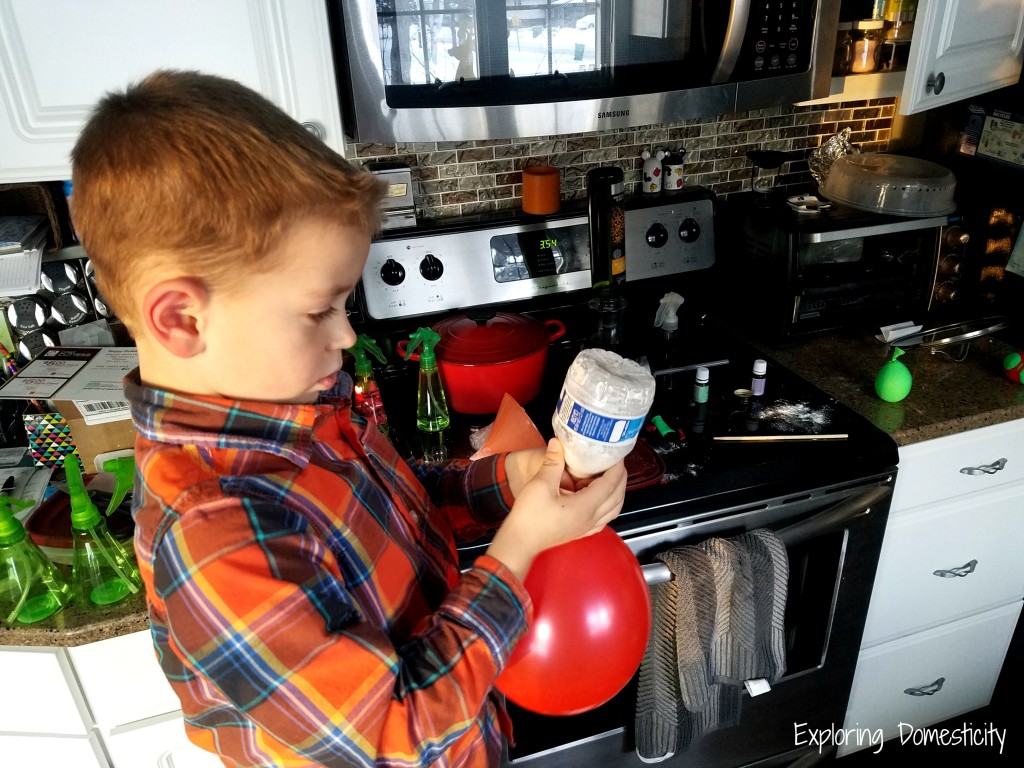 Perfect for teachers, coaches, instructors, bus drivers, school faculty, etc
The thing I love the most about this gift, besides the fact that it comes from the heart, is that it works for anyone you'd like to show a little appreciation for.
We're going to give this too kindergarten and preschool teachers, the bus driver, a dance teacher, and a karate instructor.
It's perfect for a men or women of any age.
This would also be a great gift to appreciate your postal worker, trash collectors, nannies or house cleaners, boss, employees, coworkers, etc. It would also be a nice surprise for anyone in a service position to show you appreciate them.
Who do you think could benefit from a gift like this?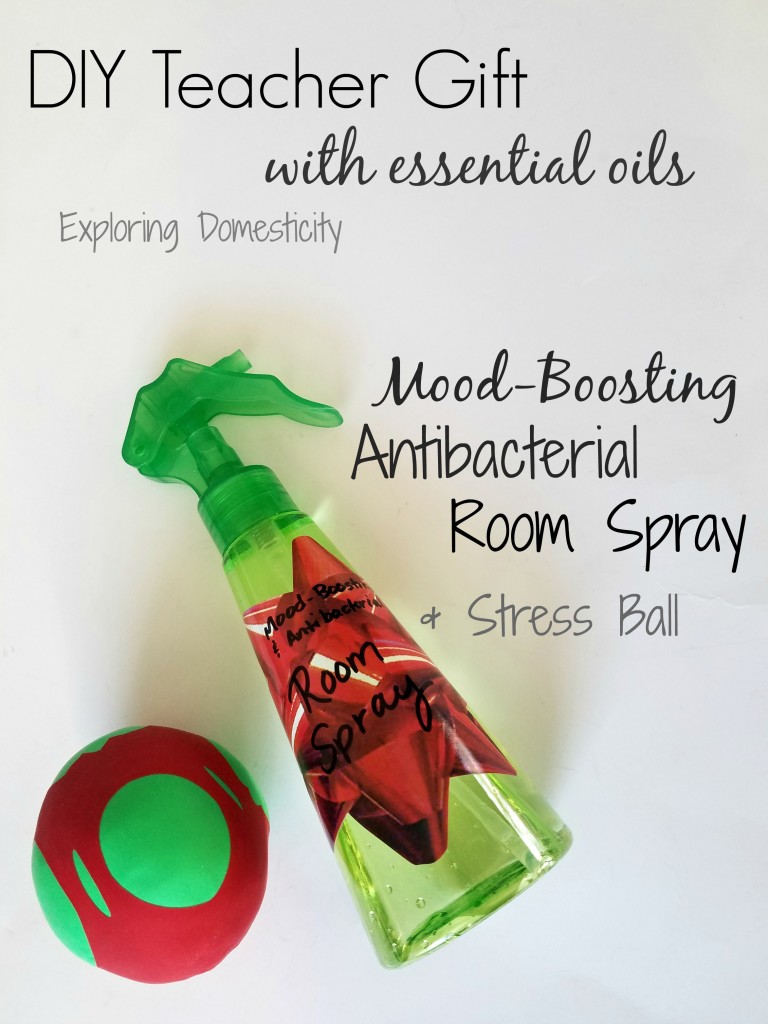 More Like This