My husband is a creature of habit. Each day, he warms up a frozen breakfast sandwich before heading off to work. We started out buying Jimmy Dean Breakfast Sandwiches and scaled back to Great Value Breakfast Sandwiches to save a bit of money, but I was buying these things all the time! I decided I could save money and a few trips to the store by making our own homemade frozen breakfast sandwiches to freeze and reheat.
I now spend some time one day to make enough frozen breakfast sandwiches and burritos to last more than a month!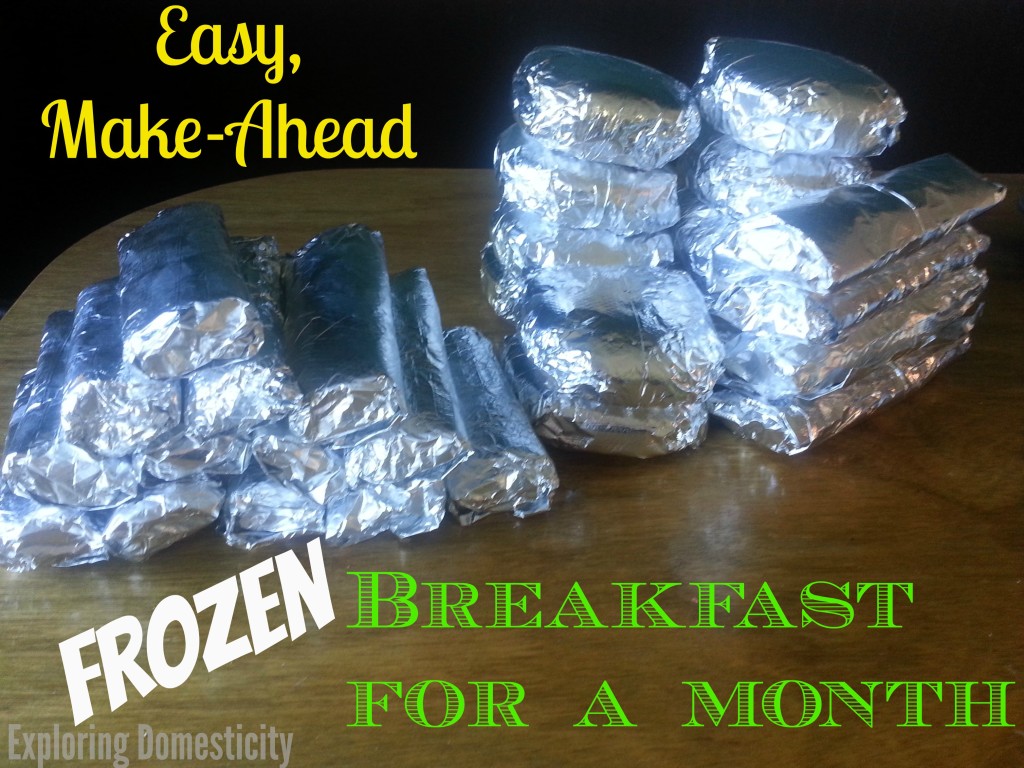 This post contains affiliate links to products we use for making Frozen Breakfast Sandwiches and burritos, and items we have been asked about time and again. We hope you find them helpful!
I love being able to decide what goes into our frozen breakfast sandwiches each month, and being able to use up some other food from our fridge.  Following fajitas, I've cut up the peppers and added them to the eggs.  I've also used small chopped pieces of leftover asparagus, or leftover salsa.  It's kind of fun!
I do our frozen breakfast sandwiches assembly-line style and it goes pretty fast.  In just over an hour, I can whip up enough breakfast for the entire month!
Each time I make them a little different, so I will show you what I used this time and share some of the many frozen breakfast sandwiches variations at the end, along with answers to Frequently Asked Questions!
Ready to learn how easy it is to make your own Frozen Breakfast Sandwiches!?!

I used: bagel thins, 2 large or 4 small cartons of liquid eggs or egg substitute (I use this to save time cracking the eggs), pre-cooked sausage patties, cheese slices, green onions, sriracha or chili paste – love this stuff!! -, salt and pepper.
Individual foil sheets are key for me! (you can find them here) They are quick and easy, they wrap perfectly, and, even though they have to be removed to microwave, it gives my husband something sturdier to hold when eating in the car.
I have the most amazing sheet pan! I don't even have to spray before cooking the eggs – amazing! I would recommend spraying with any other pan. (I can't rave enough about these pans, we use them for everything!)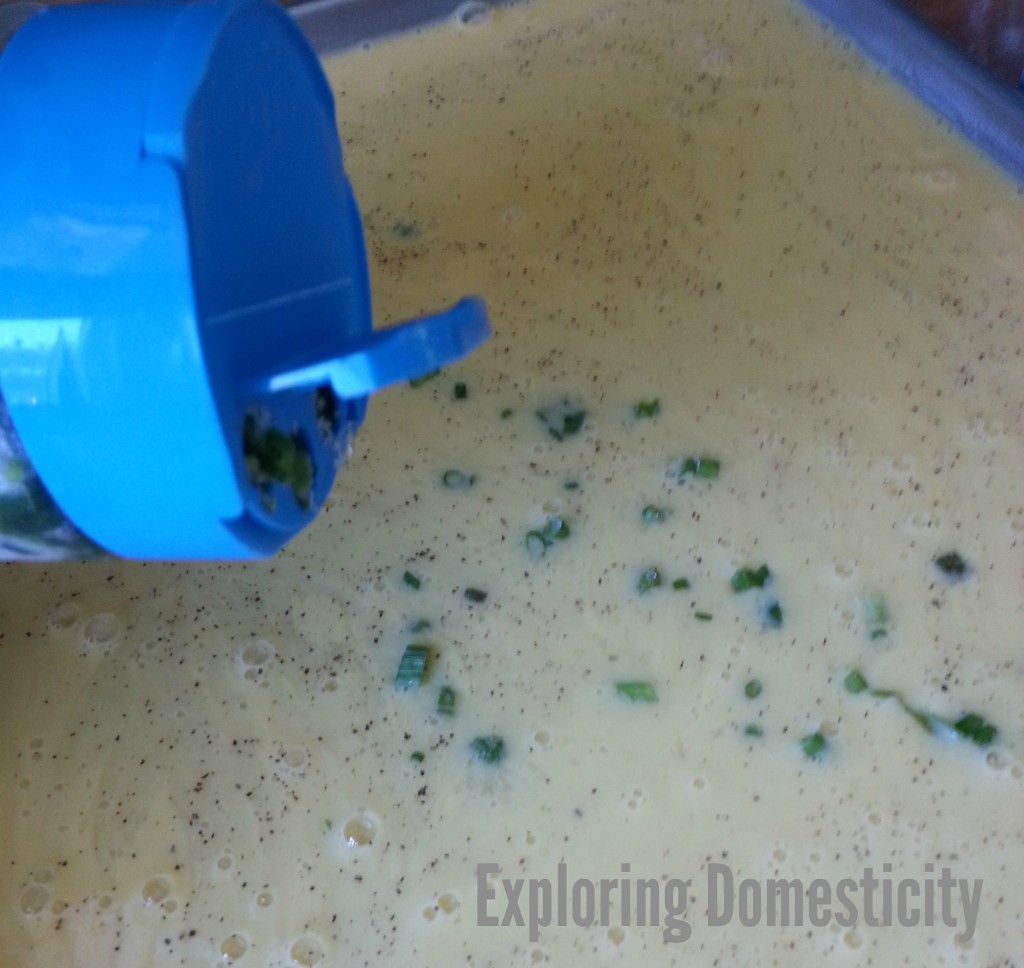 I pour the eggs into the pan and season with salt, pepper, and cayenne pepper – because my husband likes a lot of spice – and then pull my Parmesan cheese container full of chopped green onions out of the freezer.  One of my favorite tips!  Depending on how it all spread out, sometimes I give the eggs a little stir with a rubber whisk.
I pop them right in the oven (often without being fully pre-heated) at 350 degrees.  I keep an eye on them after about 15 minutes and I can tell they're done when the egg is firm with large bubbles and pulls away from the sides of the pan.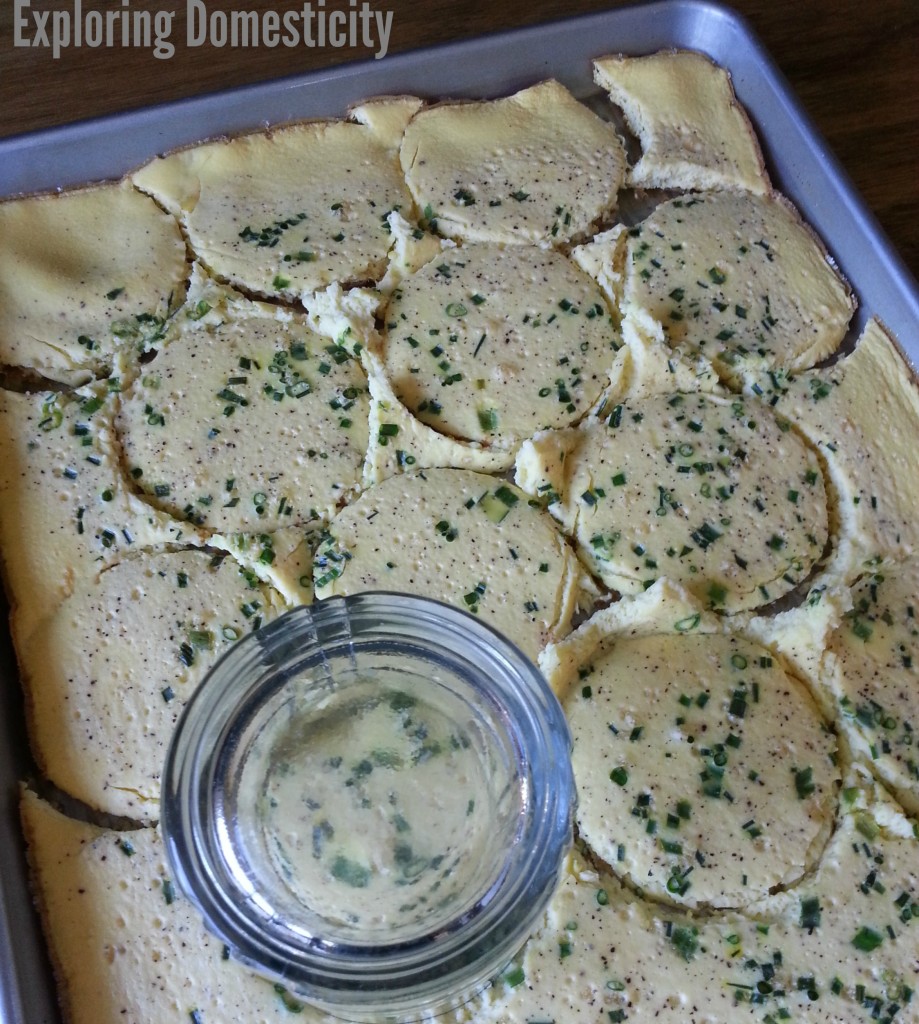 I take them out, use my cup to cut as many circles and I can fit (generally about 15) and let them cool for about 10 minutes before assembling my sandwiches.
Important tip:
If you assemble your frozen breakfast sandwiches with hot eggs, there can be a lot of moisture to the reheated eggs and it is not pleasant!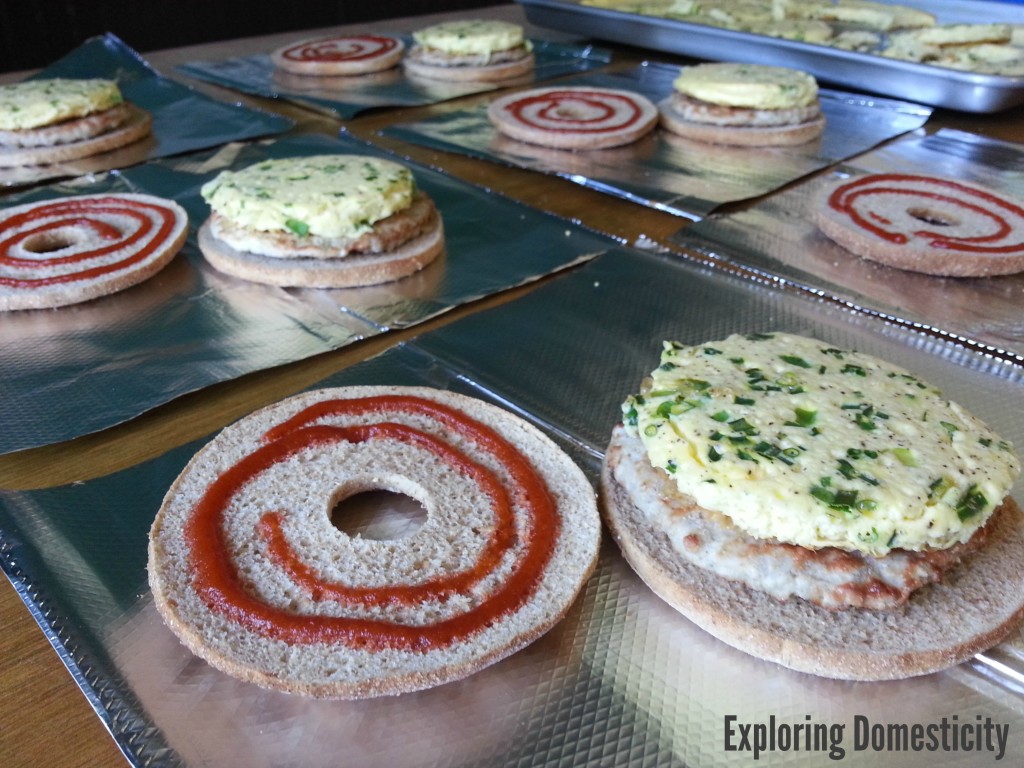 While the eggs cool, I start filling my table with Foil Sheets
and layout buns and sausages and squirt some sriracha on each.
When they eggs have cooled, I place them on top of the sausage and add 1/4 of a cheese slice to the top.  The reason for adding such a small piece of cheese is that it melts so well while reheating and a little goes a long way – the larger pieces just ended with a big mess!
I fold them individually in their foil sheet and start on the frozen breakfast burritos.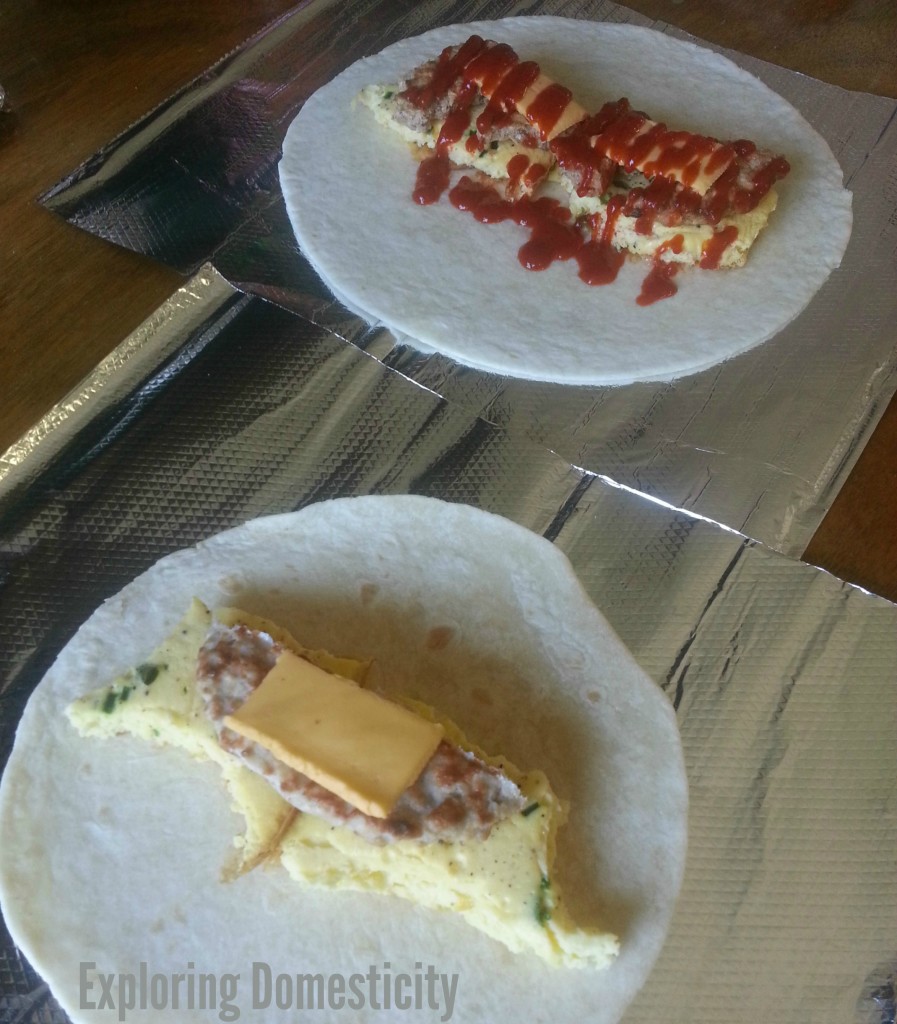 I lay out the foils and tortillas in the same way, but I use 1/2 a sausage patty, egg pieces from around the cutouts, 1/4 slice of cheese, and sriracha.  I fold one side under and leave the top open.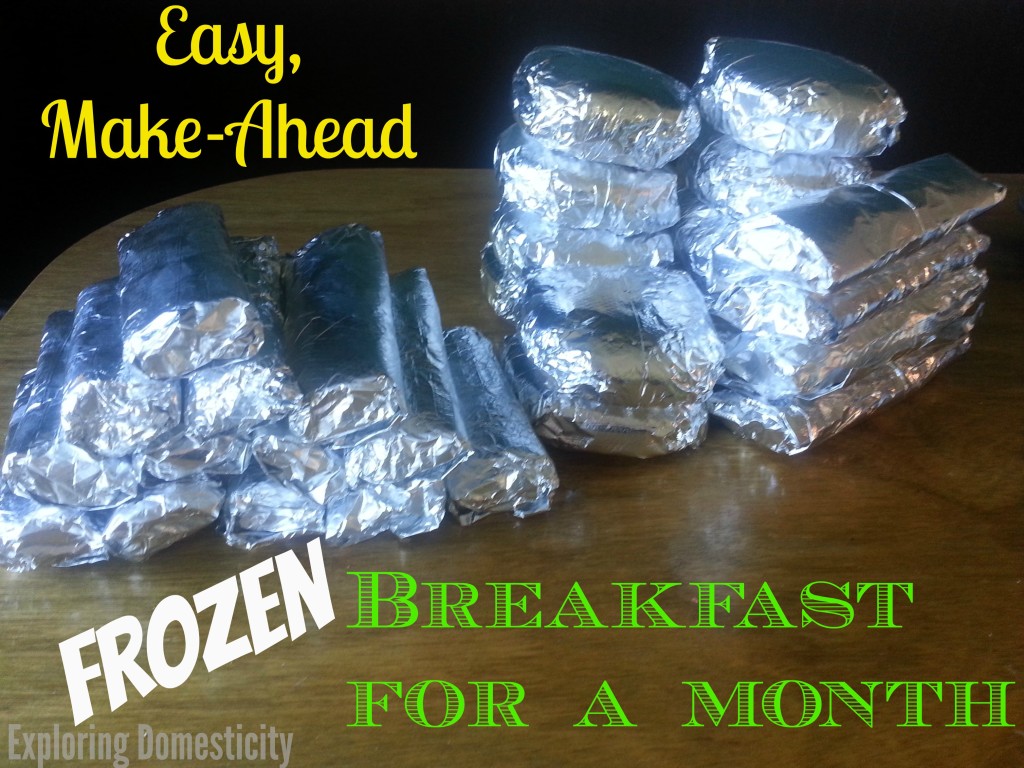 That's all there is to it!
Including cooling time, it takes between an hour to an hour and a half and you end up with roughly 10-15 frozen breakfast sandwiches (depending on how many buns you have) and about 8-10 frozen breakfast burritos (with a medium size tortilla – I have more pictured because I made them with small fajita tortillas for my step-daughter).
Frozen Breakfast Sandwiches Variations
Bun
English muffin (toasted or plain)
Bagel or mini bagel
Croissant
Meat
Bacon
Canadian Bacon
Bacon Bits (I've used these in the burritos and in the eggs)
Faux meat products
Mushrooms
Shrimp (if you're unsure about this one, try shrimp and eggs – yum!)
Any type of sausage link cut the long way and opened flat
Toppings
Veggies (I've done asparagus, peppers, tomato, etc)
Salsa
Hot Sauce (if you're like my husband, lots of hot sauce)
Potatoes / Hash Browns
Frozen Breakfast Sandwiches FAQ
How long do you cook the frozen breakfast sandwiches in the microwave?
For as many times as I've been asked this question, I still don't have an answer. Differences in microwaves and personal preference make it almost impossible to give everyone a great answer. General rule of thumb: wrap in a paper towel to keep the bun moist and heat in 30 second intervals until desired temperature. If you feel like the bun may get soggy, you can remove it and heat the sausage and egg a bit and reassemble.
Do you cook the sausage first?
I buy pre-cooked frozen sausage, so I simply take them out of the freezer and begin assembly.
Do you toast the bun first?
I don't take the time to do so because I figure it won't make much difference once frozen and reheated, but I've heard that others prefer them toasted and they save time by placing them in the oven under the broiler all at once.
Where did you get that pan?
The first pan I got was the Food Network brand and then got the USA Brand that is a little lighter and less expensive – I believe I got both at Kohls.
You can find the baking pan I use on Amazon. If you want to make even more breakfast sandwiches at once, they have an extra large pan.
I also have the smaller baking pan, the cake pan, the pan with the wire grate, and the muffin tin – use to make our egg breakfast muffins. I love them all!! 
Find More On-The-Go Breakfast Ideas
Over 100 Make Ahead Breakfast Ideas
Cake for Breakfast! Pumpkin Sweet Potato Mini Cake
Ham and Asparagus Egg White Cups
Protein Pancake Muffins with Lemon Protein Glaze
Do you have a go-to make-ahead breakfast?
Useful Supplies for Frozen Breakfast Sandwiches and Burritos